Asylum Seekers in South London Are Resisting Removal to a Bedfordshire Hotel Targeted by the Far Right
After spending more than a year in Greenwich, the men have started to build lives there.
3 March 2023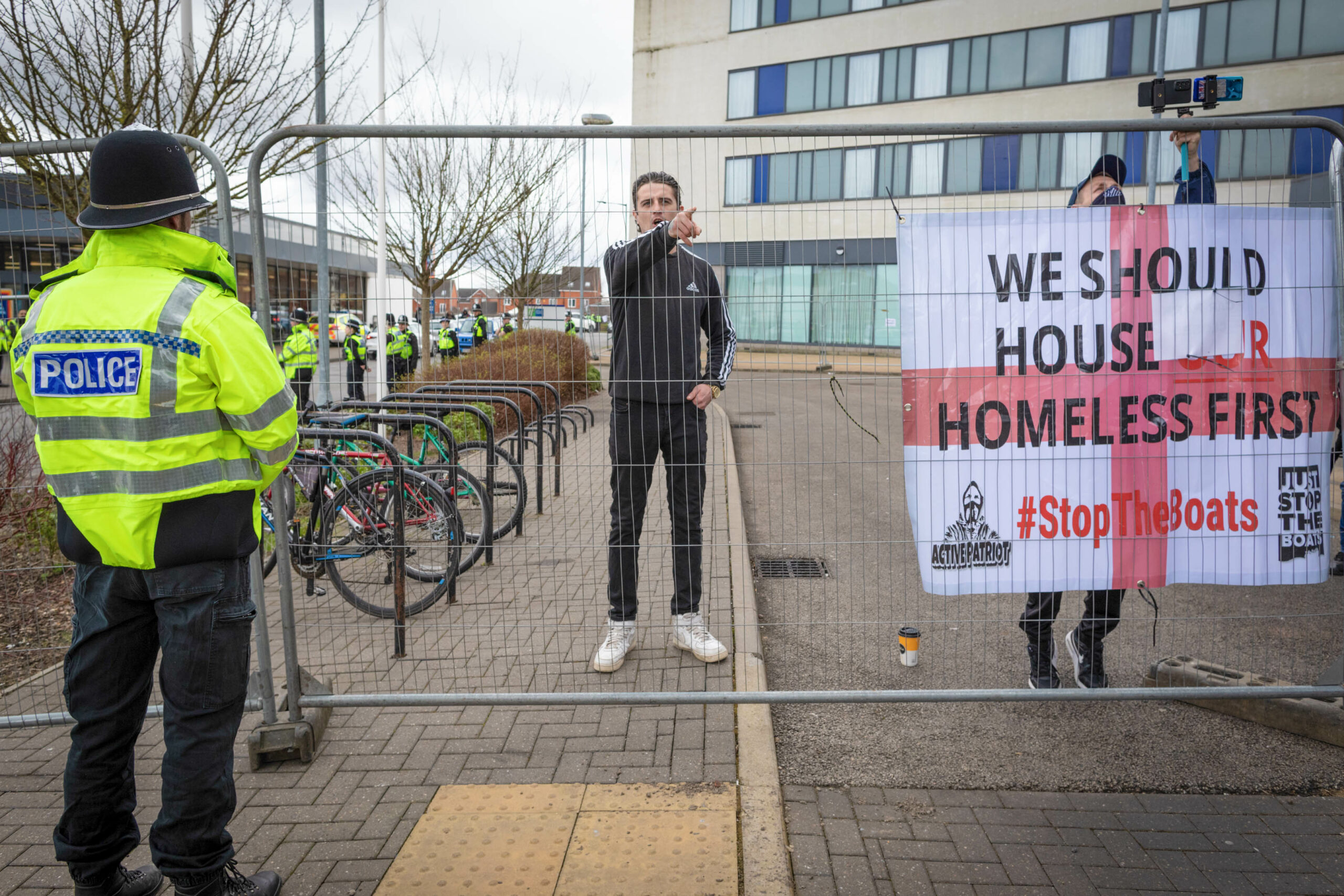 A far-right protester at a demonstration outside a hotel in Rotherham. Photo: Andy Barton / SOPA
Asylum seekers in south London are refusing to move from a Greenwich hotel to Bedfordshire, where refugees are being aggressively targeted by the far right. 
The 37 men, from countries including Syria, Iran, Afghanistan and Eritrea, have been resisting eviction since early February, when they staged a protest inside the hotel after being told they had to leave with just a few hours notice and having received no written communication from the Home Office or its contractor.
Following a stand-off that saw one arrested, around 90 were taken by bus to Dunstable. Those who stayed told Novara Media staff at the hotel had since locked people out of their rooms and threatened they would end up "homeless on the street" or jeopardise their asylum claims if they did not leave.
On Wednesday, those remaining in the hotel resisted a third attempt to remove them, with support from refugee and migrant groups, activists and local councillors. 
Several asylum seekers told Novara Media they were afraid to move to the Dunstable hotel, which has been named in leaflets distributed by far-right group Patriotic Alternative, inciting protests outside. Residents there say they are often tailed and videoed when they go out. 
Ahmad*, from Afghanistan, was moved to Dunstable last month. He told Novara Media that when he first arrived he wanted to explore the area and planned to go to church. Now he is afraid to leave the hotel. 
After a protest two weeks ago, in which far-right activists alleged asylum seekers would 'kidnap children', he said concerned staff warned them to be careful if they went outside and not to stay out late. 
"When you go outside, people are observing you. They might capture a photo of you or judge you from your face or skin colour," he said, adding that he felt twice as depressed since the move. "It's been almost a week that I haven't been out of my room."
By contrast, most men at the Greenwich hotel study or volunteer nearby. They feel part of the community, after having lived in the area for more than a year. "If we go there [Dunstable] we start again from zero," one Iranian asylum seeker told Novara Media.
"We try to be useful here," he said. "I work for a charity. We even offer free haircuts to some people who come to the food bank."
One disabled man at the hotel is undergoing treatment in a London hospital, many are taking exams, including GCSEs, and all are required to attend regular meetings with the Home Office in nearby Croydon. 
Greenwich is in the process of becoming a 'borough of sanctuary', like its neighbour Lewisham, indicating the council wants it to be a safer place for refugees and migrants. On Wednesday, several councillors from the two boroughs joined more than 20 activists and charity workers outside the hotel, for the second time in two weeks. 
Greenwich councillor Majella Anning said the local authority wasn't initially given any notice that the asylum seekers were to be moved and, although the Home Office is now in communication with the council, most of her information still comes from migrant advocacy groups like Care4Calais rather than the government or its contractors. 
The council said it had tried to raise "significant issues over the treatment and welfare of asylum seekers and refugees" with the Home Office numerous times over several years but had received "minimal" response. 
Council leader Anthony Okereke told Novara Media: "The recent actions of the Home Office removing asylum seekers against their wishes is deplorable. By the time we were notified, the removal of people was already underway. This raises significant concerns over the way the Home Office works with local authorities to ensure the safety and well-being of refugees and asylum seekers in our borough and beyond."
Asylum seekers said they feared the hotel could escalate the situation by deactivating their key cards or forcibly removing them from the building as a stated deadline has now passed. 
A letter printed at the hotel and given to residents on 23 February, seen by Novara Media, said: "your current accommodation will no longer be available from 1 March 2023 […] Also, note that any accommodation provided by the Home Office is on a no choice basis."
However, the letter, which only gives contact details for a charity that it says can help with "general queries", isn't from the Home Office. Instead, it's signed by Clearsprings Ready Homes, a private contractor that operates the Dunstable hotel and other refugee accommodations around the country. 
This has angered asylum seekers, who have repeatedly asked for clear information directly from the Home Office. "After a week they gave us a letter, but they made it here. It wasn't from Home Office," one man said. "For every small thing, the Home Office sends us a letter. Why didn't you give us a letter to transfer us?"
Asylum seekers said it was distressing not to know who had taken the decision or who they could appeal to. "They tell me I can speak with immigration help," said one man, who claimed he had been shunted between hotel staff when he asked to speak to the manager. "[But] immigration help tell me they don't have any idea about the change."
Asylum seekers and support workers have been told the 1 March deadline is due to an expiring contract, but not who this contract is between. The Greenwich hotel is believed to be run by a subcontractor of Clearsprings Ready Homes, Stay Belvedere Hotels Ltd (SBHL), but the property itself belongs to a third company, a hotel chain. 
Staff appear to be exploiting the lack of transparency over decision-making and accountability created by this web of privatisation. Asylum seekers say staff have at times claimed to work for the Home Office and suggested they have some power over asylum claims. At other times, including when questioned by Novara Media, they have refused to disclose which company they work for and deflected all enquiries to the Home Office, which they suddenly claim is not represented on the ground.
Some asylum seekers said they felt decision-makers – be that the Home Office, Clearsprings Ready Homes or SBHL – cared only about money. "The hotel [in Dunstable] is old. It's cheaper than here," one man said. "They want to transfer us because of benefits to them. They don't care about our living situation." 
The Greenwich hotel, which is close to local tourist attractions, has been used exclusively to house asylum seekers for the past 18 months. It is now listed on booking.com, with rooms available to the public from the end of April – and prices as high as £239 a night. 
Anning said she believed the Home Office was ultimately responsible for relocating the asylum seekers – although even for the council the situation is opaque – but the decision has clearly been driven by cost-cutting and commercial interests. "They're going for the cheapest option they can," she said. "And the hotel doesn't want them anymore."
Councillor Denise Scott-McDonald confirmed the council is now negotiating with the Home Office to keep people in the area. "Many people who have been moved or are waiting to be moved have told us they are incredibly frightened," she said.
Asylum seekers, meanwhile, insist that none of them will move. Support workers, councillors and activists say they will turn out again to resist any further attempts to evict them.  "We are very grateful when people come down to support us," one man said. "We have lives and community here. We are not leaving."
The Home Office said:
"The welfare of asylum seekers in our care is of the utmost importance and we work closely with the police and our contractors to ensure their safety.
"Whenever we seek to use sites for asylum accommodation, we engage with the local police and other stakeholders to identify any community tensions.
"We continually review the security at asylum accommodation sites with providers."
Clearsprings Ready Homes refused to comment.
Charlotte England is head of articles at Novara Media.