How Conspiracy Theorists Made Air Pollution the Latest Front in the Culture War
They're plotting to destroy Ulez cameras.
15 March 2023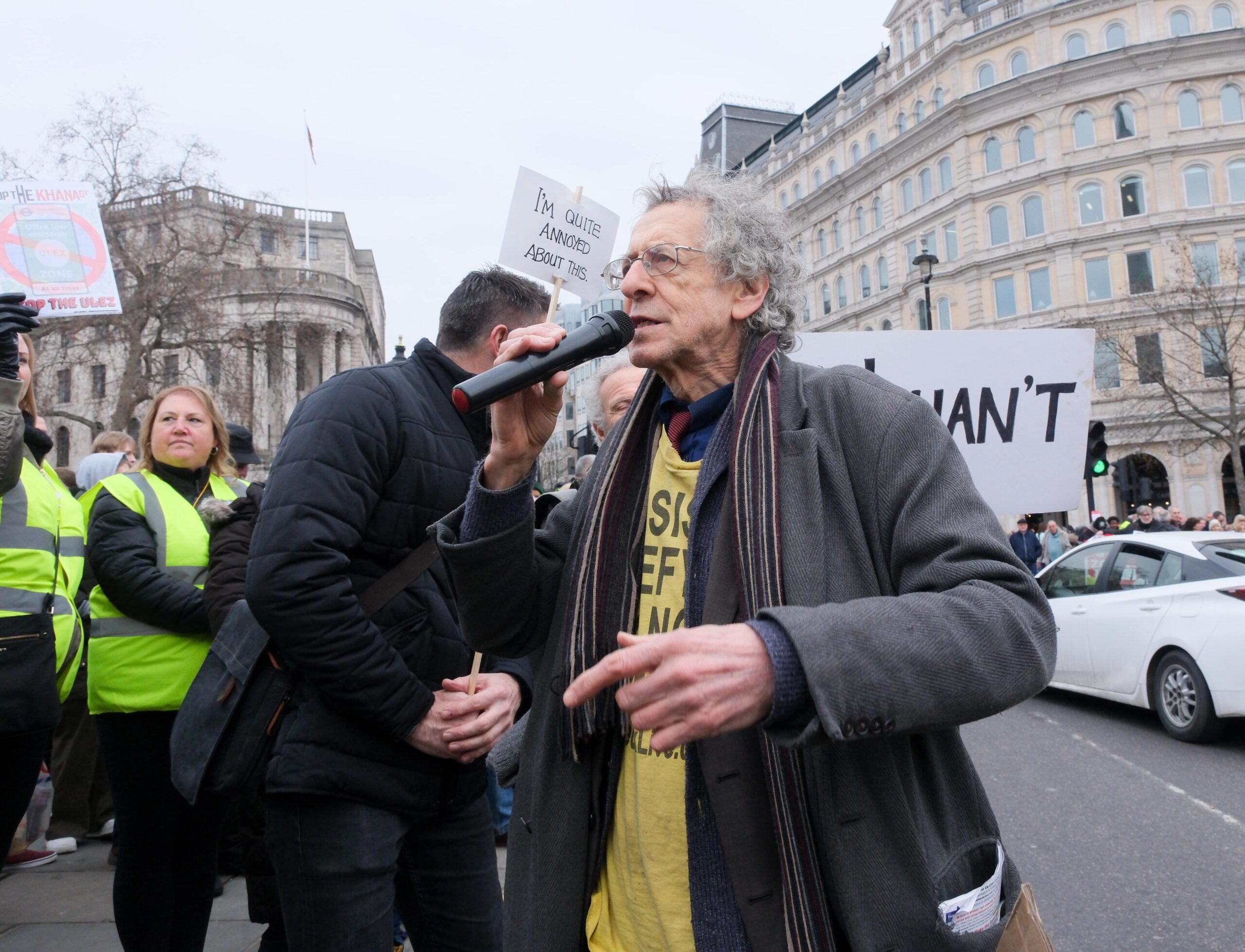 Piers Corbyn at a protest against the expansion of the Ulez zone. Photo: Reuters Connect
On a 26,000-strong Facebook group set up to protest the expansion of the Ulez (Ultra Low Emissions Zone) – a traffic measure to reduce pollution – posters discuss how to sabotage traffic cameras. "If someone was to unplug [a Ulez] camera, I'm not sure what charge, if any, would be suitable", writes one.
"A destroyed camera is a better result," another replies. "Put a virus on their network," another writes. "Flood it with so much data it crashes". Others suggest covering Ulez cameras with paint.
These plans, or perhaps fantasies, are found among baseless comments and climate change denial on the Facebook group "Action Against Unfair Ulez, Caz & LTN".
"The green dingbats think they can turn the sun down by cutting carbon emissions[,] what a crock", writes one poster.
"Just think about the sand from [the] Sahara that gets dumped on us at various times of the year, and sand is far heavier than pollution," writes another.
"All this pseudo eco crap forced by the globalists is a useless scam."
The Ulez policy aims to clear London's polluted air by removing old cars contributing to harmful nitrogen dioxide emissions. Since it was first introduced in central London in 2019 and inner London in 2021, it has significantly reduced air pollution in those areas. From 29 August 2023, the policy will include Greater London boroughs where drivers will face a daily charge of £12.50 if their vehicles aren't compliant.
Concerns about the scheme are varied. The Unite trade union has called it "anti-worker" and worries about how it will affect thousands of staff on their way to Heathrow Airport. While there are a range of grants for drivers and TfL is running a scrappage scheme, they may not be enough. Transport for London estimates that more than 200,000 drivers will be affected by the Ulez expansion, but there is currently a shortage of Ulez-compliant second-hand cars on sale in London for £5,000 or less.
Boris Johnson, who as mayor introduced plans for Ulez in 2015, has called on to "stop Sadiq Khan's mad Ulez expansions plan" because it will "hit hardworking families and businesses in outer London with an unfair tax grab." Five outer London Tory councils have also joined on the crusade against Ulez, forming a coalition to mount a legal challenge against it.
On the fringes, Ulez opponents are buying the idea that environmentally friendly urban planning measures are, in fact, a grand conspiracy to take away their freedoms through mass surveillance and enforced fines. Anti-Ulez rallies have become a hotbed of misinformation and conspiracy theories about Covid-19, the Great Reset, cashless societies, mass surveillance and vaccines.
A similar policy, 15-minute-cities – an urban planning concept in which most daily necessities and services are easily reached by a short walk or bike ride from any point in a city – has also attracted disinformation and conspiracy theories.
A protest against 15-minute-cities in Oxford on 21 February attracted 2,000 people.  Among them were far right groups like Patriotic Alternative and vaccine-sceptic pop band Right Said Fred. One witness heard some people chant "refugees are rapists" and "Jews will not replace us".
Lawrence Fox, leader of the Reclaim Party and GB News presenter, posted a video of a 12-year-old at the protest in Oxford saying 15-minute cities are "the first steps of a dystopian reality", published by Children's Health Defence, an American anti-vax group.
"Beats Greta any day," he wrote.
Conspiracy theorists are convinced that Sadiq Khan is part of this shadowy elite because he is the chair of C40 cities, a network of mayors collaborating on the plan to tackle the climate crisis in major cities. At an anti-Ulez protest in Bromley, Kent on 11 February, one person held a placard with Sadiq Khan's face on it, the sign read: "WANTED: FOR CRIMES AGAINST LONDON". On the Action Against Unfair Ulez, Caz & LTN Facebook group, Khan is frequently compared to Hitler.
The trend is also being jumped on by think tanks, politicians and media that straddle the political mainstream while also spreading disinformation and climate change denialism.
The Global Warming Policy Foundation (GWPF), a noisy Tufton Street think tank which campaigns as "Net Zero Watch" and has been dubbed the UK's most prominent climate science denial organisation, has been distributing anti-Ulez and anti-15-minute city material on social media. This is hardly surprising, given the fact the foundation once hosted a conference where a scientist urged authoritative bodies to "stand up and say there is no climate crisis".
One recent social media post from Net Zero Watch reads: "Robbing Hood Steals From The Poor To Fuel The Rich" in reference to Ulez, while another says: "Ulez is just another Net Zero scam to rip-off ordinary Brits and make them poorer!"
Steve Baker, the Conservative MP who founded Net Zero Scrutiny Group – comprised of around 20 backbench Conservative MPs who oppose the government's net zero policies – was a trustee of the GWPF until September. Baker has also campaigned alongside the "Together Declaration", a campaigning group vehemently against Low Traffic Neighbourhoods (LTN), Ulez and Clean Air Zones (CAZ).
The Together Declaration describes Covid lockdowns as "overreach in the name of 'safety'". Until this week it listed Anna Rayner as part of its team. Rayner helped set up and coordinate the Health Advisory & Recovery Team (HART), a group of doctors and academics looking to "widen the Covid-19 debate" by targeting parents and children with vaccine misinformation. However, Rayner has recently been removed from the listing.
Fringe rightwing conspiracy theorists were already trying to claim that net-zero was a way to make the poor "colder and poorer". Now, they view walking around your neighbourhood breathing in fresh air as the latest terrifying assault on our freedoms.
Diyora Shadijanova is a multimedia journalist and an editor at gal-dem magazine.