'Bastards!': Comedian and Outspoken Critic of Austerity Paul O'Grady Dies Aged 67
'Education should be for everyone, not just those who can afford it.'
29 March 2023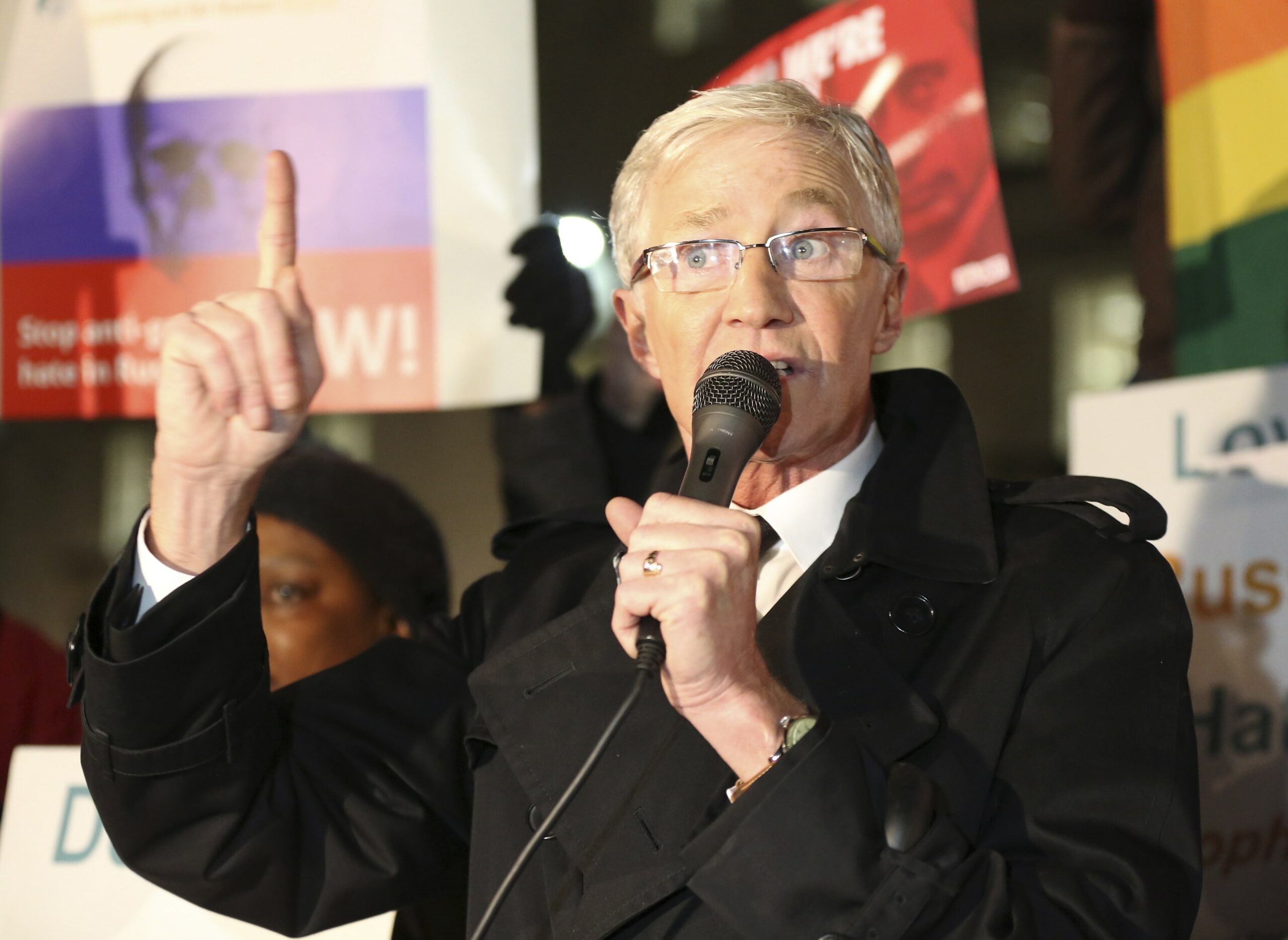 Paul O'Grady speaks against Russia's anti-gay stance outside Downing Street ahead of the Olympic Games in 2014. REUTERS/Paul Hackett
Legendary comedian and broadcaster Paul O'Grady has died, aged 67.
O'Grady rose from the comedy circuit in the 1970s to become a much loved broadcaster, famously hosting game show Blankety Blank in the 1990s with his iconic drag persona Lily Savage.
O'Grady was outspoken about politics, informed partly by his work as a care worker for Camden Council in the 1970s.
O'Grady was performing at the Royal Vauxhall Tavern as Lily Savage in 1987 when the venue was stormed by police officers wearing rubber gloves. "I remember saying something like "Well, well, looks like we've got help with the washing up"", O'Grady recalled.
O'Grady was vocal about the austerity imposed by the coalition government from 2010.
"This government cutting disability benefits – it's criminal. I know from being in social services myself how important that £30 is," he told the Observer in 2017.
He once said he would like to see former prime minister David Cameron and former chancellor George Osborne's heads on spikes.
In 2010, O'Grady called for viewers of his ITV Friday night live show to take to the streets "in our fight against oppression".
He said he would "sooner have Ozzy Osbourne as chancellor" than George Osborne. "At least with Ozzy the only cuts would be the f-ing and blinding from his speech. Do you know what got my back up? Those Tories hooping and hollering when they heard about the cuts. Gonna scrap the pensions – yeah! – no more wheelchairs – yeah! Bastards."
This was so important for those of us who were at that protest, in the face of a near universally hostile press. It's also painfully true that the pipeline which put a working class drag queen and former care worker from Birkenhead on prime-time TV no longer exists. https://t.co/eBzqOEe4mb

— James B (@piercepenniless) March 29, 2023
O'Grady also voiced support for student protesters who stormed the Conservative Party HQ at Milbank. He joked that he tried to help the protesters "in my capacity as a riot consultant, but they seem to be doing alright on their own."
"I can't condone throwing fire extinguishers off the roof. Use them as a battering ram for doors!"
"You can't blame them though can you really, getting upset about the rise in fees. I mean, education should be for everyone, not just those who can afford it."
Placards with O'Grady's face mocked up as a revolutionary leader were seen on subsequent student demonstrations.
In 2013 O'Grady made a documentary series about the working class for the BBC. Initially called Paul O'Grady's Working Class, the programme was renamed to Paul O'Grady's Working Britain by a nervous BBC One controller. Two Open University academics pulled out of the show.
In 2015, O'Grady said he had considered leaving Britain and moving to Venice, but Labour leader Jeremy Corbyn had given him some hope. "This man comes along and says, no, we need social housing, we have to be a more caring society. Thank God somebody has come along and said it. It doesn't matter if he can't win. How do we know he can't win? Just because he's not in a Savile Row suit with the slick haircut!"
His husband, Andre Portasio, said in a statement that O'Grady died "unexpectedly but peacefully" on Tuesday evening.
"We ask, at this difficult time, that whilst you celebrate his life you also respect our privacy as we come to terms with this loss," Portasio said.
O'Grady is survived by his husband, daughter, and two grandchildren.
Simon Childs is a commissioning editor and reporter for Novara Media.