What's Going on With the Industrial Dispute at UK Universities?
UCU has been criticised for 'undemocratic' actions.
24 March 2023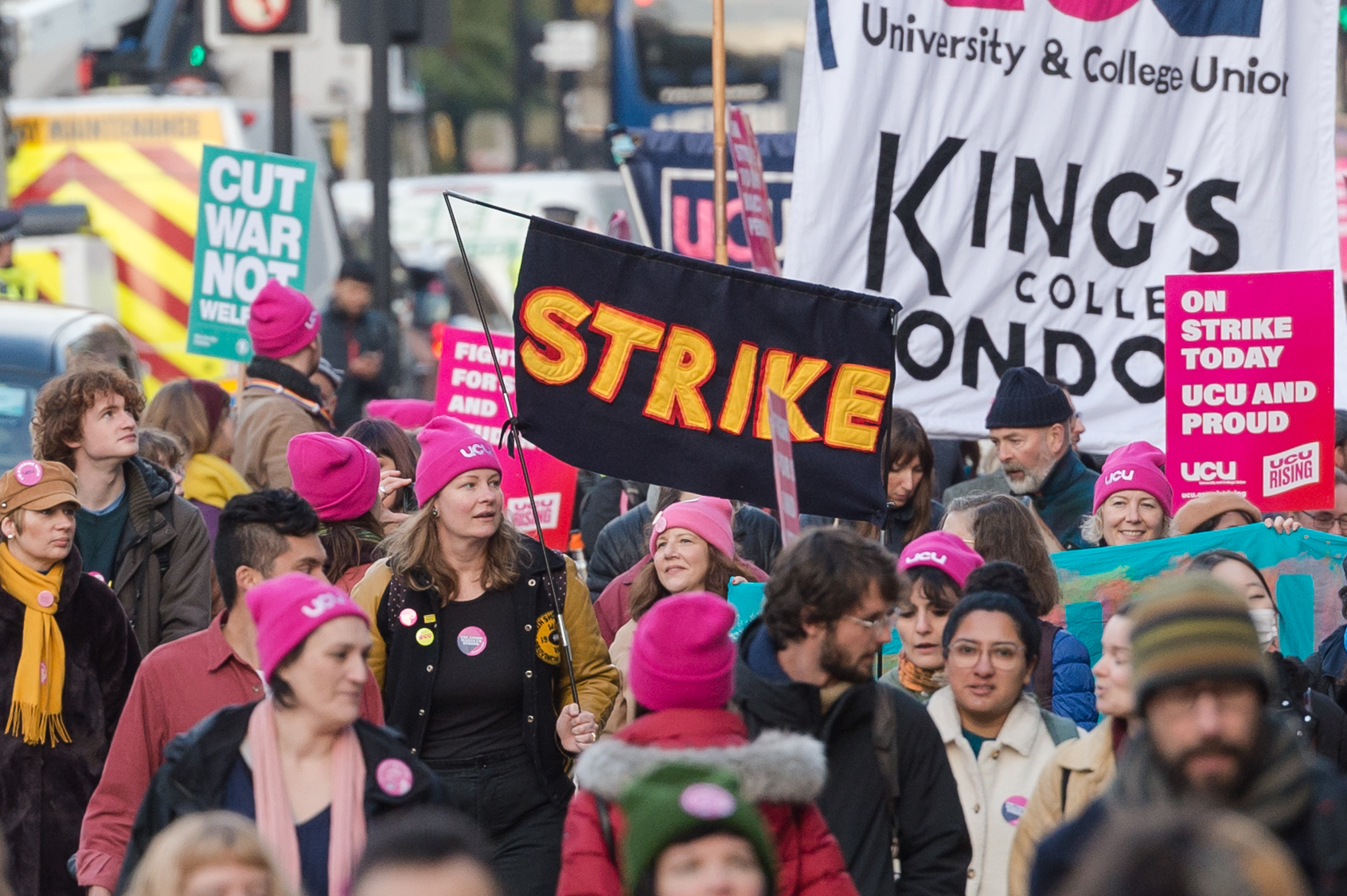 UCU workers demonstrating. Wiktor Szymanowicz/Reuters
A prolonged industrial dispute between UK university staff and employers looks set to continue, despite initial talks of a "breakthrough" by the University and College Union (UCU).
Over 70,000 staff at 150 universities took three days of strike action this week, in a long running dispute over pay, conditions, and attacks on pensions.
UCU members are currently being re-balloted, to allow for further strikes and a marking and assessment boycott that strategically targets summer final exams.
This is despite UCU announcing a "breakthrough" in the negotiations on 15 March after they received a set of proposals from Universities and Colleges Employers Association and Universities UK.
The union said the proposals would "pave the way" for pensions to be restored, the end the use of involuntary zero-hour contracts in higher education, tackle casualised contracts and "reduce workloads and close equality pay gaps."
In a video released on Twitter UCU general secretary Jo Grady said that the latest pension proposal was "one of the biggest wins in UK trade union history."
UCU social media was equally positive, with one tweet saying: "Never again will a university worker be forced onto a zero-hour contract."
However, not all members were convinced the proposals represented a breakthrough.
On pay, the Universities and Colleges Employers Association repeated an earlier pay offer – a pay rise of between 5% and 8% – which had been rejected in February by 80% of UCU members.
In February, Grady called the offer a "devastating real-terms pay cut for tens of thousands of our members."
Other higher education trade unions – Unite, GMB, Unison and the University Lecturers' Association (EIS-ULA) – are also in dispute with the Universities and Colleges Employers Association. Unison Higher Education released a statement that said the Universities and Colleges Employers Association's latest offer "represents no substantive improvement on the original pay offer so our the (sic.) Higher Education Service Group Executive have decided not to waste members time with another consultation, and move directly to a strike ballot."
Speaking in a personal capacity, David Chivall, Vice President of the University of Oxford branch of UCU, told Novara Media, "Since we paused industrial action a few weeks ago, the employers' body Universities and Colleges Employers Association have been manoeuvring to get us to stop our industrial action in exchange for the same 5% pay offer we rejected in February… Personally, I can't afford the 15% real-pay cut over two years that this would leave us with, so I'm relieved that our Higher Education Committee, like Unison, decided not to entertain the offer and we can now start working towards an assessment boycott in case the employers do not come back with an acceptable offer."
Some members have also raised questions over how big a win the pensions offer is. In a video released on Twitter, UCU general secretary Jo Grady said, "we have won our pensions back, you have won your pension back."
In April 2022 the Universities Superannuation Scheme (USS) made massive cuts to the retirement pay of university staff. These cuts were based on a valuation made of the scheme's finances in March 2020, as markets crashed during the COVID-19 pandemic.
In its most recent offer, the main pension provider to the university sector, USS said it would "prioritise the improvement of benefits to pre-April 2022 levels, where this can be done in a demonstrably sustainable manner." In other words, the USS would prioritise reversing the pension cuts made following the March valuation.
However, the improved offer is in part down to improved market conditions. According to the Financial Times, "much of the deficit that justified the pension cuts has disappeared."
Jessica, a UCU branch rep at a Scottish university, who chose not to give her real name for fear of receiving an online backlash, said: "It's great news that the pensions will be restored, but that's not the 'historic victory' that it's presented as. Of course, the strike action has played a part, but the role of the market in providing an 'irrefutable' valuation to restore [pensions] can't be ignored, nor the ability of the market to undermine that deal."
On casualisation, the Universities and Colleges Employers Association "agreed to consult its members, with a positive recommendation to take action on zero hours contracts, whether fixed-term or permanent/open-ended." The body would recommend in place of zero hours contracts "indefinite contracts with a fixed or minimum hours to be the general form of employment relationship."
Jessica said this amounted to "nothing tangible enough to protect members with."
Ben Pope, who sits on the UCU national executive committee on behalf of casually employed members, said that the struggle for better pay and conditions must continue no matter what the outcome of the pensions dispute is. "On casualisation in particular, it's a question of whether we move now to in-depth negotiations, backed by the threat of future industrial action, or continue our programme of escalating action with the aim of entering those negotiations on better terms."
Additionally, concern has been raised by members that zero hours contracts could simply be replaced by permanent contracts for incredibly low hours, thus "baking in" precarity.
Jordan Osserman, a lecturer at Essex University, UCU member and grassroots organiser, said: "It's natural for unions to enter into a period of heated debate when employers table an offer, but unfortunately our general secretary Jo Grady has mismanaged this through a series of undemocratic manoeuvres reminiscent of the circumstances that led to the ousting of our previous general secretary.
"The key problem is that our employers have not budged on pay, tabling the same 5% offer we already rejected…  whilst offering next to nothing – promises of future talks – on casualisation, equalities and workload.
"The good news is that we still have a tremendous amount of leverage – a marking and assessment boycott strikes fear in the hearts of our employers – if we can reunify and organise."
On 15 March, the union launched an indicative e-ballot on whether the proposals should be put to members while pausing the strikes. 36,000 members voted in the e-ballot, with over two-thirds of those voting to pause strike action and consultation. On 16 March, branch delegates marginally voted to support putting the proposals to members, although voted to continue action.
The results of the e-ballot and meeting were then presented to the Higher Education Committee – a branch of the union's executive made up of elected UCU members working in higher education that determines the union's course of action – who voted to continue industrial action and to not put the proposals to members for a vote.
Some members objected to the fact that e-ballot was addressed to the entire membership, including those not on strike or who had voted against strike action. The e-ballot was open for 48 hours, a time frame that some members felt didn't allow time for deliberation on the ballot within branches.
However, some members are angry that, having voted in the e-ballot to be consulted on the proposals, they are now unable to, due to the decision of the Higher Education Committee.
UCU are now waiting to hear from the employers as to whether they have revised their position.
Asked to respond to criticisms made by UCU members and reported in this article, a UCU spokesperson said:
"Unions are at their strongest when they constantly engage their members and that is what we have done since day one of this dispute. It is that strength and connection which will deliver positive change in our sector."
"After years of fighting the employers on a university-by-university basis, we have now won real change through balloting, striking and acting nationally. "
"The UCU is a democratic organisation and our members have been incredible in the face of a relentless and sustained attack on their terms and conditions. This dispute is the start of us reversing those trends. We are now a union that can call and win national ballots. With just days left in the ongoing national re-ballot to secure a new mandate, we would urge every UCU member to vote YES and send the strongest possible message to the employers – we will hold strong and robust internal debates, but we will come together to challenge injustices in our workplaces."
Polly Smythe is Novara Media's labour movement correspondent.