Manchester Uni 'Brutally' Evicts Student Rent Strikers, in Potential Breach of Protest Rights
22 March 2023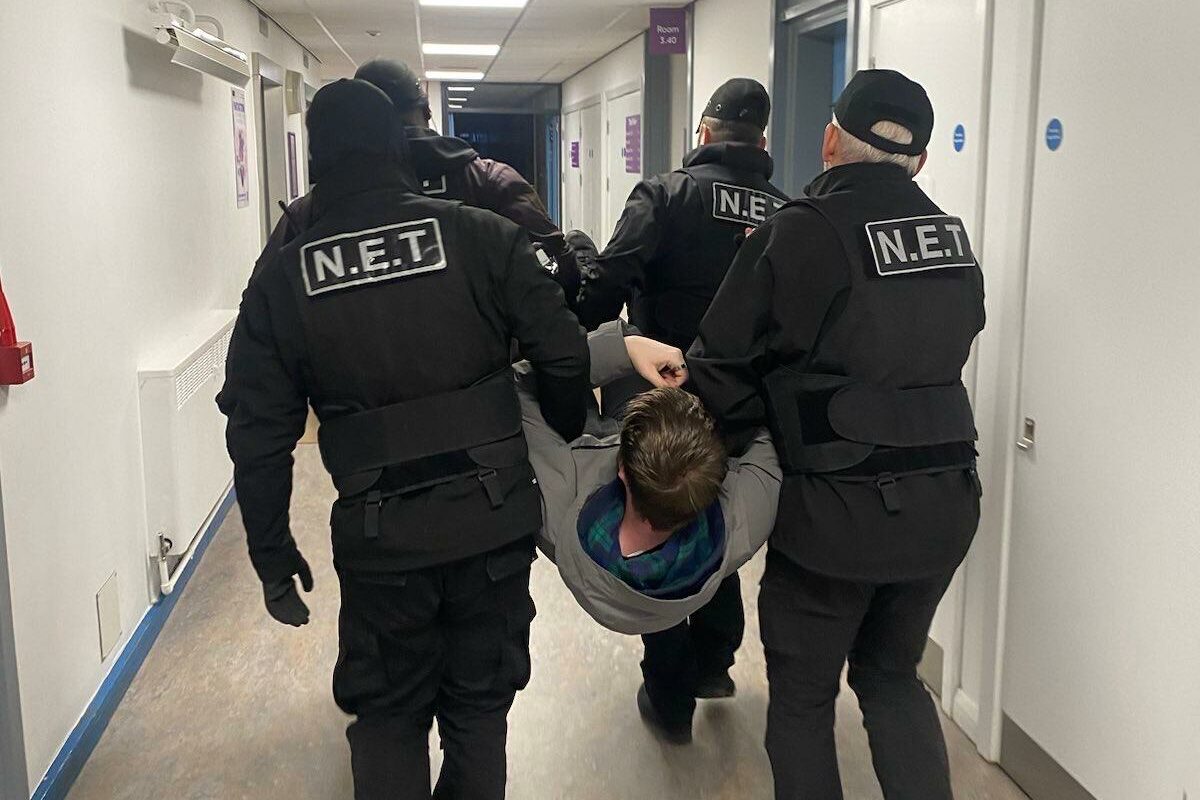 Bailiffs carry a student occupier out of the Simon building on the University of Manchester's south campus, March 2023. Photo: UoM Rent Strike
At around 5.20am on Wednesday morning, Ryan Belhadj woke to the sound of a door being taken off its hinges. Shortly afterwards, 15 men in black uniforms rushed into the room where he and around 20 other students were sleeping. The bailiffs had been sent by the University of Manchester, to remove them from the campus building they had been occupying since 16 February.
🚨🚨 BREAKING: UoM have just used dozens of private baliffs to physically evict student protesters. Shame on @OfficialUoM that they would rather do this than consider basic demands for affordable rent. Any pretence that these scum care about student welfare is clearly bullshit. pic.twitter.com/OUOrcSi65H

— UoM Rent Strike 2023 (@rentstrikeUoM) March 22, 2023
The occupations form part of the students' rent strike campaign that has been ongoing since January, the uni's second in three years. The first came in 2020-21, when around 300 students withheld rent in protest against the university's treatment of them during the pandemic: in a viral incident, the university put up 7ft metal fencing around one student halls to prevent "household mixing" among students, thousands of whom marched through campus in protest.
In the end, the rent strikers won some £10.8m from the university, which agreed to a 30% rent reduction and to waive rent on halls students were unable to occupy due to lockdown.
The eviction, which has been described as "brutal" by the National Union of Students (NUS), follows a High Court decision on Monday to grant the university a possession order over its entire south campus. It also marks the end of a seven-week period that saw some 150 students occupy four buildings across the south campus.
Now, as this second strike gathers even greater momentum, the university has been turning to increasingly repressive tactics to suppress it – and in so doing, may be infringing students' fundamental protest rights.
Bigger and better.
Belhadj, a 20-year-old third-year physics student who participated in the last round of strikes, says this one has had a far broader reach. "So many more students have been engaged and involved, it's been a lot more political and explicitly leftwing, as opposed to the old ones, which was very much covid-focused." Their demands are also significantly more ambitious.
Demands include a £1,500 cost-of-living payment to each student (the university announced a £170 one-off payment for all full-time students in November plus a further £230 for 10,000 eligible students earlier this month); a 30% blanket rent reduction across all university halls; a 30% refund on January's rent instalment for those who did pay; a three-year rent freeze; a commitment to make 40% of university halls affordable under the National Union of Students (NUS) definition within three years; and a pledge not to victimise strikers.
While the university says that as of 9 March, only 44 people declared to them that they are withholding rent as part of this campaign, the strikers have obtained FOI data showing that, by the end of January (rent was due on 19 January), 934 students still hadn't paid.
The strikers' conservative estimate is that around 350 of those are participating in the campaign – and with another rent instalment due on 20 April, they predict their ranks will swell. Their aim is to have 1,000 strikers signed up by the next payment deadline – if they succeed, the strike will have cost the university roughly £2.4m this academic year.
A litmus of the strikers' popularity will come tomorrow when a referendum closes in the student union on their demands. Robbie Beale is an executive officer at Manchester SU, which has been in talks with the university about the strike. He reckons the university has underestimated the strikers: "They think they are isolated. They don't understand the strength of feeling amongst all students." He's almost certain what the referendum outcome will be – and anticipates record turnout. 
For his own part Belhadj attributes this greater student engagement partly to the occupations, a new tactic this time around: "The space that we've had has been so useful," he says, pointing to the know-your-rights workshops, self-defence training and film nights the occupiers have organised. It's perhaps for this reason, he says, that the university's response to this second strike has been significantly more repressive than to the first.
The crackdown.
The rent strike has seen the university gradually escalate its attempts to intimidate students out of their occupation. On 28 February, Belhadj and 10 other students received emails from the university's disciplinary office informing them they were under investigation for misconduct.
Then on Monday, occupiers found themselves locked into the Simon building with bike locks; security only removed the locks after students threatened to alert the media. "They just hold us in complete contempt," says Belhadj.
Legal experts who spoke to Novara Media expressed concern that Monday's events could represent false imprisonment – and that Wednesday's may have infringed their human rights. Francesca Cociani, a solicitor at protest-specialist firm Hodge Jones & Allen, said: "As peaceful protestors, the students were exercising their [rights under] article 10 [freedom of speech] and article 11 [freedom of assembly] [of the] ECHR [European Convention on Human Rights], which together form your right to protest.
"This country has a longstanding history of student protests and peaceful occupations," she adds. "It is regrettable that [the university]'s solution was to infringe on those rights and forcefully evict them."
Cociani said that the university may have been emboldened by the government's unprecedented crackdown on peaceful protest, notably in the form of the Police, Crime, Sentencing and Courts Act and the public order bill: "I wouldn't find it surprising if the universities have been caught in this wave of cracking down on protests and feel more justified to do so," she says, "because they look up and see the government doing the same thing."
Some have drawn more direct links between the university's protest crackdown and the university's: bailiffs from the National Eviction Team, the company that carried out the eviction on Wednesday, are currently in court for falsely imprisoning HS2 protesters.
In a statement to Novara Media, a University of Manchester spokesperson said: "We very much regret having to do this, but the situation has been going on for a significant amount of time and has caused ongoing disruption to students and the people who work in the building."
Hearing this, Belhadj laughs. "Isn't it funny that they regret this," he says, "because we regret this. This could've been solved in so many other ways," he says. He notes that the students have tried throughout the campaign, including before the occupations began, to engage the university in dialogue, but they have been repeatedly ignored; the only time the university has met with them was in court.
For Belhadj, the eviction says it all: the uni had a key to the door, so why did it have to send bailiffs to break it down? "There've been so many other opportunities for them to just talk to us – and they've chosen violence instead to get their way."
Fraser McGuire, a first-year history and politics student at the university, was evicted with Belhadj on Wednesday morning. He interprets the university's increasingly repressive tactics as a sign of weakness: "We think they're scared. They're worried about where it's going to go. They're starting to realise we don't have any other options – people simply can't pay their rent."
Rivkah Brown is a commissioning editor and reporter at Novara Media. She is also the editor of Vashti.