Is Belfast Becoming the New Epicentre of the Rental Crisis?
Northern Ireland's capital has seen the highest hike in private rent in the UK.
1 February 2023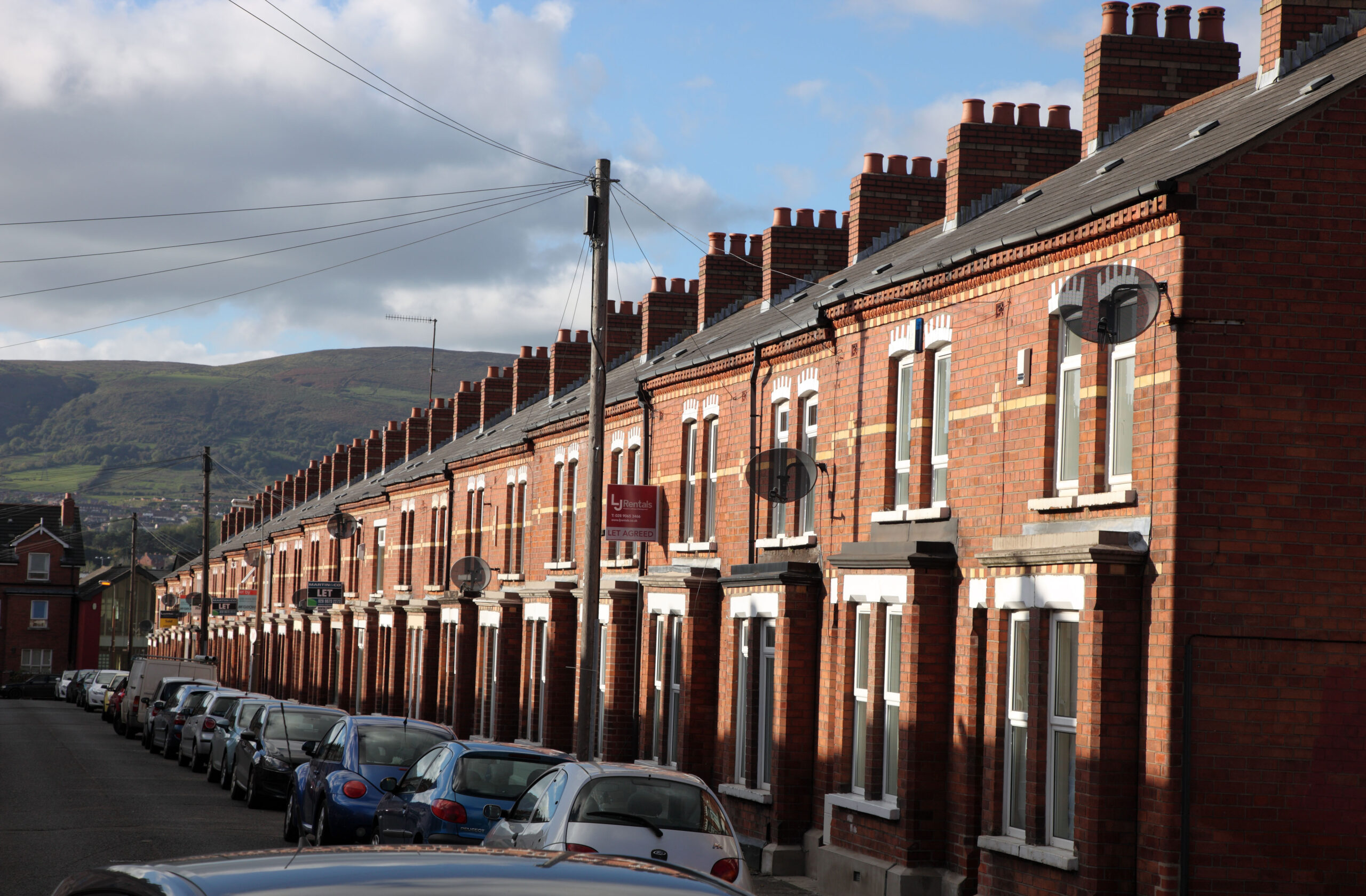 The price of average private rent in Belfast has risen to £845 per month. Ros Drinkwater/Reuters
Picture this: a UK capital city in the grip of a private rental crisis. Contributing factors include: gentrification, a developer influx, a growing student population and the overhang of the Covid-19 pandemic. No, not London, but Belfast. 
In the past few years, the price of private rent in Northern Ireland's capital has skyrocketed. ONS figures reveal a jump of 8.4% in 2022 – more than anywhere else in the UK. A boom in Belfast's tech and sales industries (an estimated 60,000 people are now employed by tech companies in the city) has coincided with an influx of American tourist money and the return of young 'brain drain' millennials in search of cheaper housing. As a friend recently joked, there are now so many ex-Londoners living in south Belfast's Ormeau Road area that it may as well be called 'Little Clapham'. Indeed, the north more widely is a petri dish for 'redevelopment' and promise of post-conflict 'opportunities' (last month the Sunday Times listed Derry as one of the "coolest" postcodes to live in the UK). But as with the likes of London and Manchester before it, the impact on private renters in Belfast is already being felt. 
Privately rented properties now account for 17.5% of all households in Northern Ireland – up from only 6.6% two decades ago. Since the pandemic, the average rent has hit £845 per month. Social housing essentially isn't an option: over 44,000 people are currently on the waiting list for homes in Belfast alone, and just 835 new housing units were built from 2021 to 2022. Indeed, a report published this summer claimed this housing backlog could take up to 50 years to clear.  
"[Belfast is] overflowing with Dublinesque bedsits up for rent and four bed houses turned into two bed apartments to maximise [profit]," says 28-year-old renter Pádraig Mac Cionnaith. One flat he occupied in south Belfast felt "genuinely unsafe" to live in, with a leaking roof and dangerous electrics – yet the demand for it was unprecedented. "Our old landlord told us he had 70 people contact him looking to rent our old place when we moved out," Mac Cionnaith tells Novara Media. 
What's more, extensive requirements are needed in order to rent in Belfast – often demanded by estate agents. A Reddit post recently detailed the hoops would-be renters are asked to jump through, including a credit check, three months' worth of bank statements and no fewer than three forms of identification from guarantors. Most private renters are required to provide a guarantor, regardless of age or income, and landlords often demand guarantors to be family members who own property in Northern Ireland and earn over a certain amount. Last year when I rented a flat in south Belfast with my partner, I was surprised we both needed what is essentially permission from our parents to sign a lease. I could hear my baffled boyfriend reasoning on the phone to endless estate agents: "I'm 30, my parents are divorced, my mum is retired, she lives in England, why do I need this?" (to no avail).
"[Belfast is] not Manchester or Dublin just yet, but they're trying their best to make it that way", says Iain Duffin from Community Action Tenants Union, a cross-border initiative targeting landlords and banks that began in Dublin. Duffin attributes Belfast's declining rental situation partly to the "university industrial complex". "There are no houses being built. The only thing you ever see being built is student accommodation," he says.  
Local writer and comedian Ciaran Bartlett recently lamented that with the increase in city centre luxury developments aimed at international students studying at Queen's University Belfast (QUB) and the University of Ulster, the city is "selling its soul to universities". Last month, figures revealed the number of international students at QUB had risen by 20% in the past year; the university now makes £57m in tuition fees from overseas students. Rooms in Stranmillis, QUB's halls of residence, are priced from £90 a week, while student 'studio apartments' in Belfast's touristy Cathedral Quarter charge just under £300 a week. 
Post pandemic returnees are also encouraging a 'bidding' process that is common in London and Dublin already, Duffin claims. "People are moving over from England saying 'this is crazy, I can't get a house, but everything's way cheaper than it would be in London, so I'll just add £200 on the offer". 
The burgeoning housing crisis "will soon be on a par with London and Dublin," says People Before Profit (PBP) councillor Matt Collins. He says the issue is a "political choice"; in March 2022, Stormont voted to reverse a PBP amendment that would have forced private landlords to give tenants a 10% rent reduction. 
"The political establishment, many of whom are landlords, have refused to address the housing crisis because they have no material interest in doing so," says Collins. "Politicians have refused to regulate rents and refused to protect renters who are forced to live in poor accommodation for lack of an alternative. The way to solve this crisis is to build social homes and ensure the right to housing. It will be up to our communities to pressure politicians to do so." 
The Social Democratic and Labour Party (SDLP)'s Claire Hanna is similarly critical of a "lack of political urgency" with regards to solving Belfast's housing crisis. "For the last few years, part of this region's pitch to investors was that their employees could live here more cheaply than in Dublin or London. That is increasingly not the case," she observes. "In 2021 mortgage rates were sitting somewhere between 2% to 3% – they are now sitting between 5% and 10% , creating a massive barrier for first time buyers which impacts availability in the private rental sector too." 
A Sinn Féin spokesperson told Novara Media that there's a need to "significantly increase housing supply across the north," pointing to the work of communities minister Deirdre Hargey, who has "prioritised work on revitalising the housing executive which aims to […] build homes again". Hargey, in 2021 unveiled a plan to deliver over 100,000 new homes in Northern Ireland, and in 2022 froze [social housing] rent for the fiscal year in response to rising costs of living. 
"We want to see more social and affordable homes, particularly in areas of highest housing need," the spokesperson added. "There is a pressing need for the executive to be back up and running, so work to deliver more homes in the future can progress."
Not everyone is convinced of a political solution, though. Duffin is sceptical of Stormont's ability to confront the crisis. "If you'd gone to Dublin ten years ago and asked people if things were going to get better, they'd have said no," he observes. "Economic forces [are] pressuring the market, and forcing more and more people into the city." 
There is, he says, "simply not enough housing. I don't see it changing. It's only going to get worse." 
Róisín Lanigan is a writer and editor based in London and Belfast.