The Organiser of an Anti-Migrant Protest to Protect Women Is a Woman Beater
He also drove while under the influence of cocaine.
23 March 2023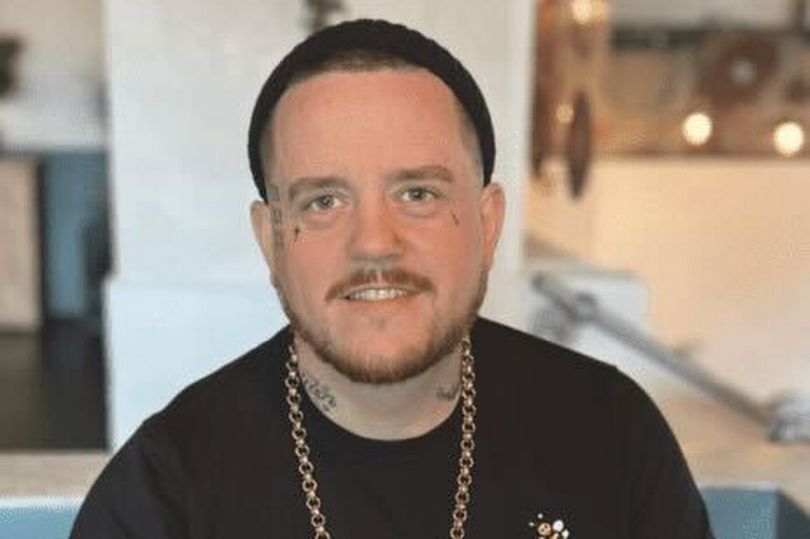 Philip Milo Gregory
A convicted fraudster who was arrested for knocking a woman unconscious and fined for drug-driving is the organiser of an anti-migrant protest supposedly aimed at protecting women.
In February around 100 protesters gathered outside the Beresford Hotel in Newquay, Cornwall, which has housed asylum seekers for several months, as a wave of anti-migrant protests swept the country after a riot broke out outside a hotel housing refugees on Merseyside. They were outnumbered by about 300 counter-protesters.
Local news website Cornwall Live reported that the protest was organised by 36-year-old Philip Milo Gregory. Gregory was charged with fraud at Gloucester Crown Court in May 2017. He went on the run for 20 months, and was eventually caught after he was arrested in Newcastle city centre after allegedly punching a woman in the face and knocking her unconscious.
Court documents show that in 2022 Gregory was given a fine and banned from holding or obtaining a driving licence for one year and 42 days for driving under the influence of cocaine and cocaine metabolite, Cornwall Live reports.
Gregory is the administrator of a Facebook page advertising a second protest outside the hotel, for Sunday 26 March.
The page was set up on 17 March after Devon and Cornwall Police released a statement identifying an alleged rapist, set to appear in Truro Crown Court in April, whose address was given as Narrowcliff.
Narrowcliff is a stretch of road on the seafront of about half a kilometre with a number of properties, including the Beresford Hotel. On Monday, Cornwall's courts confirmed that the alleged perpetrator was not a resident of the hotel, but another property in the area. The accused man is in the country legally on a short term visa and not a refugee.
Gregory's Facebook event description initially cited the case, claiming that "illegal immigrants" at the hotel have been "harassing women".
The protest Facebook event description has now removed reference to the case, but says, "As already highlighted resident[s] of the Beresford Hotel have followed and harassed women and children in our town."
"It is our daughters', sisters', aunties' safety all at stake".
"We are not far right, but we are right so far", the event description says.
A spokesperson for Cornwall Resists, an activist group organising a counter protest, said: "It's confirmed that the alleged perpetrator of the attack was never a resident of the hotel. This makes one thing very clear – protest organiser Mylo Gregory's little tantrum was never about supporting survivors. Despite having their racism laid bare, the fascist mob are still planning to gather and spew their hatred on Sunday."
Traditional Britain, a far-right group which made headlines in 2013 when Jacob Rees Mogg MP distanced himself from it, also picked up on the story. The group shared a story about the alleged perpetrator's address, among a constant stream of anti-migrant sentiment on its Facebook page, saying, "The location of the Beresford Hotel, Newquay, site of recent anti-refugee protest is on Narrowcliff. What are the chances?"
Novara Media approached Traditional Britain for comment and a spokesperson said they would "look up the details" but stopped responding once we showed them a news report stating that the alleged perpetrator was not a resident of the hotel.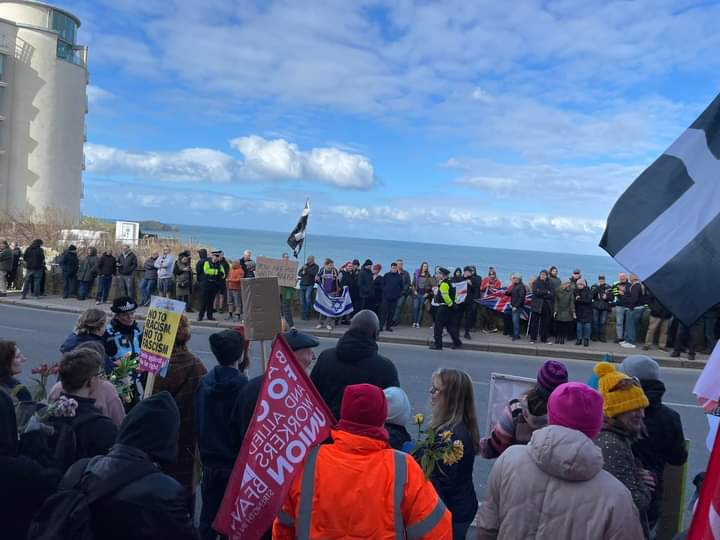 Allan Jones, a spokesperson for anti-fascist investigators Red Flare, said: "Far-right groups only claim to care about sexual violence when it gives them an opportunity to push their racist agenda. The vast majority of sexual violence in Britain is carried out by white men towards their partners. This is something we never hear the far-right talking about.
"Accusing migrants of sexual violence goes back centuries. What is particularly concerning now is the way accusations can be distorted and go viral, even when there is a lack of evidence. The cost of living crisis and government racism towards migrants has created a toxic environment where spontaneous anti-migrant violence has started happening."
Cornwall Resists criticised the Devon and Cornwall Police for releasing the alleged perpetrator's address, which the group says stoked tensions, given that it was close to the hotel which had already been targeted by protesters.
Cornwall commander chief superintendent Ben Deer said: "There has been a number of speculative social media posts suggesting the man charged in relation to this offence was a resident at the Beresford Hotel in Newquay which is currently housing asylum seekers in the town. This has led to further posts which have suggested women and children in the town are at risk from attack by those asylum seekers living at the hotel.
"I would like to put on record that this is categorically untrue and the individual charged with the offence is not a resident at the Beresford Hotel.
"Comments suggesting offences are being committed by those staying at the hotel are untrue and unnecessarily raising community tension."
When Novara Media asked Gregory for a comment, he said, "Go fuck yourself".
However he explained his record of offending to Cornwall Live saying: "Fact is this 1. Drug driving (I was taking CBD oil for pain and had a couple pints and my son needed urgent medical attention, I put him in my car and took him hospital) wait for an ambulance was 7/8 hours. If I hadn't he would of died the hospital said. So I'll own that. 2. The fraud charge came after looking after a friend who was trying to get off drugs and I said he could live with me while I helped him off. He agreed I could look after his bank card and help him manage his money so he wouldn't buy drugs. After catching him taking something in my kitchen late one night I asked him to leave. A few days later I went to take a contract out and handed over his bank card out of my wallet by mistake as we banked with the same bank. Shop called police I was arrested and they asked him about his card he said he didn't give it me. 3. Woman I punched in Newcastle spat in my face in covid. She did it from the side I didn't notice it was a woman as she identified as a man and even looked like one. I punched her/him once. I own that too. She was charged with GBH as it was in the covid period."
Simon Childs is a commissioning editor and reporter for Novara Media.