London Asylum Seekers Are Refusing to Be Flung Around the Country by Profit-Seeking Private Companies
A group in Greenwich has been resisting removal for a month. Now 40 people in east London are too.
21 March 2023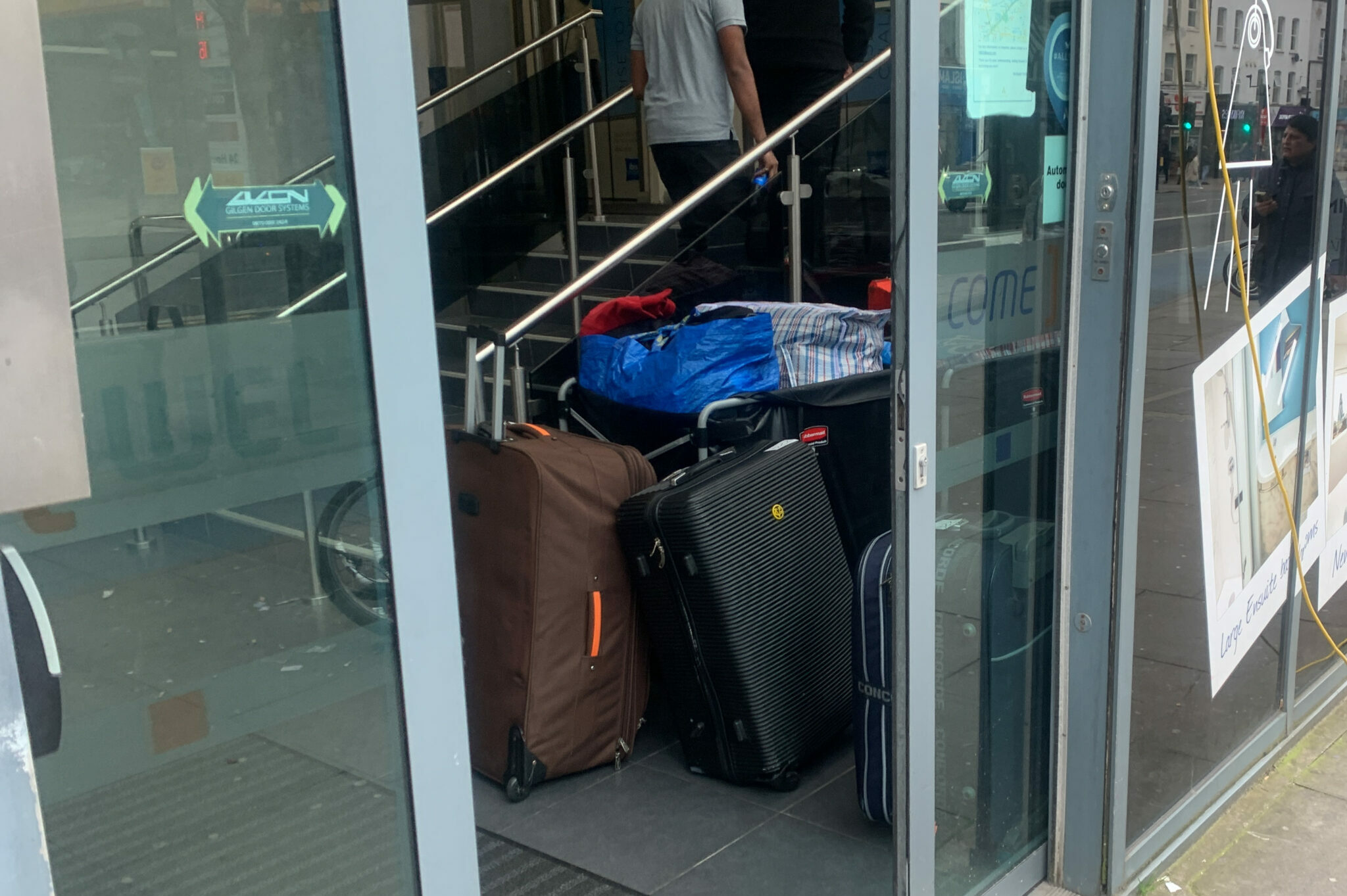 Asylum seekers were told to pack their bags and board 8am buses out of London. They refused. Photo: Charlotte England
A second group of asylum seekers are refusing to be moved from the London hotel they have been living in, as resistance grows to being shunted around by private companies in Britain's hostile environment. 
More than 40 people resisted removal from a Tower Hamlets hotel on Monday, with some disembarking the coaches they were loaded on to after speaking to other asylum seekers and activists.
Vulnerable individuals and families feared they could be taken to either a remote, rural location, or a Bedfordshire hotel that has been aggressively targeted by the far-right.
The protest comes just weeks after asylum seekers in Greenwich successfully resisted removal to Dunstable, where existing residents say they are being tormented by neo-Nazi group Patriotic Alternative. 
The asylum seekers in Tower Hamlets were not provided with interpreters to explain the situation, nor did they receive any correspondence from the Home Office.
Some said they were only told where they were going on the day, with individuals seemingly arbitrarily assigned to one of two London locations, Bedfordshire, or a hotel more than two hours away in the Sussex countryside.
Most were initially afraid to disobey staff, fearing it could impact their asylum claims.  
Residents of the east London hotel include families with children, who were called back from schools and nurseries to board buses, activists said. Many have lived there for more than a year.
One elderly woman was taken away in an ambulance as her high blood soared on Monday morning. Activists said another, with severe mental health problems, attempted suicide, after asylum seekers were told by staff from SBHL – the company that operates the hotel on behalf of Home Office contractor Clearsprings Ready Homes – that they must move or face eviction "on to the streets".
A 28-year-old man who travelled to the UK with his twin sister said they were initially assigned to different hotels, miles apart. He said he was afraid they would face abuse related to their sexuality – both are gay – if separated from one another and from their community in London. "We are individuals," he said, of the diverse group staying in the hotel, "we have our own reasons not to want to go."
A woman said she was afraid her baby would become seriously ill as a result of the move; he has struggled to eat the poor quality food provided at the hotel, she said, leaving the family reliant on donations from a local church and sports club. "The [new] house is nowhere, just in the forest, nothing is near. How can we survive there?" she said, of the Sussex hotel. "We don't get any financial support even £1. […] Today my husband found hair in the kid's meal, it's impossible to eat."
She said her health visitor had provided evidence to support her bid to stay in the local area, citing concerns that her son wasn't gaining weight and that his condition could deteriorate.  
Another woman, with bipolar disorder, said she had waited six months to see a psychiatrist, but would not be able to travel for over two hours on public transport to appointments if she was moved out of the area. Instead, she said she would have to start again on another waiting list.
At the time of writing, the 37 men who resisted removal in Greenwich remain in the south London hotel, which is owned and operated by the same companies as the Tower Hamlets accommodation.
As a result of the protest there, Greenwich council – which has been supporting the group – sent a letter to the Home Office criticising the treatment of asylum seekers in hotels, co-signed by 21 other London councils, including Tower Hamlets. 
Anthony Okereke, leader of Greenwich council, said: "It is appalling that people who have spent months and sometimes years rebuilding their lives, studying, volunteering and establishing community links, are now being removed and placed miles away from their new homes against their wishes." 
The letter stressed that local authorities have no control over hotels housing asylum seekers, which it said, "is under the complete jurisdiction of the Home Office and its contractors." 
However a Greenwich councillor told Novara Media the council's advocacy might have secured new homes in the local area for at least some of the Greenwich asylum seekers. 
The situation in Tower Hamlets seems to have initially gone under the local authority's radar, with asylum seekers saying they hadn't been in contact with local politicians.
Instead it was activists from solidarity networks that arrived at the hotel on Monday morning to support one asylum seeker who said she intended to resist, even if others were too afraid to do so. After seeing they had support, many asylum seekers changed their minds about leaving. "40 people decided to stay," the woman said, "in the beginning it was just me." 
Activists who attended both hotels said they feared the situation in Tower Hamlets was even worse than in Greenwich, with some asylum seekers there – including children, the elderly, and LGBT people  – particularly vulnerable. 
Lutfur Rahman, mayor of Tower Hamlets, said: 'These attempted removals sadden me deeply. Many of those being displaced are children and young people who have only just begun their lives in Tower Hamlets after being uprooted. I urge for humane treatment of all migrants, refugees, and asylum seeking peoples, and for a change in attitude towards those seeking a better life in this country and elsewhere.'
Apsana Begum, MP for the neighbouring constituency of Poplar and Limehouse, condemned the poor treatment of asylum seekers in east London – an area she said had "a proud history of welcoming refugees and being sanctuary for people fleeing persecution danger and conflict, from all over the world."
"It is unacceptable that outsourced and private companies are able to get away with treating people in an inhumane way with disregard for their rights," she said. "Asylum seekers are human beings with needs who need to be treated with dignity, just like everyone else."
Both hotels are in busy, central locations, but have been used exclusively to house refugees for at least 18 months. They are now set to reopen to the public in time for the summer tourist season, with rooms listed online for around £200 a night. 
A BBC investigation yesterday revealed the government is paying more than £6m a day to private companies to house asylum seekers, with one company trebling its pre-tax profits from £2.1m to £6.3m in 12 months.
Earlier this month, asylum seekers in Greenwich told Novara Media they felt that they were being flung around the country by unaccountable outsourcing companies, seeking ever-greater profits. "The hotel [in Dunstable] is old. It's cheaper than here," one man said. "They want to transfer us because of benefits to them. They don't care about our living situation." 
Asylum seekers in Tower Hamlets have been told by SBHL staff that a second attempt will be made to move them on Wednesday morning. 
Clearsprings Ready Homes and SBHL declined to comment, instead directing Novara Media to the Home Office. 
The Home Office did not reply. Previously, it said it cannot comment on operational matters, or on behalf of Clearsprings Ready Homes.

Clarification added 22/03/23: While SBHL operates the east London hotel and is helping to administer the move, decisions about where asylum seekers will be moved to are believed to be taken by Clearsprings Ready Homes and the Home Office, not by SBHL.
Charlotte England is head of articles at Novara Media.