Family of Trainee Cop Who Died by Suicide Describe Police As 'Institutionally Racist'
'He was in a dangerous and toxic environment,' says father.
29 March 2023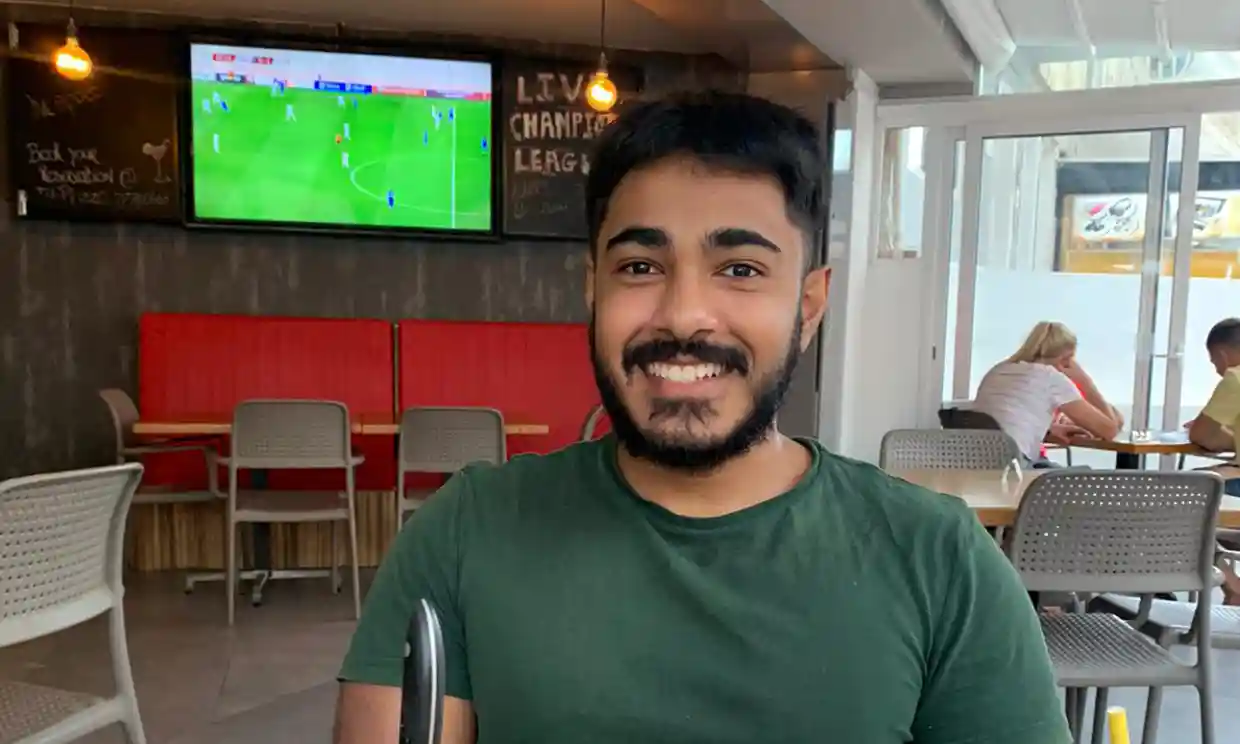 Twenty-one-year-old Anugrah Abraham, known as Anu, was placed with West Yorkshire police in October last year as part of his apprenticeship degree at Leeds Trinity University. Photo: family handout
The family of a trainee police officer who died by suicide said he experienced "severe stress and anxiety" as a result of the "bullying and institutional racism" he experienced in the force. 
Twenty-one-year-old Anugrah Abraham, known as Anu, was placed with West Yorkshire police in October last year as part of his apprenticeship degree at Leeds Trinity University.
On 3 March, Anu went missing. He was found dead twenty four hours later – on the day he was due to return to work after a two-week holiday. 
Anu's family said they felt clear that "institutional factors within the police force contributed to his death […] The role of his university, cannot be ignored either."
When Anu first told his parents he intended to train as a police officer, they experienced "a mixture of pride and fear," Anu's father, Amar Abraham, told Novara Media. "We were worried about how he would be treated as an Asian police officer." 
Initially, they supported their son despite their fears, but Anu quickly became "vulnerable, isolated and afraid".
"I would literally weep when I'd say goodbye to him as he set off for a shift. He was in a dangerous and toxic environment and [had] no escape route," Abraham said.
Just weeks into his placement at Halifax Police Station, Anu began sharing his struggles with his family. He said he was being bullied by his sergeant, who would insult and shout at him in front of colleagues, and demand he respond to serious incidents without adequate training or support.
Anu told his family that the sergeant ordered him to conduct a full body search of a corpse found floating in a river. In shock, Anu vomited, but was again instructed to "just do the search" regardless, he told his family. He was not debriefed after the incident and was repeatedly sent out alone to other serious cases, including domestic abuse. Rather than being given additional support when he shared that he was not coping, he was put on a management plan, his family said. 
Although Anu informed his sergeant and university tutor that he had suicidal thoughts, his family claim that he received no reasonable adjustments. "When he cried out for help, no-one listened," Abraham said.
A Leeds Trinity University spokesperson said they were deeply saddened by Anu's tragic death. "We take our students' welfare very seriously and offer a dedicated Student Support service seven days a week. 
"We will continue to work closely with our partners to support further enquiries into this tragic incident."
Anu's death comes amid a police campaign to recruit more Black and brown officers, in an apparent attempt to respond to institutional racism.
Anu's family claim that he was told by his university personal tutor that the police force needed 'good officers' like him – especially those from Asian backgrounds. 
Roxy Legane, founder of Manchester-based anti-racism group Kids of Colour, said the police were on a "racial diversity hunt".
"From targeted ads on social media to recruitment within educational institutions, they are trying to draw in young racialised officers to say 'we are improving'," she said. This "racial diversity hunt" means the racist violence institutional to the police is meted out on its own young, racialised officers, she said. Universities such as Anu's, which collaborate on police training, are "complicit," she added.
The day before Anu was found dead, his friend spotted him near some woodlands and texted him to ask what he was doing. "Working, working, working" he wrote back.
Anu's family reported him missing to Greater Manchester Police later that day. Though his car was soon found, a police search party didn't set out for another two hours. It then quickly stopped when officers claimed the woodland was "dangerous", replete with "wild animals […] such as 'hedgehogs'," the family allege.
Nothing was put on West Yorkshire or Greater Manchester Police's social media channels about the disappearance and a helicopter search was repeatedly postponed, despite the family's pleas. 
Anu's body was eventually found by a dog walker in the early morning of 4 March. Since his death, the police have taken evidence from his car and home, including diaries. In a statement, his family said they felt their deceased son had been "criminalised". 
Anu's family informed the Independent Office for Police Conduct (IOPC) of their son's death and his treatment by West Yorkshire Police. However, the police watchdog told them it doesn't "consider an investigation to be necessary". The local force will instead be allowed to conduct its own investigation.
An IOPC spokesperson told Novara: "The complainant will have the right to have the force's handling of the matter reviewed by the IOPC upon conclusion of the investigation, ensuring an appropriate level of independent oversight should it be required."
Anu's family, with support from Kids of Colour and the Northern Police Monitoring Project, is calling for the IOPC to conduct its own investigation immediately.
The family is also crowdfunding to cover funeral costs – and to continue their campaign for accountability.
"We are no longer prepared to continue to allow our children to be at the mercy of an institution that does not value their lives," they said. "We will not grieve silently and allow those that caused Anu to take such a devastating action to walk away without being held accountable."
In a statement, West Yorkshire said it "takes allegations of bullying and discrimination within the workforce very seriously and is committed to investigating such reports."
It added: "The Force has referred itself to the Independent Office for Police Conduct who deemed it appropriate that a local investigation is undertaken. This is currently being conducted by the Professional Standards Directorate.
"We are unable to issue any further comment pending the completion of the investigation."
Anu's father told Novara Media his son was "a gentle soul". 
"We haven't slept since the night he disappeared," he said. "We are still waiting for our son to come home. His room is still messy like he left it, we can still smell him on his clothes. There's an empty plate at our dinner table and nothing will ever be the same again." 
Sophie K Rosa is a freelance journalist.