Julie Bindel Can Relax – Lesbians Are Doing Great, Actually
Cis lesbians refuse to be alibis for transphobia.
30 March 2023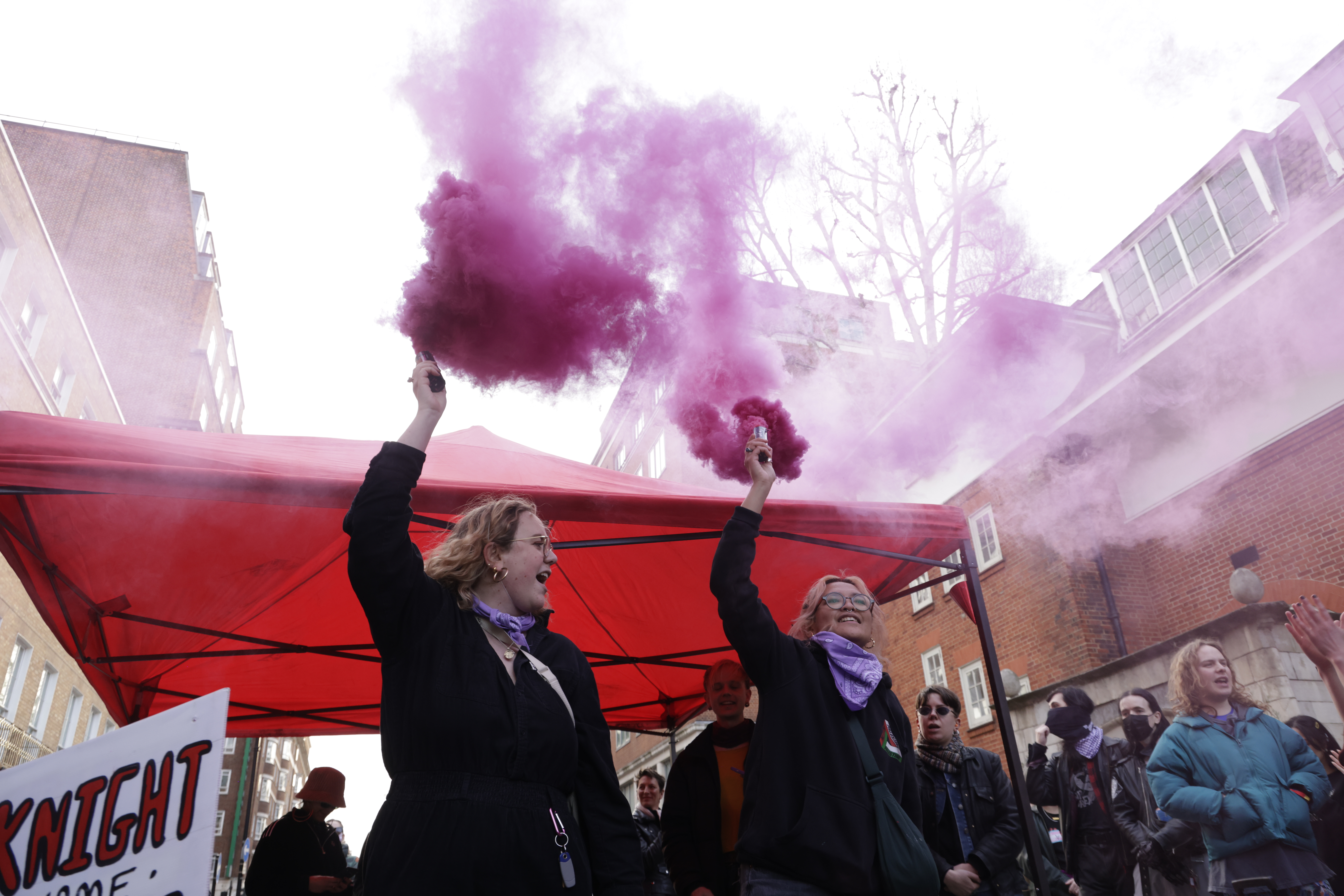 The Dyke Project hold a counter-party outside the launch event of The Lesbian Project. Photo: The Dyke Project
Tavistock Place, a quiet street in Bloomsbury, central London, isn't usually the scene of a street party. On Saturday though, that's exactly what you would have found there. Hundreds of lesbians and queer people turned out to celebrate our community. In the true spirit of Pride, this was both a party and a protest: we unfurled banners with messages of trans solidarity and set up a gazebo to protect DJs and drag performers from the rain. In the end, the sun shone all afternoon on the joyous crowd. 
The reason for our celebration was the supposed "crisis" facing lesbians. The party we put on was right outside the launch event of The Lesbian Project, an organisation made up of a small but vocal group of high-profile lesbians – notably co-founders Kathleen Stock, who stepped down from her post at the University of Sussex in 2021 amid student resistance to her transphobia, and Julie Bindel, a prominent journalist who has frequently whipped up anti-trans sentiment. They warn that lesbians today are maligned, erased and in danger of "disappearing into the rainbow soup" of the LGBTQ+ community.
We came to tell them that luckily, this sad picture of lesbian life is far from the truth. The doomsday preachers at The Lesbian Project can rest easy: us lesbians are doing just fine.
According to recent data, we're doing great, in fact. There are more of us than there have ever been in the UK; lesbian nightlife is in the midst of a major revival; and, as Saturday proved, we know how to throw a party.
We founded The Dyke Project as an antidote to the trans-exclusionary gloom of The Lesbian Project. Founded in March of this year, the organisation claims to be "a professional body to be consulted whenever lesbian interests are being discussed" – but not all lesbians are welcome. The organisation explicitly excludes transgender lesbians, a policy Stock confirmed in an interview on Woman's Hour last week.
As a group of cisgender, transgender and non-binary lesbians and queer people, we know this policy doesn't reflect the reality of our community; more than 800 lesbians signed an open letter saying just this and condemning The Lesbian Project for its exclusionary policies which don't reflect the "lives, needs and community" of lesbians. Lesbians are thriving, and trans people are at the heart of it – they are our family members, our friends, partners, loved ones and fellow lesbians.
Which is why on Saturday, we gathered to celebrate our community as it really is: joyful and united, trans and cis, lesbian and queer. We didn't publicise the event on social media – we didn't need to. Our community came out in the hundreds to do what we do best: dance in joyous resistance. Members of the public gently enquired about what we were doing, danced at the sidelines to the music and congratulated us on what was a lovely event – reminding us that when you look past the headlines, the majority of people are supportive of the entire LGBTQ+ community.
That's not to say being part of the LBGTQ+ community is always easy. The sad reality is lesbians – including transgender lesbians – face both homophobia and misogyny. Women-only and lesbian-only spaces are an important part of making us feel safe – and it's crucial that trans women and non-binary people are included in those spaces. Which is why we all need to come together with one voice, to ensure there are dedicated lesbian spaces and that all lesbians – including our transgender siblings – are free to live their lives safely.
Throughout our history, trans people have been at the forefront of the movement for LGBTQ+ liberation, from Stonewall to the fight to repeal Section 28. The truth is that the lesbian community is thriving because of our trans siblings, and we won't allow our shared history to be erased.
Ultimately, transgender lesbians are tired of having their identities denied and erased, cisgender lesbians are tired of being used as a cover for transphobia. Together, we're speaking up. We know that our community is often a space of sadness and rage, particularly for those of us who face intensifying transphobia – but our counter-party shows that we won't let this stop us from having a good time. Lesbians – cis and trans – will always be here, ready to dance together in the streets.
Jess Elliott is an organiser of The Dyke Project – a collective of trans, cis, non-binary lesbians and queers of all persuasions.