As Food Prices Hit a 45-Year High, People Are Foraging Wild Foods to Save Money
'I'm grateful for foraging, but I shouldn't have to live like this. This country is a mess.'
8 May 2023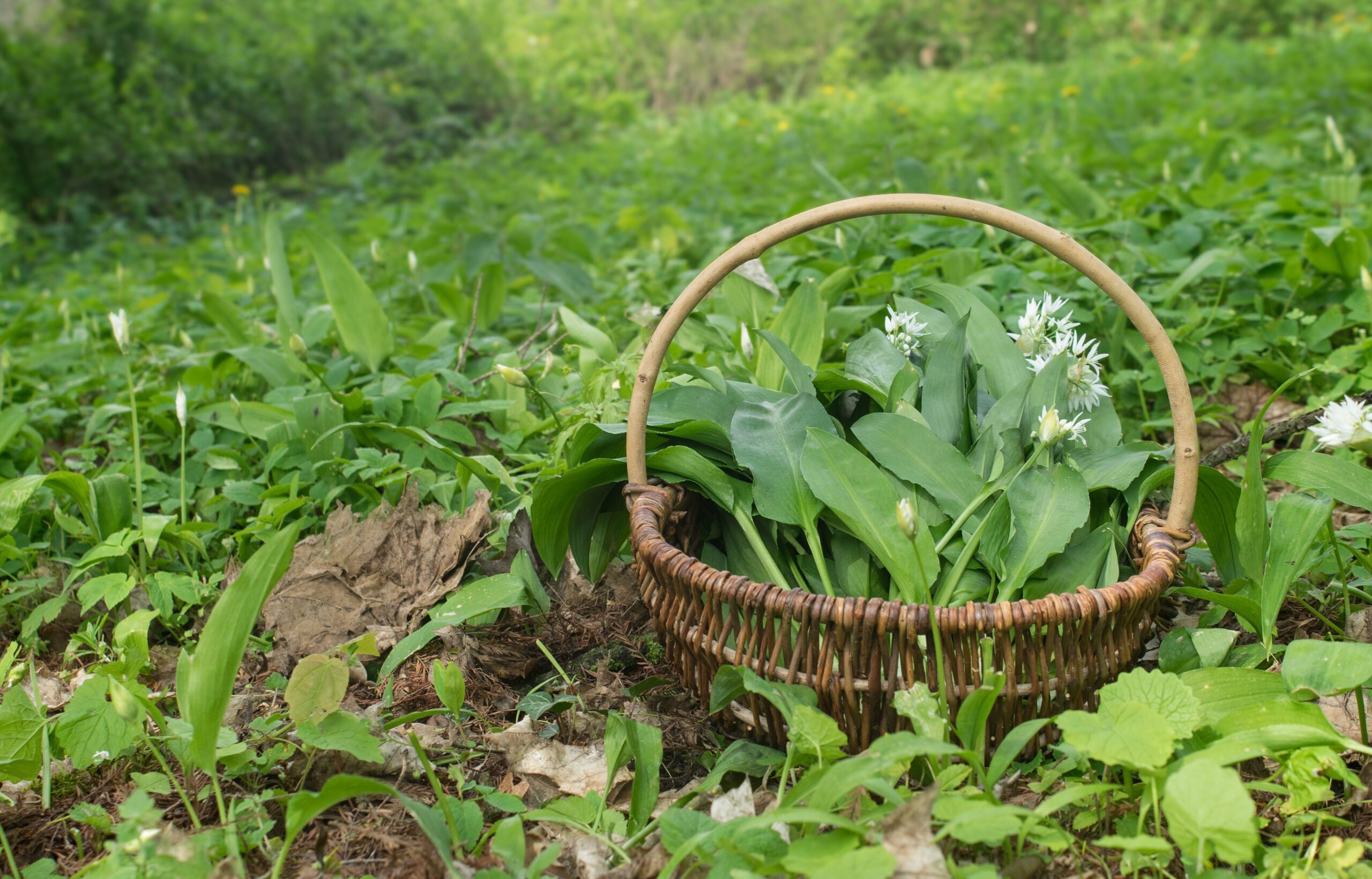 'Our work in the community has more than proven that yes, foraging can help tackle food poverty.' Photo: Adobe Stock
With supermarket basics increasing in price by up to 80% in the last year, we already know people are trying to shoplift their way out of the cost of living crisis. Others, it seems, are turning to foraging.
44-year-old Mira – who asked that we didn't use her real name because of the stigma associated with food poverty – has been foraging for over half her food in rural Norfolk since being made redundant from her shop-manager job at the end of 2022. "Since I lost my job, I've not been able to afford supermarket prices," she says. "But it's not only that, I can't afford to run my car now and there's barely anything in walking distance and no public transport where I live, so I can only get to one very small local shop. So, I walk and get milk and bread once a week, but forage for stuff like nettles and ramps [wild leeks] to stop me getting malnourished."
In Cornwall, Vix Hill-Ryder uses National Lottery funding to offer subsidised foraging workshops and free wild food boxes to low-income families. Mira, she suggests, is part of a trend. "We have seen an increase in foraging as food prices have risen," she says, insisting that foraging has made a significant, material difference to the lives of some of the families she works with, who live predominantly in the Cornish countryside.
"Food insecurity and poverty are a real issue for the local community," she says, explaining that her social enterprise, the Family Foraging Kitchen, has now tailored its training to cover "how food bank goods and […] reduced items from supermarkets can be paired with wild food to make healthy and nutritious meals that stretch out a common food shop." Last year, Hill-Ryder's organisation launched a "community food map", which signposts users to food support services – food banks, charities, and places to glean and forage – in the local area. 
Recently, Hill-Ryder says a mother of two attended several of her foraging and cookery workshops after her benefits and child maintenance payments were cut off. She reported afterwards that she "definitely would not be managing right now" without the training.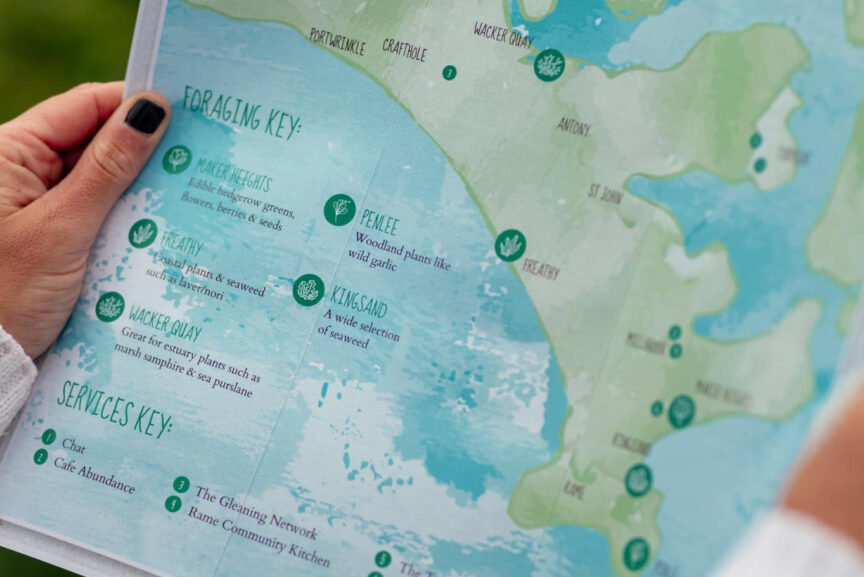 Environmental educator Gemma Hindi set up Earthwild, a social enterprise that offers foraging walks in south London, after observing "increasing numbers of people becoming interested in foraging […] after experiencing food shortages in recent years, and also as a potential way to save money."
But without training, Hindi cautions that it could be dangerous for people to try foraging out of desperation. "I'm concerned that people without the knowledge of safe or toxic species will feel forced to forage due to not being able to afford fresh food," she says.
Mira, meanwhile, is quick to condemn a context in which anybody has to turn to foraging to survive. "I'm grateful for foraging, but I shouldn't have to live like this," she says. "At my age, I can't believe I have to spend my evenings foraging. I'm spending all day trying to find a new job. The country is in a mess."
It's a different picture in the city.
For years, I've had a personal interest in foraging. When I moved to Norfolk as a teenager, my family supplemented the poor diet I was getting at school (as an early vegetarian) with a lot of homegrown and foraged foods – using an allotment to grow leafy greens and root vegetables, and foraging on the weekends for wild strawberries, blackberries, nettles, rosehips, mushrooms (like chicken of the woods or puffballs) and samphire. Foods, just years before, I'd never heard of.
As an adult, I moved back to London. During the pandemic, I started heading to Hackney Marshes to pick blackberries and hunt for wild garlic. Then, foraging was mostly to pass the time and become more mindful about what I was eating. But since food inflation has risen to the highest in my lifetime – with vegetables the largest contributor, rising by 18% in the year to February – I've found myself looking up places to forage in London more and more frequently.
I enjoy foraging. But I am also aware it speaks volumes about the cost of living crisis that – even as someone who is not experiencing poverty – I've been gathering wild foods to save money, and no longer just as a hobby. I'm well aware, too, that time constraints, limited access to green space and knowledge of what is and isn't safe to eat, mean foraging isn't accessible to a lot of people: People living in poverty in rural areas shouldn't have to forage to survive. But for people in urban areas, it's hardly even an option.
In 2020, a study by study by Ramblers found that fewer than half of those with a household income of less than £15,000 lived close to green space but 63% of those with a household income of more than £35,000 could find green space within five minutes walk of their home. The study also found that 42% of people from ethnic minorities live in England's most green space-deprived neighbourhoods, compared with just one in five white people. 
Ru Kenyon, of London Wild Fruits, says that while hypothetically someone could forage their way out of food poverty in a city, he doesn't personally know anyone who has. Nevertheless, he says "foraging can be a practical tool for working people," in urban areas, pointing out that leafy greens are quick to gather and prepare, and can be combined with shop-bought carbs and protein to "transform a basic low-income diet into something far more healthy."
"You can basically easily cover all of your greens from foraging alone – nettles, the prime example, are so packed with nutrition," he says. "Spinach can be found growing feral on the street in London."
But London-based forager Ken Greenway doesn't believe his training is necessarily reaching the people who could benefit from it the most. His courses in Tower Hamlets Cemetery Park – a 31-acre nature reserve which is the city's most central urban woodland – attract predominantly white, middle-class people "wanting to just live more gently and more mindfully and feel more connected to the natural world" he says. "I think all of us foragers struggle with the general demographic of our walks; our walks do not represent the diversity of Tower Hamlets in any way, shape or form." 
Jim Parums, however, says it's different in Manchester. Parums has been teaching people to forage since 2019 – in that time he says he's seen a distinct shift in his clientele, and recently a sharp rise in interest. "Once upon a time, it was middle-class types with expendable income, who were looking to do something during the week," he says, over Zoom from his office in Altrincham. "More recently, it's become families or young couples […] Particularly when I do more urban sessions, the demographic of people coming changes. We have some walks around the Manchester area and we get people from those [local] communities coming in who will learn the basics."
Supermarket food culture.
In the midst of a cost of living crisis, the UK's three largest supermarkets – Tesco, Sainsbury's and Asda – made £3.2bn in profits in the 2021-22 tax year – a shocking 97% more than in the twelve months before.
Rather than problematically propping up an unsustainable and unethical system, Hill-Ryder sees foraging in this context as inherently subversive – a way to challenge "the unjust distribution of wealth, mass agriculture and supermarket food culture"  which "has damaged not only many sustainable and heritage skill sets such as foraging, but local landscapes, hedgerows and biodiversity." Foraging, she says, offers people an alternative to reliance on supermarkets and encourages them to care for and protect the natural world. 
Hindi, meanwhile, sees it as a concern that "for the first time in history" most people don't have "the essential knowledge and skills to identify wild edible and medicinal species." It's vital to change this, she says. "If [existing food] systems collapse, as we have seen in recent years with repeated food shortages, or we find ourselves pushed out of that loop – such as [by] the cost of living crisis, becoming unemployed, or experiencing displacement due to conflict – then we are left vulnerable," she says.
Hindi is currently living off wild foods for three months as an experiment in self-sufficiency. But even with her expertise, she says it's tough. "I've saved money but I am exhausted with no time whilst working too," she tells me. "There is a lot of food out there – fresh and nutritious – but you need the time and knowledge in order to benefit fully."
Chloe Laws is a freelance journalist and founder of FGRLS CLUB. She contributes to Novara Media's social media.