Supermarket Loyalty Schemes Are Turning Privacy Into a Luxury
'Clubcard prices' come at the cost of your data.
25 April 2023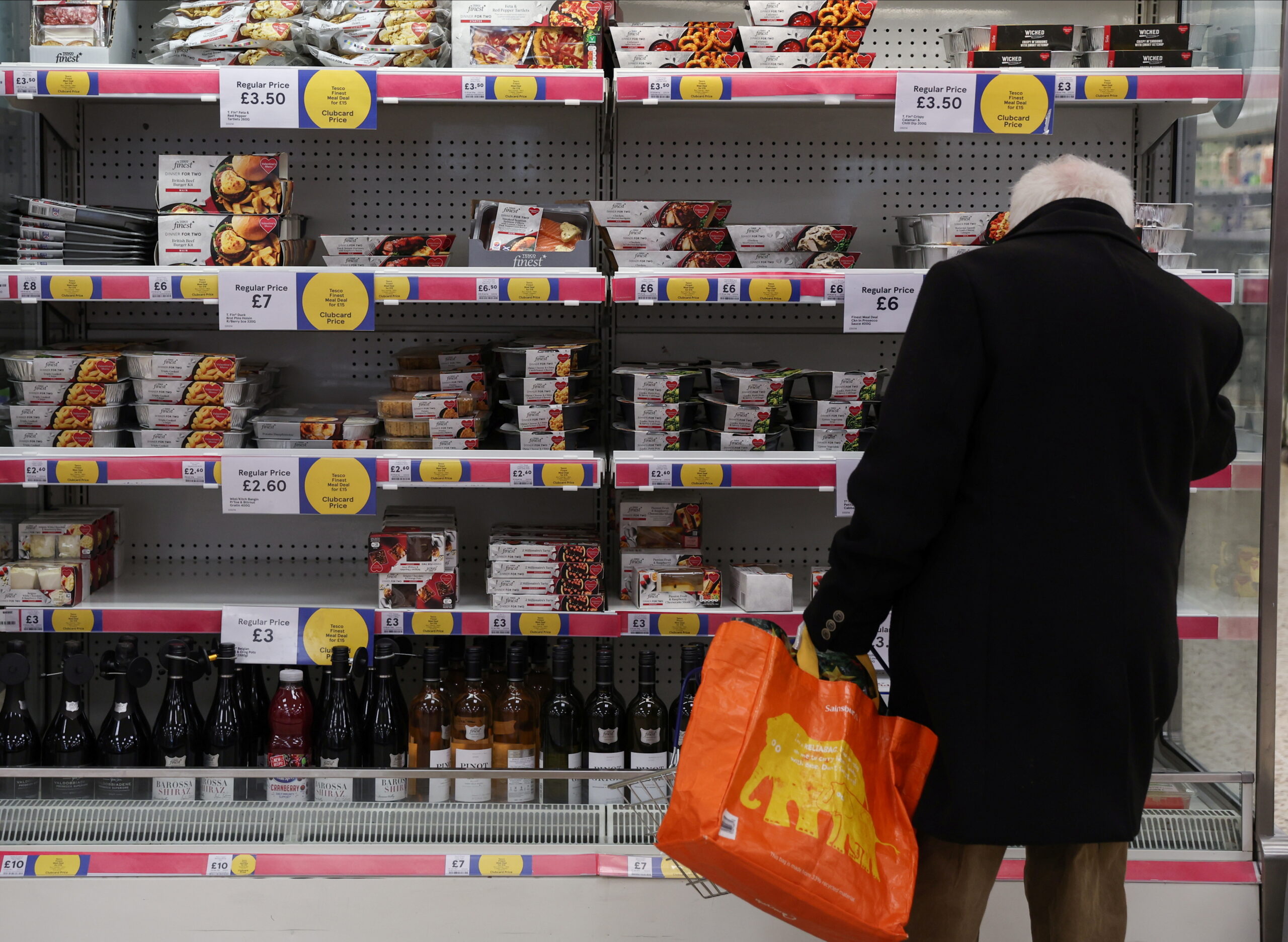 Clubcard branding is seen inside a branch of a Tesco supermarket in London. Reuters
Anyone who has been into Tesco recently will have seen the bright yellow signs marking out "Clubcard prices" – discounts on offer to those who have signed up for the scheme. With real wages falling, many people will find it hard to resist signing up to cut their weekly shopping bills as food prices rise at the fastest rate for 45 years.
"Clubcard prices" have replaced the offers that used to be available to everyone, and "Nectar prices" at Sainsbury's will soon follow – making a data-harvesting loyalty card mandatory to access discounts. Your data is becoming the price you pay to save money.
Buyers of a box of Twinings English Breakfast teabags save 50% with a Clubcard, a family pack of vegetarian mince is 40% cheaper and own brand apples are 48% off a bag of five. These shopping basket staples, meaning that for many people owning a Clubcard is a vital way of making their money go further.
There are even a string of products aimed at new parents which have major Clubcard discounts, including Pampers "Essential" nappies 40% (£4 off), while a twin pack of baby bottles are £5.40 cheaper, a 40% saving. An electric breast pump has a huge £46.67 off – a 35% discount. Even some absolute essentials are heavily discounted with a Clubcard, with one brand of tampons being around a third cheaper. For all but the wealthiest these savings are difficult to ignore.
Sainsbury's have followed in Tesco's footsteps and made signing up for a loyalty card mandatory to access any special offers at all, meaning both supermarkets are turning the cost-of-living crisis into a cost-of-privacy crisis.
What makes the pressure on shoppers to sign up for their loyalty cards alarming is what the supermarkets do with the data. These details are not advertised on the supermarket shelves next to the special offer signs.
Last month Big Brother Watch analysed the privacy policies of supermarket loyalty schemes and found that Sainsbury's and Tesco aggregate and flog the information harvested from their shoppers to an array of other companies who use it for their advertising. This includes Sky, which uses it to tailor adverts on their TV platform and serve hyper-targeted adverts to their customers who are watching their favourite shows.
Someone who buys coffee with their Clubcard could then be targeted with promos for coffee in the ad breaks of the latest episode of Succession, while their neighbour sees completely different adverts at the same time – because their shopping habits are different. Few people who sign up for a loyalty scheme will read the reams of fine print to find out what supermarkets do with the information, so only a fraction of shoppers will have any idea who Tesco and Sainsburys sell the data to.
Spiralling grocery prices mean that fewer and fewer people will feel they can afford not to take advantage of the steep discounts – meaning that privacy will soon be the preserve of the privileged. Everyone else will end up trading shopping data for discounts.
With the latest data showing food prices inflation is nearing 20 per cent, the money-spinning big supermarkets should rethink and make discounts democratic, and available to all. Shoppers should not be faced with the choice between protecting their privacy or keeping their grocery bills manageable – yet this is the dilemma millions of people face when scanning a loyalty card could save them hundreds of pounds a year.
Privacy should not be a premium product available to those who can afford it, it is a right for all to enjoy.
Jake Hurfurt is Head of Research and Investigations at Big Brother Watch.