Fascist Party Patriotic Alternative in Messy Break Up
'It makes us look absolutely stupid.'
24 April 2023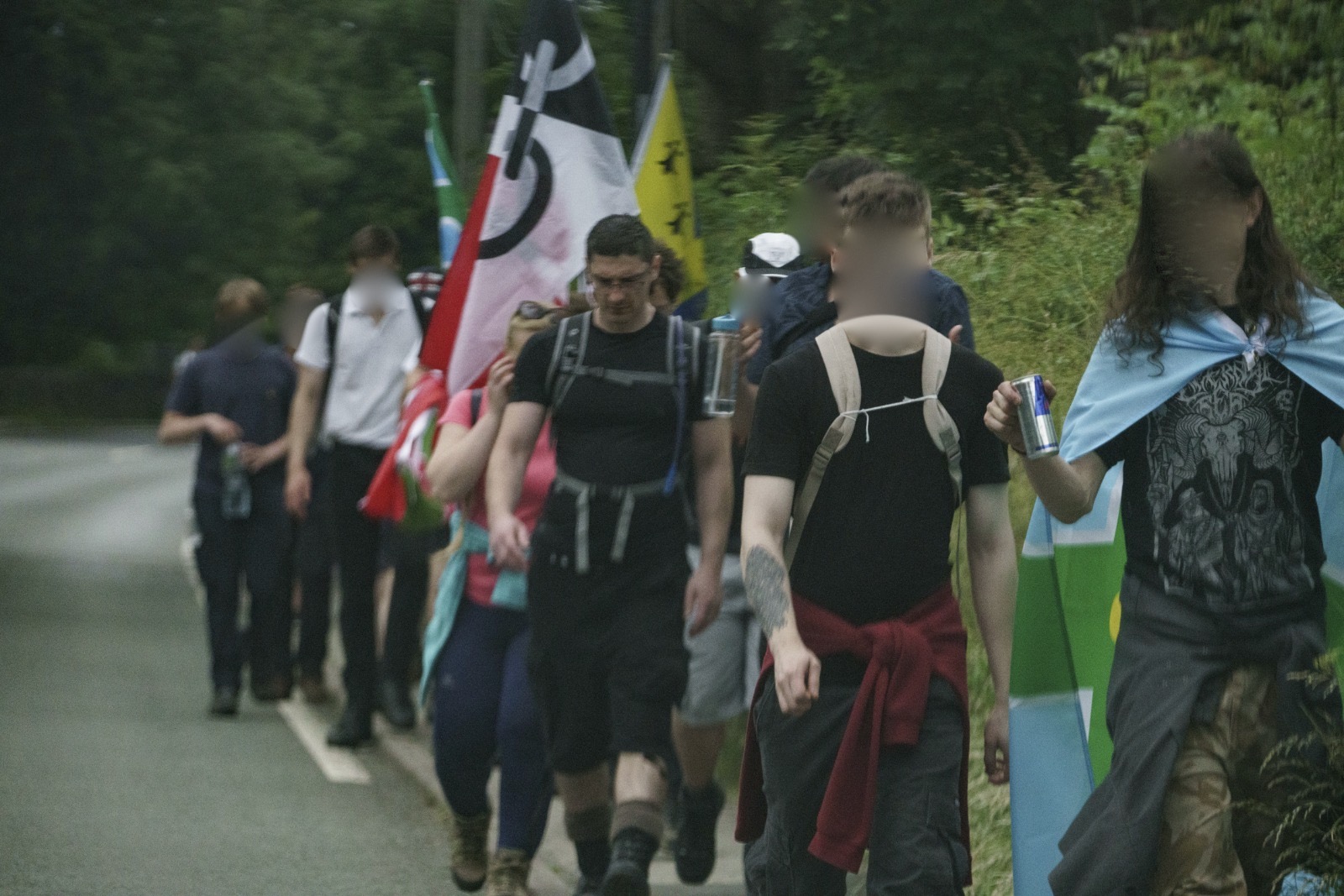 Patriotic Alternative leader Mark Collett on a walk with supporters. Photo: Red Flare
Fascist party Patriotic Alternative (PA) has undergone a messy split, with key activists "exasperated" by the party leadership's lack of political direction, incompetence and the arrogance of its leader, Mark Collett.
According to analysis by anti-fascist research group Red Flare, a majority of PA's regional organisers have defected to form a new party called "Homeland". The split has been led by Kenny Smith, a former BNP organiser, who in 2022 pleaded guilty to firearms offences.
The new party plans to trick the Electoral Commission into registering it with an application using a false name made by activists who are "not well-known nationalists who might be on the radar."
'This makes us look absolutely stupid.'
Details of the bitter falling out emerged in recordings of two meetings leaked online and heard by Novara Media.
A leaked recording of an emergency meeting of PA on 20 April shows how Collett pleaded with activists not to leave the party, which had been the most significant party on the far-right and recently gained prominence through protests outside hotels housing migrants and drag story hour events.
"I don't want a split. I will do anything I can to avoid that," Collett said.
"I want to heal rifts. I do not want to split, it breaks my heart. It gives me sleepless nights, I am very worn down. I am very tired… I have had a pretty horrid week. And I want to put this behind us."
PA deputy leader Laura Melia, of shouting at woke tea fame, started the meeting saying "there's definitely not a split", but later said that the split "makes us look absolutely stupid".
Collett has long been considered a star of far-right politics, but he has lost the faith of a large number of his former followers. Party officers from every region, including Yorkshire (Collett and Melia's region), as well as two thirds of the party's website team have left the party have started a new group called Homeland.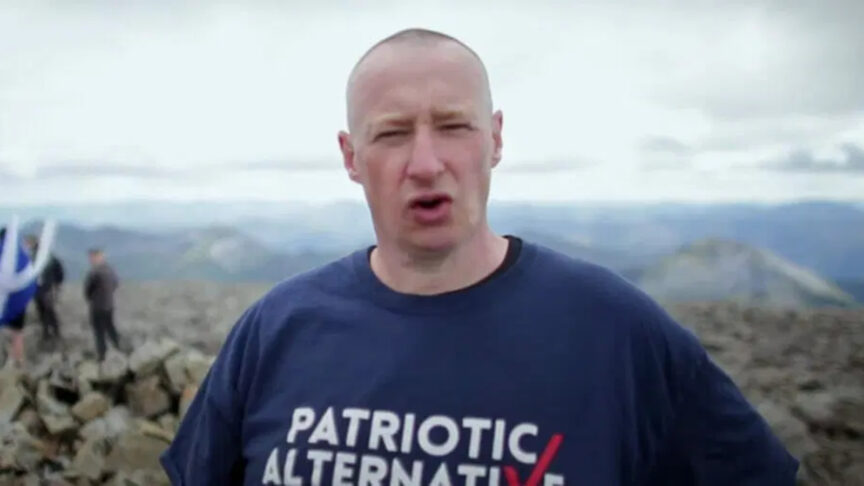 Homeland held its inaugural meeting on 20 April, celebrated by neo-Nazis as the date of Adolf Hitler's birthday.
A leaked audio recording of the meeting shows just how far relations between key figures in PA had broken down, with Smith complaining that: "One of our regional organisers recently relayed that he just organised one of the biggest demos PA has ever done. And Mark [Collett] said he didn't realise who he even was until he met him on the day. Things like that are extraordinary."
The split appears to be irrevocable. One activist at the Homeland's inaugural meeting said: "Yesterday PA died. Yesterday, every activist that was worth his salt came along. Yesterday, every officer with political ambition came to us. We are the future of nationalism."
A lack of focus.
As well as Collett's perceived arrogance, the split was caused by organisational and political problems. Activists have been left frustrated by PA's repeated failure to gain registration as a political party from the electoral commission, as well as a focus on online activism rather than real-life community organising.
Smith summarised the problems as lack of progress on updating the website, "the lack of political direction, lack of political focus, the lack of progress on becoming a registered political party, [lack of] any support for people who want to do community politics."
"We keep having to fight tooth and nail to get little bits of progress. And things that get promised to us don't happen," he said.
Another defector criticised Collett's focus on "[live] streaming, playing video games [and] reviewing books" – the creation of online content being a key source of income for the party.
During PA's emergency meeting, Collet angrily rejected the suggestion that he hadn't focused on real life organising, saying he missed his daughter's third birthday party to attend a demonstration against a drag queen story hour. "It sort of takes my breath away that I'm being insulted in that way," he said.
'Am I going to get my head kicked in?'
There was also a rift over attempts to change the party's vetting process for new recruits.
Smith says that when he joined PA, he was charged with improving the party's security procedures. "When I came aboard PA, the overall impression that I got… was that there is a massive amount of fear in the nationalist movement at the moment," he said.
In PA's emergency meeting on 20 April, Melia said: "I used to go every Saturday to these [PA] events, thinking to myself, 'Am I going to get my head kicked in? Have we given our location to antifa or journalists or what?' And it got to the point where we were like, 'We just can't do this, because we're risking our safety every weekend.'"
This culture of fear necessitated strict security procedures to vet people who wished to join PA. New recruits had to provide two forms of ID and agree to a house visit from a PA organiser. Collett and Melia wanted to loosen the procedure as they feared it was putting off potential supporters, but Smith and others value the "high trust community" he believes is guaranteed by strict vetting. The desire to give people a "free pass" if Collett or others "just want to give them a thumbs up" had left Smith "exasperated", he said.
'Squeaky clean.'
Smith and his fellow splitters see Homeland as a fresh start.
Smith plans to get Homeland registered with the electoral commission by stealth. He told Homeland's inaugural meeting: "We have got a team of people who are putting an application in at the moment that are not well-known nationalists who might be on the radar."
"We'll be putting in an application that does not look like it's connected to anybody else, and it won't even be under the Homeland name, initially. It is far easier to change a political party's name after the fact than it is to get it registered, and I think if we went straight in with 'Homeland' and well known personalities, we'd probably face exactly the same struggles as PA… The tactic is basically to get registered essentially with unknowns."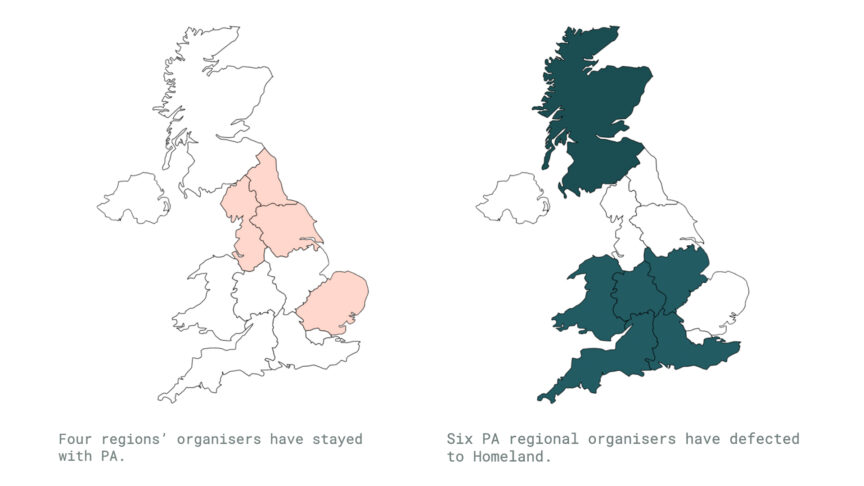 Homeland will also have a stronger focus on winning power. Smith said Homeland will take a "focused approach to winning power, taking control of budgets and policymaking in places. And that can be as simple as parent councils, parish councils, but ultimately we want local authority, and then who knows beyond that".
The group will try to present a media-friendly image without the baggage of Collett, who was embarrassed by the 2002 Channel 4 documentary Young, Nazi and Proud, in which he voices his sympathy for Nazism.
"Optics will be a big focus as we essentially have a clean slate", Smith said. Another activist on the Homeland call agreed: "Homeland can have a squeaky clean media image from the start."
But much like PA, Homeland's members will have neo-Nazi politics beneath the surface. An investigation by Scottish investigative website the Ferret revealed how Smith posted in a neo-Nazi Telegram chat in which members posed with weapons, encouraging "true" national socialists to join PA.
According to Red Flare, Homeland represents a dangerous new force on the far right.
"While splits on the far right are often a cause for celebration for anti-fascists, the emergence of Homeland presents new dangers," the group said.
"Homeland represents a distillation of PA's most dangerous elements into something harder, more serious and better organised.
"It is important to emphasise that both Homeland and PA are neo-Nazis and fascists: Holocaust denial and Hitler worship is rife among members of both organisations. This split is not ideological in nature – rather, it is the result of differences in strategy and approaches to organising.
"Homeland is entering a very different political landscape to the one in which PA was created. The cost of living crisis and government rhetoric about refugees and the transphobic bile of the culture wars have created a toxic environment where a party like Homeland could thrive. Preventing them from benefiting from these conditions needs to become the top priority for anti-fascists. Homeland is now the most dangerous group on the British far right."
Simon Childs is a commissioning editor and reporter for Novara Media.