Bosses Tried to Sack These Automotive Workers, So They Took Over Their Factory
Now they want to build bikes and solar panels.
26 May 2023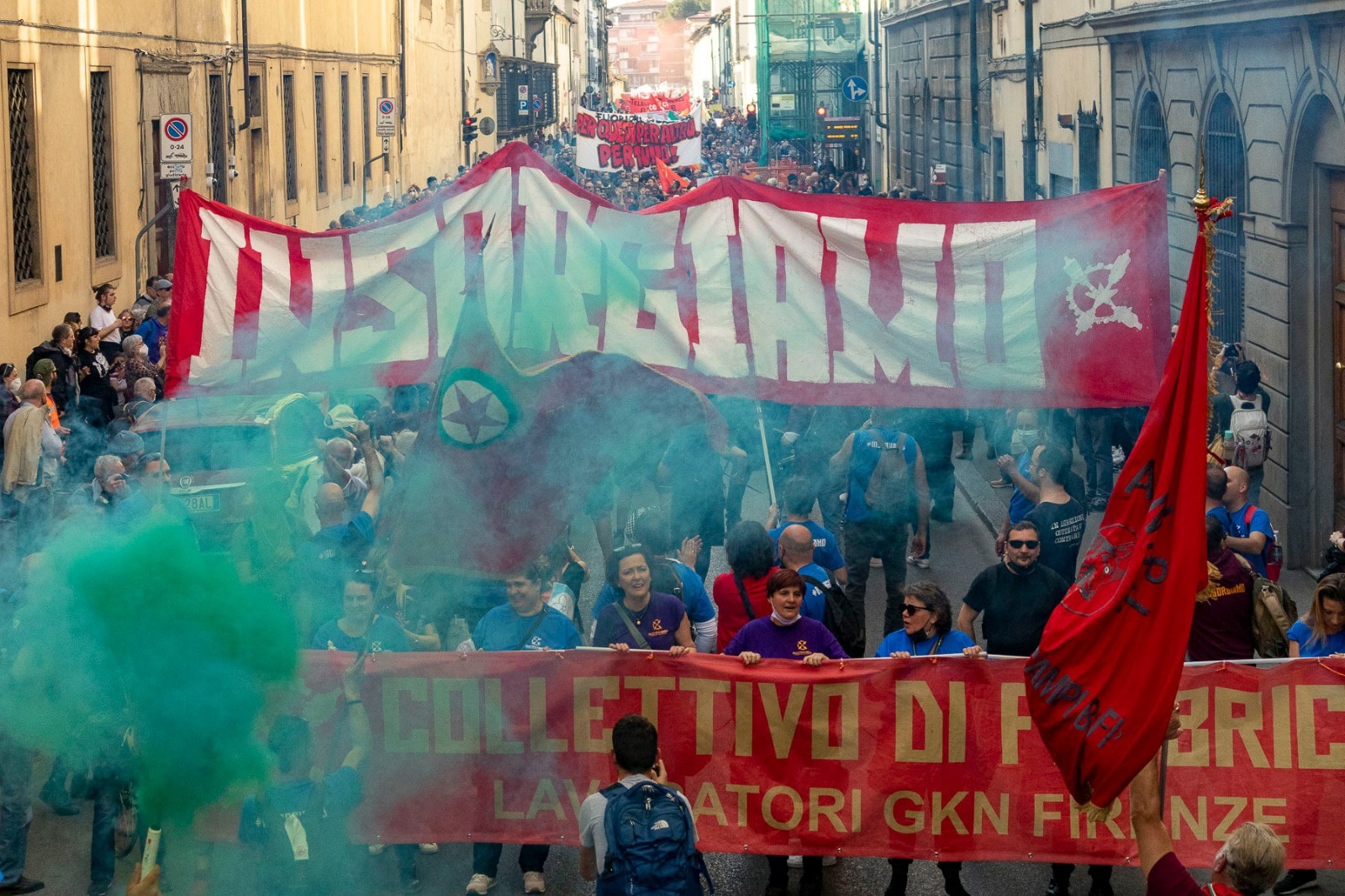 GKN workers marching through Florenceon May Day 2022. Photo: GKN Factory Collective
On a Friday morning in July 2021, 422 employees at an automotive factory in Florence, Italy, were enjoying an unexpected day off, apparently gifted to them by their bosses, when they received an email explaining they had been fired en masse. This was not an episode of Succession, but the reality for workers at the GKN factory in Campi Bisenzio who were making axle shafts for cars.
The historic plant was owned by Fiat until 1994 and was a huge employer in the town of Campi Bisenzio, which sits 20km away from Florence. Now, it was to close. The UK private equity fund Melrose, which owns GKN and has returned £5.5bn to shareholders in its 10-year existence, blamed the redundancies on the transition to greener transport and a "loss of productivity" in the plant.
But rather than lie down and accept their redundancy, the automotive workers started a campaign of resistance that has culminated in the longest running factory occupation in Italian history. Their story gives one indication of how workers may react as their jobs are threatened by climate change in the years to come.
After they found out that they were going to lose their jobs, the GKN workers had 75 days before redundancies came into effect to formulate a plan. They didn't waste a second.
Gathering in front of the factory on the same day, workers "kicked away" the 20 private armed guards who weren't wearing uniform, who were "similar to the fascist squads" under Mussolini, according to Dario Salvetti of Collettivo di Fabbrica (GKN Factory Collective), an autonomous, radical union set up by the workers.
With their official trade union, the Italian Federation of Metalworkers (FIOM-CGL), the workers declared the factory would be occupied 24/7 by the workers. Workers would guard the machinery from removal by GKN and keep the factory open. This is known as a "permanent assembly", a tactic developed by Italian factory workers in the 1970s.
"We found a way to go into the factory and we started what we call in Italy a 'permanent assembly'. It's the most legal way to say you've taken control of the factory," said Salvetti, who spoke to Novara Media on a speaking visit to London.
As well as the FIOM-CGL, workers also organised with the GKN Factory Collective, which was founded when Melrose bought the company in 2018. The Collective acts in a more fluid way than bureaucratic unions – workers don't have to affiliate with a membership card, but through participating in actions. The workers stick to a collectively agreed set of ground rules, such as, "never exchange money for rights". The Collective held multiple demonstrations and garnered thousands of supporters through community and transnational organising under their slogan "Let's Rise Up!" (Insorgiamo).
In September 2021, 40,000 people marched through the streets of Florence to protest against the redundancies. That same month, GKN announced layoffs at its factory in Birmingham in the UK. A planned strike was called off by Unite the union, as GKN stakeholders agreed to hold a crisis meeting. But the negotiations failed and more than 500 people were made redundant in November 2021. By contrast, nearly two years after their redundancies were first announced, the workers still occupy the Campi Bisenzio site. It's the longest factory occupation in Italy's history.
The legal case brought against Melrose by FIOM-CGIL found the mass redundancies illegal. The company was found guilty of "anti trade union behaviour" for violating an article in the Workers' Statute. But the closure of the plant was still a possibility, and the workers resolved to continue their occupation.
After they were sent that email on 9 July, 2021, axle shaft production ground to a halt. The Collective has used the factory instead as a hub for organising their movement: preventing layoffs, raising awareness for their cause, brewing their own "workers' beer" and now, restarting production, led by the workers, in the factory.
The Insorgiamo is now crowdfunding to buy back the factory to form a workers' cooperative and transform their previous production from emission-enabling car parts to sustainable cargo bikes and solar panels, to future-proof their jobs and the planet.
The Collective has been planning its transition for some time. In December 2021, they set up a technical scientific committee that is composed of university researchers and developed industrial plans to set out what the factory could produce that would benefit the planet. In autumn, they made two cargo bike prototypes that will be used to link up rural farmers with food delivery cooperatives in cities.
They have also met with a start-up to investigate making solar panels without using lithium, silicon and cobalt: minerals that chuck out billions of tonnes of carbon dioxide when mined for, often in precarious working conditions.
Salvetti, who joined GKN in 2015, said: "There is a chance that 300,000 jobs will be lost because of the transition from petrol cars to electric cars.
"[Our bosses] said that our product was destroyed by the green transition, so that's why we developed a position around this factor. And their reason[ing] was wrong for a lot of reasons, including a technical one: the [axle] shaft that we were producing is also used in electrical vehicles.
"When we were hired, nobody asked us what we wanted to produce. So we don't accept being blamed for what we produce when someone fires us. If we could choose what to produce, of course we [would have] other ideas."
Jobs in polluting industries are increasingly at risk, while jobs in the low-carbon economy are on the up – in the UK, the low carbon economy is four times the size of the country's manufacturing sector. At times it has appeared that workers' desire for job security may prove a barrier to shifting away from carbon intensive industries – in 2022, the GMB trade union joined the UK's Conservative government in support of fracking, saying it could "create thousands of good jobs". The GKN Collective is attempting to tackle this challenge – defending jobs and transitioning to greener industry – from the bottom up.
"It's false that the workers' movement is separate from the environment movement, it's been false since the beginning," said Salvetti. "A lot of environmental struggles in the 70s in Italy were inside the factories and were started by the workers." Those movements fought for better environmental conditions inside the factories, including protesting against asbestos and poor air quality, as well as pushing for higher wages.
The pressure is on, for the GKN workers, however. Since November 2022, the workers have not received wages from the factory's owners after their plans to self-manage the factory were finalised. They have a mutual aid fund, but around 120 colleagues have left to find other work.
Salvetti said: "In the end, we are managing a struggle that's been going on for 22 months. You cannot imagine how complicated it is. You have to take care of business, shifts, organising demos.
"It's not easy. We keep morale up with demonstrations and events such as a working class literature festival at the beginning of April. Workers see that people still support the factory and that gives morale."
Nonetheless, Salvetti is clear about what is at stake.
"[Our bosses] have to show that they are free to close down the factory whenever they want, for any reason they want and there's no discussion about it. It's a struggle of who controls the society. They don't care about one factory, but they have to show that they are the boss.
"We've seen a lot of the hierarchies used in the workplace were useless. They had no use other than dividing us. We've been organising our whole lives without bosses. We can manage the factory better than them. Two former shift leaders who were our enemies when we were producing [axle shafts], are now our close allies in the struggle."
"We're still in danger of failing. What we can say is that we have reached a point that few workers' struggles have reached in Europe in the last few years."
Frankie Lister-Fell is a journalist and reporter at Camden New Journal.