Parents Are Having to Steal Formula Milk. Make It Free Again
Bring back National Milk.
21 June 2023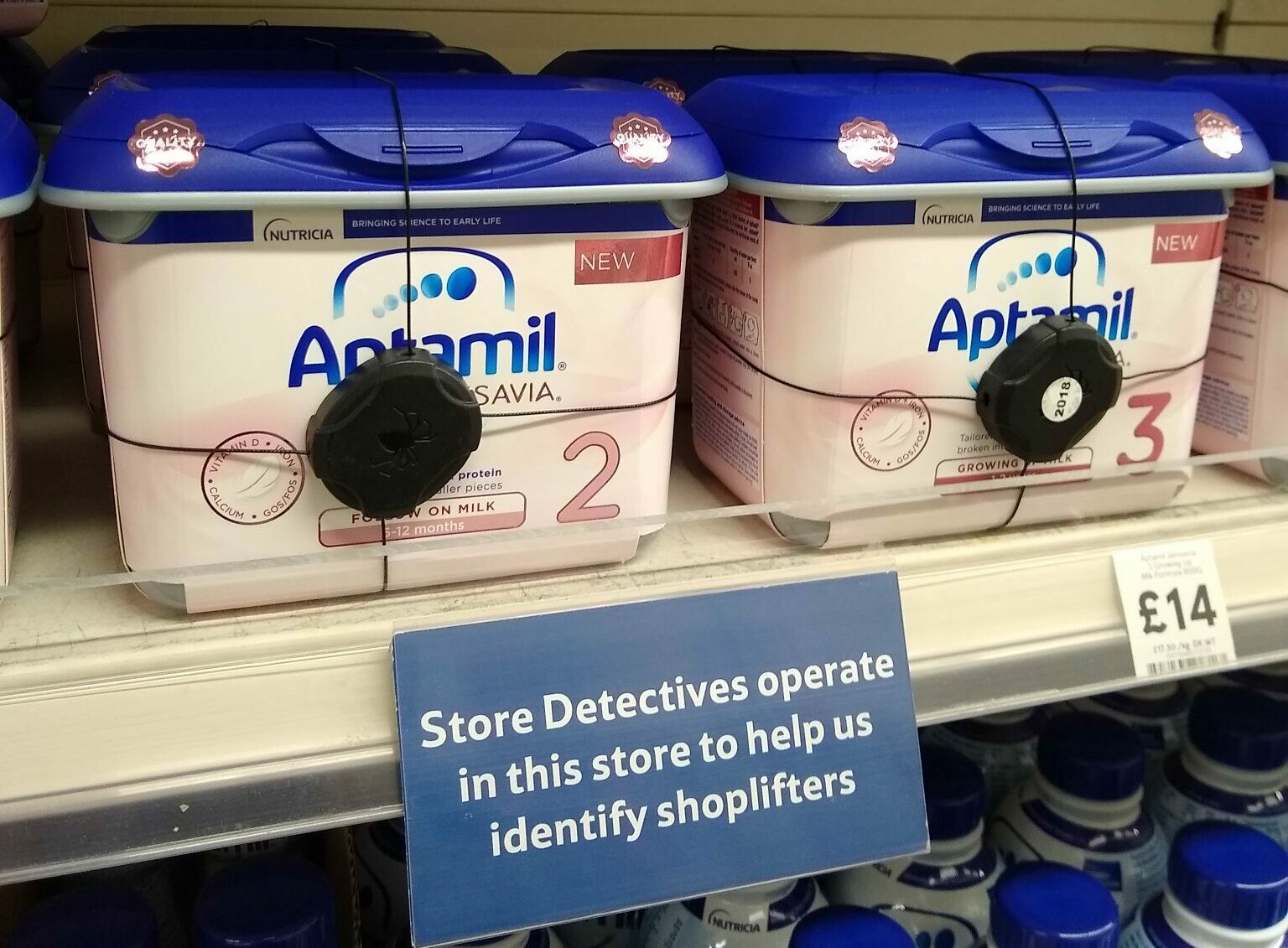 Photo: FuegoFerdinand/Reddit
"It's the only thing I've ever shoplifted in a moment of total desperation," says Kate*, a 37-year-old mother in Edinburgh who hid baby formula in her son's pram. "I had fuck all maternity pay and panicked that baby formula would run out during the first lockdown."
More and more parents in the UK cannot afford to feed their infants: the British Pregnancy Advice Service (BPAS) has warned that the country is on "the brink of a public health crisis" unless the government takes action amid reports of parents skipping feeds, diluting formula, and buying unsealed formula online. Speaking to Novara Media, 31-year-old Rebecca Wilks, saw a Tesco worker in Cardiff "physically wrestling a man who was trying to shoplift powdered baby milk" before she intervened.
The majority of babies in the country are either partially or fully formula fed by the time they are eight weeks old. A week's supply of formula now costs between £9.75 and £19; even the cheapest brand is 45% more expensive than just two years ago. The global infant formula market was worth £53.5bn in 2022. In order to prevent formula from being seen as superior to breast milk, it's illegal in the UK to advertise formula or for retailers to apply discounts or promotions to it.
Meanwhile, support for low-income families has stagnated. The NHS's Healthy Start allowance – £8.50 a week for under-1s toward milk, fruit, and vegetables – doesn't cover formula (the Scottish equivalent, Best Start Foods, is £9.90 a week, which technically covers the cheapest formula on the market, but leaves only 15p for everything else). Whilst it's legal for food banks to provide formula, most of them don't, following guidelines from Unicef UK's Baby Friendly Initiative.
For many desperate parents, the last resort is a baby bank. In the UK, around 200 baby banks run either by charities or social enterprises provide donated essentials such as nappies, toys, clothes and sometimes formula. Beautine Wester is a pediatric nurse and founder of Hackney Children and Baby Bank which gives families in need essential items including clothes, books, food, and baby equipment donated by the local community. She tells Novara Media that formula donations are "running short" to meet "huge demands".
"I've had mums who come in practically fainting with hunger," says Wester. "They're anaemic, they're stressed, they can't produce milk."
To the politicians and parents, activists and charities that spoke to Novara Media, the solution is obvious: government-funded free infant formula. In other words, exactly what Britain had for much of the 20th century.
Remember National Milk?
During World War II, the government introduced a Welfare Food Scheme to help ensure an adequate diet during rationing. Following public "agitation" over milk prices, the government gave all children under five free milk, under what was known as National Milk, as well as other nutritious foods such as cod liver oil and orange juice. By 1946, measurable improvements to children's health persuaded Clement Attlee's Labour government to continue the Welfare Food Scheme – including National Milk – in peacetime.
From 1940 to 1976 all parents in Britain were entitled to free or heavily subsidised powder milk manufactured and distributed by the state which remained available to all children until the 1960s. Infant welfare clinics allowed parents to exchange tokens for a tin of National Dried Milk, whilst providing broader health services for babies. Between 1945 and 1958, babies received 340m tins of National Dried Milk, which fed 85% of British babies by 1974. But if the scheme was so popular, why was it scrapped?
Historian Dr Emily Baughan's research points to a number of factors in the 1970s. New science raised concerns about sodium levels in baby formula. Whilst the formula companies launched products with lower levels of salt, the National Milk recipe didn't change and was "quietly disappearing from shelves."
Meanwhile, breastfeeding was also becoming a "global health priority" in the wake of 'The Baby Killer' report of 1974, which exposed Nestle's responsibility for deaths and malnutrition in developing countries and claimed that National Milk was a "misconceived social welfare policy" that reduced breastfeeding.
A major public health report, 'Present Day Practice in Infant Feeding', followed in the same year, urging Harold Wilson's Labour government to cut National Milk altogether and spend the savings on breastfeeding campaigns – and so he did, bringing the scheme to a close in 1976.
Baughan says that a "scarcity mentality" continues to pit breastfeeding against formula. "No one seems to suggest, either now or in the 1970s, that maybe … you could just fund both?" In her essay, Dr Baughan argues that "breastfeeding didn't get easier or more popular" whilst "formula companies were the ones to gain from the state-led promotion of breastfeeding."
Even after Wilson scrapped National Milk, families on certain benefits could still use milk tokens to receive free or subsidised formula from the Welfare Foods Scheme, but it was a commercial product from an approved list of brands. Under the 1988 Social Security Act, families on Income Support could claim 900g of free dried baby milk a week of "an approved brand", while households on Family Credit could buy the same at a reduced price. By the 2000s, one in five children relied on milk tokens.
In 2006, Healthy Start vouchers replaced the Welfare Food Scheme. The Citizens Advice Bureau warned that getting a voucher was "nothing short of a nightmare". Today, Healthy Start fails to reach more than a third of eligible families. Last week, Labour MP Emma-Lewell Buck unveiled a bill to automatically sign them up to the scheme; SNP MP Alison Thewliss, chair of the All-Party Group on Infant Feeding, told Novara Media that the government "must step in to cap the soaring cost of formula" and expand and increase Healthy Start payments "to make sure all families are able to access them".
39-year-old Aisha, who lives in London, has seen government support for bottle-feeding parents dry up right in front of her eyes. She remembers using milk tokens for her eldest children; her youngest daughter, who is 18 months old, is only entitled to free baby milk on prescription for allergies. "My children always got free milk from the state. … Obviously it's great that's [still] available to me but why it's not available to everyone is pretty shocking," she says.
Yet as parents risk criminal records to feed their children in an escalating cost of living crisis, the idea of reviving National Milk is gaining traction.
National Milk 2.0.
Dr Erin Williams is co-founder and director of Feed, an organisation that offers advice on infant feeding. While in the short-term, Williams wants a better Healthy Start scheme and "urgent implementation" of "emergency formula pathways" within local authorities, in the long run, Williams says she'd "love to see the development of a not-for-profit formula in the UK".
Nor is this at all a marginal ambition: chief executive of BPAS Clare Murphy has previously said "not-for-profit milk" is a "long-term goal" of the organisation.
In an essay published last year, infant feeding activist Jessica Cohen imagined how health visitors, GP surgeries and supermarkets could provide a new "universal, subsidised national milk".
Speaking to Novara Media, Cohen says that a national formula would dispel the confusion surrounding formula milk: 40% of families with formula-fed babies mistakenly believe that expensive formula has better ingredients (in fact all formula meets the same compositional standards).
An NHS milk, Cohen writes in her essay, would mean that "the recommended formula would be simply NHS formula, and all education and preparation guidelines would reflect the recommendations that were best for babies' nutrition, not the bottom line of a profit-making company."
One of the obstacles to nationalisation is the stigma attached to bottle feeding. Campaigner and mother Payzee Malika has helped 64 families so far with her baby formula fundraiser she launched after formula prices hit the headlines earlier this year. She tells Novara she would "really welcome the possibility of free formula for under-ones" but that as long as formula is viewed as "secondary to breastfeeding", achieving this will be difficult.
Meanwhile, Ruth Ann Harpur, co-founder of the Infant Feeding Alliance, is sceptical of nationalisation and is concerned that "constant demonisation of the formula industry in the press" reduces any chance of ensuring a "reliable supply" by working collaboratively with formula companies.
Cohen argues that "removing the profit incentive from formula" with an NHS product is more likely to meet approval from breastfeeding activists concerned about the influence of formula companies.
Any future campaign for National Milk might find friends in the broader Right to Food campaign, which seeks to make food a legal right and is backed by councils, trade unions and footballer Marcus Rashford. Leading the campaign in parliament is Ian Byrne, Labour MP for Liverpool West Derby.
Byrne tells Novara Media: "Hunger and out-of-control food inflation are not inevitable. They are a political choice made by this government, [which] could look at how high-quality baby formula could be provided as a public good by the state. The time for sticking plasters to address the rising cost of food is over."
While contemporary Tories let babies go hungry, a new National Milk would also have been warmly welcomed by wartime prime minister Winston Churchill, who in 1943 said: "There is no finer investment for any country than putting milk into babies."
*Names have been changed.
Sarah Woolley is a journalist and researcher based in London.