Meet the Robin Hood-Style Activists 'Shoplifting' for Food Banks
'It's not going to be the CEO of Tesco who's going hungry.'
6 June 2023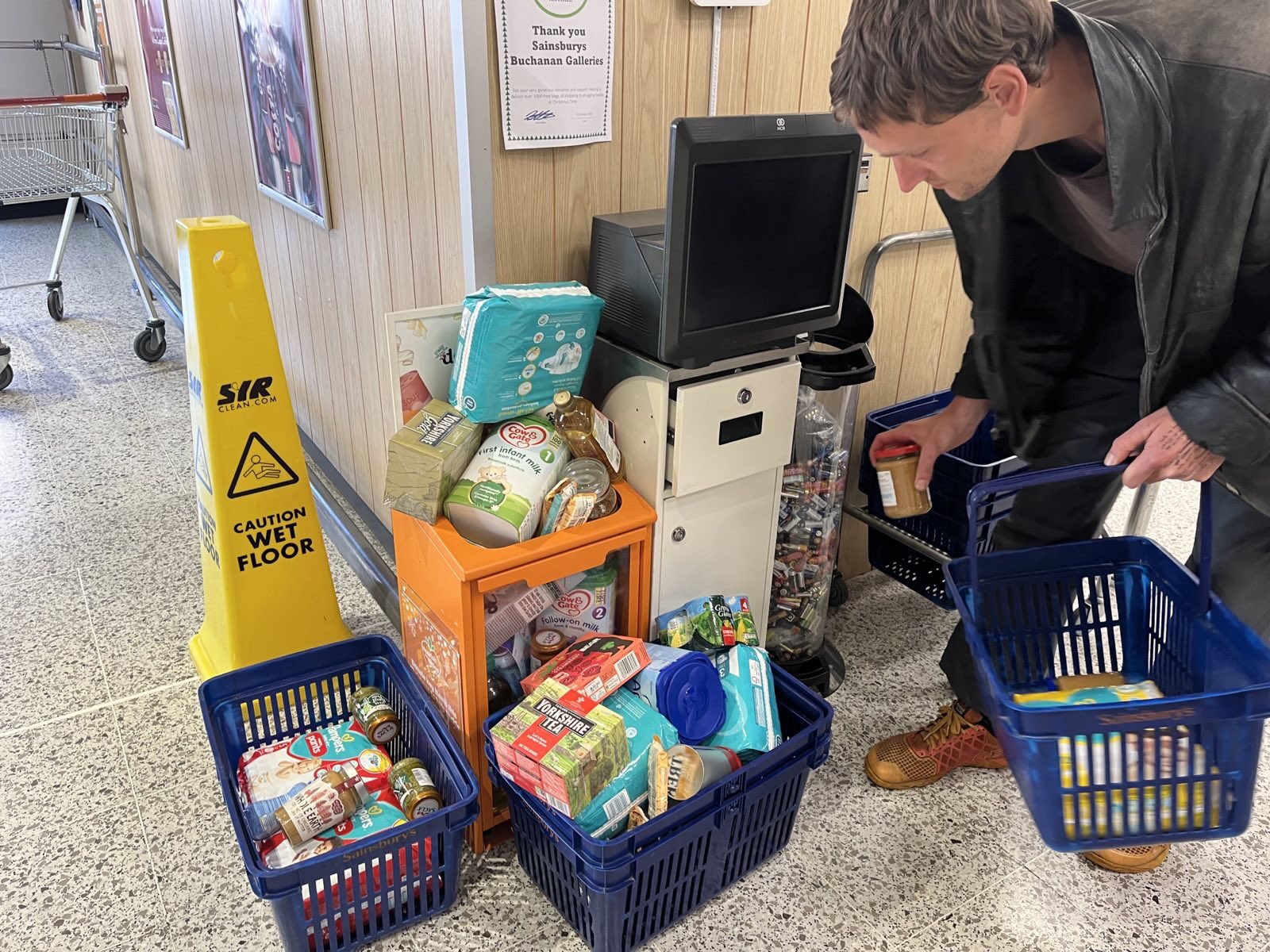 Activists donate "shoplifted" goods to a Sainsbury's collection bin. Photo: This Is Rigged
Activists are "shoplifting" from supermarket shelves and dumping the proceeds straight into the stores' food bank bins in a "redistributive action" to protest the cost of living and the climate crisis.
On Thursday, six people entered a Tesco Extra in the Maryhill district of Glasgow, Scotland, took food and essential items from the shelves and put them in the store's food bank donation bins.
Glasgow branches of Asda, Sainsbury's and Tescos were hit by similar actions earlier in the week, while M&S and Waitrose were targeted in April.
BREAKING: DAY 3 OF REDISTRIBUTIVE ACTION. Join us to take back what is ours: https://t.co/HGLguTWGcq pic.twitter.com/jLY2ncngol

— This Is Rigged (@Thisis_Rigged) May 31, 2023
In a video posted on Twitter on Wednesday, an activist says: "The reason we're doing this is that supermarkets in this country have been raising their prices ahead of the rate of inflation, essentially stealing from ordinary people in order to line their packets with profits.
"We're acting against this in order to deliver food and necessities to the people of the community that need it the most in the middle of the cost of living crisis."
The activist is seen ripping the security tag off a tub of baby formula. He says: "This is a basic need for every family with babies and it's £18 in Asda, which is an immense price tag. […] Supermarkets are prioritising their profits over the safety and health of families in the community."
Xander Cloudsley, 29, a community food co-ordinator and member of This Is Rigged, the campaign group behind the actions, said: "In my job, I've seen the lived reality of the cost of living crisis […] while corporate giants like Tesco are boasting astonishing profits year in and year out. I'm taking action because this disparity is sickening and profoundly unfair."
The protest comes as food bank usage – already prevalent following austerity – has surged alongside spiralling inflation.
Many supermarkets now have collection bins for food banks. In 2018, Sainsbury's trialled dedicated shelf-edge labels alerting customers to items that food banks need. In 2022, Tesco gained positive media attention for launching a "reverse food bank" where shoppers could buy and donate goods.
Meanwhile, supermarkets have also been accused of driving inflation. Analysis from trade union Unite shows the top three supermarkets – Tesco, Sainsbury's and Asda – have taken advantage of increased food costs and doubled their profits to £3.32bn in 2021, up 97% on 2019. Unite's general secretary Sharon Graham has called this "greedflation" – something supermarket bosses deny.
Ironically, supermarket workers, often poorly paid themselves, are amongst those forced to turn to food banks. One supermarket worker accused Tesco of "forcing us to use food banks, while using food banks to look good."
cost of living reaching new heights, my local co-op is now a grocery show room. also ft periodic tannoy announcements from mitie security that their cameras are watching you. bleak af pic.twitter.com/C8u7n7zBMf

— laura (@laura_estah) May 28, 2023
Novara Media previously reported how people are shoplifting in order to deal with the cost of living crisis, believing it is "one of the few guerrilla tactics we have available to us."
However, unlike shoplifters who would prefer to remain unnoticed, activists from This Is Rigged are openly and promoting their activities on social media. Activists told Novara Media that they don't believe that their activities are illegal, as they aren't taking the items out of the property – but that they're willing to accept the consequences for their actions.
Hannah Bright, 21, a community worker and co-founder of This Is Rigged, said the action was taken out of "necessity".
"A lot of our work is based in Possil in north Glasgow, where there are over 1,000 people on food bank waiting lists. The need is so high. The supermarket food banks are just performative. It's a bandage on a massive, wider issue."
Experts have described the cost of living crisis as a public health issue, and Clare Murphy, chief executive of the British Pregnancy Advice Service, has warned that Britain is "on the brink of a public health crisis", with parents turning to the black market to afford baby formula.
This Is Rigged was founded in December 2022. The group links the cost of living crisis with the climate crisis, and demands the Scottish government opposes all new fossil fuel projects and ensures a fair transition for oil workers to new jobs in green industries. 
"As climate collapse intensifies, social and financial inequalities also worsen. When we can't get food, it's not going to be the CEO of Tesco who's going hungry," Bright explains.
This is Rigged favours non-violent tactics, and its activists have disrupted First Minister's Questions and smashed the glass housing the sword of William Wallace.
The group's "Robin Hood" supermarket action was inspired by British farmers who took milk off supermarket shelves in 2015 to protest the low prices they were getting paid for their produce, and by the French energy workers who send cheap electricity to schools, hospitals and working class communities. 
It also takes inspiration from Otpor! (Resistance!), a 1990s Serbian protest group credited with the downfall of Slobodan Milosevic, and holds a community soup evening with civil resistance workshops inspired by the Black Panthers' food programmes.
Bright said: "I think a lot of our problem is that we've been told that we're powerless for so long that we started to believe it, and we were just beaten down and miserable. What we're trying to do is remind people that we can fight and, crucially, we can win, because none of this is new."
When approached for comment, a spokesperson from Sainsbury's said: "We are acutely aware of the pressures facing millions of households right now, and our number one priority continues to be doing all we can to keep prices low for our customers.
"Our profits and margin are down year-on-year as a result of the significant investments we have made to navigate inflation but supporting our customers, colleagues and suppliers is the right thing to do and remains our biggest priority.
"We have also prioritised supporting our colleagues by committing £225m over the last year to increasing retail hourly pay and enhancing other benefits. Pay for Sainsbury's frontline, hourly-paid colleagues has increased by 10% in the last year and 44% over seven years."
Tesco and Asda have been approached for comment.
Simon Childs is a commissioning editor and reporter for Novara Media.