Why Is Tristram Hunt Afraid of Trans Books?
It's giving Section 28.
10 July 2023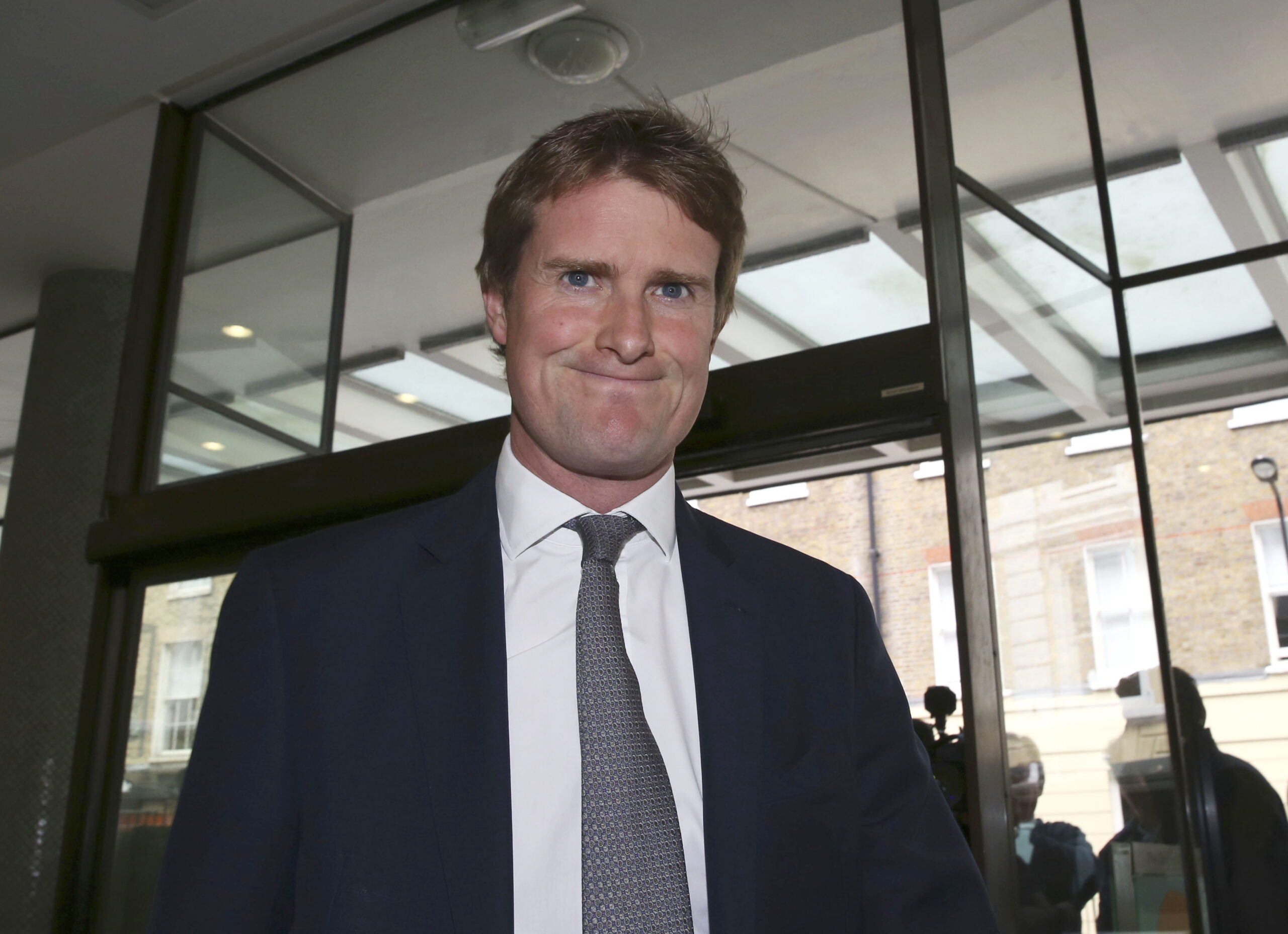 Tristram Hunt, sometime Labour leadership candidate (he withdrew after failing to get close to the 35 MP nominations required), arrives at Labour conference, May 2015. Paul Hackett/Reuters
The Young V&A reopened its doors in Bethnal Green on 28 June – the same weekend as the 51st London Pride – after a £13m refurbishment. Local students who'd helped redesign the space were photographed hugging Kate Middleton as she toured the building with Tristram Hunt, director of the museum – but away from the fanfare, something was missing. Three things, in fact.
Shortly before the museum's reopening, Hunt made the executive decision to remove three items about trans people from the museum: a "Some people are trans, get over it!" poster from LGBT+ charity Stonewall was taken out of a display about social justice and graphic design; and two books, Seeing Gender: An Illustrated Guide to Identity and Expression and Here and Queer: A Queer Girl's Guide to Life, were removed from the gift shop. Just after the Young V&A reopened, its only openly trans employee revealed online that she had resigned a month before, among her reasons an expressed concern about the museum's lack of LGBTQ+ programming.
In a LinkedIn post, Stephanie Stevens said she was "appalled" by Hunt's decision to remove the trans poster from the Young V&A, adding that she'd been contacted by a former colleague "to say the team was hiding books from Tristram Hunt".
"I … chalked it up to some sort of joke," wrote Stevens. "Unfortunately here we are."
Speaking to Novara Media, Stevens adds that she had resigned after having "raised concerns regarding the lack of programming for LGBTQ+ youth and education, especially considering we were opening on Pride weekend".
Hunt told the Telegraph the books were removed from the Young V&A shop because they were "age inappropriate", saying the museum is aimed at 0- to 14-year-olds and the books are aimed at 14- to 18-year-olds. As for the poster, the Young V&A described its decision to remove it from the collection as "complex" and "not intended to be exclusionary". In 2015, Hunt slammed Section 28 for breeding homophobia among young children. Yet now, he's bringing it back by stealth.
A change of heart.
Ahead of the 2015 general election, Tristram Hunt, then shadow education secretary, spearheaded Labour's manifesto commitment to tackle homophobic bullying in schools. He blamed Section 28, "a most pernicious piece of legislation", for having cast a decades-long "shadow" in the form of "deeply troubling" homophobia that persists among young people to this day. In the eight years since, he must have had a change of heart.
Section 28, the homophobic legislation infamously introduced by Margaret Thatcher in 1988, banned local authorities from "promoting" the "acceptability of homosexuality". As thousands of queer lives were taken by Aids, Thatcher's Section 28 fuelled a moral panic about children being "turned" gay or lesbian if they were taught about same-sex relationships.
So vague was the law – what does "promoting" homosexuality even mean? – that it created a situation whereby schools, libraries, museums and other publicly funded institutions effectively avoided including or referring to any book, artefact or person that could conceivably be seen to be about LGBTQ+ people. The legislation was never enforced in the courts – because it didn't have to be.
It took 15 years for Section 28 to be repealed but by then the damage was done. Hundreds of thousands of LGBTQ+ people grew up deprived of seeing themselves represented, refused comfort when they questioned their sexuality and denied protection from homophobic bullying. Today, the consensus on Section 28 is near-universal: even David Cameron has apologised to gay people for the "offensive" law.
Yet when it comes to trans and non-binary people, Section 28 is as acceptable as ever.
Hunt's censorship of trans people's existence fits with wider political backsliding on trans rights. Since 2015, the government has withdrawn funding for tackling LGBTQ+ bullying in schools, refused to reform the Gender Recognition Act to make it easier for trans people to legally transition, and is now threatening to force teachers to out trans students to their parents.
Yet it isn't just out-and-out attacks on trans people that are the problem. It's also the new Section 28: the silent erasure of trans people from public life, from sporting events to toilets, as the result of successful lobbying from groups like LGB Alliance and Transgender Trend. As in the 1980s and 90s, this transphobia has trickled upwards to politicians and decision-makers, be it the Labour party, the Equality and Human Rights Commission or now, the V&A.
Hunt v the union.
It isn't just Stevens who's shocked by Hunt's decision. In fact, it's been opposed by all of the hundreds of V&A workers who belong to the Public and Commercial Services (PCS) union.
Union representatives met with Hunt before the reopening to urge him to reinstate the poster and books, to no avail. Steven Warwick, PCS culture group secretary, described Hunt's decision to Novara Media as "extremely disappointing", and says the union has written to the V&A executive board urging it to reverse the decision.
"Seeking to hide the existence of Trans people contributes to the idea that being Trans is somehow unacceptable and adds to the current climate of transphobia and trans-erasure, putting trans people, particularly young trans people, at risk," the PCS said in a statement.
Rowan Ellis is the author of the book Here and Queer, one of the books Hunt censored. She told Novara Media that Hunt's decision had nothing to do with age-appropriateness, but rather was about "the demonisation of queer and trans people in young people's spaces".
"I grew up under the shadow of Section 28," she says. "This idea that queerness is too adult or complex or inappropriate for young people creates a real lack of education and awareness."
With growing numbers of young people coming out as LGBTQ+, acknowledging that LGBTQ+ people exist – and providing accurate information about us – is crucial. The V&A itself recognised this last year in a blog post about the importance of showing LGBTQ+ artefacts to young people. The blog highlights two artefacts acquired for the Young V&A. One is a poster, designed in 2007 by a group of secondary school children for Stonewall: "Some people are gay, get over it!" Today, its sister poster has been removed from the collection.
Young trans people are already faring worse than their cis peers – 15% of young trans people report never feeling hopeful about their future, compared with 6% of cis young people, according to LGBT+ young people's charity Just Like Us. Just as Section 28 did not prevent young people from growing up to be gay or lesbian, nor will removing a trans poster from the Young V&A stop young people from growing up trans – it will simply mean they do so more miserably.
This weekend, more than 35,000 people marched through London to protest transphobia and demand trans rights. While Thatcher and Section 28 became a rallying point for activists in the 80s, today's adversaries are people like Hunt, pushing the exact same insidious rhetoric against a different subset of LGBTQ+ people.
Vic Parsons is a freelance journalist.