Amazon Accused of Union-Busting at Striking UK Workplaces
'It's like being starved out.'
18 July 2023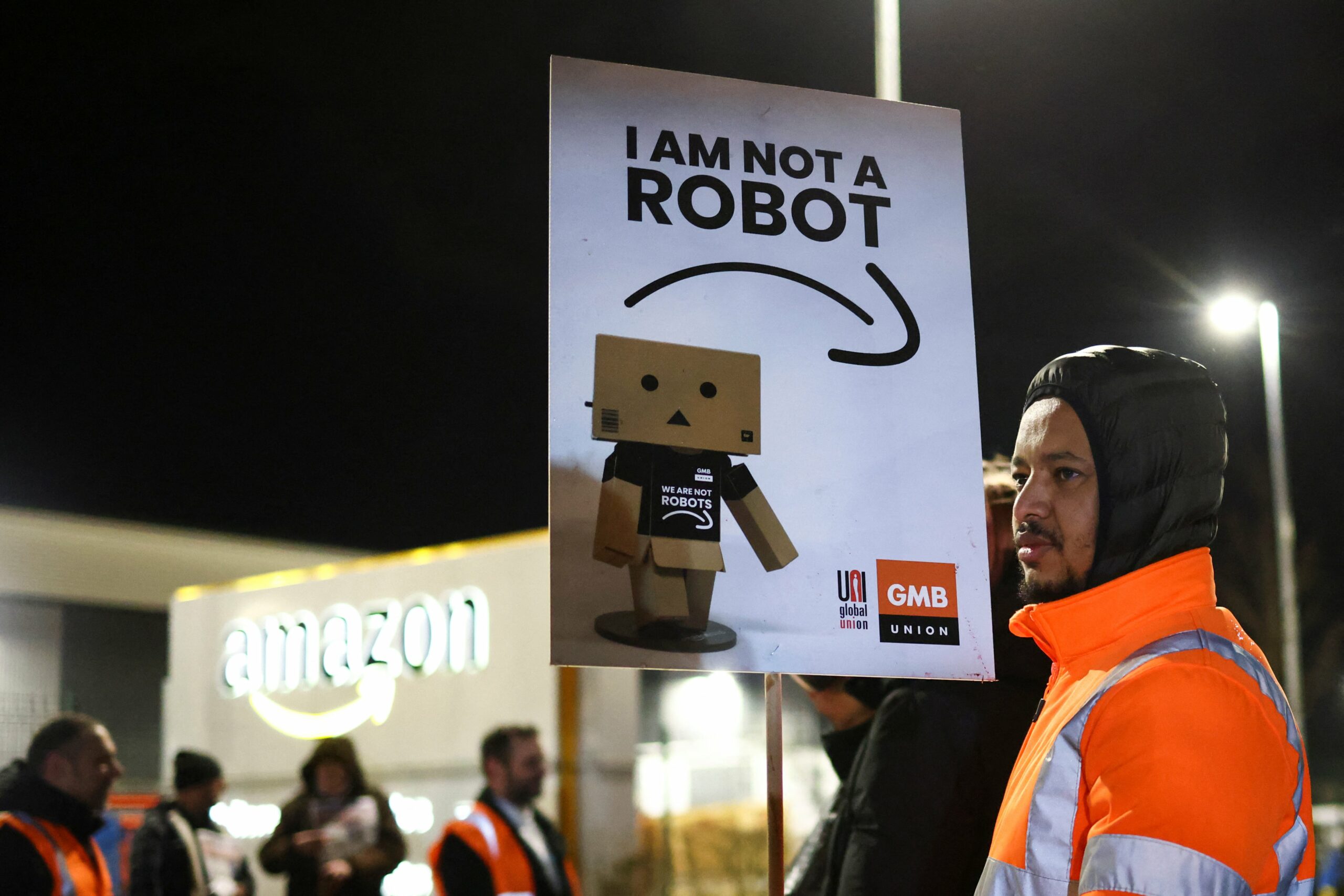 A rally in support of Amazon workers' on strike in Coventry in January 2023. REUTERS/Henry Nicholls
Amazon has been accused of aggressively cracking down on unionisation efforts as increasing labour unrest at the corporate giant spreads across the UK.
Workers allege Amazon is employing anti-union tactics, saying the company has penalised a worker leading the union drive, hired 1,300 extra non-unionised workers to defeat a push for formal union recognition in Coventry, plastered warehouses with anti-union messages, told workers that they risk missing out on pay rises if they unionise, and threatened to close a warehouse in response to union organising at the site.
Following an outbreak of unofficial strikes across the country last August over a 35p pay offer, union activity inside Amazon fulfilment centres has been steadily increasing. On 25 January, warehouse workers at Coventry's BHX4 made history by taking the first lawful strike action against Amazon in the UK.
Amazon has responded to this latest wave of organising with a campaign of hostility towards the union effort.
The GMB union says that it is "no coincidence" that one of the most outspoken union organisers at the Coventry site has had his hours reduced in recent weeks.
Darren Westwood has worked at the Coventry fulfilment centre for four years and has been central to the unionisation effort at BHX4.
In June, when Westwood logged into AtoZ, Amazon's app for shift scheduling, he expected to find the usual 30 to 35 available shifts listed.
Instead, he'd been given zero hours of work. In the 18 months he'd been on a flexible hours contract, this had never happened.
"Management blamed me and said that it was my fault that I'd hadn't been given any shifts, because I hadn't scanned something," Westwood told Novara Media.
"My manager gets told when I go to the toilet or told when I'm not doing anything at work. So surely it would pop up as a red flag that I need to scan something or else I won't get any hours," he said.
After two weeks of no shifts, Westwood decided to tweet about his situation. The next day, Amazon suddenly made 22 shifts available to him. He suspects the risk of him publicly exposing their union-busting behaviour prompted the corporate giant's move.
While shifts are made available to workers on Fridays or Saturdays, his new shifts appeared on a Monday.
"They can't say that I didn't receive any shifts because of something that I didn't do, because I still haven't scanned anything," he said.
However, this didn't last long. After two weeks of being back at work, Westwood found on July 15 that again he'd been offered zero shifts.
In America, Amazon has fired workers involved with organising at its Staten Island warehouse in New York City. Westwood believes the move was in retaliation for his organising: "I didn't think Amazon would stoop that low. They know the situation I'm in, they know I've got kids to feed. It's like being starved out. They've basically said, 'we're not going to give you any shifts, go get another job'."
Stuart Richardson, a senior organiser for GMB, told Novara Media: "I don't believe that it is a coincidence that he found himself in a situation where he was receiving no work from the company for a period of time."
A spokesperson for Amazon said: "Darren Westwood, along with a number of his colleagues, works a shift pattern in which he can choose his own hours."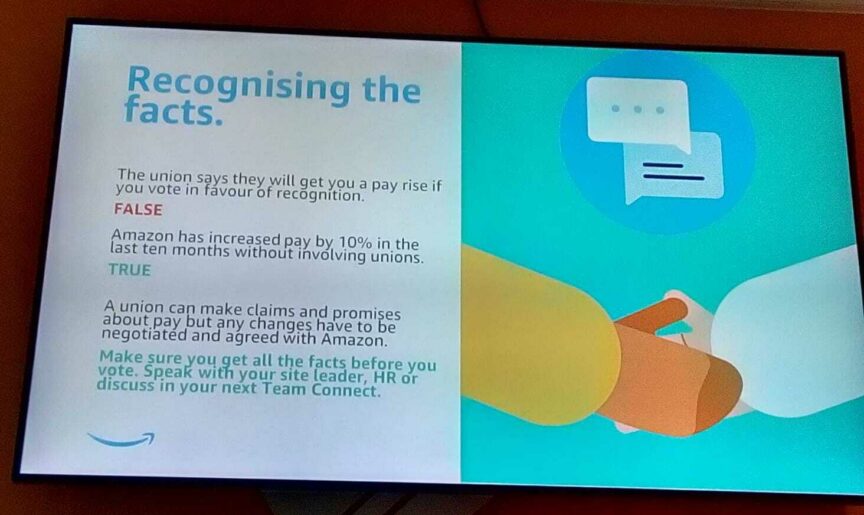 The fulfilment centre in Coventry looked set to become the first unionised Amazon warehouse in the United Kingdom, but in June the GMB was forced to withdraw its attempt for formal union recognition to the independent central arbitration committee (CAC), after the company hired over a thousand non-unionised workers.
In December 2022, during peak seasonal Christmas hiring, Amazon publicly stated that there were around 1,400 employees at the Coventry site. By May, GMB membership at the vast site had shot up to 800, comfortably passing the 50 per cent threshold required to meet statutory union recognition.
Yet, once the GMB submitted their application to the CAC, Amazon claimed that 2,700 people worked inside the warehouse. The union says that Amazon has flooded the warehouse with over 1,300 new starters since strike action began, at an estimated cost of more than £300,000 a week, in order to push the union below the threshold.
A spokesperson for Amazon said: "We regularly recruit new team members, across the country and across the year, providing great new career opportunities for thousands of people and to meet customer demand. This year is no different."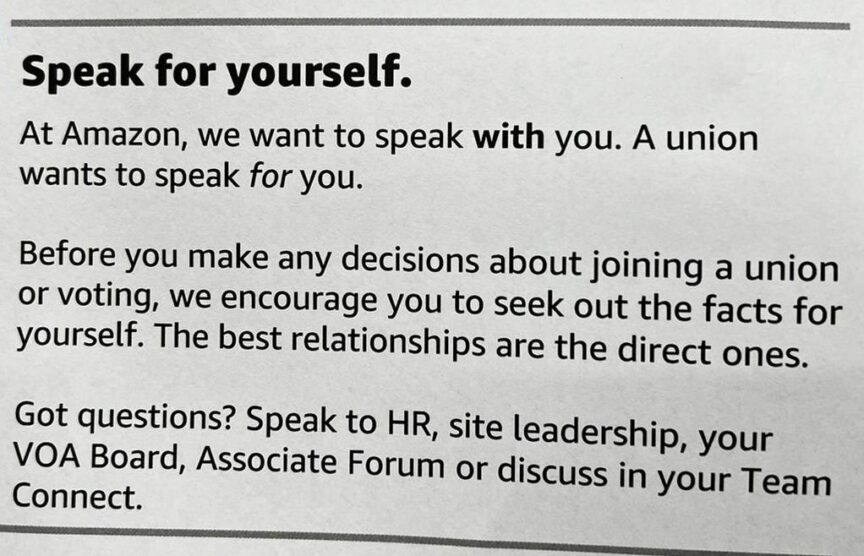 Inside the Coventry, Rugeley and Mansfield fulfilment centres, Amazon has posted anti-union literature over the warehouse walls, noticeboards, and electronic screens.
The posters encourage workers to engage with the company's own employee forums, even while admitting that they can't be used to discuss pay.
One poster inside the Coventry warehouse, dated 2 to 8 March, said: "Thank you for speaking up and sharing your views with us. We hear you. In All-Hands [company wide meetings], we will not be discussing pay-related topics."
At the Coventry site, another poster sought to depict the union as violent, saying: "On Wednesday morning as AAs [Amazon Associates] were attempting to arrive at work, a number of people had their vehicles damaged by individuals who were behaving in a way that does not fit with our standards."
Both private security and police have been heavily present at picket lines. However, the GMB confirmed that no action has been taken against any picketers and denied any allegations of violence.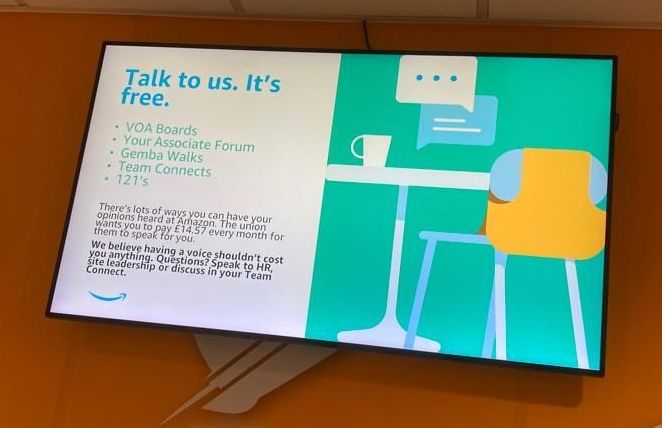 As the battle to unionise Coventry's BHX4 continues, workers have accused Amazon management of "threatening" people by using one-to-one 'Team Connect' meetings to spread "wrong information" over pay.
Leaked minutes from a meeting of the Associate Forum reveal that management are telling workers that unionisation could result in them losing out on pay rises, saying if Amazon and the GMB could not agree on a recommended new pay rate, "nobody in this building would get a pay rise while everyone else would receive it once review is closed [sic]."
Documents filed to the US Labor Board revealed that Amazon spent more than $14.2 million last year alone on anti-union consultants in America. There is no requirement for Amazon to disclose any such payments in the UK, but workers believe that the union-busting tactics developed in America are now being deployed to resist their efforts to unionise.
At the fulfilment centre in Rugeley, only an hour from Coventry, workers have also voted to take strike action. But on 28 June while the ballot for strike action was still running, Amazon announced plans to shut the Rugeley centre and relocate the site's 1,000 workers to the newly constructed Sutton Coldfield site.
Workers allege the move is a threat in response to union organising at the site. Their suspicion has been increased by the fact that back in January, before the union drive had taken off, Amazon briefed the press that the Sutton Coldfield site was seen as an opportunity to mitigate the closure of three other fulfillment centres – Hemel Hempstead, Doncaster, and Gourock.
A spokesperson for Amazon said: "We weigh a variety of factors when deciding where to develop future sites or maintain a presence. In this case, all affected employees are being offered opportunities to transfer to other sites."
Polly Smythe is Novara Media's labour movement correspondent.