Seven Years After Cops Killed Her Brother, Assa Traoré is at the Frontline of France's Fight Against Police Violence
She's helping other Black activists 'recycle pain into fuel for the fight'.
20 July 2023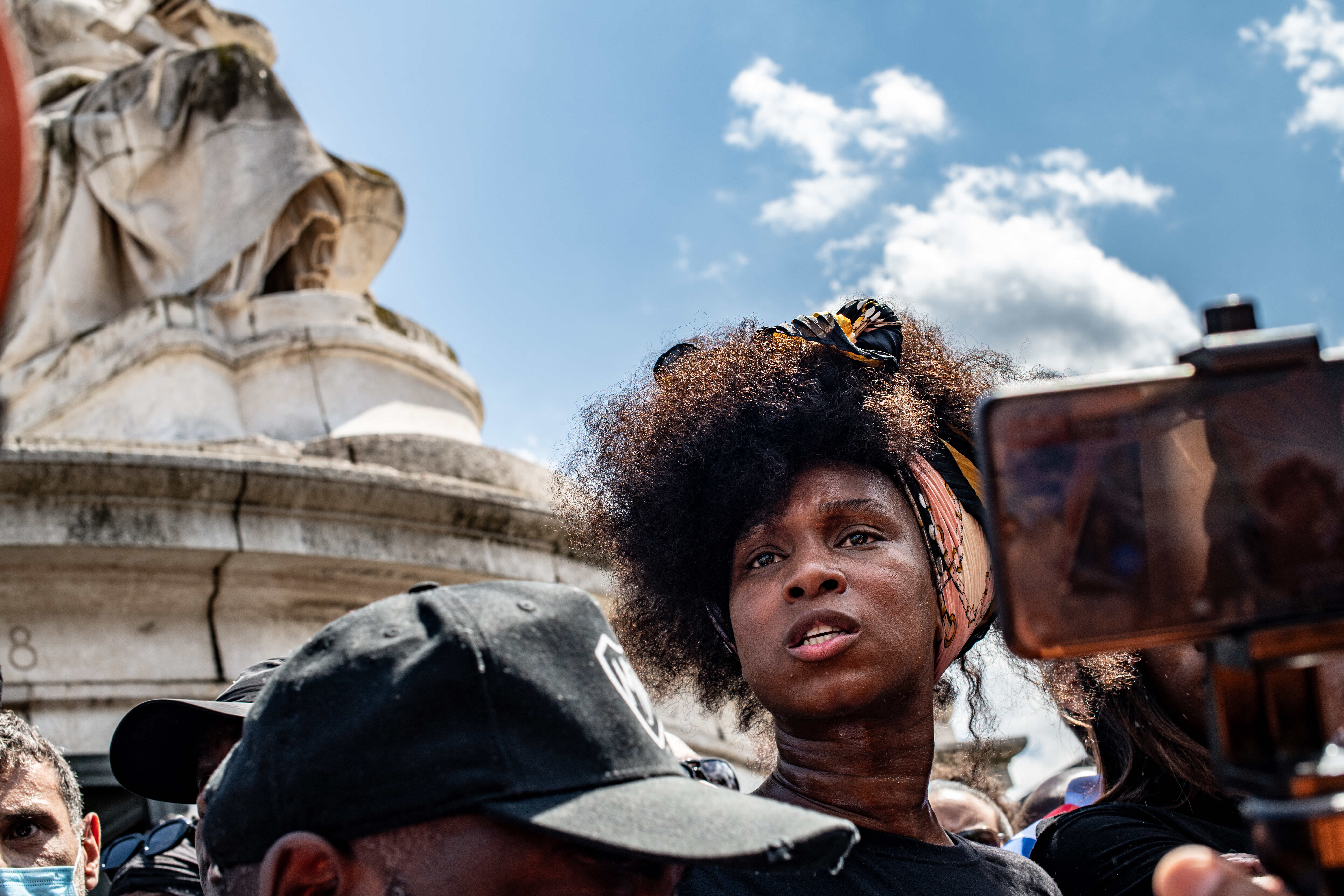 Assa Traoré leads a march for Adama Traoré in tribute to the victims of police violence in Paris, France, July 2023. Photo: Khanh Renaud/AbacaPress
Assa Traoré pushes our Zoom call back twice before she is finally able to speak, two hours later than we had originally planned. The killing of 17-year-old Nahel Merzouk during a traffic stop in the Parisian banlieue (suburb) of Nanterre on 27 June has thrust the issue of police violence centre stage in French politics, with protests erupting across the country. As a result, Assa – who became a symbol of the fight against police violence after her younger brother Adama was killed by officers on 19 July 2016 – is extremely busy. 
On 8 July, the Adama Committee, Assa's organisation dedicated to achieving justice for her brother, held a march in central Paris. Organisers attempted to file the correct paperwork for the annual event, but, despite this, the protest was banned by authorities. Thousands turned out anyway and the police, including the notoriously violent Brav-M motorcycle unit, fired teargas at the crowd and viciously attacked and then arrested Yssoufou Traoré, one of Assa's younger brothers. 
"He was obviously targeted. The second they arrived, they called him out by name," Assa tells me from her Paris apartment, where she is tending to one of her young daughters. When Yssoufou was released from custody, one of his eyes was swollen completely shut. "It was unbearable to see my little brother hurt like that," Assa continues. "I thought of Adama […] They used the ventral press [an arrest technique where an officer kneels on someone's chest] which Adama suffered through. It was like a recreation of his killing in front of us. We saw their violence and their hatred when they hit my little brother." 
Communiqué de presse :
Yssoufou Traore a été interpellé hier lors de la marche réclamant la justice dans l'affaire du décès de son frère Adama Traore.
Yssoufou Traore a été victime de violences commises par des policiers de la BRAV-M qui semblent disproportionnés et illégitimes, pic.twitter.com/yod6DLKPpE

— La Vérité Pour Adama (@laveritepradama) July 9, 2023
Had they complied with the order not to march, Assa believes this would have been "a massive step back". It would have meant "renouncing all our own liberties and our capacity to protest […] It would have been a victory for injustice and police impunity". In her opinion, the French police believe that Black men belong "either on the ground [enduring a body search] or in prison."
"It was with pride and with dignity that my brother [Yssoufou] stood up and said we will march for my brother [Adama]," she says. "It was a very powerful symbol."
For Assa, who has seen four of her brothers go to prison and one of them killed, there is a gendered aspect to the violence metered out by the state in the banlieues. "Historically in the quartiers populaires [Paris's working-class suburbs] it is the men who have been broken. The men who have been destroyed. It is the men who are considered to play no part in the construction of this France. It is the men whose voices do not count […] there is a huge dehumanisation of men of colour [in France]". 
Even acknowledging the existence of racism can be controversial in France, a country where the official state-backed ideology is race-blindness. This places activists like Assa in the difficult position of trying to combat the practical effects of racism without getting dragged into an ancillary debate about the values of the republic. "We have imposed the issue of police violence on the national conversation," she says, and yet "France does not accept that there is racism in its police force […] While they refuse to accept that this discrimination exists, we will continue to see deaths."
Black and Arab men are considerably more likely to be subject to police violence and harassment in France. A 2017 survey by French civil liberties organisation Rights Defender, found that men perceived as Black or Arab are 20 times more likely to be stopped and searched than any other group. The majority of people shot by police during traffic stops – of which there were a record 13 last year – since 2017 have been of Black or Arab origin. 
France as a nation remains incredibly colonial, Assa says. "[France] does not accept its past in terms of slavery, it does not accept the role that it played, and this has had direct repercussions across generations. Because our ancestors are not recognised as indispensable people who contributed to the construction of this country […] their children and grandchildren […] are still seen in the same dehumanising way." The police murder of Black and Arab men is a direct and shockingly commonplace result of this racism, she says. "When Nahel was killed the images that shocked everyone are just the images that we don't normally get to see."
In her 2019 book The Adama Fight, written with sociologist Geoffroy de Lagasnerie, Assa lays out a critique of the over-use of the word "racism" in political discourse, arguing that it can actually end up abstracting the discussion away from the concrete expressions of power used against people of colour. Yet during our conversation, race and racism are invoked repeatedly. I wondered if Assa had changed her mind about how useful the word racism is. 
"At the start, we tried very carefully not to drag it [the protest movement] into the language of Black skin, race, racism […] We have first got to pose this question of police violence. Then we can ask, why is there police violence? Well, that's because of racism."
She thinks it would have been counterproductive to abstract the conversation too soon – obscuring the primary issue at hand. "It would be like when we talk about the riots – sorry, revolts, because they're not riots – we are no longer talking about Nahel's killing. " 
Likewise, while Assa acknowledges the power of "solidarity and alliances" with other groups that are now also confronting police violence in France – notably the gilets jaunes and trade unionists at the pension protests –  she is similarly wary of the focus shifting away from the banlieues and from the murder of her brother and of Merzouk.
"Of course, we can have alliances but you have to be very careful," she says. "We always have to trace the problem to the source and denounce it there and not wait. [Police violence] has arrived in the city centre and is affecting the white population […] but the source of the violence, where it starts, is in the quartiers populaires. […] We must always place it in this context and not take up the question of police violence as though it has just started because it is affecting the city centres and not act like it's less of a scandal when it affects the banlieue." By stubbing it out at its origin, she says, activists can stop police violence from spreading.
Cette photo nous fait mal… Elle est insoutenable, elle illustre la violence du plaquage ventral.
C'est Youssouf Traoré, le petit frère d'Adama Traoré. Nous exigeons sa libération immédiate!
Nous devons interdire cette technique inhumaine.
📸 @Laurent_Gayer pic.twitter.com/lTCK05iw5S

— La Vérité Pour Adama (@laveritepradama) July 8, 2023
The revolts after the death of Merzouk also saw a counter-reaction from far-right groups. In Lyon, fascists armed with a pistol were arrested. In Angers, a group of far-right activists used baseball bats to confront a protest against police violence. In Chambery, multiple fascists formed a "self-defence militia" in anticipation of a "race war". Assa is a hate figure for France's far right, both in its institutions and on the ground. One month before the March for Adama, the Paris police prefect allowed 500 neo-Nazis to protest in the street. Assa says that the further her movement advances, the greater the backlash that emerges from such groups.
There is a backlash too, from the police. "The more we denounce them, the more we have police putting pressure on the government to demand laws that give permission to kill," Assa says, referring to a 2017 law, that police unions lobbied to have introduced, which allows for the use of firearms in the case of "legitimate defence" when someone is refusing arrest. Data from the Interior Ministry shows that since the introduction of this law, the number of shots fired on moving vehicles has increased. According to data from independent news site Basta, 17 people were killed while fleeing police in vehicles between 2002 and 2017, and 26 have been killed since the introduction of the law. 
In her 2017 book Letter to Adama, Assa speaks of the necessity of "recycling pain into fuel for the fight". The grief encapsulated by the revolts against the killing of Merzouk suggests that peripheral France is more than capable of metabolising pain for use in the struggle. "In waging the fight for Adama, we are fighting for everyone," Assa says. "Liberty is a fundamental right, and we defend that for all". 
The French police provided no justification for their treatment of Yssoufou, but told Novara Media that he had been arrested for violent conduct towards someone in a position of public authority.
Olly Haynes is a freelance journalist covering politics, culture and social movements.