Did Riot Police Illegally Evict a Homeless Shelter?
Legal experts reckon so.
12 June 2023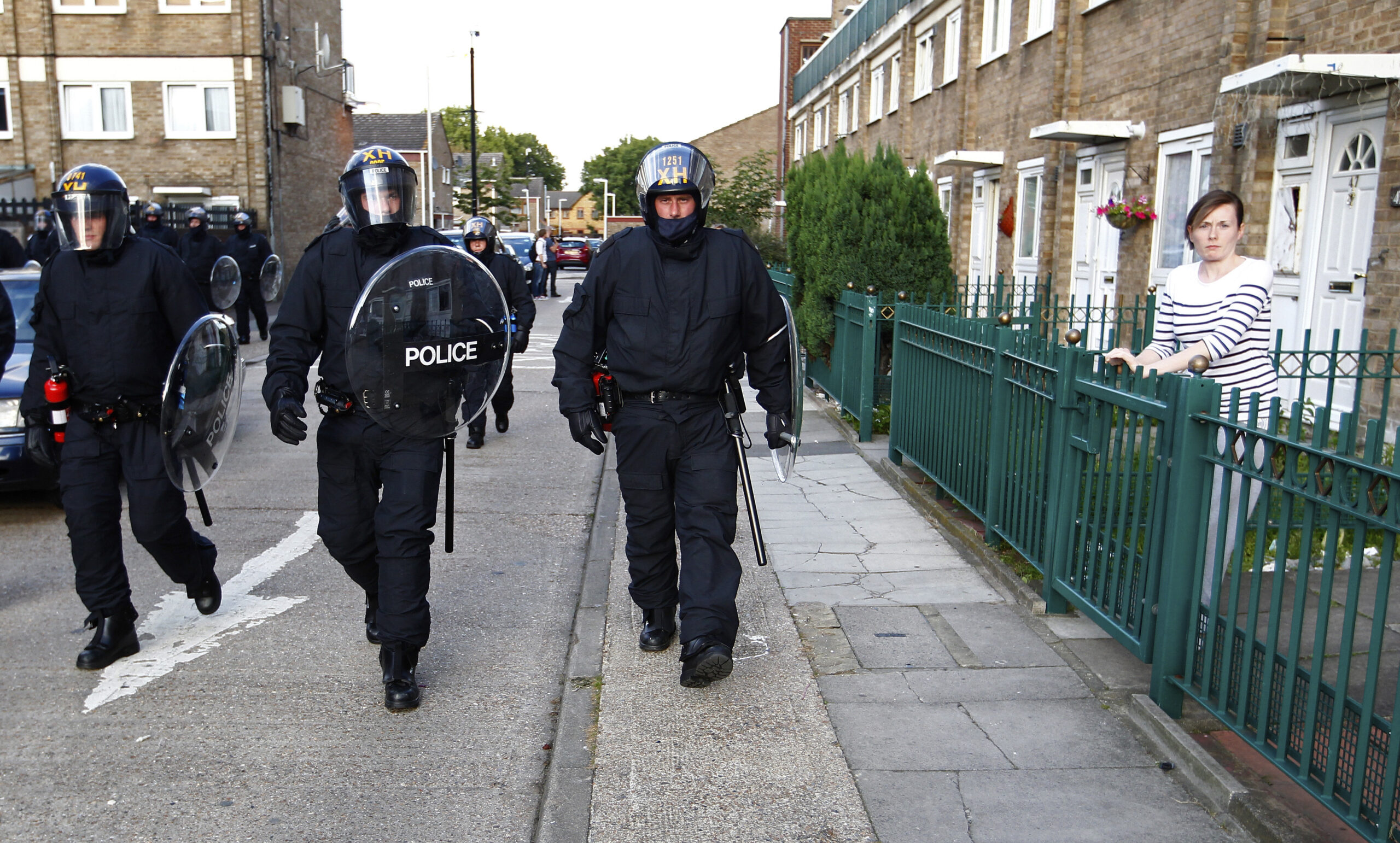 Riot police patrol a council estate in east London during the riots that broke out following the police killing of Mark Duggan, August 2011. Andrew Winning/Reuters
At around 5am on Tuesday 30 May, M* came home from a night of bin diving to find a police car patrolling in front of her home in Shadwell, east London. Her housemate F*, who is undocumented, slipped inside; M stayed to confront the two officers.
What could they possibly want from a group of 40 homeless people at 5am, she asked. "40 people? Oh, okay, thank you," one of the officers replied, his evidence-gathering mission apparently complete, and the pair drove off into the night.
M's question was rhetorical – she knew exactly why they were there. The police had been circling the homeless shelter where she and F live, a squatted former convent known as the Autonomous Winter Shelter (AWS), for months. Now, they were going in for the kill.
Two days later, on 1 June, around 100 officers from the Met's territorial support group – the specialist unit tasked with dealing with terrorism and serious public disorder – descended on AWS, throwing the 29 people inside and their possessions out onto the street. In the video below, officers can be seeing shoving and attempting to detain a protester outside of the building.
A show of force.
Though no arrests were made, a number of those present, as well as their video footage, testify to the violence of the police operation.
48-year-old AWS resident Youness Elaissaoui was one of the first to encounter the police after they broke down the shelter door. Speaking to Novara Media, he says officers ordered him and his friend to leave the building. Once outside, they took down his details, checking for a criminal record, but found nothing. "Okay, what about immigration issues?" Elaissaoui recalls one officer asking. He was upfront: he'd outstayed his visa.
It was at that point that officers began to crowd in on Elaissaoui. He asked to retrieve his belongings from inside the building: a picture of his wife and kids, whom he hasn't seen in the six years since he left Morocco, another of his brother who died of Covid-19. "Please, I don't have anything in this country, only these small things," he begged them. They refused. Elaissaoui started to feel dizzy. The next thing he remembers is waking up in the middle of the road with a police officer asking him if he knew where he was, captured by footage below:
The police called an ambulance and put Elaissaoui in it. M asked to accompany him, but was told there wasn't room for her – though there was room for two police officers. Outraged, M and a handful of others – by this point, a few dozen locals and residents had gathered to protest the eviction – attempted to block the ambulance from leaving. A sleight woman around 5'2", a riot cop shoved M and she flew across the street, as seen in the footage below:
Max Maric, 66, was led from the building in handcuffs. "They know we're homeless people for God's sake, they don't have to treat us as criminals," he told Novara Media.
The eviction stunned this sleepy corner of Tower Hamlets, a borough with 20,000 households on the council house waiting list and one of the most acute homelessness crises in the country (19 people are estimated to have died while homeless in Tower Hamlets in 2021, more than any London borough) – the same crisis the Catholic order that owns the building was supposedly established to address.
Bianca Morris, 34, has lived in the block neighbouring the former convent since 2017. "It's always been a quiet road until that day when all the police were here. It was scary. […] I felt intimidated."
To many of those who witnessed it, the eviction exemplified the police brutality with which a growing number of people in the UK have become familiar since the Covid-19 lockdowns, the Black Lives Matter uprising and the kidnap, rape and murder of Sarah Everard by PC Wayne Couzens.
While a statement issued on the day of the eviction by local police superintendent Andy Port acknowledged "concerns […] that police attendance appeared to be 'heavy-handed'", Port also insisted that the squat was illegal, and implied it was opposed by the community. Evidence seen by Novara Media suggests this wasn't the case – and that the cops knew it.
Going rogue.
Squatters first secured the disused convent in November 2022 before opening it up as a shelter in January. As its name suggests, AWS expected to be kicked out within a few months, just as the previous three Autonomous Winter Shelters had been. To their surprise, despite initial grumblings, the Sisters of Mercy mostly left residents alone, letting them use the space to establish a homeless shelter that housed, fed, trained and entertained swathes of local people.
Then, on 30 April, the police pinned a letter to the shelter door. The letter said that since the building was residential, the squat was illegal under section 144 of the Legal Aid, Sentencing and Punishment of Offenders of 2012, which dictated that only non-residential buildings may be legally squatted.
The police argument was forcefully rebutted in a response sent 12 days later by the Advisory Service for Squatters (ASS), an organisation that has provided squatters with expert legal advice since 1975. Seen by Novara Media, the ASS letter states that not only is the building clearly non-residential, but that under English and Welsh land law, the owners had forfeited any right to claim trespass by allowing the squatters to remain for so long.
"Mere inaction on the landowner's part allows the bare trespass to ripen into an implied licence, thereby affording the intruders a defence to trespass," ASS wrote, quoting Cambridge law professor Kevin Gray.
"If [section] 144 was to be invoked at all, this ought properly to have happened months ago," ASS added.
A few days later, Tower Hamlets mayor and former solicitor Lutfur Rahman sent a follow-up to the police, endorsing the ASS letter, which had advised that since the matter was civil, rather than criminal, "police intervention at this late stage would clearly be inappropriate and we would suggest unlawful". Frustrated by this advice, the police sought other ways to get AWS out.
Phantom noise complaints.
In their statement on the eviction, the police state that "as well as acting on the wishes of the owner, […] we have taken this action in response to a growing number of complaints and concerns reported to us by local residents" (while the police can't take action against squatters just for being there, they can and often do criminalise legitimate squatters for things like criminal damage and noise). Yet according to multiple neighbours of the shelter, no such complaints were made, despite the police's best efforts to solicit them.
"The police were literally harassing us into giving a statement against them," says Morris. "The day before, they were knocking on my door and they were like, 'Oh, we've had a noise complaint about the squatters next door. And I was like, 'Well, it's not from me.'"
"I've spoken to other residents in my particular block and none of us had made a complaint about them," she says.
Messaging AWS on Instagram, another neighbour who wished to remain anonymous wrote: "Just had the police at my door asking if I heard any noise coming from you!! Obviously I told them no bc I've not heard anything!!!"
Calum Macdonald, 25, walked past AWS every day on his way to work. So quiet was the shelter that he didn't even realise it was there until the eviction. "It wasn't a dangerous or anti-social squat," he tells Novara Media. "It was a positive thing that provided housing support to those in need."
Those who spoke to Novara Media had only good things to say about the shelter. Morris, who had never been to a squat until she was invited for a tour of AWS earlier in the year, says the shelter radically altered her perception of squatting. "When I've seen squats on TV, it's always really bad," she says. "They make out that squatters are really bad people and they destroy the buildings and they just do all this madness, but it was nothing like that. […] It was just really nice people, they cared about the community."
"As police officers, we are here to serve our communities," Port said in his statement on the eviction. Morris finds this hard to believe: "It's bollocks that they're doing it for the community," she says. "Their job is meant to be to protect and serve us, but seems to me like they protect and serve corporations […] and that's what [the eviction] was."
"I've been through domestic violence […] and when I've called police, they've turned up with like one or two police officers and not done anything. And yet [when there's an eviction], they've turned up ready to attack these people."
Unable to rally residents against AWS, and with legal experts telling them to back off, the police turned to one group of people they were confident would sign off the eviction: their in-house legal team.
A third opinion.
On the day of the eviction, the Met's borough commander for Tower Hamlets claimed that the council had green-lit the intervention by confirming to the police that the building was residential. This is untrue: "The eviction at 88 Hardinge Street was a police operation," a spokesperson for Tower Hamlets council told Novara Media. "While we do often work together to tackle challenges in the borough, the Met has its own unique responsibilities that it does not need to seek council involvement for." According to evidence seen by Novara Media, the police wasn't acting on the council's authority, but on its own.
Just over an hour before the eviction began, John Bergin, a solicitor for the Met, wrote to ASS saying that, having reviewed the matter internally, "police are satisfied that […] the premises are residential", and that the squat was therefore illegal. Unsatisfied with the legal advice of both ASS and the local mayor, the police had sought a third opinion that told them what they wanted to hear.
They did so in the knowledge that whatever the true legality of the eviction, it's unlikely they would ever face justice since the squatters lack the resources to mount a legal challenge. Now settled in a disused medical building around the corner, AWS's new landlords – the NHS – are already pursuing emergency civil action to remove them. To Macdonald, it's more of the same: "It feels increasingly like the working class community here is under attack."
Reflecting on the events of recent weeks, M sounds shattered but defiant. The eviction brought together the residents in ways she hadn't anticipated; in videos such as the one below, residents and locals can be heard chanting at police 'Whose streets? Our streets!', 'Shame on you' and 'Who do you protect? Who do you serve?'.
"I feel like … the police radicalised everybody," M says. "A group of really marginalised but depoliticised people have now formed this really strong political solidarity. … People really get it now: we're all in this together."
*Names have been changed.
Rivkah Brown is a commissioning editor and reporter at Novara Media.