We Could Get Life in Prison for Blocking a Deportation Flight
Our trial starts this week.
29 May 2023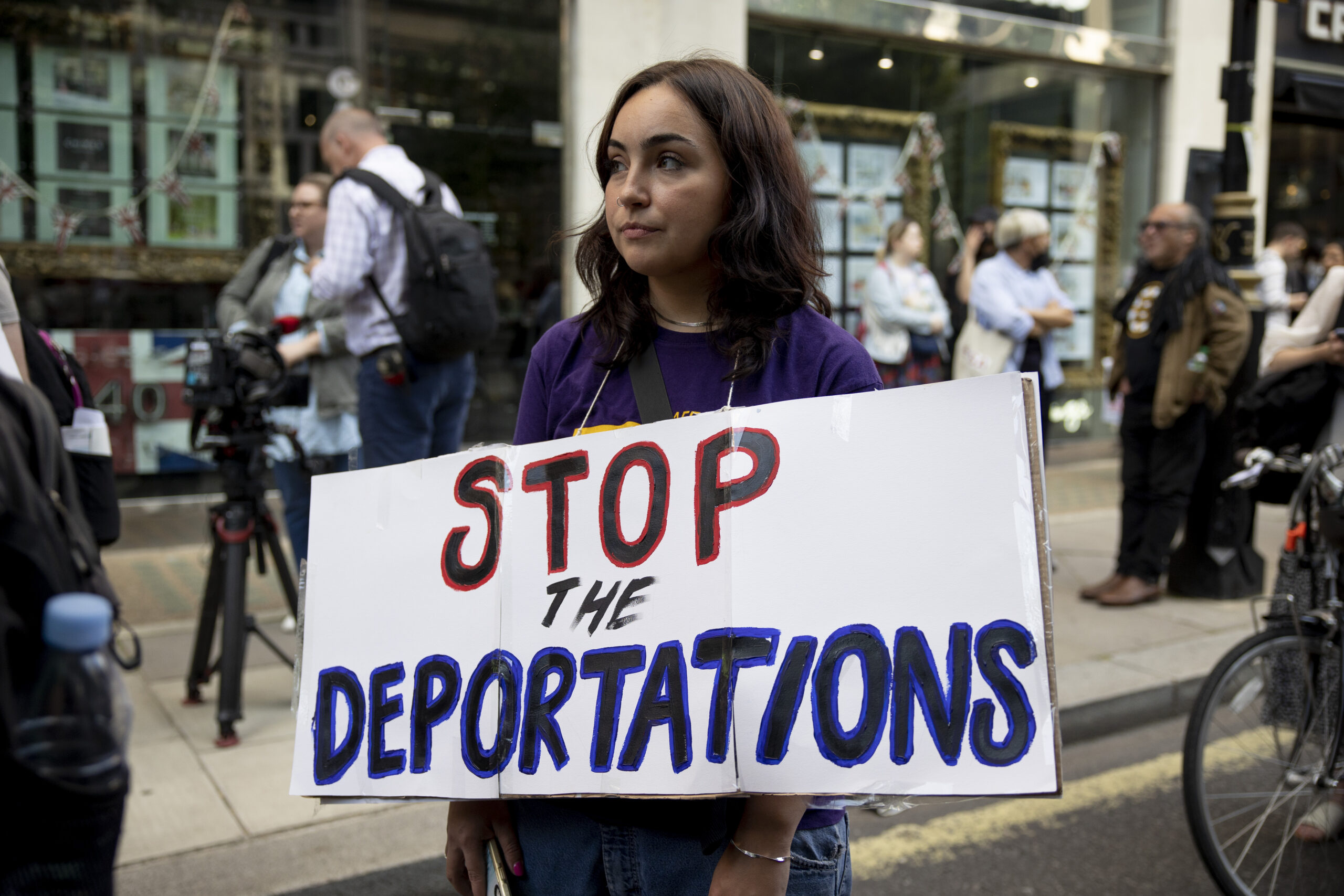 A protester at a demonstration outside the Home Office against Priti Patel's plans – since enacted by her successor Suella Braverman – to deport asylum seekers to Rwanda, June 2022. Hesther Ng/Sopa Images
On Tuesday, I'm one of three people who will be on trial for attempting to stop a deportation flight to Jamaica. Did we recently plunge half a million children into poverty? No. Are we responsible for the deaths of more than 130,000 people under austerity? No: we attempted to stop a deportation flight to Jamaica – and this is the response of the state.
Back in November 2021, the three of us locked ourselves to one another using metal pipes in the middle of the road leading to Brook House immigration detention centre. We did so to stop 50 people from being forcibly removed and taken to a deportation flight to Jamaica, a country where some of them had not lived since they were children, even babies. Of the 50 the government had intended to put on the flight, just four people boarded it.
We did what we did as an act of physical resistance against the violence and injustice of deportations; to prevent 50 people from being torn from their families and children; and from facing other more serious consequences: several people who have previously been deported to Jamaica have been killed. Many people in immigration detention have restricted or no access to legal advice, meaning that last-minute legal challenges are common: 13 were made in the 24 hours before this flight left. Actions like ours were also intended to buy time for these challenges.
Some of the 50 were related to members of the Windrush generation, a stark reminder of how this country continues to treat minoritised ethnic communities, some of which the British state actively encouraged to come here as subjects of empire.
Living under a government that is endeavouring to further brutalise its border regime, not to mention entrench transphobia, structural racism and a rich/poor divide that's among the widest on the continent, there's an obligation to resist in whatever way you are able to. That was ours. But direct action like ours, and other forms of protest, are becoming increasingly risky.
As a result of our action, we were charged with aggravated trespass, which carries a maximum sentence of just three months. Months later, the Crown Prosecution Service (CPS) decided to add another charge: the much more serious and archaic offence of causing a public nuisance. Historically used to criminalise queer people for public displays of affection, people more recently charged with this offence include the Paralympian James Brown, who was sentenced to 12 months for glueing himself to a plane to protest about the climate crisis. The CPS's attempt to introduce this much more serious charge is entirely predictable, in other words, being of a broader trend of criminalising peaceful protest.
While we almost definitely won't be given the maximum sentence – the offence carries it, but sentencing guidelines would make it incredibly hard for any judge to hand it out, given the specifics of the case – it is very possible we will get a hefty sentence nonetheless: just weeks ago, Morgan Trowland and Marcus Decker got around three years each for climbing a bridge and dropping a Just Stop Oil banner off of it. Last year, Kill the Bill protestors in Bristol were imprisoned en-masse, one for over 15 years, for demonstrating against new police powers.
Though the CPS itself is supposedly neutral, its rabid pursuit of protesters like me has been enabled by a raft of authoritarian anti-protest laws written by Tory politicians.
This began in 2020 with far-reaching restrictions on public gatherings, including protests, nominally due to the pandemic. Having got a taste of their new powers, in 2021, and after years of police lobbying, the government introduced the Policing Act, a historically unprecedented expansion of police power. Among other things, this law gives almost complete discretion to the police to shut down protests based on noise levels, increased the severity of punishment for wilful obstruction of a highway from a fine to a year in prison, and created a new, broader definition of causing a public nuisance. This was only a fraction of what the government wanted to introduce: several other protest offences were thrown out by the House of Lords.
Unfortunately, some of those offences have come back with a vengeance in the form of the Public Order Act, which became law earlier this month. These include a new criminal offence of locking-on (an offence so wide as to encompass anything that might conceivably be used to join people together, including something as mundane as luggage straps); suspicionless stop and search powers for police in relation to protest and protest offences; and protest banning orders, which allow judges to ban particular people from going to protests or even being involved in them. The Public Order Act was rushed through in early May in order to be in force in time for the coronation, as the fairly hapless police-trusting anti-monarchy protestors found out the hard way.
The criminalisation of protest by this Tory government, sanctioned by parliament (in particular the Labour party, which has said it would not repeal the Public Order Act if elected; in fact, Keir Starmer said he would allow it to "bed in"), coupled with the aggressive approach of the CPS, will undoubtedly have a chilling effect on people's ability to dissent against those in power. Aside from prison time, criminal records can prevent people from finding housing, getting jobs and undertaking education.
Threatening peaceful protesters with life in prison is authoritarianism, full stop. But that doesn't mean we should accept it. Those of us who can resist, must, not forgetting that protest is an act, not a gift from those in power.
The heavy-handed response to protesters from the government is in part because they know how effective we can be at everything from blocking deportation flights to unpicking the immigration-industrial complex to stopping immigration raids. Be aware of the risks, but if you can, take them. The alternative doesn't bear thinking about.
Griff Ferris researches and campaigns against the use and abuse of technology and data in policing and criminal justice.