Monaco-Based Investment Firm Evicts Squatted Homeless Shelter
They wanted to protect their wine.
5 December 2022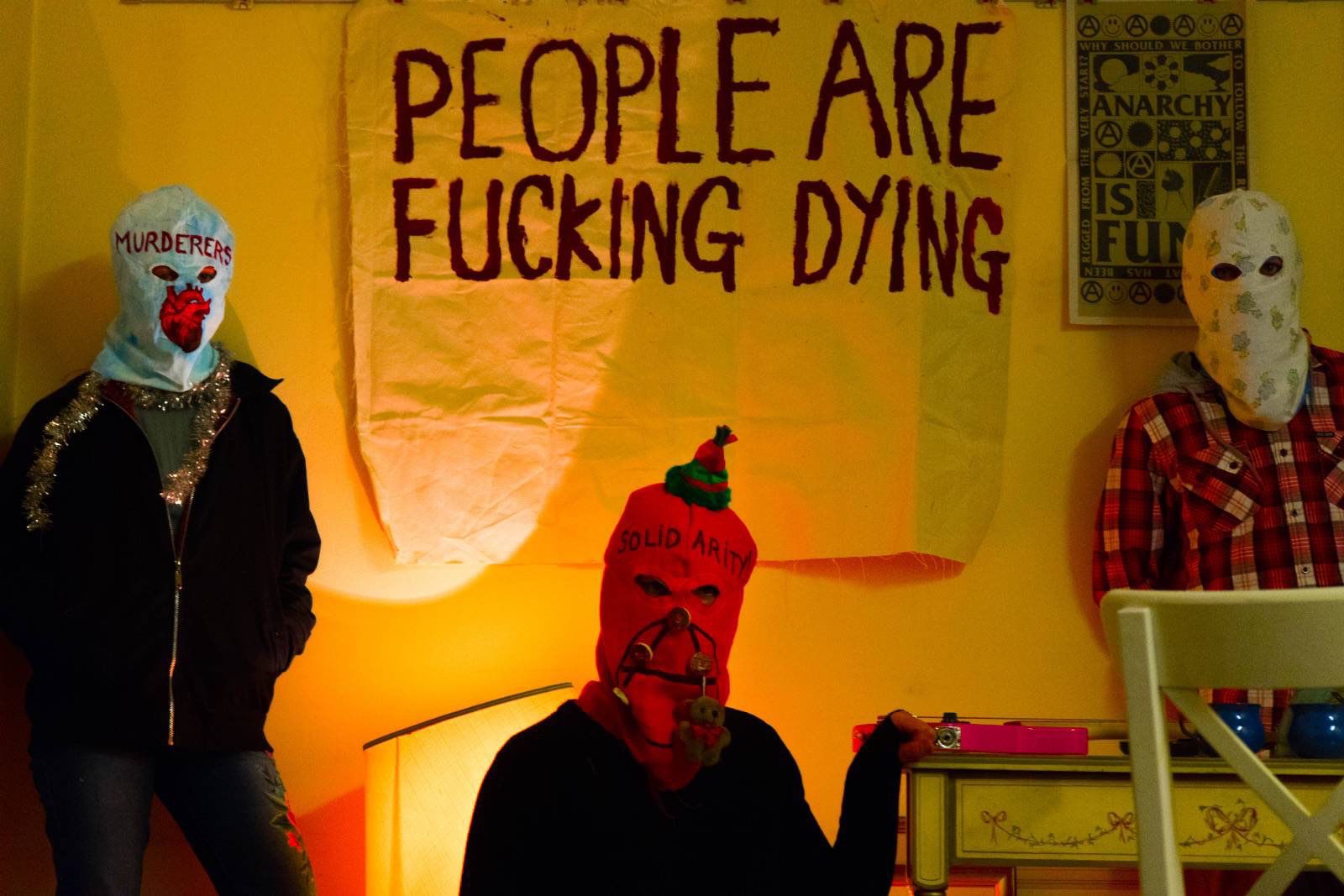 Squatters inside the homeless shelter. @autonomouswintershelter and @resisting.anti.trespass on Instagram
A group of squatters who set up a homeless shelter have been angered by a "traumatic" eviction by an offshore property investment company that wanted to protect its wine collection, antique furniture and paintings.
Legal documents shared with Novara Media show that Picasso Investments Corporation claimed repossession of Westminster Bridge House in Lambeth, south London, on the grounds that it contained "numerous books and records of business… some of which are kept locked in a safe" and "antique furniture and paintings as well as wine in the cellar". The corporation also cites their concern "that the intruders may have attempted to break into the safe".
In October, a small group of squatters and rough sleepers known as the Autonomous Shelter Network (ASN) occupied the historic building, a former "necropolis railway", used in the 19th century to transport corpses out of central London when the cemeteries were full.
The group transformed the abandoned office building into the so-called Autonomous Winter Shelter (AWS), housing locals and setting up a pay-what-you-can café and cultural centre. At its peak, the squat was home to around 25 people in need of a warm place to stay. A shelter was previously set up in a former St Mungo's homeless shelter before it was evicted.
On Monday 28 November, the shelter was served an Interim Possession Order, which requires squatters to leave a building within 24 hours, making trespass an arrestable offence after this time.
On Tuesday 29 November, around 20 squatters gathered in the cold outside the building, having decided not to resist the eviction, in order to protect vulnerable residents from further trauma and arrest. Two yellow-vested security professionals arrived at the property, along with a smartly-dressed man who denied being the owner and described himself as "an agent". The bailiffs did not enter the property, but called the police, who arrived at 6.30pm, by which time virtually all the squatters had left.
The property is owned by Picasso Investments Corporation. The company applied for planning permission to convert the building into flats but recently withdrew the application.
Companies house records show that a Picasso Investments Corporation registered in the UK was dissolved in 2021. The possession order shows that Picasso Investments Corporation is headquartered in Monaco. The company is now registered in Monaco.
Monaco is a tax haven; the country levies no tax at all on individuals or on corporations that register at least 75% of their profits there.
Stephanie, an AWS resident and organiser who gave a pseudonym, said the eviction was "traumatic" for those who were depending upon the shelter.
"When the papers came, people were crying, people were distressed," she said.
The shelter operated on the principle of mutual aid, she said. "We all need a place [to stay]… this is reciprocal – I'm not giving a handout… to a person that needs me; I need him as much as he needs me."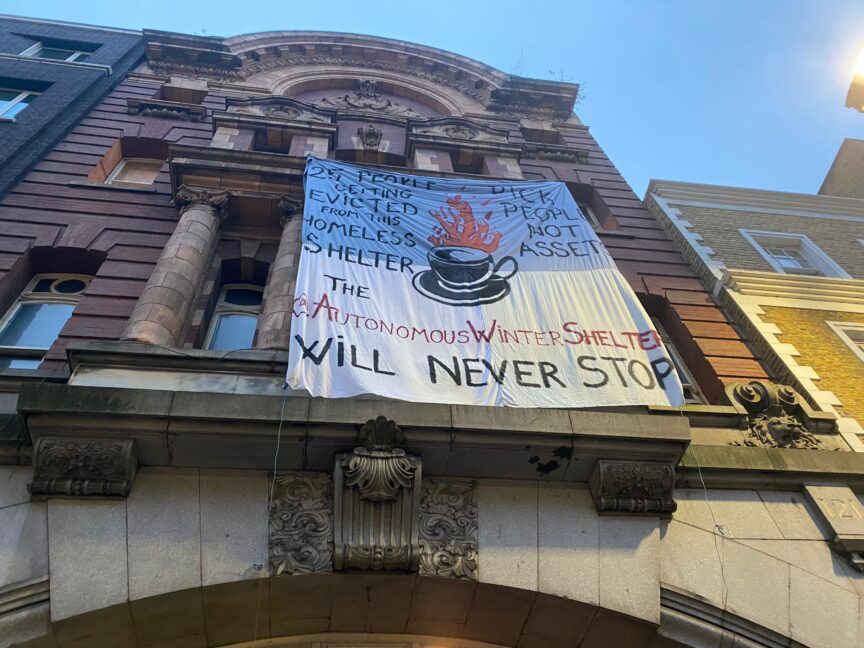 Resident and organiser Bill, who also gave a pseudonym, said that many rough sleepers came to the shelter "very shy and very fragile", but before long everyone was "just sitting there reading anarchist books and drinking coffee".
Bill said residents with no money to their name sometimes came "with bags of food" to share, having negotiated donations from neighbouring shops. In the shelter there was "no line between squatters and rough sleepers – we're all working hand in hand together" said Bill.
Bill said he educated himself on the mental health issues that can arise from long-term homelessness, so that he could better support those around him.
The number of people sleeping rough in London has risen by almost a quarter over the past year; more than 3,600 people were homeless in the capital between June and September. And with the weather getting colder, the risks of homelessness are rising by the day.
Bill said the eviction has left him "very deeply angry". The rich are "creating monsters right here, against themselves", he said.
The Autonomous Shelter Network said they have already squatted a new shelter, the location of which is yet to be publicly revealed. The new building is even better, said Bill. "It's kind of our style, when you evict us from one place, we try to get a better one… one day we'll end up in Buckingham Palace," he said.
"This is about human lives and dignity."
Sophie K Rosa is a freelance journalist and the author of Radical Intimacy.