Harrods is One of the First Companies to Use a New Tory Anti-Strike Law
Repressive trade union laws are a luxury for bosses.
2 December 2022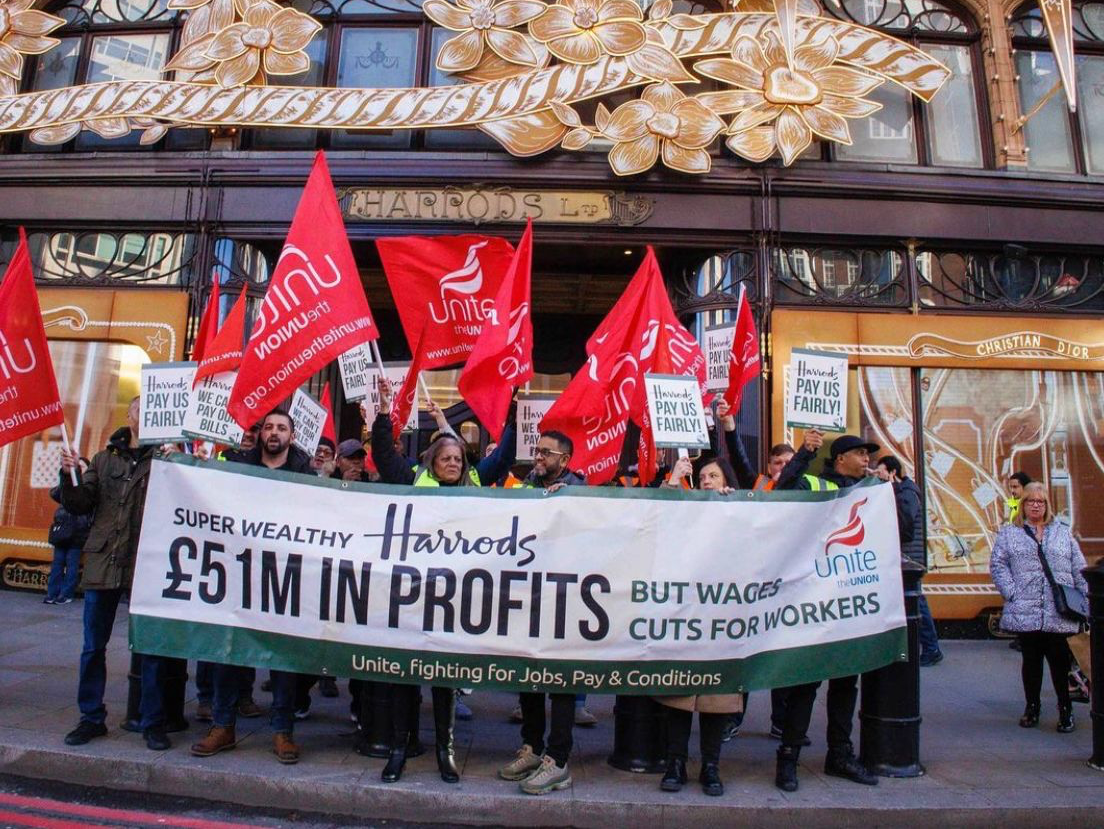 Workers protest outside Harrods. Photo: Unite
Luxury department store Harrods has become one of the first companies to use a new anti-union law to bring in agency workers to break a strike.
Around 50 uniformed security guards and CCTV operators at the store in Knightsbridge, west London took strike action in November and are planning to strike again on 3, 4, 10, 11, 17, 18, 23, 24 and 26 December, over a "pay cut dressed up as a rise".
Trade union Unite claims that Harrods, owned by the Qatari state, drafted in agency workers from Protective Security Group, registered in Ruislip, Middlesex, to break the strike. Unite claims the workers did not know that they were being used to break a strike and were uncomfortable about it.
In July the government created a new law allowing employers facing strike action to plug gaps using agency workers. Business secretary Grant Shapps justified the law saying that rail strikes taking place at the time were led by, "very extreme, Marxists, who are determined to turn this into some sort of fight, as they see it, with a Tory government."
Luxury brands have been experiencing a sales boom despite the cost of living crisis. Harrods, which is currently selling items such as a crystal embellished Judith Leiber clutch bag for £6,450, a Christian Louboutin dog lead for £390 and an Anita Ko white gold bracelet for £33,610, has offered the workers a 7% pay rise, while RPI stands at 14.2%. Unite says security staff at the luxury shop are paid less than the industry standard.
Harrods made a profit of £51m in 2021/2022 and doubled the pay of its managing director, Michael Ward, to £2.3m last year, while collecting £6m in support from the government's furlough scheme.
Harrods is owned by the Qatar Investment Authority, which the Gulf state has used to build an enormous business empire.
After intense scrutiny from trade unions and human rights groups, Qatar finally got round to improving its dire labour laws after most of its World Cup infrastructure had been built, but questions remain over the enforcement of new regulations.
Unite general secretary Sharon Graham said: "The Qatari state has rightly been condemned for the way workers have been treated in that country. Now it is embroiled in a row over the way workers are being treated in this one.
"Harrods believes using this disgraceful new law is to its advantage, but it is just making the dispute worse and dragging more parties into it. Our members are undaunted and they have the full backing of Unite behind them."
Unite regional officer Balvindir Bir said: "Harrods can afford to put forward an offer our members can accept and it needs to do so."
Novara Media approached Harrods for comment, but did not receive a response.
Simon Childs is a commissioning editor and reporter for Novara Media.