Workers at Non-Profits Are Done With Shit Jobs
'There's a growing class consciousness across the sector.'
29 November 2022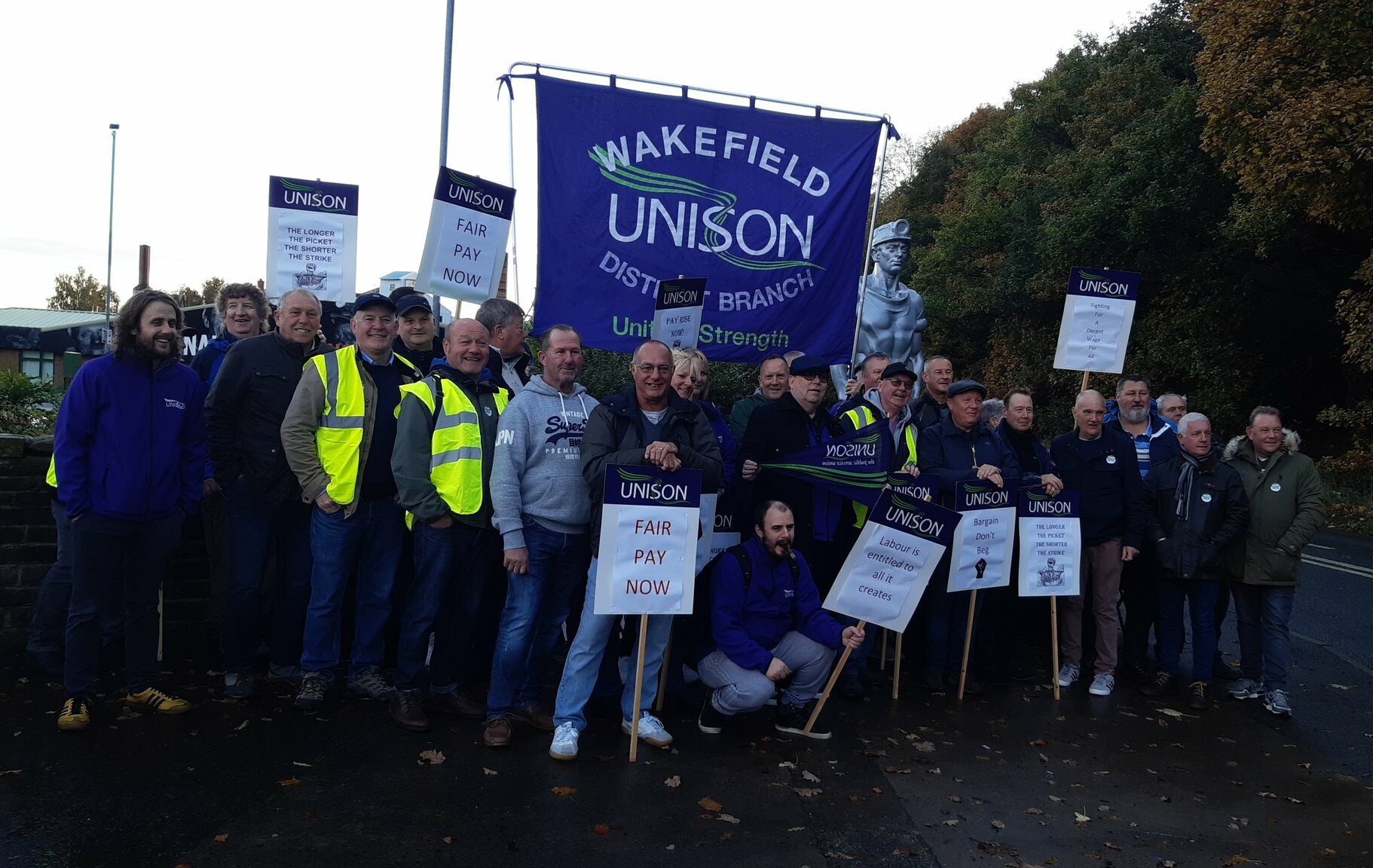 A pickets at the National Coal Mining Museum of England. @UnisonWakey/Twitter
Historically, the most militantly unionised workplaces have been those at the point of industrial production: think coal-mining, shipbuilding and transport. Now, public services appear to be at the apex of industrial action, with ongoing strikes across the railways, the postal service, higher education and healthcare. 
Non-profit organisations haven't traditionally been understood as bastions of trade union activity. This, however, may now be changing.
In early 2020, the Independent Workers of Great Britain (IWGB) union formed its Charity Workers Branch. It's grown rapidly since then, and now has around 700 members across over 200 workplaces. Add this to the 60,000 members of Unite's Community Youth Workers and Not for Profit sector, and we're looking at a sector starting to get organised.
From the Royal Society of Arts (RCA) and the Joint Council for the Welfare of Immigrants (JCWI) to Verso Books and climate charity Hope for the Future, previously non-unionised workplaces are pushing – and often winning – union recognition. Meanwhile, a number of disputes are challenging sector-wide issues around pay and conditions: Unison members working at the National Coal Mining Museum won a 10.5% pay rise after striking for five days in October, and in December Unite members at Shelter will strike for two weeks over an "insulting pay offer". What's prompted this new wave of organisation? 
A new wave.
For Asa*, a Unite member at Hope for the Future, unionising was initially a matter of principle. From there, "it increasingly became apparent that there were a range of issues colleagues wanted to organise around: pay, culture, and overwork."
It was a similar story at the RSA. "Our research talks about workers' rights, employment law and participatory democracy, yet we didn't have a union," says Daniel*, an IWGB member there. Staff were then spurred on by issues around pay and transparency: the only salary increases they've seen over the past year have been one-off solidarity payments, and the organisation's pay and promotion policies are "opaque and not standardised."
Indeed, pay is a serious issue across the sector – and it's being exacerbated by the cost of living crisis. Hector*, a Unite member at Shelter, says that while the organisation has cash reserves of around £5.5m above its target, it still doesn't pay workers enough. "We'll have staff rapidly becoming clients in the coming months if we don't exercise those reserves to mitigate the effects of the cost of living crisis," he predicts. 
But it's not just the cost of living crisis which has led to this turning point in the non-profit sector. The current wave union activity has a longer political-economic context: both 12 years of Tory austerity, and four decades of neoliberalism.
This has had some important consequences. Notably, the non-profit sector has expanded significantly, with charities filling the gaps left by the state. This is both a symptom and a driver of worsening pay and conditions across the board, as Hector observes that "charity workers replacing public sector workers [has meant] lower unionisation rates."
For the new generation of workers joining the sector, growing up under neoliberalism has also often meant becoming highly politicised and not prepared to accept its structural faults as inevitable. 
"People in the charity sector tend to be degree-educated and downwardly mobile, and realising their own precarious situation has radicalised them," explains Peter Wieltschnig from the IWGB Charity Workers Branch. "There's a growing class consciousness across the sector."
For many non-profit workers instigating unionisation, the experience and defeat of the Corbyn project was a defining moment in both the development of this consciousness and the resolve to get organised. Indeed, for Alexa Waud, vice chair of the IWGB Charity Workers Branch, the 2019 general election result "was a wake-up call that we don't have power and there's a lot of work to do to build it."
A unique sector?
To understand this new wave of organisation, we also need to understand why the non-profit sector hasn't historically been unionised.
Firstly, it's expected that everyone working at a non-profit is committed to the organisation's cause. This often comes with the expectation that staff should be happy to subordinate their interests – whether that's in terms of their pay, working time or job security – to the organisation's mission. Given this, why would staff want a union?
Workers, however, are beginning to understand the tensions between the organisation and staff interests. While management will often say the mission should be the organisation's number one priority, Hector argues this should be its staff, "who make up the organisation".
Secondly, workers often haven't organised at non-profits because of the assumption that these organisations are themselves hard-pressed in terms of money and resources. "Whereas in the private sector, they have massive profits, the charity sector says that they're not making money," Peter explains. These organisations "present themselves as not having power [to increase wages and conditions] themselves."
In some cases, this is clearly untrue. Shelter, for example, with its hefty reserves, can easily pay its workers better. In other cases, there is a real gap between what the organisation's finances can allow and what workers deserve – but even then, Alexa believes there are still ways to make improvements. "When there isn't wiggle room on salary, is there a different demand? Can we have wiggle room on hours, like going down to four days a week?"
Indeed, many workers are now rejecting the supposed binary between the interests of staff and the interests of the organisation, arguing that the latter is dependent on the former. 
For Asa, "if you don't have a workforce looked after and able to do their work, you're not going to deliver your mission." Hector agrees: "Low pay harms the organisation in a lot of ways. What conditions do you need to be able to do your job well? What do your living conditions need to be to effectively deliver work?"
Until now, lots of non-profits have assumed that staff issues can be resolved through informal consultation structures. Before unionising, staff at the RSA had formed a reps group. Likewise, El*, a union member at Verso Books, explains that historically staff at the company have had "an informal, unrecognised pseudo-union representing staff opinion".
Staff at both workplaces have grown increasingly frustrated with these informal structures, however. For Daniel, the reps group at the RSA "felt like a toothless body and concerns weren't being meaningfully listened to or acted on," while for El, the "pseudo-union" at Verso Books was "largely a staff forum without lots of power."
After 17 months of negotiation, Verso Books recognised the staff union in July 2022. Staff feel the decision to formally unionise has already been vindicated, as union recognition has made negotiations "much less painful, more productive and much faster."
Fighting back.
More often than not, non-profit managements don't respond well to unionisation efforts. Peter explains that they can "seem personally affronted" by such proposals, while Alexa adds that there are sometimes "fears around divisions in the workplace and antagonisms that could arise from union recognition."
This is in part because many non-profit bosses simply don't understand unions, itself due to the overall lack of unionisation in the sector. As such, they are overwhelmingly ill-equipped to respond constructively when these conversations start being had. 
"Management just don't know when to collaborate or when to push back, and this leads to unproductive and self-defeating behaviour," explains one anonymous charity worker. "They don't recognise the union as a channel [through which] to engage with their staff in good faith."
This sort of response from management has often led to long delays to finalising recognition agreements – or, as with the RSA, their outright rejection. For many workers, however, it has also underlined the importance of unionising the sector. Indeed, for Daniel, the RSA's intransigence has actually made the union stronger.
"It initially felt demotivating to see that blanket refusal from management, but the process has had the opposite effect," he says. "It's galvanised people to fight more."
*Names have been changed to protect anonymity.
Chris Saltmarsh is a co-founder of Labour for a Green New Deal. His book Burnt: Fighting for Climate Justice is out now with Pluto Press.