How Vice Went From New Media Giant to Saudi Propaganda Machine
'It's basically advertorial.'
25 August 2023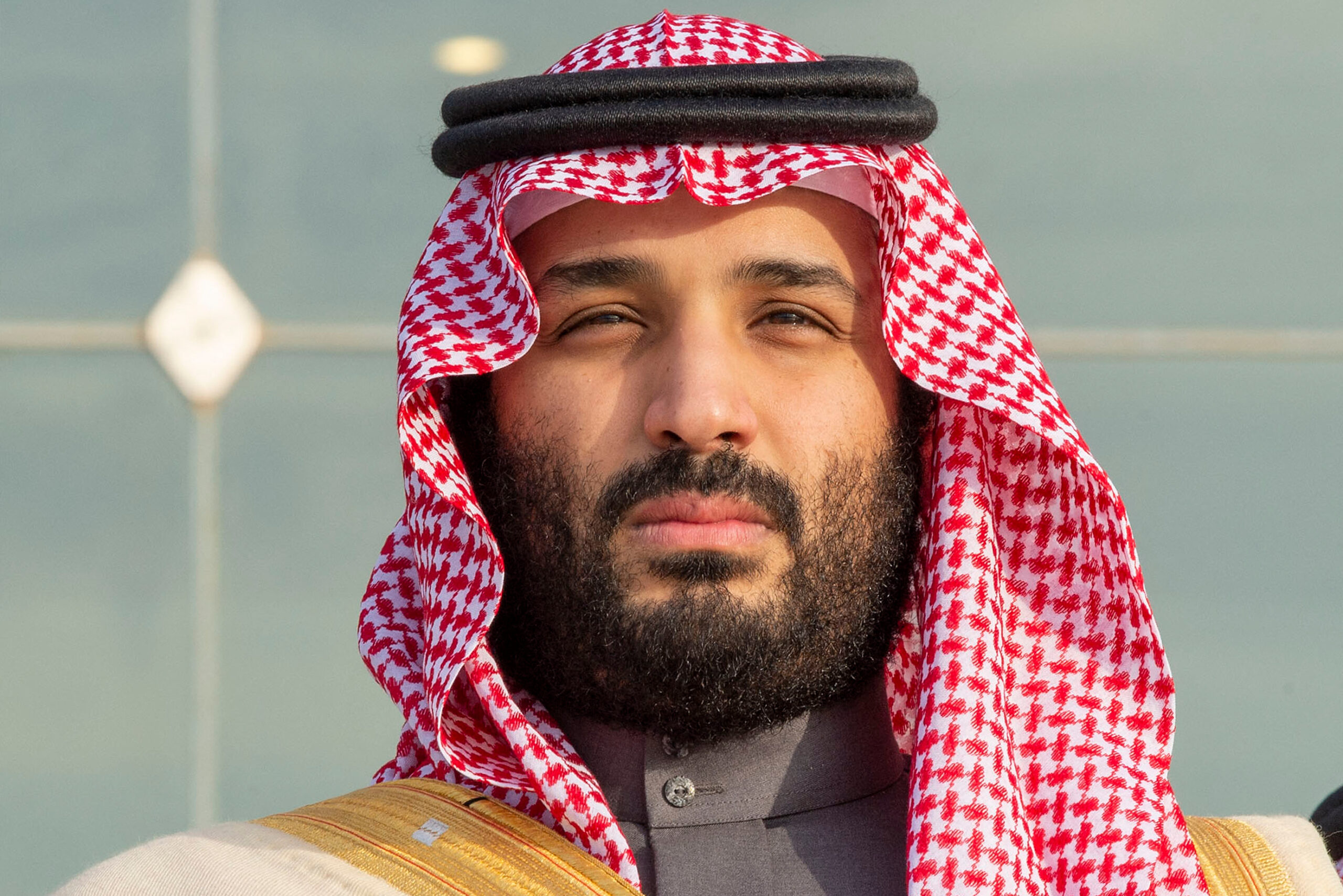 Saudi crown prince Mohammed bin Salman. Balkis Press/Reuters
In May, youth media company Vice, famed for its balls-to-the-wall style of gonzo journalism, filed for bankruptcy. It was a hard fall for a company once valued at $5.7bn – a tale of corporate hubris worthy of a Vice documentary. The upstart company whose founder Shane Smith once told "legacy" media to "go to hell, quite frankly" was, quite frankly, going to hell.
In 2013, not long after I started working for Vice, which I left in 2022 to join Novara Media, Smith celebrated the company's break-neck expansion with typical braggadocio: he stripped naked and walked around talking to employees at the New York office for a video to mark Vice getting 2,000,000 YouTube subscribers. A decade later, it was just the latest new media company that had failed to turn its large audience and billions of dollars of investment into a viable business.
High level executives had already abandoned ship. In February, CEO Nancy Dubuc left Vice, having failed to sell the company – something she was hired to do in 2018, incentivised with a big stock grant on top of her $1.5m salary. In December 2022, Hosi Simon, COO, left to join Space Perspective, a carbon-neutral luxury space travel experience company, in perhaps the world's first ever example of failing upwards so hard you reach the stratosphere.
To the VICE executives: We see you. pic.twitter.com/m68ZRW6WpL

— VICE Union (@viceunion) July 11, 2023
The bankruptcy followed a round of mass redundancies at the company – something which long-standing staff had come to expect after years of chaotic boom-and-bust growth cycles. Court filings would later reveal that executives had pocketed hundreds of thousands of dollars in retention bonuses, in addition to their high six-figure salaries, less than 24 hours after having made the cuts.
"That was really a kick in the teeth," a former employee familiar with the redundancy process in the UK told Novara Media. The company had initially offered the statutory minimum redundancy package. "It was gutting because during the consultation they repeatedly held the stance that there's just no money – it just doesn't exist."
A stinging statement from Vice Union in the US noted that before they had collected their fat cheques, "Some of the executives […] cried on video calls with us as they lamented the departure of our colleagues". The union blasted the "rampant mismanagement and corporate greed" which "ran the company into the ground".
Freelance contributors faced arduous battles to get paid for their work. UK employees, organised with the National Union of Journalists, eventually had to threaten strike action in order to secure a half-decent redundancy package for laid-off staff. Those who hadn't been made redundant found the company unable to pay for the basic tools of the job. It was beginning to look like the media industry's answer to Fyre Festival.
Today at VICE I was unable to pull a court record, which costs 10 cents, because the company isn't paying bills

Meanwhile so many execs, some which led VICE to bankruptcy, make $700-900k, including bonuses at the time VICE laid off much cheaper workers. It's worse than I thought pic.twitter.com/7vr7iRiPIb

— Joseph Cox (@josephfcox) July 11, 2023
As the extent of the downfall came to light, former staffers organised a boozy party in East London, toasting the "death" of Vice. It was promoted with a repurposed cartoon from the UK edition of Vice magazine's tenth anniversary, entitled "The Evolution of Vice UK". The cartoon, by longtime Vice contributor Johnny Ryan, was a self-aware, self-confident send-up of the company. It shows a timeline of its roots as a counter-cultural punk zine turned corporate cash-cow via champagne and cocaine-fuelled parties. The new version depicts a besuited man pointing to a graph showing profits in decline in 2019 and, finally in 2023, a gravestone – "RIP".
Vice isn't dead, however – but a shadow of its former self. It will be kept afloat in part as a propaganda vehicle for Saudi Arabia, unable to report even basic news about the repressive, absolutist monarchy for fear of biting the hand that feeds.
A propaganda vehicle.
The company has gone to great lengths to protect its business with Saudi Arabia, which is investing in western media in order to buff its image. Novara Media has been told that Vice has even played down security risks to LGBTQ+ staff working in the kingdom, while using vague security concerns as "a shield" to stop the publication of critical articles about Saudi.
The company's ties with Saudi – which would seem to be at odds with its liberal, anti-authoritarian image, but not with its money-hungry corporate culture – go back to at least to 2018. That summer, Saudi crown prince Mohammed bin Salman, known as MBS, met Smith on a yacht off the Red Sea coast in order to discuss the building of "an international media empire to combat the kingdom's rivals and remake its image in the West," reported the Washington Post.
Vice was ripe for this risky but lucrative project. It was struggling to make good on promises of profitability to big investors which, it turned out, had massively overvalued it, as digital advertising spends were monopolised by Facebook, Instagram and Alphabet's Google – and was still reeling from revelations of a toxic and sexually-abusive workplace culture.
The kingdom-building project was delayed however, as in October 2018, the company paused its contract with Saudi publishing group SMRG following the murder of dissident journalist Jamal Khashoggi at the behest of MBS.
The pause wasn't to last. Less than a year later, in September 2019, Vice released a fluffy video about a camel race in the desert, made in association with Saudi Research and Marketing Group, telling viewers that to Saudi's elite, camels are "a source of national pride, and even regional solidarity". In 2020, Vice's creative marketing agency Virtue organised a Saudi-state sponsored music and culture festival in the middle of the desert, headlined by Jean-Michel Jarre and Tinie Tempah.
After riding out some public controversy and objections from Vice staff, the company's precarious financial position has meant that the Saudi business has grown since then. In January 2023, the company opened an office in the Jax district of Riyadh – a former industrial area that has been turned into a creative hub by the Saudi ministry of culture. In a press release, the company said: "The new office will help expand Vice's footprint in the region while bolstering relationships with key partners in the kingdom."
While Vice global chief marketing officer Nadja Bellan-White spoke of the company's "commitment to youth culture", staff are sceptical about the purpose of the office. "They keep sending new teams out there [to Riyadh]. And they're certainly not doing proper journalism, as most people would recognise it. They're doing lifestyle features about how great Saudi Arabia is," a current Vice employee told Novara Media. "It's basically advertorial."
Vice is determined to make this content, allegedly even downplaying risks to employees in order to do so.
A former Vice employee who was closely involved in discussions about the safety and security implications of working with Saudi told Novara Media: "I felt like there was pressure for us to essentially justify people heading out to work in Saudi Arabia."
In one instance, they said, an LGBTQ+ employee who was supposed to help set up a studio in the country was concerned about being in a country where their sexuality is illegal.
"I sensed that Vice leadership was trying to argue that because the employee who raised concerns about their sexuality wasn't working on a news story or production that's critical to the government, then there shouldn't be a risk to them," the former employee said.
"I felt that because of who they are as an individual and their sexuality, they were still at risk in Saudi Arabia. There was pressure to water down the risk and to encourage people to head out there anyway."
'We can't even do basic news about Saudi.'
The company's dealings with Saudi are now affecting Vice's news output. This week, Vice's news and entertainment COO Cory Haik, who got a $45k bonus after her division laid off dozens of people, emailed staff in the latest reassurance that "editorial independence is the bedrock of our work" and that conflicts will be "considered and dealt with transparently […] with priority always to our integrity and ability to serve our audiences truth."
This rang hollow for one current Vice employee, who told Novara Media: "Editorial independence is clearly unworkable with the Saudi operation. We can't even do basic news about Saudi."
In May, Vice indefinitely held an article and video it had prepared about a widely-reported story of a Saudi woman who was imprisoned for 30 years for protesting the government's NEOM linear city project due to security concerns about staff and freelancers who had been deployed to Saudi. "Everywhere did it [the story], and we couldn't do it," the staffer said.
The employee believed the concerns were legitimate, but that such concerns are "a completely inevitable consequence of sending teams to a country that has no free press."
Meanwhile, a former Vice employee who was closely involved in security discussions told Novara Media they believed security concerns were a convenient excuse not to publish critical content about the kingdom.
Concerns had been raised about working with a state that sanctioned the murder of a journalist, the ex-employee said. Nevertheless, "I actually don't see risk with writing critical pieces about Saudi Arabia being physical risk to journalists, unless we're [talking about] working with local nationals. If you're not a Saudi national, even if you're being critical of the government, the worst that will happen to you is you will get deported.
"Vice always found ways to safely publish pieces with risk involved, so I'm not sure why it seems impossible here. I think security is being used as a shield, specifically because no one would want to argue against it, and so it is a safe scapegoat to stick with the new status-quo of maintaining relationships and business with the [Saudi] government.
"It's essentially the corporate side selling out."
What's clear is that critical reporting on the kingdom is all but impossible. Staff have not been told how the Saudi deal will affect their work, and news goes out of date before any security concerns can feasibly be addressed.
"The [Riyadh] office was announced in January, but we don't know what that looks like. What does that mean? How many people are there? Who are they? What is the situation? We were never really told […] It's that basic," said a current Vice employee with knowledge of the situation.
"They know that it's a controversial thing to do, and that's why this has been suppressed internally."
Last week, the Guardian reported that a story about the Saudi state helping families harass ex-patriot transgender Saudis was commissioned by Vice, before being delayed and eventually scrapped due to apparent security concerns.
Freelance journalist John Lubbock said: "I was told by editors that the story was delayed because they had a team of people in Saudi Arabia, but it seems that this may not have been true, or only part of the story."
As well as not being able to report on Saudi, journalists feel Vice's credibility has been undermined more generally.
"LGBT, minority and women's rights are such a core part of what Vice has become over the last few years," said a current employee. "It is obviously hypocritical to say 'you can criticise that, but not there'. Why are we going after Ron DeSantis if we can't talk about very basic human rights violations in the most important country in the Middle East?"
'A step too far.'
Despite this, the business's links with Saudi appear to be expanding further. In August, Private Eye magazine noted that 18 out of 25 jobs listed for the company on LinkedIn were in Saudi Arabia. 
What's more, current and former Vice staffers told Novara Media that existing staff in the London office are being made to work on projects for the Jax team in Riyadh, while during the recent redundancy consultation, staff were offered the choice of losing their jobs or taking on a role making Saudi content. Those who couldn't afford to lose their incomes faced an excruciating ethical dilemma, only to find out that the offer was untenable anyway, as a majority of the roles required Arabic speakers.
Current Vice staffers told Novara Media how "Vice Jax" now has a large desk in the company's open-plan office in Shoreditch, East London.
With many other teams working from home, "the vast majority of people in the office at the moment are Jax," a current employee told Novara Media. "It's a very weird mood in that room at the moment. It feels like a conflict of interest to have them next to journalists."
In one particularly bleak scene, Jax staff moved a photo depicting a protester at a Sarah Everard protest in London in 2021, who is being arrested by police while wearing a t-shirt saying "Abuse of power comes as no surprise", and replaced it with a map of Saudi Arabia.
"That was a step too far. It felt tone deaf. How insensitive do you want to be?" said an employee who has since left the company.
"It's a completely hostile environment", said a current employee. "It's ridiculous."
Vice will now try to "build back", according to Haik, having been bought by a consortium of investors for $350m – a fraction of its former inflated valuation.
"We suck less than most other companies", was the company's former tagline. It would be hard for anyone to make the case for that now.
As one former staff member put it, in classically sardonic Vice style: "Haters will hate, but I don't think I'm alone when I say it was always the dream for Vice to become an inflight magazine platform for a regime that dismembers journalists."
Vice did not respond to a request for comment for this article.
Novara Media is a not-for-profit organisation. We don't have shareholders. The funds we raise go directly into supporting our journalism and creating new content. We're not funded by corporate partnerships, venture capitalists, paywalls or advertorials. For more information, click here.
Simon Childs is a commissioning editor and reporter for Novara Media.