'Levelling Up' is Encouraging Gulf States to Buy Northern Football Clubs
Petrodollar printer go brrr.
16 November 2022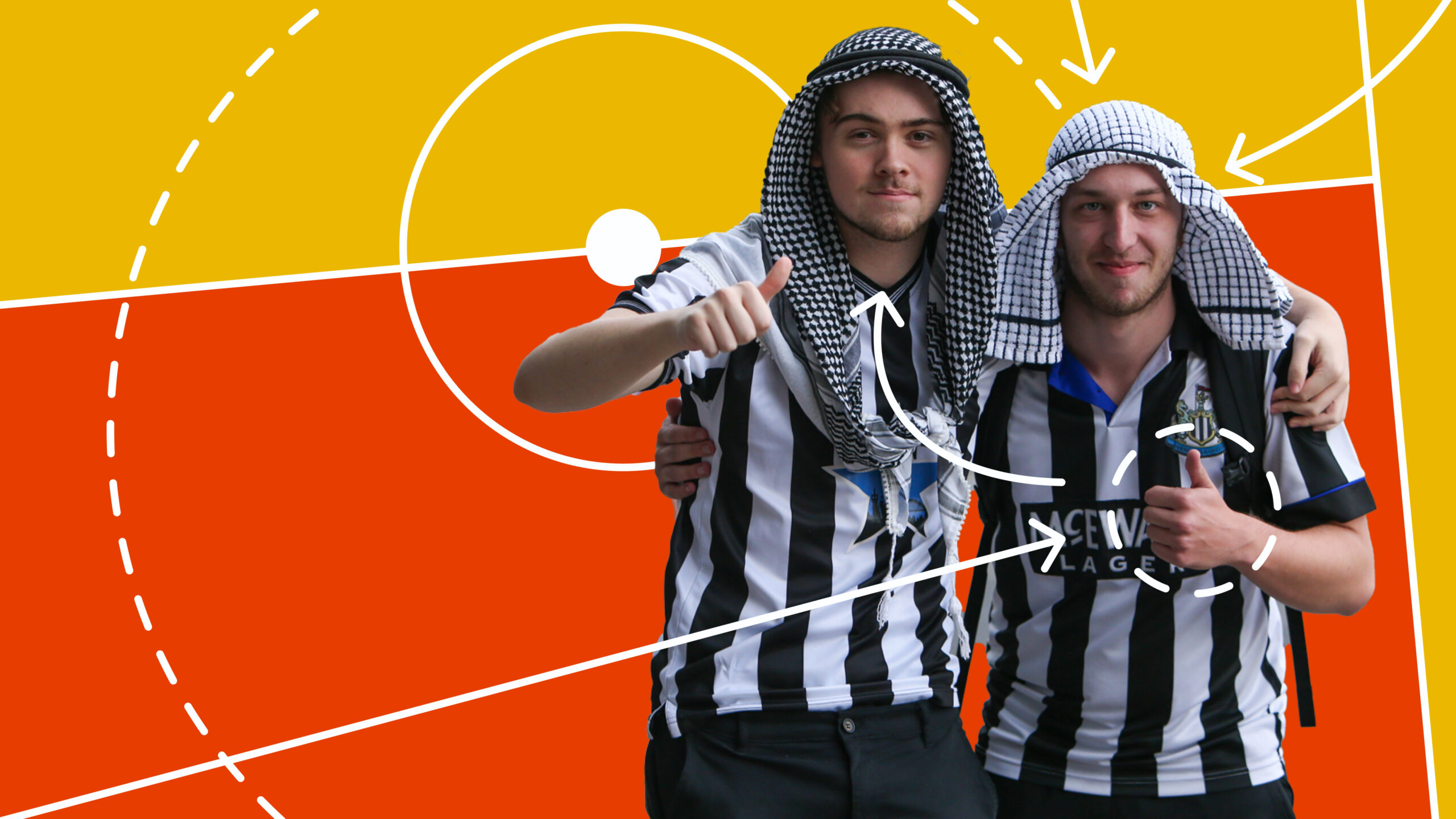 Newcastle United football fans celebrate the sale of their club to Saudi Arabia's sovereign wealth fund, October 2021. Photo: Michael Driver/Reuters. Design: Pietro Garrone/Novara Media
On 7 October 2021, thousands of Newcastle United football fans gathered at the entrance of St James' Park. Across a sea of black and white shirts, several supporters waved green flags bearing the Islamic testimony of faith: "There is no God but God. Muhammad is his prophet." Fans had called this impromptu party to celebrate the controversial retail magnate Mike Ashley's departure as owner after he sold the club to Saudi Arabia's sovereign wealth fund. A new era under Saudi Arabia's Public Investment Fund (PIF) had begun. Newcastle now boasted the world's wealthiest owners, and ecstatic supporters danced and drank long into the night. Some even wore tea towels on their heads in an apparently friendly imitation of the Saudi-style keffiyeh.
Not everyone was overcome with optimism over the club's future under Saudi ownership, however. Critical commentators speculated that Riyadh was seeking to launder its reputation and erase negative stories by harnessing a prestigious sports team – a practice known as "sportswashing." 
Like all English football clubs, Newcastle is a vital source of local pride, pleasure and often frustration. From Manchester to Sunderland, the roars of spectators reverberate across rooftops, often far beyond the football stadium. These teams not only carry strong emotional significance but also represent core social and economic institutions within typically faltering English local economies. Football clubs draw national and sometimes international tourists into regional towns and cities, filling pubs and restaurants on match days. Indeed, the promotion or relegation of a team often has multiple and compounding socioeconomic impacts on entire cities. Newcastle's local businesspeople and politicians hoped their team's new owners would transform the club into a global brand, helping lift the entire north east from post-industrial decline.
From a British perspective, Gulf investments in northern England are bound up within the so-called 'levelling up agenda' – a government policy programme intended to reduce economic inequality between the south east and the English peripheries. Since its inception in 2019 under Boris Johnson's premiership, the agenda has been criticised for technical hollowness and failure, as crisis after crisis has consumed the Conservative government. Yet through this agenda, an economic relationship has solidified between the north of England and the Gulf petrostates. These capital flows will likely serve as a key strategy by which the British government hopes to claim 'levelling up success.'
For their part, the oil sheikhdoms are willing to buy northern football clubs, either directly through the Saudi sovereign wealth fund or through private investors with strong links to governing regimes. While such investments may help remedy the Gulf's international image, these clubs also represent "undervalued assets" and therefore potentially strategic long-term investments. Gulf states act as rational investors who can build world-class club teams with lucrative sales of kits, tickets and merchandise. The clubs' advertising opportunities, in turn, help bolster the images of these countries – for example, positioning the UAE as a luxury tourist destination with a world-leading airline, or Gulf investors as excellent potential business partners. Thus, while owning a club is a high-risk investment, with enough time and resources, a team can be turned into a revenue-generating machine.
Considered in and of themselves, clubs like Newcastle are worthy of long-term investments. Long-standing regional inequality has rendered labour and property distinctly undervalued in the English north. What's more, by generating success and goodwill among decision-makers in austerity-hit areas, clubs can act as springboards for Gulf investors to ease their move into other assets and industries. Turning a club around and boosting the local economy can translate into political influence and an ability to shape policy agendas favourably for Gulf capital investment and wealth extraction, thus fulfilling the strategic objective of the Gulf Cooperation Council (GCC) to diversify away from oil.
Britain's economic divide.
Critics of Johnson's 'levelling-up' agenda have suggested it was both "confusing" and "meaningless" – an assessment difficult to shake. Many worried that without tangible points of action, his programme was set to join an extensive list of similar proposals that had tried and failed to reverse widening regional inequality in the UK. Since the 1980s, these inequalities have shaped Britain's political geography, with politicians and journalists characterising places like northern England – once Britain's heartland for coal, steel, shipping and manufacturing – as regions 'left behind.'
Taken as a statistical whole, the north – meaning Yorkshire, the north east and the north west – suffers from high levels of poverty, poor public health and rapidly decaying infrastructure. The south east, by contrast, suffers from what economists might call a problem of "overvalued assets." The extreme concentration of economic activity in the south east feeds the region's housing crisis, exorbitant rents and house price bubbles. The north-south divide – while perhaps better characterised as a "toxic relationship" – remains a broad statistical reality, observable in a vast array of datasets, from life expectancy to educational attainment.
Johnson's levelling-up platform grew out of his campaign in the 2019 general election. That year, the Conservatives made significant inroads across the north and the Midlands, winning big in what has since become known as the 'red wall'. Because these same constituencies had generally voted to leave the EU during the 2016 EU-UK referendum, segments of British media tried to sell the Conservative turn as entirely determined by Brexit. Such arguments, however, betray a Westminster-centric conception of politics, neglecting how seriously those in Britain's "left behind" regions take regional inequality.
Stressing Brexit as a singular explanation leaves unanswered why so many post-industrial northern areas voted for Brexit in the first place. Even if many voters had specific objections to Brussels, the vote could equally be seen as an expression of frustration at Westminster's reluctance to address various forms of widening UK inequality, including, but not limited to, the north-south divide. Johnson's pledge to 'get Brexit done' is thus not necessarily distinct from the demand to 'level up' the country and drive money back into the red wall. It's the same reason the government is keen to support high-profile investments like the Newcastle takeover. 
Since 2019, GCC investments in northern England have notably increased. The Bank of London and the Middle East, Europe's largest Islamic bank, credits the levelling-up agenda with boosting regional infrastructure and connectivity with the Gulf. As a result, the Bank notes that "regional investments now offer the prospect of stronger returns." The north of England is emerging as an enticing prospect for state investors, especially those with enough capital and an eye for long-term profit extraction. Wages, rents and land costs are substantially lower in the north, often coming second only to Wales in terms of affordability. For the GCC's wealthy financiers willing to spend across various sectors, the north presents potentially fertile ground for wealth extraction.
Entangled histories.
The fates of England's north and the Arabian Peninsula are deeply entwined. The rise and fall of their prospects mirror each other within the economic history of the twentieth century. The collapse of British manufacturing and coal mining – the pinnacles of the northern economy – coincided directly with the age of high oil prices and the rise of OPEC. As Britain rapidly deindustrialised in the 1970s, the Gulf was reaping the super profits of that decade's oil crisis, consolidating ownership of its resources and amassing foreign currency that required urgent re-investment.
Anglo-Gulf relations go beyond straightforward energy dependency. Although Britain is currently importing large amounts of GCC oil due to the war in Ukraine, the nation has historically remained relatively cushioned from overt reliance on the Gulf thanks to Russian, Norwegian and North Sea oil. Britain is also an important export partner for the Gulf and, since the 1980s, has served as a zone for oil wealth investment. More substantial direct Gulf involvement in the British economy first materialised in the British banking sector under Margaret Thatcher's premiership. Skyrocketing oil prices during the 1970s had coincided with the beginnings of financial liberalisation in the City of London. During the 1980s, the Saudi Arabian Monetary Agency consolidated Gulf investments in London by creating a branch of the Arab Bankers' Association.
Gulf expansion into petrochemicals was in part supported by a $300m credit package guaranteed by Barclays Bank International. Soon, cheap Saudi petrochemicals began to out-compete British petrochemical industries in Manchester and Scotland. In turn, factories in Manchester, Chester, Lostock, Warton, Preston and Salesbury began producing Tornado fighters for Saudi Arabia and Oman. By the mid-1990s, BAE systems, the British multinational security and arms company, had secured several key arms export contracts to Saudi Arabia. Gulf capital had found a safe haven in British capital markets and a way to harness its burgeoning weapons industry.
In the early 2000s, GCC investors began to expand their focus beyond the purchasing of weapons produced in northern arms factories and toward British sports teams. In 2003, the Manchester Evening News reported that a mega-rich consortium from Saudi Arabia, Russia and Europe was planning to purchase Manchester United. While the sale never materialised, GCC interest in the north persisted. In 2006, a delegation of Saudi politicians visited Manchester to "forge closer business links." The prospective Saudi investors attended a dinner at Manchester United, where they were hosted by the city council, who aimed to showcase the city's readiness to receive investment. During the New Labour era under Tony Blair, Saudi investments were further buoyed by Blair's decision to abandon a corruption investigation into a Saudi-British arms deal. If deregulation under Thatcher opened the door for Gulf capital, Blair's diplomatic manoeuvrings further smoothed these flows. 
In 2008, Saudi Telecom, the Saudi state's telecommunication services provider, signed a long-term cooperation agreement with Manchester United. The five-year agreement would allow the company to use the club's logo in its promotional materials. A decade later, the Saudi state formalised its cooperation with Manchester United when the state's General Sports Authority signed a memorandum of understanding with the club as part of the Saudi government's 2030 vision – a partnership that would result in it lending its expertise to Saudi Arabia's football teams. In 2019, Arabian Business reported that Mohammed bin Salman's $3.9bn bid to buy Manchester United had been rejected. Saudi interest in the club was partly a marketing strategy, but it also aimed to enrich Saudi Arabia's own sports teams.
Branding exercises.
GCC investments in northern football feed into a symbiotic relationship, wherein reputation management complements the money-making potential of football itself. What's more, by owning emotionally resonant and culturally prized northern assets, GCC investors can seek to further shape broader regional politics in ways favourable to future GCC portfolio expansion. For example, as scholars at Sheffield University have noted, the UAE's initial investment in Manchester City Football Club saw Abu Dhabi build a strong relationship with the city's Labour-run council. This partnership culminated in "Manchester Life," a £1bn real estate corporation that came at a high cost to public finances. Despite the city's housing crisis, the council also dropped its regulatory requirements, and the UAE was allowed to forgo affordable housing obligations. Manchester Life is a highly extractive venture, with rental and sales income from the project flowing back into the UAE via a Jersey-based holding company.
Saudi Arabia's Newcastle purchase might likewise be framed as an attempt to generate goodwill with local decision-makers, allowing Riyadh to shape the local and regional regulatory environment to further capital diversification and wealth extraction. Indeed, five months after the Newcastle takeover, Johnson boarded a plane to Riyadh, a visit that was immediately mired in controversy. Earlier that week, Saudi Arabia had executed 81 individuals accused of crimes ranging from murder to membership in banned militant groups. The day Johnson's jet touched down on the tarmac, the kingdom killed three more. As Maya Foa, director of the anti-death penalty organisation Reprieve, declared: "Carrying out these executions while the leader of a western power is on Saudi soil was a provocative act designed to flaunt the crown prince's power and impunity to the world."
The sheer scale of the killings was difficult to ignore. The last time the kingdom had carried out a similar mass execution was in 1980, after 63 militants had seized control of the Grand Mosque. With disquiet brewing back home, UK Foreign Office minister James Cleverly was sent out to defend his boss. "We need to recognise that Saudi is an incredibly influential country in the region [and] it is a significant oil and gas producer," he told the press. Against the backdrop of the ongoing Ukraine war, he continued: "It is absolutely right that the prime minister seeks to alleviate some of the pressure that Putin's invasion […] has put on oil and gas prices." For anyone questioning the apparent hypocrisy in strengthening a relationship with a regime accused of suppressing human rights and committing war crimes while simultaneously initiating a deep tranche of sanctions against Russia, Cleverly retorted: "Equating any country with the behaviour of Vladimir Putin is ridiculously distasteful."
While Cleverly concentrated his response on energy security, this factor is but one strand in a complicated and entangled set of UK-Gulf relations that long preceded the invasion of Ukraine. According to the investigative journalism outfit Declassified UK, "five highly repressive Gulf states – Bahrain, Kuwait, Saudi Arabia, Qatar and the United Arab Emirates – have been able to invest at least £140bn in Britain," which is five times more than what Russia has invested in the country.
Johnson's trip to Riyadh coincided with an announcement by Saudi Arabia's Al-Fanar group, one of the country's largest conglomerates, that they would be making a £1bn investment in sustainable aviation fuel production in Teesside, close to Newcastle. This announcement followed news that Saudi Basic Industries Corporation (SABIC) planned to invest £850m to reopen a hydrocarbon "cracker" in the north east and decarbonise its operations. While in Saudi Arabia, Johnson reportedly visited SABIC's innovation centre in Riyadh and met with representatives from Al-Fanar.  
An uncertain future.
It's not only their access to oil that makes GCC countries crucial to the British economy but also their willingness to act as domestic investors. As the UK moves into a post-Johnson period, from Liz Truss to Rishi Sunak, it seems unlikely that any successors will seek to stem the petrodollar flow. Instead, this troubling symbiotic relationship will likely strengthen further, with an intensified confluence of interests between cash-strapped post-industrial northern English towns and cities, on the one hand, and Gulf investment diversification, on the other. 
Within this mix, football clubs – important local assets with emotional power and cultural significance – are perfect platforms for Gulf investors to shape local policy environments. This has already begun to play out in Manchester, where ownership and association with the city's football club helped smooth regulatory attitudes in a way more favourable to capital diversification and wealth extraction. Whether these investments will succeed in reversing the north-south divide – and at what cost – remains to be seen.
This piece is part of Pro Revolution Soccer, a Novara Media series on football, the Qatar World Cup, and how we can change the game. It was adapted from a piece originally written for the Middle East Research and Information Project. 
Ali Reda, a pen name, is a Lebanese activist and writer.
Philip Proudfoot is an anthropologist at the Institute for Development Studies.