Network Rail Gives Bonuses to Scabs
Union members who took lawful strike action have been 'penalised'.
31 August 2023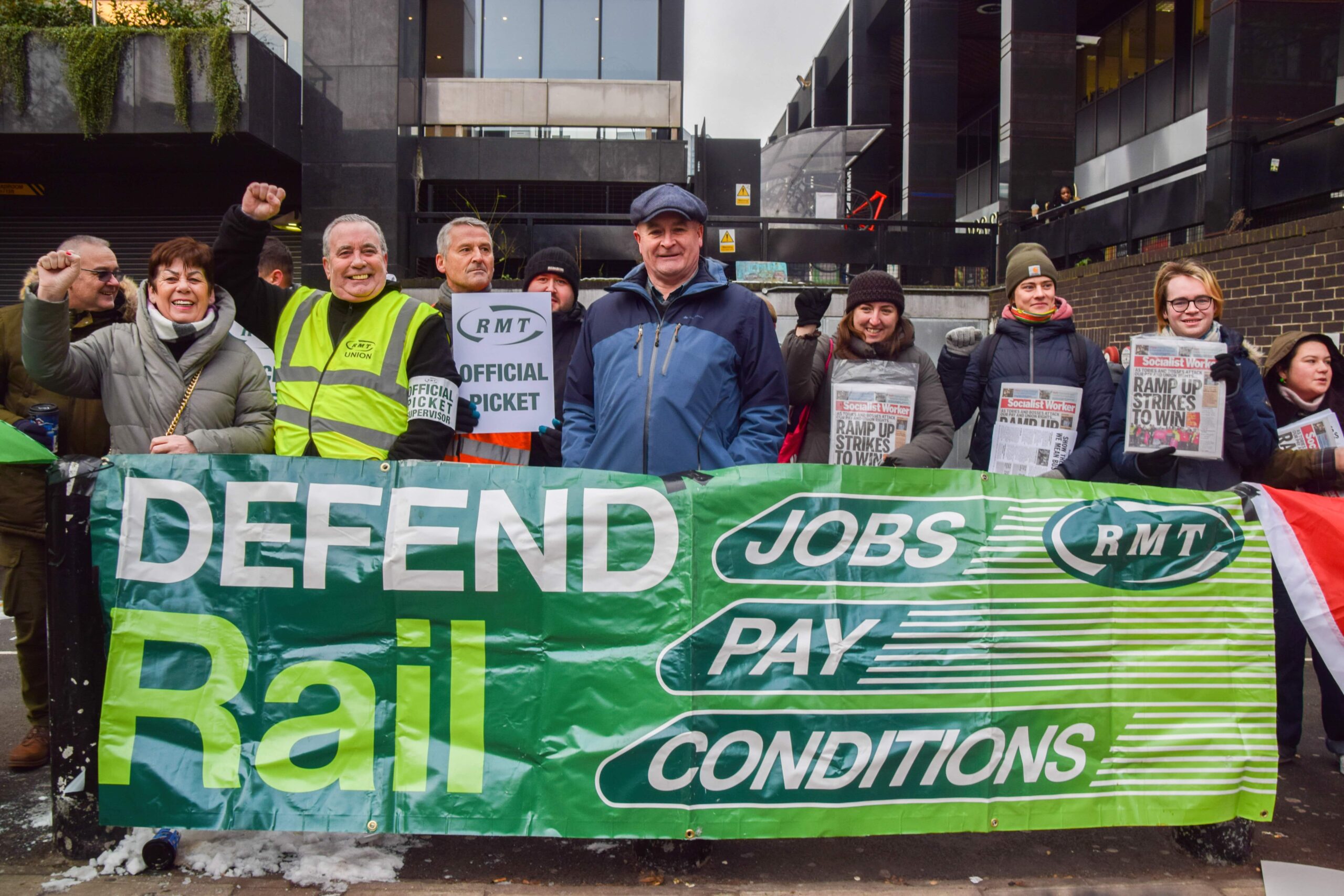 RMT general secretary Mick Lynch on the picket line with members in December 2022. Vuk Valcic / SOPA Images
Network Rail has been accused of penalising trade union members by withholding a bonus from workers who went on strike, while awarding it to scabs, in "a transparent attempt to divide the workforce".
It has been reported that the move is predicted to hit the paypackets of around 20,000 RMT members. But Novara Media can reveal that the measure will also affect thousands of members of the Transport Salaried Staffs' Association (TSSA).
Last December, the TSSA and the Unite union ended their part in the national rail dispute when they voted to accept a pay offer from Network Rail. In March of this year, the RMT ended their eight-month dispute with Network Rail, securing a 9% pay rise over two years.
Yet now, Network Rail has stated that the Performance Related Pay (PRP) bonus will only be received by those "who continued to support the rail industry through their positive attendance during the industrial action."
Network Rail's decision has aggravated employees, especially since Network Rail did not make PRP payments for 2021 to 2022, when its employees were classified as "essential workers" during the Covid-19 pandemic.
TSSA Organiser Chris Rylah told Novara Media: "We are very concerned that TSSA members have been penalised for taking lawful industrial action. This is a shocking decision by Network Rail, taken against those who legitimately fought to secure a decent pay rise and job security.
"There's no credibility to what the company is doing, even applying this decision to 2021/22 when there was no industrial action.
"Our union is challenging this decision and have told Network Rail it will not be allowed to stand."
In an email sent to TSSA members, the union said that there is "no justification to deliberately and unfairly disadvantage our members."
In an email to RMT members, general secretary Mick Lynch said: "The decision to exclude trade unionists from this bonus scheme is disgraceful and is understandably causing significant consternation among members.
"It is clear that the stance adopted by Network Rail both penalises and discriminates against members for exercising their human right to associate and to participate in lawful trade union activities. However, legal protections only exist for those who are unfairly dismissed for taking part in lawful strike or other industrial action which is called officially.
"As the bonus scheme is discretionary, and not a contractual obligation, the decision to exclude RMT members has been taken in bad faith and is a transparent attempt to divide the workforce and undermine your union, by specifically rewarding those who refused to stand in solidarity with union members taking essential strike action."
Eddie Dempsey, the RMT's assistant general secretary, told Novara Media that the union has long argued for the abolition of PRP: "It's there to try and drive a wedge between people, and we want it removed for that very reason. We've always known that it is a tool to try and leverage us when we get into disputes."
As the RMT prepare for a new round of pay negotiations with Network Rail for 2024, Dempsey said this decision was an example of "union busting" and "part of a general attack to try and undermine support for the union, by saying 'the union lost you this money, you could have had more money but the union fucked it up'."
Despite this attempt, Dempsey said Network Rail's decision had only generated anger at the state body. "They've just said to their workers, 'we don't value you and we don't think that you've contributed to the performance of the railways,' despite people going out right through COVID.
"When we go back to the negotiating table, we will express the anger of our members to these people directly."
A Network Rail spokesperson said that awarding PRP was a way of "recognising colleagues for their contribution to achieving the company's performance targets.
"We have been crystal clear with both our trade unions and our employees that the cost of strike action would directly impact the PRP scheme. Our position was made very clear – any discretionary payments would focus on those who continued to support rail services during industrial action."
The Network Rail directors' remuneration report reveals that CEO Andrew Haines, declined his performance related pay bonus this year. Perhaps as the second highest earning public sector individual on £590,000, Haines felt he already had enough.
However, Network Rail's chief financial officer Jeremy Westlake has opted to take home £18,777 in performance related pay, on top of his £373,000 salary.
According to Violation Tracker, which charts the enforcement actions of government agencies, Network Rail has paid out upwards of £24 million for corporate misconduct since 2010.
Polly Smythe is Novara Media's labour movement correspondent.