Private Companies Are Stealing Public Parks
'This is the new enclosures.'
1 September 2023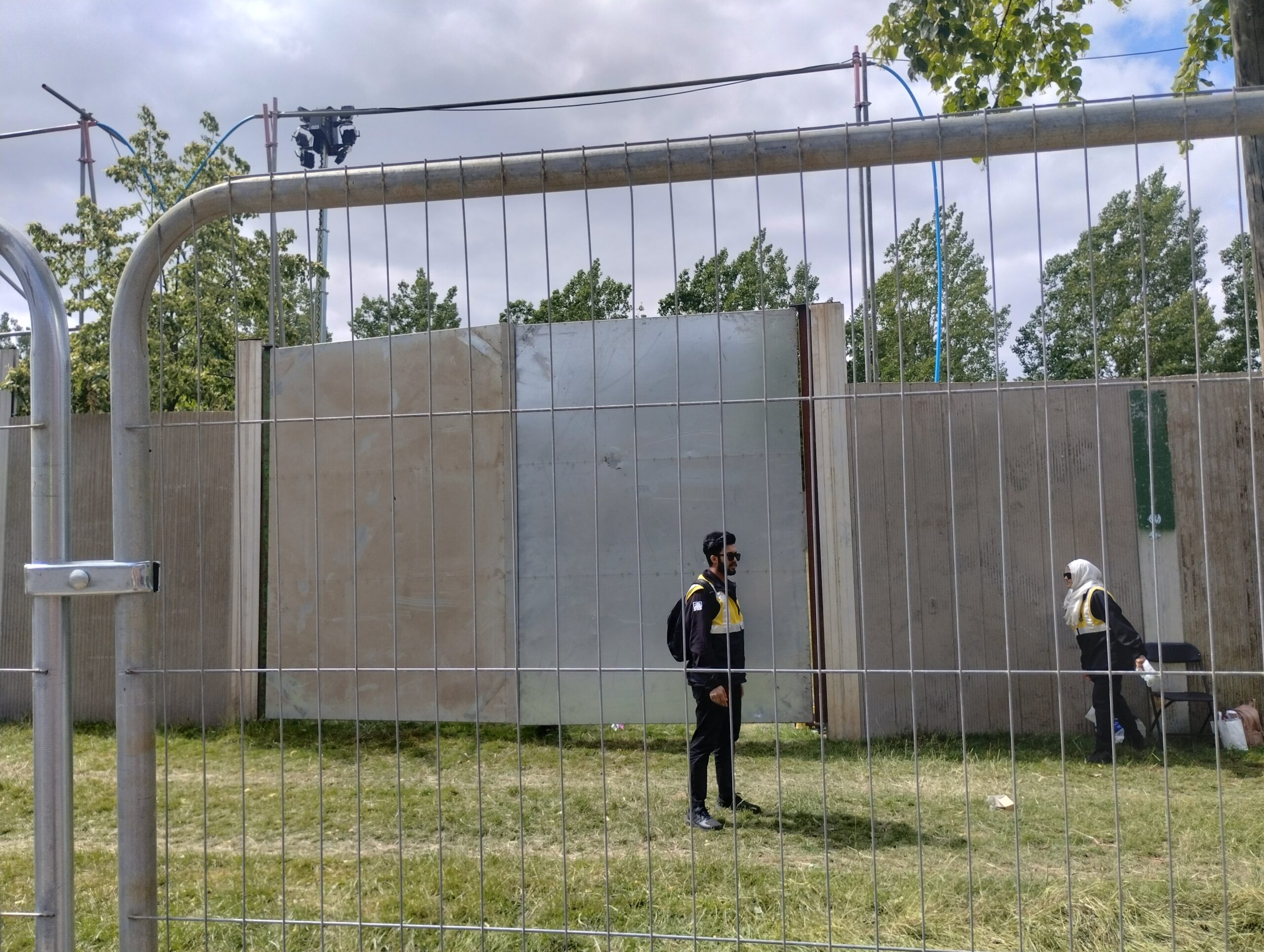 Security guards patrol the perimeter fence encircling the events space at Finsbury Park, July 2023. Photo: Rivkah Brown
On a Monday morning in April, locals came to Finsbury Park in north London to discover a sea of mud – paths caked in it, tyre tracks churned through it. The culprit was Tough Mudder, an endurance event that had poured 90,000 litres of water onto the park to create one of the military-style assault courses for which the company is famed, with predictably disastrous results.
The company had run 7,500 people straight through the community orchard, turning it into a quagmire – something locals had warned Tough Mudder would happen. The evening before the event, members of Friends of Finsbury Park (FoFP) – one of more than 600 friends of parks groups around the UK, whose aim is to maintain and protect their local green spaces – questioned the company's managing director on the route. He told them he was no expert in wildlife, adding that Haringey council – the Labour-run authority that owns and manages the park – had approved it.
In a statement to Novara Media, the councillor Mike Hakata, deputy leader of the council and cabinet member for climate action, environment and transport, said he "was upset to see the scale of damage". He did not blame this on Tough Mudder, however – whose events "have taken place successfully [in the park] for four years now" – but rather on "considerable rainfall over recent weeks which has saturated the ground".
Locals aren't buying it. Haringey "effectively handed the keys to an events company and said, 'See you Monday, have fun'," Beth Anderson, co-chair of FoFP, told a packed meeting in April.
The meeting was by far the best attended FoFP has had, as Tough Mudder caused uproar locally and even ripples nationally. Haringey promptly banned Tough Mudder from the park, but the genie was out of the bottle. Locals had realised something seriously wrong with the park's management, and that Tough Mudder was only the start of it.
For as the micro-scandal around Tough Mudder unfolded, a much larger one was brewing. Haringey officials were busy drawing up a deal with one of the world's largest live entertainment companies – one that would see vast swathes of Finsbury Park occupied for much of the hottest periods of the year.
Signed in June, the five-year deal between Haringey council and Live Nation – the LA-based company whose portfolio includes the UK's biggest rap and hip-hop festival, Wireless, and which in the past year has made over £14.2bn – permits the company to hold two three-day events, each with up to 50,000 people, every year from 2023 until 2027. Despite having far wider-reaching implications than Tough Mudder, the Live Nation deal attracted hardly more press attention – perhaps because to many people, it's no news at all.
The new enclosures.
For years now, entertainment mega-corporations have targeted cash-strapped councils as amenable, affordable hosts for their events. From Clapham Common to Glasgow Green, city-dwellers across the UK have become accustomed to basslines vibrating their windows, five-metre fences encircling their playgrounds, and security guards policing what are effectively their gardens.
Yet as entertainment companies try to recuperate massive pandemic losses with aggressive multi-year deals, while the climate crisis renders urban summers increasingly unbearable, the privatisation of public parkland is becoming harder to swallow.
In April, dozens of Haringey residents descended on FoFP's biggest-ever meeting to vent their frustrations, while a recent petition demanding private companies keep their hands off Finsbury Park was signed by thousands.
The UK's first municipal park to be established via its own act of parliament, Finsbury Park spearheaded the Victorian flurry of park-building intended to counterweight rapid industrialisation.
Introduced in 1857, the Finsbury Park Act mandated that, while administered by local government, the park was "to be devoted to the Use and Recreation of the Public […] conducive to the Health and Enjoyment of the Inhabitants Thereof". Soon after, the Metropolitan Board of Works began the compulsory purchase of local land, eventually taking 115 acres out of private hands and into public ownership.
Today, many see history in reverse, as Haringey puts the public park back under private control. "This is the new enclosures," says Steve Brooks, a Finsbury Park local for 30 years and partner to the treasurer of FoFP – and an increasingly assertive network of friends of parks groups are mounting a fightback.
Rock against nothing.
Small events have proliferated in London's parks since at least the 1940s, though it wasn't until the 1970s that promoters spotted an opportunity to upscale.
Many of these larger-scale gigs espoused political causes, from 1978's Rock Against Racism to the Campaign for Nuclear Disarmament's numerous Festivals For Life and the anti-Thatcher Jobs for a Change festival, which in 1985 drew 250,000 people to Battersea Park. In 1982-83, the Greater London Council budgeted over £1m for festivals whose explicit aim was to popularise leftwing politics; it made £230,000 back in income.
In more recent years, however, such publicly-funded, free-to-attend festivals have been supplanted by expensive, apolitical private events: a day pass for Wireless costs around £90, a weekend ticket over £250.
Meanwhile, councils have bent over backwards to accommodate their new guests. In 2014, Haringey introduced an outdoor events policy, limiting major events in Finsbury Park – defined as those with over 10,000 attendees, and lasting a maximum of three days – to five a year.
Yet "rather than seeing this as an upper limit, the council has tried to stage as many large events as possible within these constraints," write academics Andrew Smith, Guy Osborn and Goran Vodicka in a 2022 journal article. This summer, for example, Festival Republic, the Live Nation subsidiary that organises Wireless Festival, and Krankbrother, organisers of an electronic music festival, occupied Finsbury Park for a combined 46 days, including build and takedown periods.
In their defence, councils argue events are a cash cow, though examining the fine print it's unclear who's milking whom: the five-year Live Nation deal will see Haringey receive £1.2m per year, a sum FoFP believes is less than the council has received from the company in previous one-off deals.
Alarmed as the balance of power shifts away from councils to companies, groups like FoFP are stepping in – and taking on some of the biggest live entertainment businesses on the planet.
A done deal.
Not only are they taking on big business, but also councils who are all too happy to steamroll over the concerns of locals in favour of their corporate clients.
In early March, Haringey wrote to a group of park stakeholders soliciting their views on the planned Live Nation deal. The move was mostly a courtesy: the council had already designated the decision "non-key", meaning it could bypass its scrutiny committee as well as any public consultation. Almost all of the responses it received, including from one of its own Labour councillors, were negative, the council but pressed ahead anyway.
For Ed Allnutt, who sits on the committee of the Friends of Clapham Common (FCC), the story is a familiar one. In 2020, FCC was locked in a similar battle with Lambeth council over its planned four-year deal with Festival Republic, but quickly realised the scale of what it was up against.
The planning committee had waved through Festival Republic's application despite receiving over 300 objections to it. But the deal hit a wall when, in a surprise move, the licensing sub-committee rejected the company's application.
Incensed, Festival Republic took Lambeth to court to force the council to make good on the deal, signed on the assumption planning and licensing would be granted. Lambeth didn't fight the case, instead settling out of court.
To groups like FCC, the case highlighted the massive power disparity between the councils and companies. An analysis of the world's largest live entertainment companies published in May this year placed Live Nation Entertainment fifth in the ranking; the company's profits in the year to June are over 40 times Lambeth's entire £350m operating budget for 2022-23. "As soon as they've signed the contract," says Allnutt, "we know who wears the trousers."
Some Haringey locals have asked whether it's any coincidence that Wireless, having been kicked out of Hyde Park and later the Olympic Park, eventually settled on Finsbury Park, located in a borough that's home to two of the 10 poorest wards in the city and 20% of whose residents claim universal credit.
Friends Stacy Simon and Precious, who declined to give his last name, have lived in the area for 30 and nine years respectively. Speaking to Novara Media a few metres from the security fencing as The 1975 booms on the other side, Precious says: "I feel like they come to use Finsbury Park more because they've got money […] this place isn't really wealthy like that. Everyone just minds their business."
If you live in one of the "big Victorian houses" bordering Hyde Park, he adds, "there's no way you're going to [allow] that shit. It's just one phone call to the lawyer."
Hyde Park does host one major multi-day event each year, BST Hyde Park, over ten days. Finsbury Park, which is three times smaller and less centrally located, hosts three such multi-day events.
Anderson echoes this sentiment. Speaking to Novara Media on the phone, she says: "Poor people's voices don't count for as much as rich people's voices. Hyde Park residents are a lot more powerful than [the residents of] Seven Sisters Road," describing the former as having "pester power".
The irony, she adds, is that it's groups like hers, which attempt to advocate for their "disenfranchised" neighbours, that are often the ones accused of nimbyism.
"I know that in closed council circles, FoFP is classed as classist and racist" for opposing events like Wireless, "a lot of [whose] audience is Black."
"It feels that these [accusations] can be used to close down really good debate. I think the council should be looking at themselves [when it comes to] social justice. Are they being classist? They're definitely penalising poorer people from the BAME community, rather than white people in Crouch End."
Anderson cites herself as an example: "I've got a garden, I can kick a football around." For many of her neighbours, the park is their only green space.
Relandscaping.
Besides curbing public access to the park, events also have a major ecological impact. Particularly contentious is how councils work with events companies to redesign the park ecology to suit their needs.
In September 2020, Lambeth closed the events area at Clapham Common – comprising just over 10% of the common space – for nine months in order to replace 1,400 tons of fertile topsoil with a mixture of sand and topdressing, at a cost of over £200,000.
The transplant was perfect for the festival, improving soil drainage during periods of increased footfall; it also rendered the land infertile, while the sand compaction has made the surface hard and uncomfortable to sit on. "The only event requiring the full extent of this area is the summer festival one," FCC wrote in a report to the council. "This means that the whole 20 acres is kept free of any planting all year round so that it can host this one three-day event series."
Brooks tells a similar story. He recalls how in spring last year, the group planted 200 saplings near the children's playground to reduce sun exposure during the ever-hotter summers.
Then, on 22 April last year – Earth Day – FoFP says an events officer for the council instructed park staff to rip up the saplings to make way for a five-metre fence that would run alongside the playground (Councillor Hakata subsequently apologised for the incident and agreed to provide 20 larger trees for FoFP to plant instead).
TODAY: ~200 NEW TREES RIPPED OUT IN FINSBURY PARK: @haringeycouncil officers instructed park staff to remove ~200 trees 20 volunteers had planted in Finsbury Park, donated by @TCVtweets. Mad. WHY? Read on; but reflect on the culture of Haringey Council staff and who is in charge. pic.twitter.com/QHoYR88VDR

— Friends of Finsbury Park (@FinsParkFriends) April 22, 2022

Planned adaptations to the park have also attempted to mitigate the climate effects of events: FoFP expects that, as part of the five-year Live Nation deal, the full details of which have not been made public, promoters will fund permanent sub–station in Finsbury Park, in order to reduce the reliance on diesel generators, a move FoFP has called a fake "gesture at greening".
Council 'myth-busting'.
Councils are acutely aware that their privatisation-by-stealth of the parks is highly contentious.
While Haringey council publicly celebrated its Live Nation deal, in private correspondence obtained by Novara Media via freedom of information (FoI) requests, officials anticipated strong pushback: "It goes without saying that this will be hugely controversial," councillor Hakata wrote to a junior colleague in March.
As the Festival Republic deal was being finalised, the council began preparing damage control, including preparing "a mythbusting fact-sheet about the summer events programme to counter some of the opposing narratives around the events programme". In July, posters began appearing on the Finsbury Park security fencing, offering to bust said myths.
Top trolling by @haringeycouncil busting the myth that @FRfestivals events prevent public access to Finsbury Park.
In fact, police have been asked to prevent anyone entering the park without a #Wireless ticket today. pic.twitter.com/GsMEHOirx3

— Tab (@mum_on_bike) July 9, 2023

Yet it isn't only externally that the council is fighting a war on events: in the FOI correspondence, the councillor Hakata can be seen addressing another junior colleague's "misgivings" about the Festival Republic events held in the park this summer.
"I used to be very sceptical of large music events being held in the park," Hakata wrote to his colleague in May. "However, I have gone on a journey on this subject."
"The wildlife of Finsbury Park is used to human activity all year round. It is not a nature reserve," he continues.
In fact, Hakata argues, major events ought only be held in public parks: "If it is the environment that is the prime concern, and if we believe, even during the unfolding of the greatest environmental crisis since the birth of humanity, people should be able to enjoy music outdoors, then we first need to call for the ending of countryside festivals and only hold them in urban parks.
"Not a popular statement to many I am sure!" says Hakata. "But to not demand this would be to potentially reveal an unwitting nimbyism."
For her part, Simon feels it's the council that's riding roughshod over democracy, not uppity locals: "If this is supposed to be a public park, don't you think we the public should have a little say? […] You're just doing it to […] increase your pay packet […] you haven't done what the public who has to live with it [wants]."
No more Mr Nice Guy.
For the most part, the work of groups like FoFP and FCC is polite engagement with the council to ensure the park is properly maintained. Yet as councils' approach to major events has become more aggressive, so have the friends groups'.
In 2016, FoFP took Haringey to court over its outdoor events policy. The group lost the case – though it did win an agreement from Haringey that the money made from the park would be spent on it. Haringey claims to have done this, though to FoFP, the numbers don't quite add up: while in information obtained by Novara Media via an FoI request, the council claims it spent £871,626 on staffing Finsbury Park in 2020-21, many have questioned where the money is going: the park has had no park ranger since late October, no on-site manager since May. "If you've got this money […] you sure as hell didn't spend it here," says Simon, pointing to the chipped paint of the bench on which she's sitting.
Responding to Novara Media's questions about how money from events is spent in the park, Emily Arkell, Haringey's cabinet member for culture, communities and leisure, said: "Large and major events bring in around £1.2m income each year, and we plough this straight back into the park for the benefit of the local community.
"This has allowed us to make a wide range of improvements including new lighting, the new inclusive Richard Hope Play Space for youngsters to enjoy and an expanded skate park, as well as funding staff costs to provide the best service for park users."
The council declined to give a detailed breakdown of park-related staffing costs.
In 2021, FCC upped the ante even further. After discovering that Lambeth council had given Festival Republic permission to hold a three-day festival on Clapham Common, despite not having received the required government permissions, the FCC first sent a legal letter to the council. When it received no response, residents began a five-day "peaceful picnic protest" against the illegal event, blocking entry of some lorries. The festival ultimately went ahead, but the action set a new precedent for the lengths the FCC was willing to go to to make itself heard.
"For me personally," says Allnutt in an email, "it was the first such direct action I helped coordinate and it showed me that nonviolent direct action can be empowering and effective.
"We stand in a long line of direct action to safeguard common land," he adds, "and are very proud of it."
Festival Republic did not respond to Novara Media's request for comment.
Rivkah Brown is a commissioning editor and reporter at Novara Media.