On Migration, the Polish Left Has All But Given Up
It isn't too late to grow a backbone.
2 October 2023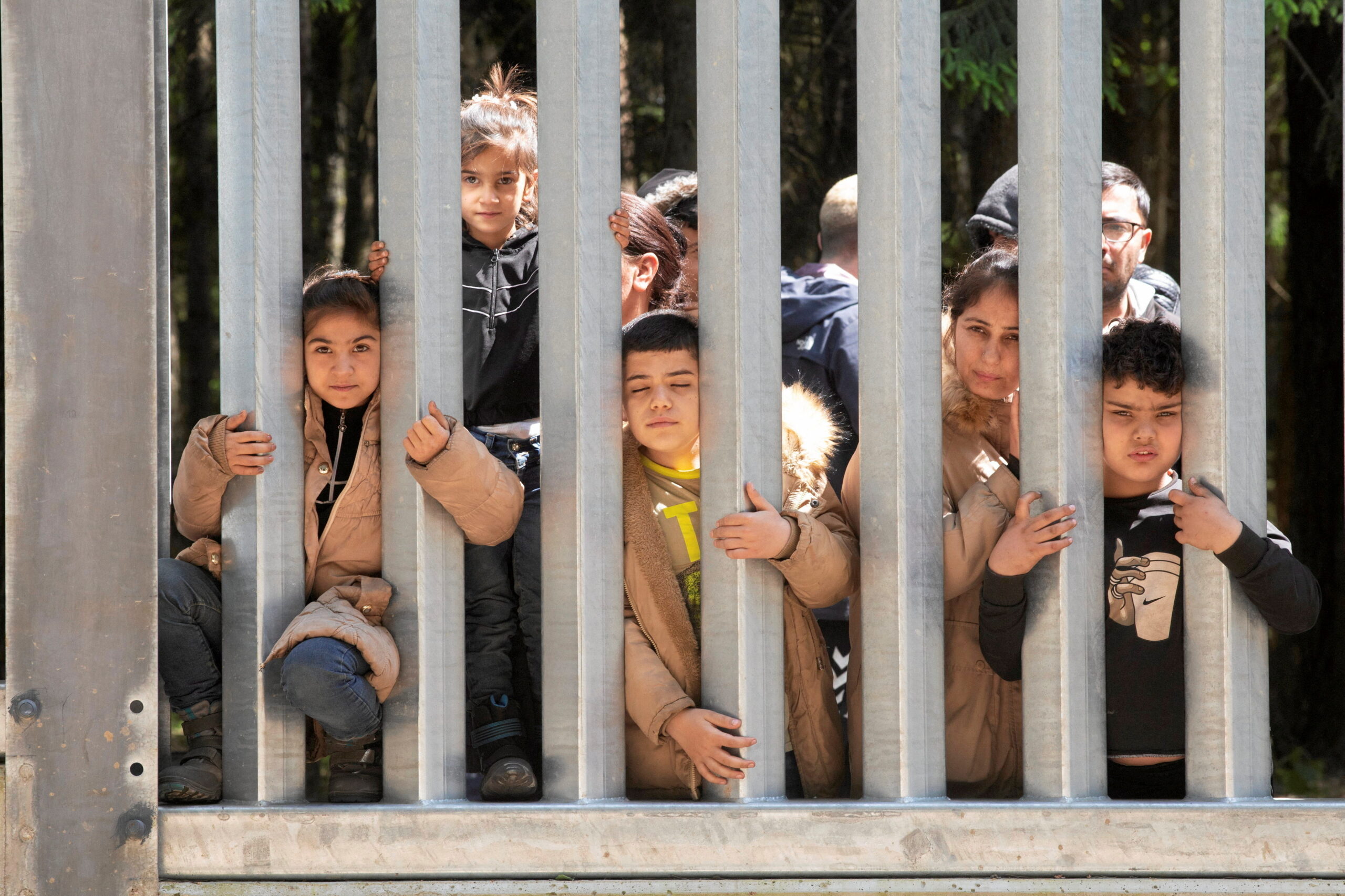 Migrants look through the fencing at the Polish-Belarusian border, May 2023. Poland erected the 5.5m high, 115 mile long wall in June to keep out the mostly Middle Eastern, Central Asian and sub-Saharan African migrants attempting to enter the EU from Belarus, trapping them in the Białowieża Forest. Photo: Agnieszka Sadowska/Reuters
On 15 October, Poland will see an unprecedented electoral event. Not only will there be a general election, there will also be multiple concurrent – and highly controversial – referendums.
Of the four referendum questions, two focus on immigration, a favourite hobby horse of the ruling Law and Justice party. The first asks voters if they support "the reception of thousands of illegal immigrants from the Middle East and Africa, in accordance with the forced relocation mechanism imposed by the European bureaucracy."
The question refers to the new asylum procedure of "solidarity contributions" negotiated by the European Council in June. The system, endorsed by 21 of the EU's 27 member states, is designed to rectify the uneven spread of asylum seekers across the union. It requires that states less susceptible to migrant crossings either take in a quota from "frontline" states or pay €22,000 for each migrant they don't accept. Polling suggests that 67-76% of Poles oppose the scheme – despite the fact that it exempts countries under migratory pressure such as Poland, which has received over 15.4 million Ukrainian refugees since February 2022.
The second referendum question asks Polish voters if they support "removing the barrier on Poland's border with Belarus." This refers to the 5.5m high wall that Poland built in June along 115 miles of the Poland-Belarus border to keep out hundreds of mostly Middle Eastern, Central Asian and sub-Saharan African migrants, trapping them in the borderland's Białowieża Forest. Since 2021, Belarusian president Alexander Lukashenko has encouraged these migrants to reach the EU by travelling to Belarus and crossing into Poland. The Polish government responded with pushbacks. Then in 2022, it spent €353m (£306m) erecting the border wall, framing it as a defensive measure against Belarus' "hybrid war". At least 48 migrants have died in the Białowieża Forest over the last two years.
The decision to hold multiple votes on the same day is strategic. The Polish constitution states that a referendum is legally binding if at least 50% of eligible voters participate. There have been only five national referendums in Poland since 1989 and only one – the 2004 referendum on Poland's accession to the EU – has met the turnout requirement. By coupling its referendums with an election, Law and Justice hopes to clear the 50% threshold. It has also had the added benefit of giving its state-funded anti-immigration campaign a dual purpose.
Stemming the tide.
The referendums represent a resumption of business as usual in Poland. After awkwardly avoiding the subject of migration because of the situation in Ukraine, Polish politicians and state-controlled media have in recent months resumed their familiar attacks on migrants, singling out Muslims and Africans in particular.
A central tenet of the state's anti-migrant rhetoric, one that UK readers will be familiar with, has been to link immigration to national security. Despite the infamy of Fortress Europe and periodic mass drownings in the Mediterranean, Law and Justice has had great success in framing migrants as a threat to "ordinary citizens".
Because Poland is very ethnically homogenous, and because the same chaotic scenes aren't playing out in Poland that might be blamed on immigrants, politicians often point to other countries as harbingers of what awaits Poland if it does not act. In one campaign video from 13 August, Polish prime minister Mateusz Morawiecki asserts, over footage of riots and burning cars mostly from France, that "[w]e all see what is happening on the streets of western Europe: rapes, murders, arson, destruction." Both Morawiecki and deputy prime minister Jarosław Kaczyński have used what the latter describes as the "invasion" of the Italian island of Lampedusa, where over 1,100 migrants have landed from Africa, to call for mass deportations from Italy, stoking fears that these migrants will eventually reach Poland if they aren't stopped at the EU's other borders.
For the most part, the Polish opposition has adopted the government's racist framing of immigration – only that it offers a different way of fixing the problem.
A Tusk-less opposition.
In at least two videos since July, Donald Tusk, former European Council president, now leader of the centrist Civic Coalition, has claimed that Law and Justice assures the public that it protects Poland from Muslim migrants while quietly granting them permits. He ended one by echoing an infamous Brexit slogan: "Poles must regain control over this country and its borders."
With the Civic Coalition trying to woo Law and Justice voters by repackaging its xenophobia, it falls to the Polish left to change the narrative on immigration. Until now, the Left (Lewica), the main leftwing coalition, has largely avoided the issue. In July, its parliamentary leader Krzysztof Gawkowski claimed that the other parties were using migrants as a distraction from more important problems. Presumably, this means issues like the cost of living. The Left's current advice is that voters boycott the referendums to prevent them from meeting the 50% turnout threshold.
This fits the Left's broader strategy of prioritising select issues, including housing and women's rights, instead of allowing Law and Justice to select the subjects for debate and set their terms. One Left coalition member party, Razem, could push for a more assertive stance on migrants' rights but seems reluctant to do so, perhaps fearing this might undermine the alliance.
Yet avoidance isn't enough. Even if the referendums aren't legally binding they will be politically relevant, helping Law and Justice or whoever succeeds them to justify more extreme anti-immigrant policies – the kind already being mainstreamed in Polish politics.
Recent months have seen an upswell in support for the far-right Confederation party, which some polls show in third place. The group's 12-point programme on immigration includes stripping migrants of all state benefits and developing "fast and effective procedures" to deport foreigners who are not legally allowed to work. In a recent interview, the group's co-leader Krzysztof Bosak stated that border guards on the Italian island of Lampedusa should use force, adding: "If someone is going to drown, so be it."
From the UK's Illegal Migration Act to Italy's recent migrant detention measures and Florida governor Ron DeSantis' draconian immigration law, Poland is not alone in introducing increasingly extreme border policies. A victory for anti-migrant politics in Poland would embolden this nationalist right both domestically and internationally. Indeed, it's already happening: Morawiecki met Italian PM Giorgia Meloni in July, affirming that Poland shares Italy's belief that the EU must have stronger borders.
All to play for.
Yet much as the Left is acting like it is, the battle is not over. Despite a poll soon after the referendums' announcement indicating that 53.1% of Poles fear rising immigration, according to Gallup data, the proportion of Poles who saw migrants living in their country as a good thing increased from 28% to 42% between 2016 and 2019. Law and Justice reversed this growing acceptance by politicising non-European migration. Sustained political messaging can and has shifted attitudes to immigration – meaning the Left can shift them back.
It must make the case that, by dividing the workforce along national lines and making dismissal carry the risk of deportation, immigration controls undermine workers' capacity to take collective action. It must unapologetically argue against border controls and for migrants' rights. It should boldly advocate policies like closing all detention centres and ending all immigration raids and deportations. It should link up with international leftwing groups to challenge the EU immigration policies causing mass deaths in the Mediterranean.
In 1910, the American socialist leader Eugene V Debs denounced "those who call themselves Socialists" but choose to "shut the international door in the faces of their own brethren." The Polish left would do well to take note.
Dan Davison is an activist in the University and College Union and the Labour campaign for free movement.
Ewa Pospieszyńska is an activist in Razem and the Labour campaign for free movement.