The British State is Waging Its Own War on Palestinians
And it hasn't come from nowhere.
13 October 2023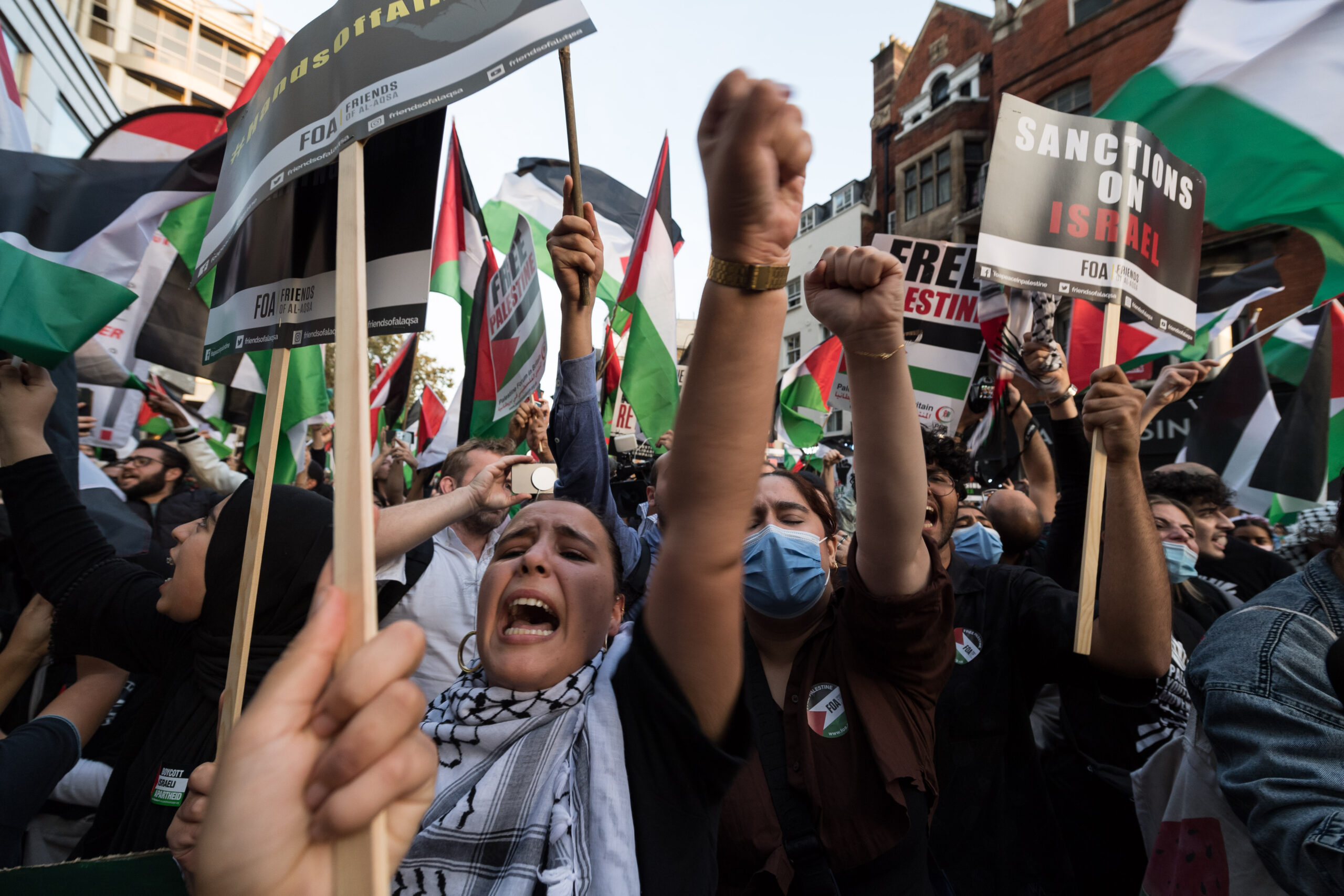 Palestinians and their supporters protest outside the Israeli embassy in London, October 2023. Wiktor Szymanowicz/Reuters
In the 16th year of the siege of Gaza, western political and intellectual leaders across North America and Europe are sanctioning a genocide. Politicians and journalists, leaders of public and private institutions and local and federal governments have fallen in line to provide moral, political and legal cover for the genocide of the Palestinian people in Gaza. The Zionist state, with a clear intent to commit mass atrocities, has asked 1.1 million Gazans to move to the south of Gaza in 24 hours – an "impossible" demand, according to the UN.
In Britain, this phenomenon isn't confined to the political right, but has reared its head in Keir Starmer's Labour party too. On the morning of 11 October, while the Zionist state rained indiscriminate death on the people of Gaza, Starmer was asked to comment on the latest of Israel's crimes on LBC. In a manner that should shock all people of conscience, Starmer justified the withholding of power and water from Gaza – acts of collective punishment and crimes under international law. Given his background as a human rights lawyer, he's no doubt very aware of this fact. His reaffirmation of "Israel's right to defend herself" ignores the horror facing two million Gazans, half of whom are children. Rather, the leader of the opposition joined a chorus of public figures whose words lay the groundwork for the annihilation of the Palestinian people. 
In the days following the events of 7 October, we've seen a complete onslaught against any voice that questions the drums of genocide. Politicians and heads of state are attempting to repress support for Palestine by banning protests and threatening to criminalise flags and chants. University administrations have increased their surveillance and suppression of Palestinian voices on campuses, putting students at risk of harm. Expressions of grief – and if we dare, anger – at the situation in Gaza have been threatened with arrest, expulsion from our jobs and universities, and even deportation. This racist campaign aims to defame the Palestinian national liberation struggle as one that is hateful (rather than a fight for freedom), as well as intimidate Palestinian, Arab and Muslim communities into silence. 
With pro-Palestinian voices suppressed, empire can freely manufacture consent for its genocide. This is being loudly proclaimed by Israeli leaders, with one promising "a Nakba that will overshadow the Nakba of 48" – referring to the expulsion of 900,000 Palestinians in 1948. Clearly, Britain is embroiled in war propaganda not unlike that deployed to manufacture consent for the war on Iraq. But the real question is: how did we get here?
In Britain, policy and legislation has been instrumentalised to silence Palestinians and pro-Palestinian voices and embolden Zionist violence towards Palestinians and their organisations. The Prevent strategy, introduced as part of the Counter-Terrorism and Security Act 2015, instructs teachers, lecturers and doctors to spy on their students and patients and report pro-Palestinian sentiment to the government. This has created a chilling effect whereby fear, hysteria and panic are generated to drive racialised communities away from expressing their cultural, religious and political identities.
In December 2016, the UK government formally adopted the contested IHRA working definition of antisemitism – which ties criticism of the Zionist state to antisemitism – despite denunciations by multiple human rights and civil society groups, Jewish organisations and the drafter of the definition himself. The definition was subsequently adopted by a number of universities, and ultimately led to chilling restrictions of academic freedom and free speech on campuses. Adoption of the definition has real life tangible consequences for Palestinians and people in solidarity with Palestine, including the unfair dismissal of Shaima Dallali from her elected role as president of the National Union of Students and Shahd Abu Salama from her lectureship at Sheffield Hallam University – two examples of Palestinians whose lives were permanently changed by British repression. If 'cancel culture' is a real phenomenon, it's felt most keenly by Palestinians.
In December 2019, Jeremy Corbyn's leadership of the Labour party came to a tragic end after attacks that both systematised and normalised the weaponisation of antisemitism. Palestinians and supporters of Palestine knew very well that at the root of these attacks was his long-standing support for the Palestinian cause. We watched with horror as the charge of antisemitism was used as a dog whistle for 'supporter of Palestine'. Since then, systematic attempts have been made to shut down any and all support for Palestine whether by Palestinians or their allies, including anti-Zionist Jews. The British left, cowed by relentless media attacks and moral handwringing, failed to show enough principle or stand its ground. Today, one retreat has enabled another, culminating in calls from the leader of the opposition for crimes against humanity.
Most recently, in July 2023, parliament passed a bill banning public bodies, including local councils, from making any decisions about procurement or investment based on "political or moral disapproval of foreign state conduct". This is a flagrant attempt to criminalise the boycott, divestments and sanctions (BDS) movement, protecting the material and economic interests of Israel at the expense of Palestinian suffering. 
The Prevent policy, the weaponisation of antisemitism and the anti-BDS bill are only a few factors contributing to the hostile environment for Palestinians that has been created in Britain. This environment not only suppresses Palestinian and pro-Palestinian voices, but enables ideological and material support for Zionism via the British state. While Britain's role in the colonisation of Palestine is no secret, what's less acknowledged is the role political elites play in enabling Israeli war crimes. At this moment, while the Zionist state is threatening to wipe Gaza off the map, the British state not only supports this war, but is waging its own: against Palestinians and all those who voice dissent. 
Recent polls show the British public overwhelmingly supports the Palestinian cause. But its silence now and in the coming weeks would be a death sentence. It's time for the British public, particularly those on the left, to show more courage. Yesterday, Royal Navy ships joined US and Israeli weapons of war against the people of Gaza. The British public must stop being passive bystanders in Palestinian suffering, and actively demand an immediate end to the genocide, the passage of aid, and the ending of the 16-year blockade.
The Palestinian Youth Movement is a transnational, independent grassroots movement of young Palestinians in Palestine and in exile worldwide.