Palestinian Trade Unions Call for End to 'Complicity' in Israeli Crimes
'This urgent genocidal situation can only be prevented by a mass increase of global solidarity.'
16 October 2023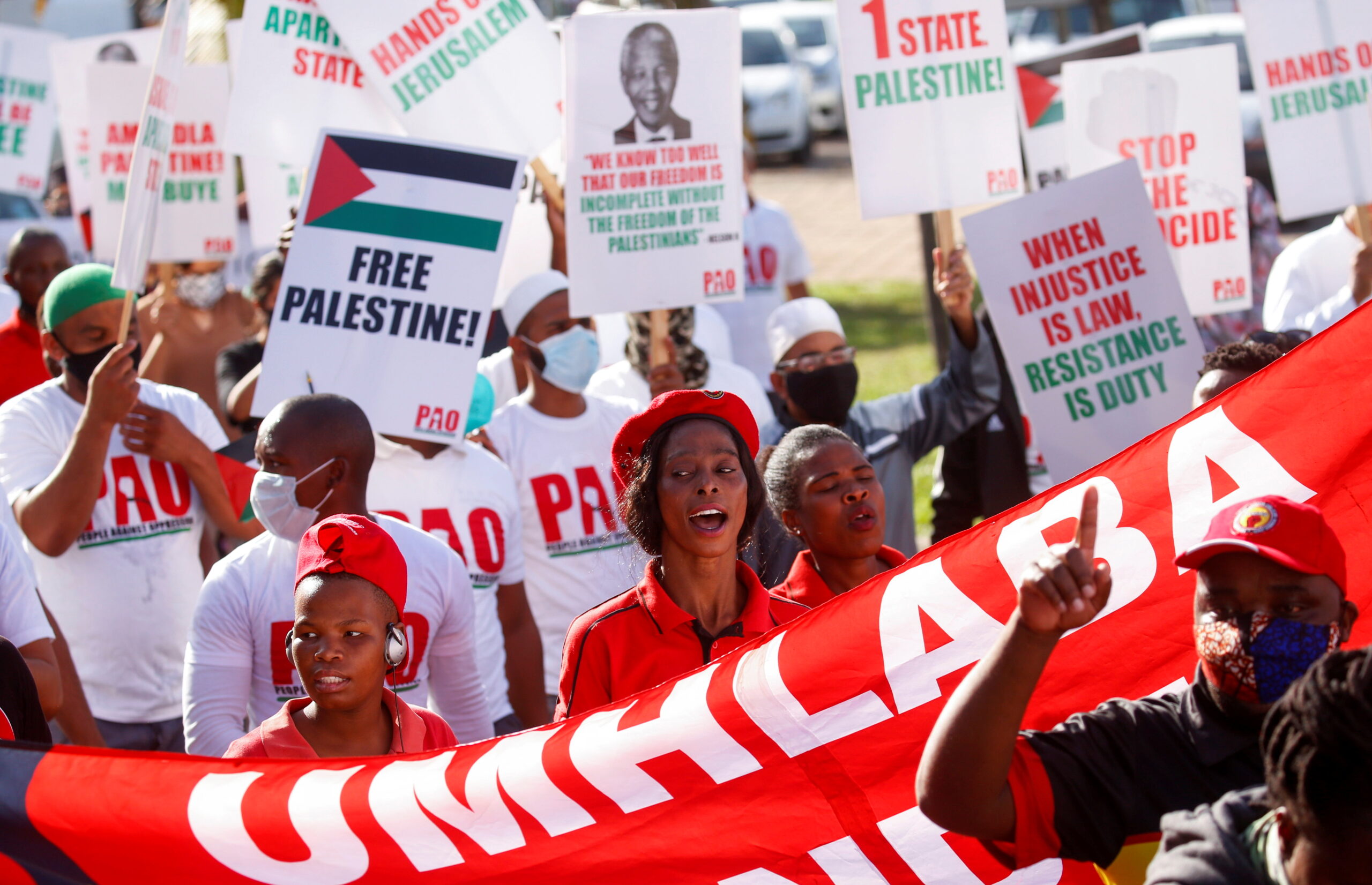 Trade unionists demand goods from Israel not be unloaded in the port in Durban, South Africa, May 21, 2021. REUTERS/Rogan Ward
A coalition of Palestinian trade unions has called on the international labour movement to "end all forms of complicity with Israel's crimes" by halting the trading of arms, all funding, and military research, as Israel prepares a ground invasion of Gaza amid horrific reports of a humanitarian disaster gripping the strip and mounting evidence of war crimes.
An open letter signed by the Palestinian General Federation of Trade Unions and 18 trade unions and professional associations urged workers in relevant industries to refuse to build weapons destined for Israel, to refuse to transport weapons to Israel, and to take action against companies complicit in "implementing Israel's brutal and illegal siege" with whom unions have contracts.
The letter also pushed for trade unions to pass motions in their branches to this effect, and to pressure governments to stop all military trade with Israel.
The letter said: "This urgent genocidal situation can only be prevented by a mass increase of global solidarity with the people of Palestine and that can restrain the Israeli war machine.
"We make this call as we see attempts to ban and silence all forms of solidarity with the Palestinian people. We ask you to speak out and take action in the face of injustice as trade unions have done historically."
The TUC, as well as several British trade unions, including the Transport Salaried Staffs' Association, Fire Brigades Union, Public and Commercial Services Union, Unite, Unison, and Bakers, Food and Allied Workers' Union, have issued statements in response to the conflict. All of them condemned the killing of civilians by Hamas as well as Israel's onslaught against Gaza.
GMB and Prospect – both of which represent members in the defence industry – are yet to issue statements.
At last year's TUC congress, a motion "condemning" the running-down of UK defence manufacturing and committing the trade union movement to a campaign for "immediate increases in defence spending" narrowly passed.
The open letter provided previous examples of material support that international trade unions have offered, from the "international mobilisations against the Italian invasion of Ethiopia in the 1930s" and "the fascist dictatorship in Chile in the 1970s."
It continued: "We take inspiration from previous mobilisations by trade unions […] where global solidarity limited the extent of colonial brutality.
In May 2021, amidst a wave of heavy airstrikes across Gaza, the Palestinian General Federation of Trade Unions and Workers in Palestine coalition called on the international trade union movement to "refuse to handle Israeli goods."
In response, Italian dock workers refused to load a shipment of arms destined for Israel. The L'Unione Sindacale di Base said: "The port of Livorno will not be an accomplice in the massacre of the Palestinian people."
Within a week, South African dock workers at the Durban harbour refused to offload the cargo of an Israeli container ship in solidarity with Palestinians.
The following month, longshore workers in Oakland, California, refused to unload cargo from Israeli shipping operator Zim. Jimmy Salamy, a Palestinian rank-and-file worker and member of the International Longshore and Warehouse Union Local 10 workers branch said: "An injury to one is an injury to all. Just as ILWU Local 10 workers refused to unload cargo from apartheid South Africa in the 1980s, we honoured community pickets asking us not to unload cargo from Israeli ZIM vessels."
Workers in Palestine have previously called on the international trade union movement to support the Boycott, Divestment and Sanctions movement, in particular ensuring the divestment of pension funds from firms complicit in Israeli occupation.
Update, 17 October 2023: This article has been updated to include the statement of Unite.
Polly Smythe is Novara Media's labour movement correspondent.