Racist Policing Accelerated During the Pandemic. Mounting Protests Could See It Get Even Worse
4 June 2020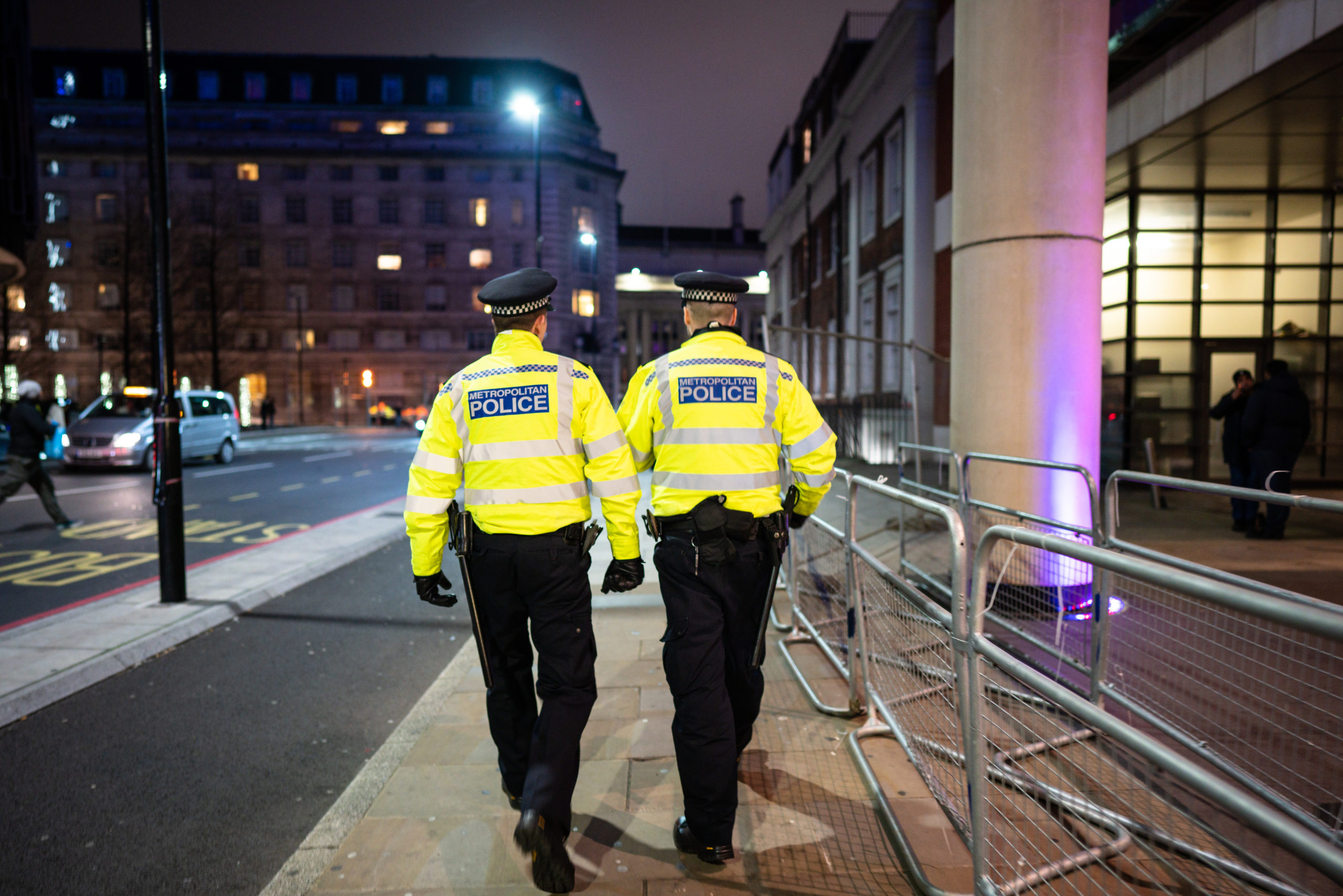 Dwayne Francis was racially profiled and detained by police in London last month, while on his way to work in a secondary school.
"The rhetoric is always the same," he said, describing how police routinely tell black people: "You fit the description of someone who has committed a crime, this is a high-crime area, we can smell cannabis, you are a drug dealer because of the car you drive or the clothes you're wearing." 
The seven officers who stopped Francis on 13 May accused him of having cannabis in his car, without evidence. They did not practice social distancing or wear PPE. 
Francis believes the police's heavy-handed tactics, racial profiling and stereotyping are being "magnified and made more apparent" by Covid-19.
With demonstrations set to continue in the UK in the wake of the police murder of George Floyd in the US, police monitoring groups and anti-racism activists are also highlighting that racist policing has persisted and accelerated "even in a time of pandemic". Some are warning that things could get worse in response to Black Lives Matter protests in the UK.
@guardian Yesterday at 9.30am I was carrying my duties as a key worker as i work in a secondary school and making my way to work. Before I attended i stopped off at my local post office as I waited for the store to open in my car a @metpoliceuk Territorial support group passed.

— Tribal (@D_Tribal) 14 May 2020
'They pinned a girl down.'
Fifteen-year-old Destiny attended Wednesday and Sunday's Black Lives Matter protests in London, having seen a torrent of social media posts about racist injustice. "It really affected me," she says. "I've known about the race fight for a long time, and I want to do something."
Destiny says that being at the protests, "surrounded by a bunch of people who know how you're feeling and want the same change as you," has made her feel "confident and reassured". The police presence, however, has not. 
Towards the end of Sunday's protest, Destiny says the police became "aggressive" and started "acting quite crazy". Having just been chanting about police racism and brutality, she witnessed the police "proving everything we were saying".
At one point, she explains how officers "pinned a girl down – she was having a seizure and they didn't care, and they wouldn't let her put her clothes back on properly". The protester had been sitting down as part of the demonstration. 
A Twitter user shared a video of the same event, commenting: "Multiple police officers vs one girl? How is this legal? What type of a sinister sign were they trying to send so soon after the horrific murder of George Floyd in a similar manner. One officer pressed his fist into her face as she feared for her life." 
'The UK isn't as bad as the US'. This young woman had asthma, and repeated "I can't breathe" at today's protest. Other protestors tried to help but several officers formed a shield around her immediately after she was slammed to the floor. 1/3#BritishPolice #GeorgeFloyd #LDNBLM pic.twitter.com/SHw1i6BS40

— Khalifa (@khalifa_way) 31 May 2020

LDNBLM, an information hub for London Black Lives Matter organising, told Novara Media that witnesses said that police officers were laughing whilst the victim's friends tried to communicate the fact she had epilepsy. 
The police brutality Destiny observed at the protest was not an isolated incident. Wednesday's protest was also heavily policed towards the end of the day, with lines of riot police charging and using batons on protesters, and eventually kettling them for five hours until 2am. When releasing protesters one-by-one, officers asked for names and addresses – despite the fact the High Court has ruled this is not lawful as a condition of release from a kettle. 
Journalist Ben Smoke described the police at Sunday's protest as "antagonistic", and shared videos of two "aggressive" and "brutal" arrests.
The Metropolitan Police initially announced there were five arrests in total on Sunday, three of which were related to breaches of Covid-19 legislation – despite the fact that other busy gatherings on beaches, for VE Day and for Clap for our Carers events on Westminster Bridge did not provoke a similarly heavy police presence or arrests. Later reports confirmed there were 23 arrests. 
one of the cops has blood on his shirt from the guy they just arrested. this is fucking grim.

— Ben Smoke (@bencsmoke) 31 May 2020
"Covid has highlighted just how black and Asian and ethnic communities are targeted by the police – even in a time of a pandemic," says Katrina Ffrench from police monitoring group StopWatch UK. Along with 18 other rights groups, StopWatch UK has sent a letter to Health Secretary Matt Hancock demanding the government address the disproportionate enforcement of the lockdown on people of colour. 
According to analysis by the Guardian and human rights journalism unit Liberty Investigates published last week, Black, Asian and minority ethnic (BAME) people in England are 54% more likely to be fined under coronavirus rules. The analysis concluded that 90% more fines may have gone to people of colour than would have been proportionate.  
Freedom of Information (FOI) requests to police forces across the country found that black people living outside of London were 8.7 times more likely to be fined during the first week in which the emergency legislation was in place. London's Metropolitan police force did not respond to the FOI. 
Kevin Blowe from police monitoring group Netpol says that racial profiling by the police "has continued and even accelerated under the lockdown". This has been reflected in an upsurge in the "arbitrary and discriminatory" use of stop and search powers, a tactic disproportionately used to target black people.  
In London, police stop and searches increased by 22% from March to April – despite there being fewer people on the streets. The proportion of BAME people being targeted rose from 7.2 per 100,000 to 9.3. 
This April saw the highest use of stop and search by UK police in seven years, with officers carrying out 30,608 stop and searches compared to 20,981 in 2019 and 13,085 the year before. This April's data shows that 75% of stop and search incidents resulted in no further action. Most officers said they used the tactic because of suspicion the person was carrying drugs. 
'They can't fucking wait to get out there cracking skulls.'
Francis' experience is one of many cases of racial profiling by police during Covid-19. On 31 March, Marie Dinou was arrested at Newcastle Central Station and wrongly charged £660 for breaching the Coronavirus Act. On 11 April, a Manchester youth worker called Gershom Leach was threatened with pepper spray and issued a fixed penalty notice whilst delivering food to vulnerable family members. 
On 18 May, youth worker Sayce Holmes-Lewis was pulled over in south London while taking food to a bereaved friend; also in south London two days later, a black ambulance driver was detained and searched for drugs. Just over a week later in the same borough of Lewisham, six police officers pinned down and hit a woman, who screamed that she couldn't breathe. 
This is how @metpoliceuk treat ambulance drivers, if they are black

— Aaron Bastani (@AaronBastani) 29 May 2020
The latter incident was during a Lewisham-wide authorisation of Section 60 of the Criminal Justice and Public Order Act 1994, which gives police the power to stop people without any explanation in specified locations. 
In response, the chair of the Lewisham Deptford Constituency Labour Party, Jovan Nepaul, wrote to the borough's MPs and Mayor demanding accountability for discriminatory policing and for the invocation of Section 60, which he calls "an antagonistic and subtly racialised method of contemporary policing". Recent police helicopter coverage has been concentrated in boroughs with the largest black populations. 
On 1 June, a Twitter user shared an account of "30+ police" – including armed police – in Dalston arriving to arrest a teenager, writing that: "The misuse of their Covid extra powers… has been so quick, they can't fucking wait to get out there cracking skulls."
She added: "If you think heavy handed policing doesn't happen in your country, in your city, in your area, you're ignoring what's right in front of you. Fuck @metpoliceuk." 
Black Lives Matter.
Recent Black Lives Matter protests in the UK were triggered by the police murder of Floyd in the US on 25 May, which followed the 13 May police shooting of Breonna Taylor. In 2019, police in the US killed 1,099 people; with black people three times more likely to be killed, and 1.3 times more likely to have been unarmed. One in every thousand black men in the United States is killed by the police. 
Police in the US are notoriously brutal, but the UK is not innocent. Since 1990 in England and Wales, 1,741 people have died in police custody or otherwise following contact with the police. No police officer has ever been convicted in connection to these deaths. According to the charity Inquest, the proportion of BAME deaths in custody where restraint or force is a feature is over two times greater than in other deaths in custody. 
UK Black Lives Matter protests are demanding an end to systemic racism and state violence in the context of global white supremacy.
Teenager Destiny said she's "really started to understand the hatred for police" and believes they "need to be defunded in this country and in America, and that that money needs to be put into healthcare and housing and education". 
Destiny plans to attend all upcoming Black Lives Matter protests and believes change is coming. Francis feels the same: "Black and ethnic communities have had enough and are speaking up and standing together." 
Reflecting on police officers' laughter during recent protests, Destiny said: "What I can take from their laughing is that they don't think our protesting is going to do much.
"But I really mean it when I say that this is the beginning of a huge fight and we are not going to rest until there is justice and change."
Sophie K Rosa is a freelance journalist. In addition to Novara Media she writes for the Guardian, VICE, Open Democracy, CNN, Al Jazeera and Buzzfeed.