How We Won: The Stripper Who Took Her Club Boss to Court
3 December 2020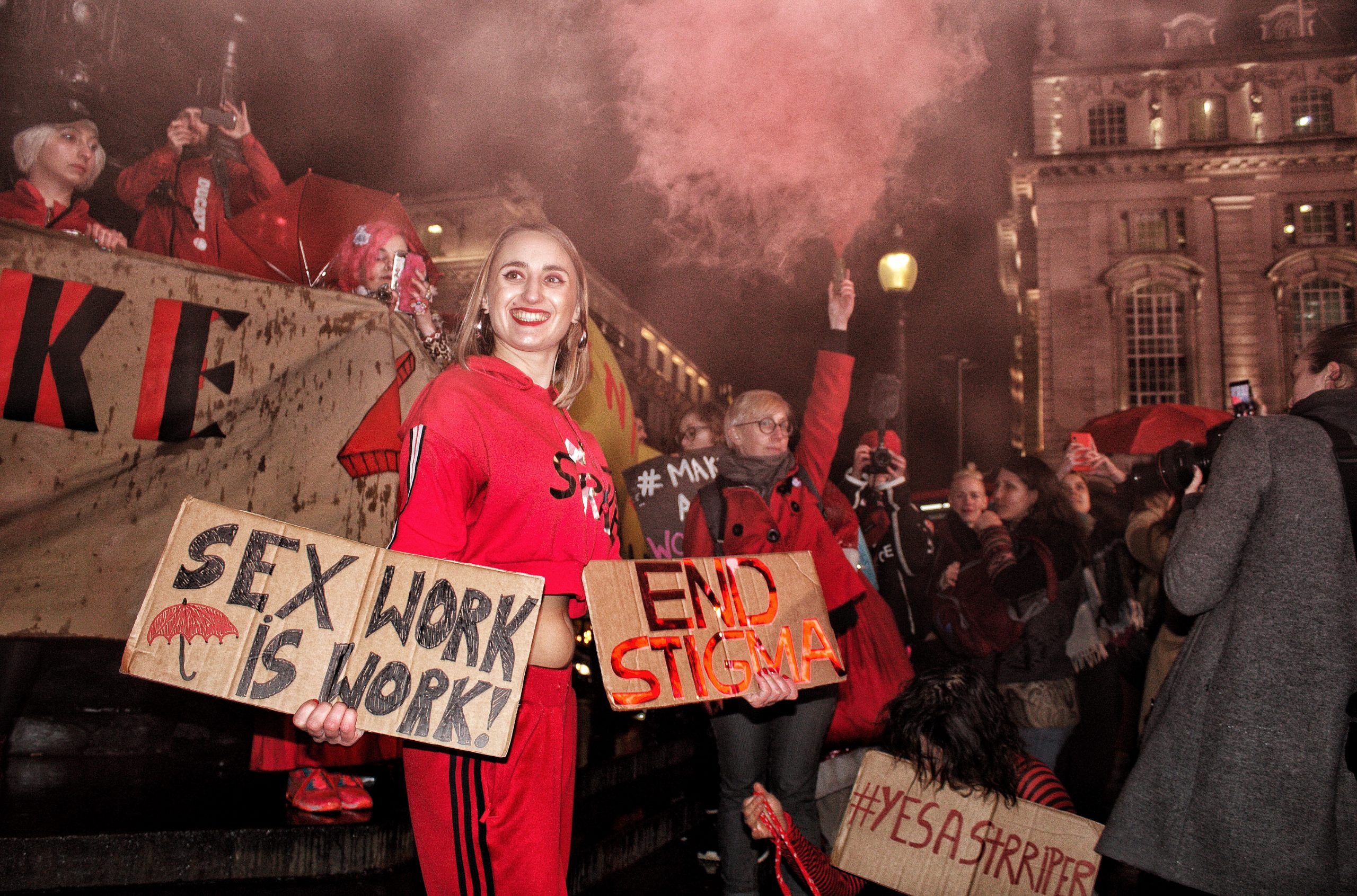 Angela Christophilou
Since 2018 sex workers have established a trade union branch, United Sex Workers (USW), to begin tackling workplace exploitation within their industry. As a result of their efforts, Sonia Nowak, a Polish stripper working in east London, made history in February this year by achieving a landmark legal ruling, which saw her legally recognised as a worker.
Alongside many other people in the gig economy, like plumbers, Uber drivers and Deliveroo workers, strippers experience the indignity of being misclassified as independent contractors with no rights (when in fact they qualify for "worker status") leaving them vulnerable to labour exploitation and without access to even the most basic rights at work.
But Nowak, with the support of her branch, which is part of grassroots union United Voices of the World (UVW), took Chandler Bars (the proprietors of London venues Browns and Horns) to an employment tribunal over workplace abuses, contesting their claim that she was an independent contractor and therefore not entitled to rights such as holiday pay.
Nowak's subsequent victory was not just a personal win; it was a success for all sex industry workers, according to Shiri Shalmy, a USW branch organiser who worked closely with Nowak on the case. "We are now being approached by increasing numbers of dancers from across the UK, who have experienced violations in their workplaces and want to take legal action."
'I was told I wasn't welcome back.'
Nowak first auditioned at Browns, a family-run strip club in Hackney in November 2017. "They asked me all the usual questions about myself and what dancing experience I had," she said. "They also asked me about my availability so they could schedule my shifts in advance."
#Browns strip club London is one of the oldest and most established #stripclubs the capital has to offer, with over thirty years' experience at the top of the #adultentertainment scene at https://t.co/IMXJMBhUWB pic.twitter.com/vfSEC3Tbvr

— Browns Shoreditch (@LdnBrowns) January 3, 2020
Like most dancers who work in Sexual Entertainment Venues (SEVs), Nowak was expected to sign a 'contract' declaring herself a self-employed independent contractor, responsible for paying all her own tax and national insurance contributions. However, it quickly became clear that the club was in control of her shifts.
"I was told I couldn't just work weekends; if I wanted to work on a Friday and Saturday when there is good earning potential then I would have to come in on quieter weeknights as well – so in fact, I had to give them full-time availability if I wanted to get any work," Nowak explained.
Despite this red flag, Nowak's first year working at the venue passed without incident. "I was working a lot of hours, taking as many shifts as I could, even covering other people's shifts as well," she said. However, it was after she took a holiday in November 2018 that things took a turn. "I got in touch to book my shifts and was told I wasn't welcome back. Management kept telling me different things and passing me off to each other."
It was at this point that Nowak decided to contact her union. As a founding member of the sex workers' trade union USW, she was already involved in union activism at the time and well aware of her rights at work.
As soon as Nowak made the union aware of her situation, a legal process began which ultimately culminated in an employment tribunal case. To determine whether she had a case, Nowak met with her branch organiser Shiri Shalmy and a lawyer from Southwark law centre, which offers legal casework for union members.
Achieving worker status for strippers would not have been possible without the months of dedicated work by the incredible legal team at @southwarklawcen and the support of our brilliant barrister Sarah Keogh. Thank you!

— United Sex Workers (@unitedswers) March 9, 2020
"In order to establish whether a dancer is a worker we have to prove the level of control the club has over them," explained Shalmy. "We look at the way members work, how shifts are booked, whether a dancer is free to conduct themselves on their own terms." For example, if dancers truly are independent contractors they should have the freedom to set their own rates for performing; instead, it is club management that sets the prices.
As is the case in many SEVs, strippers are no sooner classified as self-employed before being given a list of rules to comply with. As a condition of working at Browns, Nowak was required to sign a 'code of conduct' document and a list of house rules – a common practise throughout the industry.
According to Shalmy, strip clubs use house rules to create an extremely controlling environment. Managers can dictate what a dancer can wear, whether they can use their phone in front of customers, or even when they can take toilet breaks.
Another important aspect of Nowak's case was looking at how she was paid. Significantly, dancers do not get paid by SEVs directly, but are instead expected to pay a 'house fee' for each shift they work. In Nowak's case, this meant paying Browns on a sliding scale, between £20-£90, depending on the night of the week. She then worked the crowd for tips, selling lap-dances and time in the VIP rooms – with Browns also keeping 25% of dancers' VIP earnings in 'commission fees'.
This financial structure has been standard practice across the industry in the UK since 2000, when lap-dancing clubs successfully commercialised the business model of charging dancers fees and commissions to work in their venues, misclassifying them as self-employed contractors, rather than employing them as waged workers.
You might have heard about worker status for strippers, but what does it actually mean and how will it make my life better? – – (thread) 1/10 pic.twitter.com/WE6GpIVabp

— United Sex Workers (@unitedswers) March 10, 2020
According to USW, there are almost no SEVs following employment law correctly; dancers are misclassified as self-employed, but then deprived of the liberty to work as often or as little as they want, on their own terms. Crucially, dancers are almost always forbidden from working elsewhere, for example at a rival club; another serious infraction of independent contractor status.
As is also the case with many SEVs, dancers may be fined for being late, missing shifts or acts of misconduct, such as chewing gum or wearing the wrong outfit (creating yet another stream of revenue for clubs).
"In almost all cases, dancers who contact our union are indeed workers," said Shalmy. "We have known this for a long time, but we needed someone like Sonia to come forward and prove it in court."
'Very often employers will end up settling before going to court.'
Confident that they had a case, the union wrote an initial letter to Browns on Nowak's behalf (as they would for workers in any other industry) to make them aware of her rights, offering them options to accept liability and respect her worker status.
According to Shalmy, escalating to court isn't so common with workplace grievances; most companies have standard disciplinary procedures for workers and managers to follow, and workers have the right to union support if they are warned or dismissed. Wherever there is union recognition within a workplace, the union can negotiate collectively on behalf of workers. None of this is the case in strip clubs, where managers discipline dancers on the spot with no accountability.
"Before bringing a legal claim there is a process of negotiation and conciliation between workers and bosses," she explained. "Very often employers will end up settling before going to court. A number of other cases put forward by the branch this year resulted in a total of around £100K in out-of-court settlements for members – amounts paid by bosses in order to avoid lengthy and expensive Tribunal cases and, mostly, facing the risk of being found to break the law by misclassifying their workers – and the liability that they will incur if they lose."
Browns, however, had no interest in negotiating, despite the fact that Nowak's legal team "were certain, based on everything we knew about the club and their business tactics, alongside what we know about employment law, that her case was solid," said Shalmy.
With the club unwilling to move on their position that their dancers were independent contractors, Nowak and her union reps escalated to a tribunal.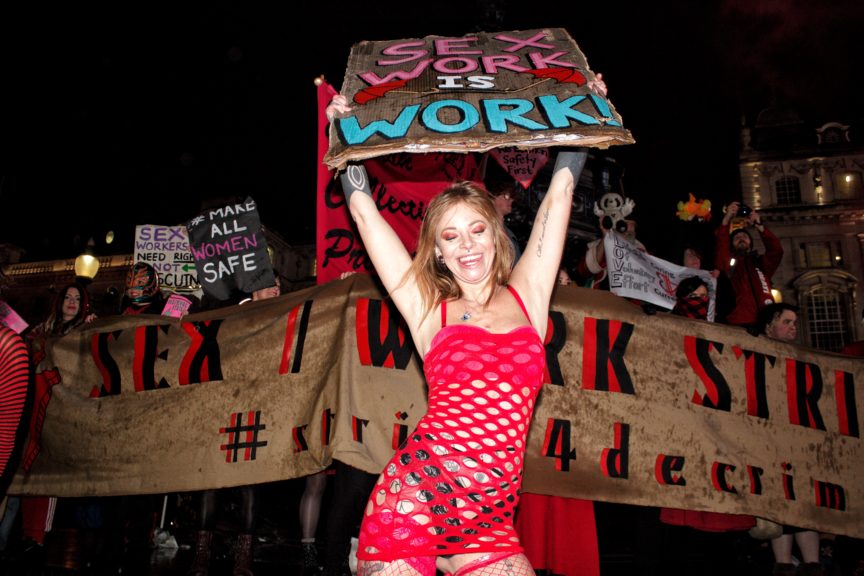 'It was a very stressful time for me.'
Nowak's case is the first of its kind since 2008, when lap dancer Nadine Quashie took the club Stringfellows to an employment tribunal claiming unfair dismissal. While Quashie's case was ultimately unsuccessful since it couldn't be shown that she met the criteria of employee, the key to Nowak's success was arguing for worker status – a crucial difference in terms of employment law.
Another important difference was that Nowak had union support from UVW. "UVW is a grassroots trade union," said Cormac Devlin, an employment tribunal caseworker within UVW's legal department. "We organise and support precariously employed and migrant workers, with particular focus on outsourced workers and those in traditionally under-unionised sectors, such as sex work, architecture, graphic design, and the legal sector."
According to Devlin, dancers have historically been left without legal remedy when they are subject to discrimination or harassment in the workplace, as well as losing out on their entitlement to basic labour rights like minimum wage and holiday pay.
It took the best part of a year before a court date was set, on account of Nowak's case focussing on worker status. Evidence needed to be gathered and submitted to support Nowak's claim and other dancers at the club were approached as witnesses, while Browns was also given the right to submit counter-evidence.
"It was a very stressful time for me, and I had to be extremely patient," she said. "We couldn't talk to anyone about the case, we couldn't go to the press or do any kind of public action to apply pressure to the club."
Nowak was also courageous enough to have a public trial, knowing that having her name on permanent public record would identify her as a sex worker for the rest of her life. Her decision to do so sped up the process, since requesting anonymity in court would require a pre-trial hearing to decide whether anonymity should be granted.
But according to Devlin, this is a choice Nowak never should have had to make. "The legal system is constructed in a way which discourages sex workers from bringing claims. We currently have a case heading to the employment appeal tribunal, which argues that the tribunals' reluctance to grant anonymity to individuals bringing employment claims is incompatible with article eight of the European Convention on Human Rights (the right to respect for private life).
"Many sex workers have good reasons for wanting the protection of anonymity in order to take action against their employers, as they may risk damaging their future career prospects or face hostility from family members if their engagement in sex work is made public." So far UVW has been successful in claiming anonymity for members of the sex workers branch through the courts.
'We want Sonia's victory to empower other dancers.'
When the judgement was finally found in Nowak's favour earlier this year, a wave of jubilation swept through the union.
"Sonia succeeded in persuading a judge that strippers are workers, and are therefore able to enforce their labour rights against exploitative bosses," said Devlin. "The recognition by the employment tribunal that stripping is work is an important step towards recognition that sex work, more generally, is work. We want Sonia's victory to empower other dancers to join the union movement and organise collectively."
Shalmy explained that while the case took a long time and was a stressful experience for Nowak, ultimately it was a huge success for workers in the industry and has broader significance in terms of its wider social impact. "Everything USW does is with the purpose that workers' rights are respected. We want there to be a provision for sex workers to defend their rights in the workplace."
WE DID IT. WE FUCKING WON! For almost two years as branch organiser for @unitedstripper, I've been helping sex workers to unionise and get ready to take bosses to court. We now proved that strippers are WORKERS. Super proud of the amazing members! Lots more to follow! https://t.co/E4bi8q7dKS

— Shiri Shalmy (@ShiriShalmy) March 6, 2020
Nowak's was just one of many live cases the union is still fighting on behalf of members of the sex worker branch. "Every time a member contacts the union about workplace violation we go through a standard questionnaire to establish if they qualify for worker status," said Shalmy. "Almost every time they pass this assessment, the vast majority of dancers in the UK have a legal case against their club."
USW is hoping that winning worker status for dancers will help change the way the industry is run, not only to improve working conditions in SEVs, but also to send out the message to bosses that the days of financially exploiting sex workers are over.
The strippers union's recent court victory proves that when we work together, WE WIN!
Want to improve pay and conditions at your club? Now is the time to join the union! https://t.co/ZNh1xxLTvv pic.twitter.com/HFV3fh3T3y

— United Sex Workers (@unitedswers) March 6, 2020
Most importantly, Nowak's case is one of the latest developments in a long-term global movement for sex workers' rights, making it clear for sex workers in the UK that there is a trade union willing to fight their corner – and win.
Stacey Clare is a stripper, writer, theatre performer, member of United Sex Workers and co-founding member of East London Strippers Collective. 
This article is the third instalment in How We Won, a series which celebrates the victories of grassroots campaigns across the country.
Part one is here: The Customers Who Saved Their Local Market
Part two is here: The Activists and Lawyers Who Stopped Asylum Seekers Being Evicted in Glasgow