Ulster Unionism is in Crisis – And the Fallout Could Soon Get Worse
"For working-class unionists, their entire world is crumbling around them." 
12 April 2021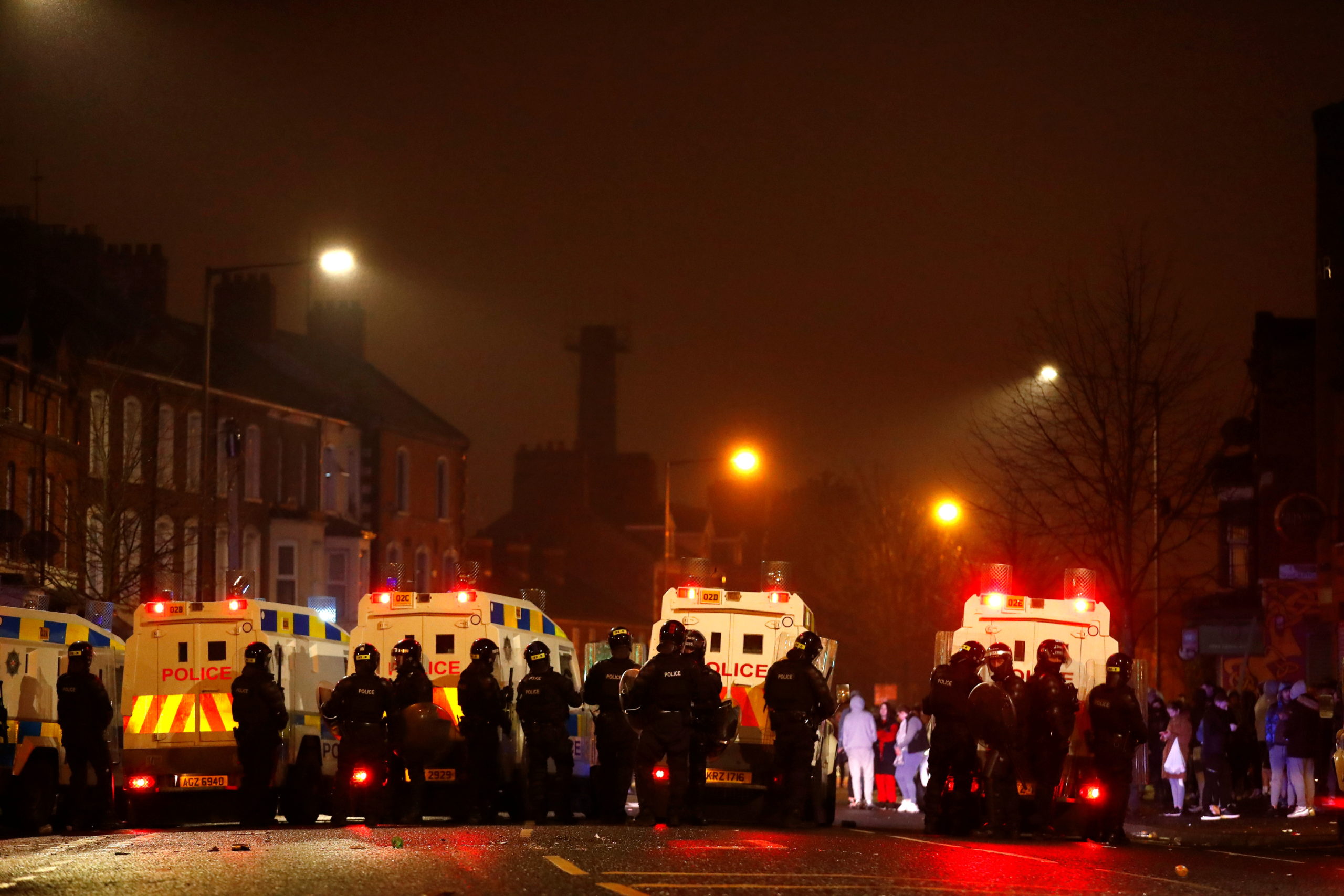 Police officers during a riot at Lanark Way, Belfast, April 2021. Jason Cairnduff/Reuters
The centenary of Irish partition had once been an awaited psychological milestone for Ulster unionists. But after years of political neglect and a growing detachment from its base, the new big-house unionism is beginning to show signs of disintegration, with its political leaders having lost control of events amid the loyalist riots of the past ten days.
The nightly disturbances that began as small-scale confrontations and clashes with police have led to arrests of dozens of participants, some as young as 13. On Wednesday, the clashes reached a head as a West Belfast 'peace line' (of which there are still around 80 in NI) was attacked and hundreds of demonstrators began to face off.
Emergency talks were held last week, with the ongoing violence overshadowing the 23rd anniversary of the Belfast Agreement – which formally brought an end to the 30-year-long conflict known as The Troubles that claimed 3,500 lives. Further police confrontations broke out at the weekend in Coleraine, along with reported attempts by the paramilitary Ulster Volunteer Force to drive Catholic families out of a Carrickfergus housing estate.
A ratcheting up of sectarian tensions has raised the prospect of further unrest during the summer marching season, as orange lodges and associated groups gear up to mark the hundredth-year anniversary. But far from consolidating the legitimacy of the partition-state, or demonstrating the community-specific muscle of past mobilisations, the recent fallout instead reflects a moment of profound crisis for unionism at a broader turning point in NI's history.
Sidelined loyalism.
Rather than a single, exact cause having sparked the unrest, a confluence of factors has been behind the spilling over of tensions into the street-level clashes of the past ten days.
One trigger for the disturbances was the Public Prosecution Service's decision not to bring charges against anyone (including deputy first minister Michelle O'Neill) involved with last year's funeral for IRA commander Bobby Storey. Another key element, simmering over a number of months, has been a growing sense of frustration at new post-Brexit arrangements – with the NI Protocol dividing the six counties from Great Britain through a customs border in the Irish Sea, bringing considerable disruption to trade in the early months of 2021.
Just last month, loyalist paramilitary groups withdrew their support for the Belfast Agreement in protest at the newly-activated border, warning of "permanent destruction" to the 1998 peace deal if changes were not made to the Protocol. Rather than acting as a specific wedge itself, the arrangements – like the wider Brexit process – have fuelled a general sense of unease over perceived loss of security that has filtered down among loyalist communities.
"As a structure of feeling, they can see their world is shrinking," University of Ulster lecturer, Stephen Baker, told Novara Media of the shared sense of grievance driving the unrest.
"The industry that provided them with work – and also status – has gone, they have lost their majority in the unionist citadel of Belfast and, by the time of the flag protests, they couldn't even fly the flag over city hall," he added, in reference to the months-long demonstrations that gripped NI during late 2012 and 2013 after a decision to limit the days the Union Jack could be raised. "In many ways for working-class unionists, their entire world is crumbling around them."
Where Next for Northern Ireland Following the End of the Unionist Majority? | https://t.co/Gdo6W5s30p pic.twitter.com/Vcr4O3WCAT

— Novara Media (@novaramedia) March 5, 2017
As Progressive Unionist Party leader Billy Hutchinson put it, the resulting sentiment voiced by loyalist communities is overwhelmingly one of decline and deepening social dislocation. "These areas have been [badly] neglected," he said. "They feel they haven't seen the benefits of the Peace Process."
Working-class loyalist communities like the Shankill and Woodvale, which bore the brunt of the conflict, are among the most deprived in the UK. Moreover, young Protestant Unionist Loyalist (PUL) males – who made up the majority of last week's rioters – hold the lowest educational attainment levels in NI, along with young males from Irish traveller backgrounds.
"As far as they can see, they haven't made any advances," said veteran civil rights leader Eamonn McCann of the stagnation associated with the past two decades. "What's more, they can see the Catholic community advancing all the time, and the links between NI and Britain being frayed."
Compounded by a decade of austerity, and frustrations over delays in addressing legacy issues, concerns have been voiced that paramilitary groups are increasingly seeking to capitalise on this yawning social crisis. Indeed, it has been suggested that such actors have been using the freshly-raised tensions as cover for criminal operations, and even orchestrating some of the events at a number of last week's flashpoints.
A political vacuum.
There is also a wider crisis of governance in NI, however. Just weeks prior to the outbreak of Covid-19, the NI Assembly finally resumed service after a record shutdown period of more than three years. Poor pandemic management has thus far failed to restore public confidence in the governing institutions, with NI having experienced some of the highest Covid infection rates in the UK and Ireland – bringing with it prolonged restrictions.
But more than just an uneasy return to 'business as usual' at Stormont, the riots also reflect long-running dissatisfaction with the ruling Democratic Unionist Party (DUP) and signs of fragmentation within parliamentary unionism's hegemonic force.
Polling in February had pointed to a significant loss of the DUP's core support, seeing a portion of its vote go to hardline rival the True Unionist Voice, and in turn prompting Arlene Foster's party to respond with increasingly incendiary ethno-nationalist rhetoric in an attempt to appeal to its base. Leading DUP figure Sammy Wilson has since, for instance, refused to backtrack on comments that unionists would wage "guerrilla warfare" against the NI Protocol – language that seemed to allude to 'kill the Protocol' graffiti that had been appearing in PUL areas in the early months of this year.
Faced with the prospect of Sinn Féin leading the next government in the southern state, and the impact its electoral surge has had on calls for a border poll among other parties, trade unionist and writer Seán Byers says the DUP's current attempts to stoke fears among voters around post-Brexit insecurity are symptomatic of a deeper crisis within a mainstream political unionism that is growing increasingly detached from its base.
In Ireland's snap general election, left-wing party Sinn Féin has made huge gains which have surpassed even its own expectations. Tommy Greene and Eoghan Gilmartin explore what this shock result could mean for Northern Ireland. https://t.co/IhGZOVM5Fq

— Novara Media (@novaramedia) February 9, 2020
Byers argues the party is slowly entering "campaign mode", and is likely to continue dialling up its language with the approach of upcoming Assembly elections and the published findings of the 2021 census, both due next year. The rhetoric also feeds into an overlapping reassertion of British sovereignty amid Brexit.
"One of the main problems for unionism for decades now is that it has been led by a lumpen-bourgeoisie," Baker says. "This is a group that doesn't represent the class interests of many of its voters.
"In the 1990s, figures like David Ervine were able to come to the fore partially in response to a certain moment where unionism could be equated with some form of social democracy and a vision for [a] 'modern Britain'. But that era is over and, since then, no leader has emerged to address those concerns for unionists or loyalists."
This widening disconnect has been compounded by a series of strategic miscalculations at Westminster and at home – leading to both the Protocol and the prolonged Stormont shutdown – as well as externally by an increasing lack of interest from London over the past two decades.
According to Baker, this gap will continue to widen and deepen the sense of marginalisation held among loyalist communities, so long as there is a lack of institutional structures in place to articulate the material interests of loyalist communities. "The grievances in working-class loyalist areas are real, their fears that their world is shrinking and crumbling around them are real," he said.
"But there's no politics there to articulate a vision around this. And unless there's someone to speak to some of these issues, frankly, it's just going to get worse."
Tommy Greene is a freelance journalist and translator.