Cummings' Inquiry Hearing Was a Chance for Centrists To Do What They Do Best: Rehabilitate Rightwingers
A few mea culpas later and all is forgiven and forgotten.
1 June 2021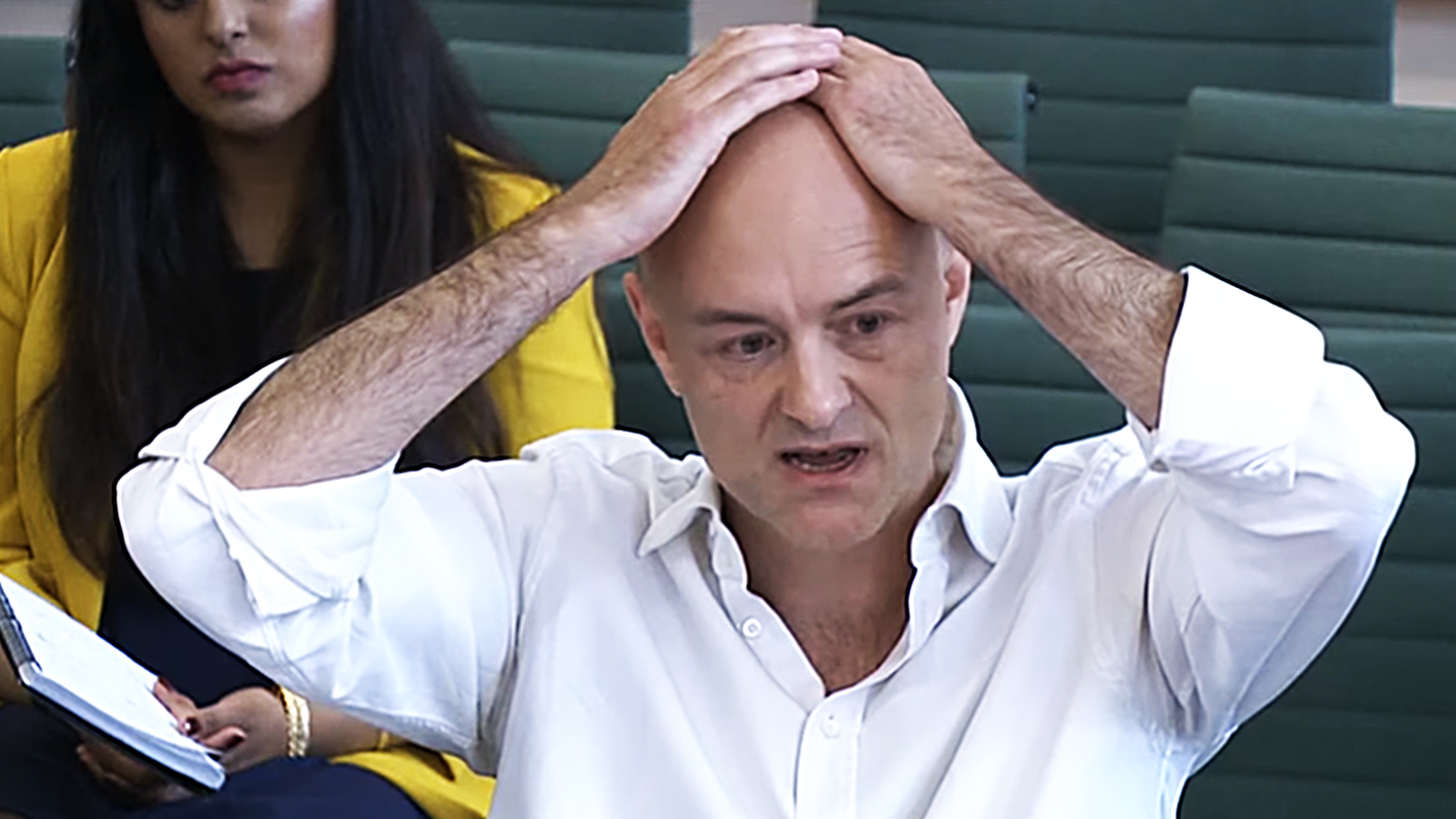 For many years, the political illiteracy of the centre has dictated that "the enemy of my enemy is my friend". In the wake of his parliamentary hearing looking into the government's handling of the pandemic, it appears Dominic Cummings, Boris Johnson's former right-hand man, is taking advantage of this.
In a testimony in front of a parliamentary select committee, the former top Tory advisor launched an incendiary attack on his former allies, throwing the prime minister and health secretary Matt Hancock under the bus for everything from their failed 'herd immunity' plan to the spread of Covid-19 in UK care homes.
Despite Cummings' nefarious track record, many commentators have deferred to his version of events. Indeed, some have even gone as far as to portray the man they once saw as public enemy number one as a well-meaning but powerless whistleblower, speaking out against ministers more concerned with hitting targets than protecting human life.
It's a narrative carefully staged by Cummings and parroted by the media. But it omits key players like Rishi Sunak, at least partly responsible for the UK's enormous death toll, presumably to preserve Cummings' career prospects in Number 10 should Johnson step down before 2024.
The media's deference to Cummings isn't surprising. It's part of a well-worn pattern of coverage that unquestioningly portrays him on his own terms: as a political maverick thumbing his nose at the elite, and – crucially – as not a Tory, despite his position as a dyed-in-the-wool reactionary at the heart of Conservative government.
What's even more revealing though is that the country's liberal commentariat needed a seven-hour testimony to tell them what those on the left already knew: the Tories are callous, incompetent and lacking in regard for human life. 
Where does this political naivety come from? Why are liberals so desperate to see the players at the heart of government as heroes and villains in the throes of their own prestige drama? It's a problem that goes to the heart of the liberal worldview, and one that has disastrous consequences for those who want to shift focus from Tory psychodramas to the structural factors which enabled the Conservatives to "get away with social murder".
Case in point: those listening to James O'Brien's LBC radio show in the wake of Cummings' testimony may have heard a moving segment in which O'Brien comforted the father of a Covid-19 victim who died during the pandemic.
While O'Brien sensitively – and rightly – declined to question the father's view that despite his reservations about Johnson's former advisor, Cummings was "telling the truth as I saw it", the radio host's uncritical view of Cummings' testimony led him to wholeheartedly accept the former senior political advisor's version of events by only now condemning Matt Hancock, a minister so embroiled in scandal that he once farmed out NHS test tube contracts to a mate with no previous experience of producing medical supplies. 
But ultimately, the question of who is most to blame for the Covid-19 fiascos outlined in Cummings' testimony is irrelevant. With a government so inured to scandal and seemingly impervious to ministerial ethics, it's unlikely Hancock will resign. And with Cummings already on the outside pissing in, there isn't much to gain by apportioning blame to one specific head of the beast. It only serves to make the government as a whole seem less monstrous.
What's clear, though, is that the government is unified in a single purpose: prioritising the economic status quo over human life – whatever the cost. 
This injustice is the result of a system that's working, not a side-effect of a broken one. For liberals like O'Brien, the only way structural issues can be packaged in an appealing way is when they're embodied by a villain like Cummings or taken head-on by a champion of their cause – someone well-meaning but politically unaligned like Marcus Rashford. And anyone but Jeremy Corbyn.
O'Brien is a smart person – or at least, he has the veneer of intelligence. But by praising the integrity of arch-neoliberals and Thatcherites like John Major and, Tony Blair for simply picking one side of the Brexit culture war over another, he reveals how easy it is for the right to dupe the centre. And it's made even easier when liberal commentators spend their time jealously guarding their left-flank while totally ignoring their right. 
Now, in 2021, while opining on Keir Starmer's lack of a policy platform on Owen Jones' podcast, O'Brien called for the Labour leader to outline his vision for the country, dismissing Jones' suggestion that Corbyn's transformative agenda may have fit the bill by equating the former Labour leader with Johnson, describing both as "absolutely awful". He made no attempt to re-evaluate Corbyn's ideas in light of Starmer's lack of vision.
James O'Brien said "I don't know who is more dangerous – the Far Right, or the 'Hard Left'". Referring to racists & Corbyn supporters.

He's trying to create a moral equivalency between fascists & democratic socialists!

He's becoming an utterly delusional 'centrist' self-parody

— Another Angry Voice (@Angry_Voice) August 1, 2018
That said, O'Brien is far from the only example of this hypocrisy in the UK, but as someone who champions left-of-centre politics while working against the only movement capable of delivering a left-of-centre government, he is emblematic of the wider problem.
Painting political actors in such broad brushstrokes means that centrists are unable to reckon with the reality that there are no heroes or villains in politics. There are only systems, those who reinforce them and those who won't. Wrestling with this idea would force them to confront the fact that the people who are willing to oppose these systems are those for whom the system does not work.
Failure by the liberal press to understand the distinction between political players genuinely opposed to injustice, and those charading as anti-establishment while reinforcing the status quo, puts any meaningful social change in jeopardy by ceding the centre of politics ever further right.
It's embarrassing that Cummings' redemption arc – after presiding over one of the worst Covid-19 death tolls in the world – may hinge on a few cutting jibes thrown at Hancock and batting his eyelids in Starmer's direction. 
Jamie Medwell is a media officer, writer and journalist.