Leftists Are Panicking About Unite's General Secretary Election. Should They Be?
After all, we've run against each other in the past.
21 June 2021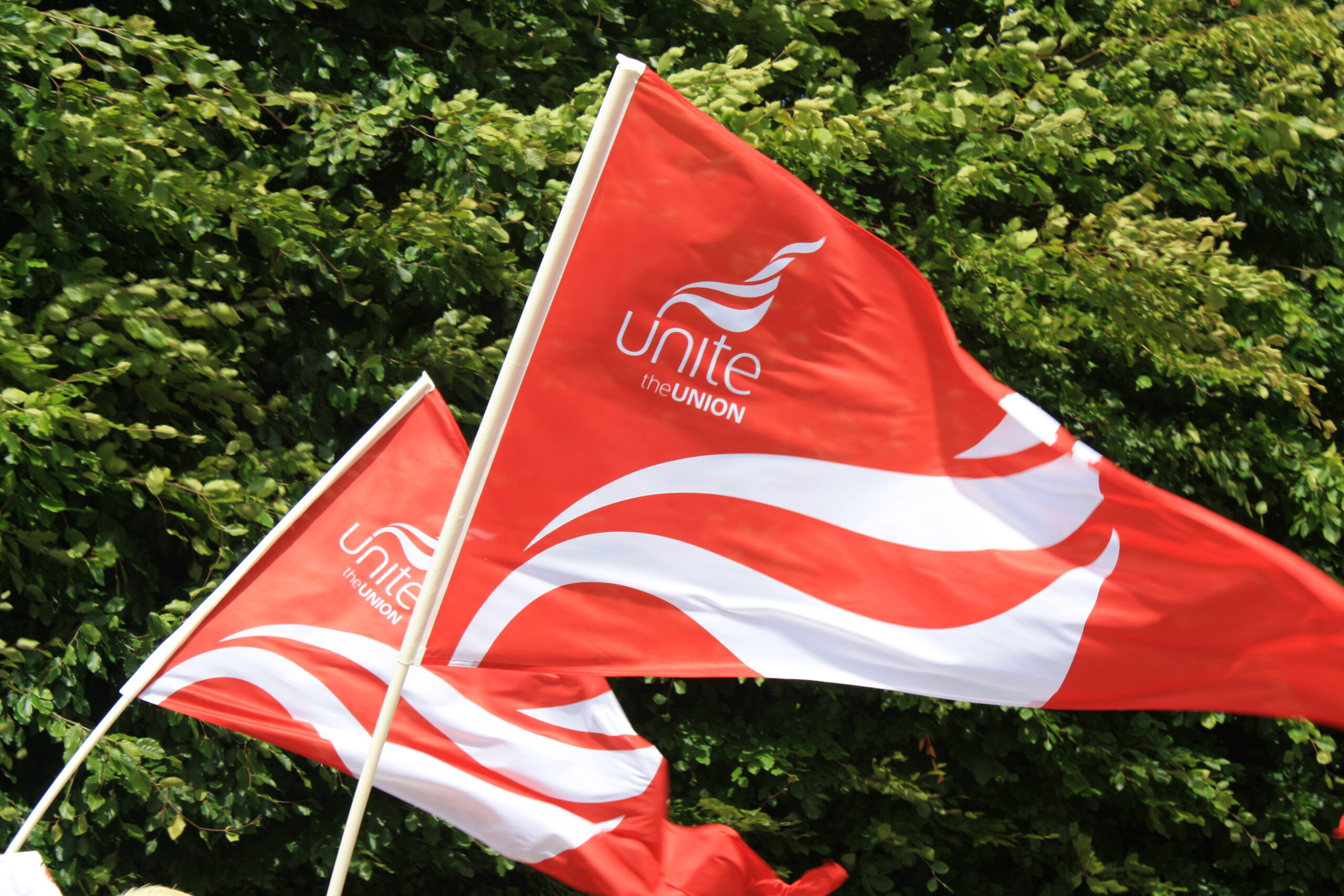 Andrew Skudder/Flickr
Turnout at the upcoming election for Unite's next general secretary is expected to be low (in 2017, just 130,000 members voted out of an eligible 1 million). Yet two weeks before the polls open, emotions are already running high. Of the three candidates, two (Steve Turner and Sharon Graham) are leftists. The third – Gerard Coyne, who lost narrowly to incumbent Len McCluskey in 2017 – is a pro-Starmer centrist backed by key figures on the Labour right.
One might expect Britain's left to be cheered by their overrepresentation in the contest to lead Britain's biggest trade union. Instead, panic over vote-splitting has set in. Is it justified?
Key to answering this question is the fact that Unite's general secretary election is conducted using the first-past-the-post system, the same used to elect MPs to parliament. Under this system, whoever gets the most votes will win – meaning that even if Turner and Graham win a majority between them, Coyne would still win if he gets the most votes of any individual candidate. This not only could happen – it has, multiple times.
Of the four general secretary elections held since Unite was formed, three saw the winner receive less than 50% of the vote. In 2010, for instance, Derek Simpson received just 38% of the vote but still won.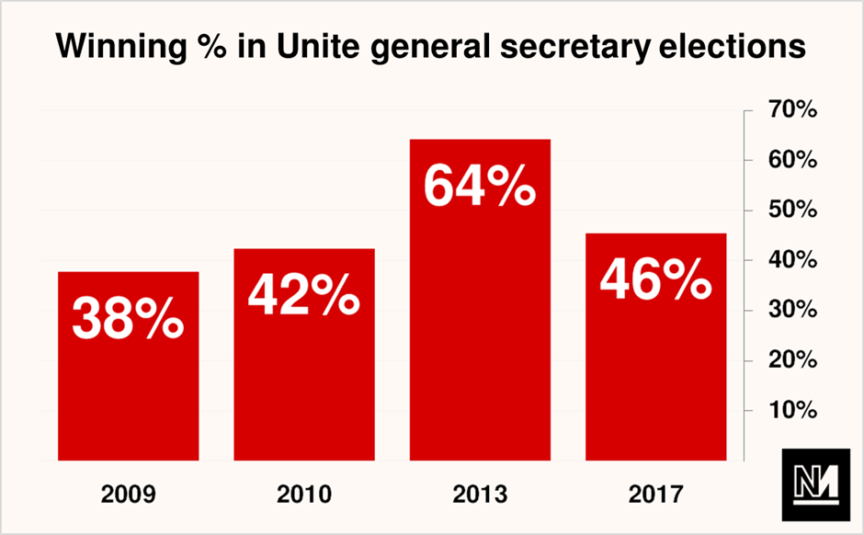 Still, leftwing candidates have run against each other in the past without resulting in a defeat for the left: in 2017, McCluskey ran against Ian Allinson and still beat Coyne, albeit by only 4 points (45% to 41%). Had Allinson performed even slightly better at McCluskey's expense, however, Coyne would have been elected despite six in 10 voting members backing a leftist. The only reason Allinson didn't get more votes was that the left rallied hard behind McCluskey, the incumbent – and still, Allinson won 13% of the vote.
The 2017 result also suggested that of the Unite members who vote in internal elections, only around 59% are supportive of leftwing candidates – a majority, but not a massive one.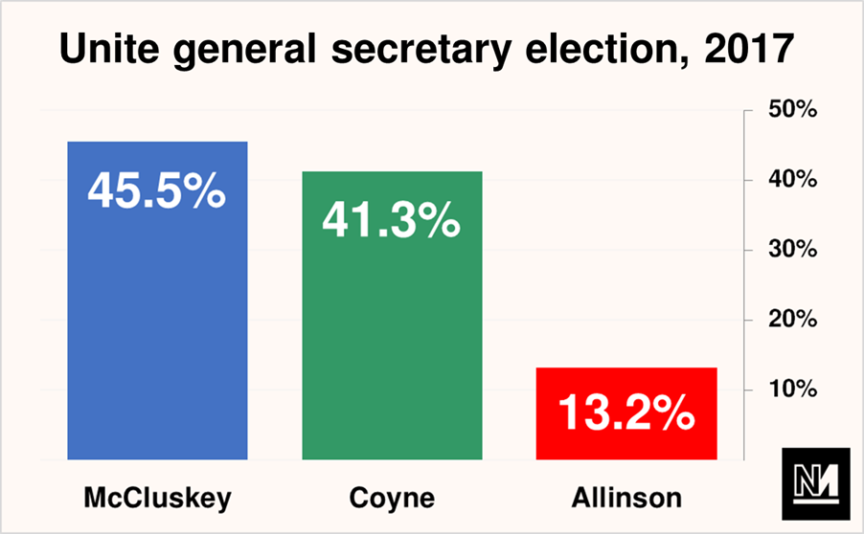 In 2021, Unite's leftwing contingent of Unite is more evenly split. While McCluskey received 1,185 nominations to Allinson's 76, Turner received 525 nominations to Graham's 349 (the now-withdrawn Howard Beckett received 328, and Coyne 189). Turner and Graham can't afford to be eating into each other's votes, in other words.
Does the election matter for Labour?
Consternation about the upcoming election has been particularly acute on the Labour left. Owen Jones argued recently that if Coyne wins "any vaguely leftish opinion [within Labour] will be crushed". These are strong words – is it a fair assessment?
To understand why many on the Labour left are panicking about the prospects of a Coyne victory, we need to understand how trade unions influence the operation of the Labour party. Since the 1918 Labour constitution was drafted, affiliated trade unions have had a decisive say over the policy and direction of the party – and at the moment, Unite has the biggest say of all.
In Labour, members hold 50% of the votes at party conference, where Labour's policies and direction are decided. The other half are held by affiliated trade unions. As these trade union votes are allocated in proportion to the number of members each has, Unite has 13% of the total votes at Labour party conference. The union also has 5% of seats on the Labour's National Executive Committee (NEC), which governs the party's day-to-day affairs and oversees key matters like interpreting the constitution and overseeing selection processes.
Overall, leftwing unions control 18% of votes at the party conference, whilst pro-Starmer unions – such as Unison, GMB, the Union of Shop, Distributive and Allied Workers (USDAW) and the Transport Salaried Staffs' Association (TSSA) – control 32% of the votes. This means that if leftwing unions and just over 50% of party members vote together, they can block Starmer from passing things through conference.
Starmer's position is stronger on the NEC, but not much. By my estimate, around 24 members of the NEC are pro-Starmer (60%), 14 are on the left (35%) and two are associated with the soft left Open Labour faction (5%).
If Unite swings to the right, two things will happen. First, Starmer will be just one seat short of a supermajority (66%) on the NEC, allowing him to implement many changes to Labour's rules with relative ease. Second, the Labour leader will be able to rely on 90% of the trade union votes (ie 44.9% of total votes) at party conference, meaning he'd need the backing of just 11% of party members (5.5% of total votes) to pass his agenda.
In short, Unite's influence within Labour is so huge that the loss of it would prove a serious setback for the party left, leaving Starmer with virtually carte blanche and the left with little ability to challenge him. No wonder the Labour left is panicking.
So who should the candidate be?
Graham and Turner remain convinced it's them. Graham describes herself as "the workplace candidate" challenging what she calls the "Westminster Brigade". Her supporters have also pointed out that she is the only woman standing, and would be Unite's first female general secretary. Supporters of Turner, meanwhile, argue that he has the most branch nominations and won the nomination of United Left, the union's largest left faction.
Both candidates should do as Beckett has, and turn their attention to defeating Coyne, who remains a serious threat. Beckett's recent withdrawal from the contest leaves the nominations as follows: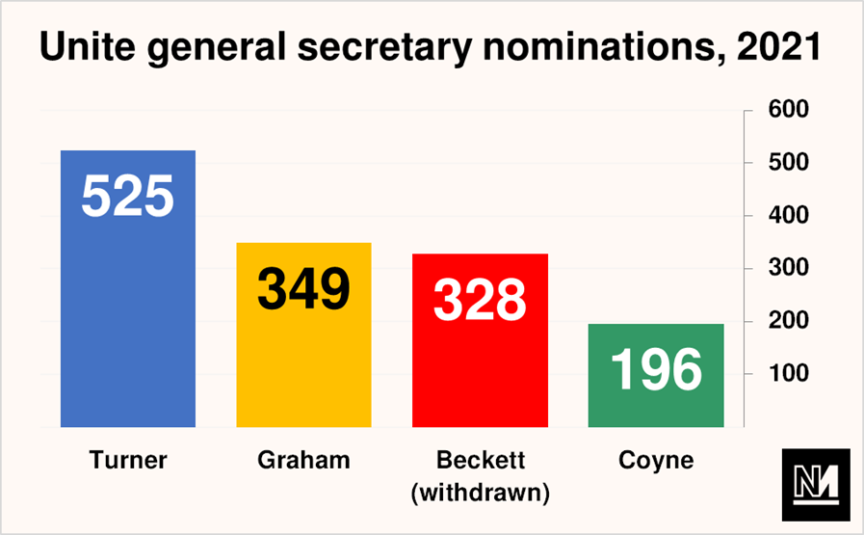 Given that Coyne is last, one might think that the left can relax. But previous results show us that the actual elections are a far tighter run thing than nominations suggest. In 2017, McCluskey won 81% of nominations but outpolled Coyne by just 4 points, a tiny margin. If these nomination figures are reflected in actual votes, Coyne will beat a divided left.
Even with a relatively small NEC majority, Keir Starmer has already removed the left from almost all positions of influence within Labour. Retaining the leadership of Unite would give the left a chance to claw back some influence within the Labour movement broadly, and Labour specifically – and it would leave the door open to a left leader when Starmer leaves office; former Corbyn spokesperson Matt Zarb-Cousin said in 2018 that without the unions neither Momentum nor Corbyn's leadership would have gotten off the ground. But if the left loses, its influence within Labour, indeed across the country, will be shattered for years, if not decades.