We Shouldn't Ban Police From Pride. We Should Abolish Them Altogether
Liberals say include, leftists say exclude, radicals say abolish.
25 June 2021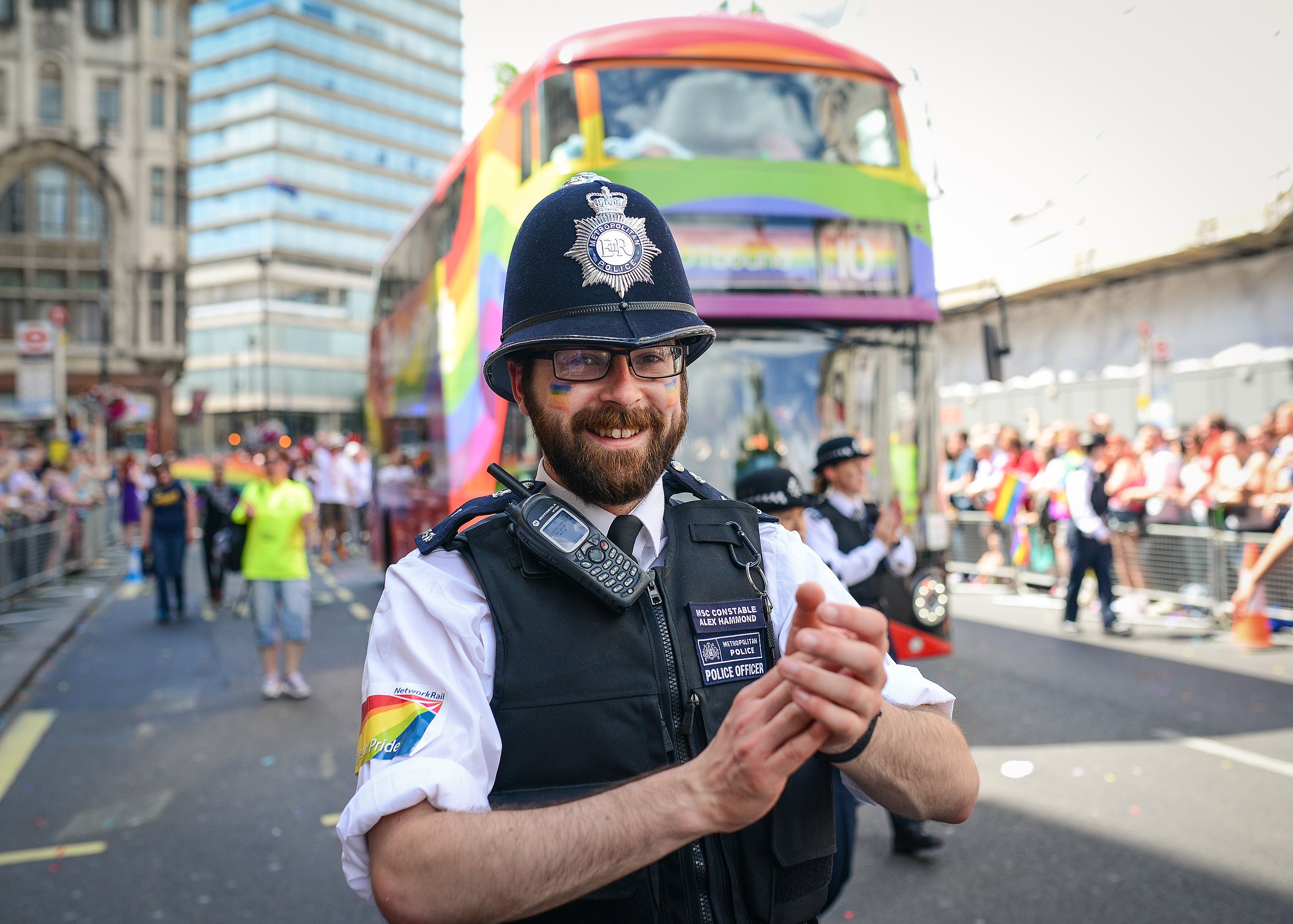 Adrian Snood/Flickr
In May, New York City Pride announced police officers would be banned at its events until 2025. Of course, the NYPD has a long and fraught history with the local queer community: the first pride march in June 1970 commemorated the one-year anniversary of the police's raid on The Stonewall Inn, and the uprising it ignited.
According to the organisers at NYC Pride, little has changed since then: "NYC Pride seeks to create safer spaces for the LGBTQIA+ and BIPOC communities at a time when violence against marginalized groups […] has continued to escalate," they said in a statement. "The sense of safety that law enforcement is meant to provide can instead be threatening, and at times dangerous, to those in our community who are most often targeted with excessive force and/or without reason."
Among the many laughable parts of the New York Times editorial bemoaning the barring of uniformed cops at Pride is their SHOCK at the idea that Pride might be political pic.twitter.com/oT3rNDxHJ0

— Mr LGBTQIACAB (@chieflybombast) May 19, 2021
Debates about police at Pride have been restarted by the Black Lives Matter protests that shook the world last summer, after the racist murder of George Floyd. Pride has always been a protest against police violence and these debates recognise that queerness exists beyond flattened depictions of rainbow-clad gayness. For some, their queer experience is characterised less by parties and poppers than by batons and brutality – something the events of last year pulled sharply into focus. Glitter-bombing the police normalises that violence, leaving queer people – particularly racialised queer people – perversely unsafe in a space created for their safety.
Despite receiving hundreds of letters calling on them to follow their NYC counterparts and ban the police, the organisers of Pride in London refused, saying:
We have concluded that, for now, it is better to work in an inclusive process with the MPS to bring the wider LGBT+ communities together, to raise, discuss, and address concerns and to work towards bringing about the institutional and systemic change that is required to ensure that policing in our great city is equitable.
This difference of approach reflects a point often made by antiracist activists in the UK: people recognise there is a fundamental problem at the heart of US policing, itself rooted in the legacy of slavery. However, they falsely believe issues in British policing are more superficial, and can be addressed through "an inclusive process" where police enthusiastically participate in their own reform. British policing was refined in the colonies and its tactics practiced largely against racialised outsiders and the poor. Its roots are just as nefarious as policing in the US.
Perhaps even before being a protest, Pride is an ideological battleground, on which conflicts between the main protagonists of gay liberation – the state, mainstream and grassroots – play out.
Police at London Pride not only allowed Terfs to hijack the front of the parade march, handing out flyers calling trans women rapists and harassing visibly trans attendees, but threatened to arrest trans people who told them to fuck off.

No cops at pride. https://t.co/v0H0Tjpuqs

— Laura Kate Dale (@LaurakBuzz) May 23, 2021
The state has always played a contradictory role in the lives of queer people. On the one hand, it is looked to legislatively to protect and improve life for the community, through things like gay marriage and hate crime legislation. On the other, the state is an engine of queer oppression: from the criminalisation of homosexuality until 1967 to the use of agent provocateurs to entrap gay men, inaction on the HIV epidemic to Thatcher's introduction of Section 28 and more recently, the police's institutional homophobia that enabled serial murderer Stephen Port to kill at least four, probably more, gay men, the illiberal state and its police enforcers have blood on their hands.
Yet this contradiction has created a situation in which some in the queer community see the police as central to fighting homophobia, while others – often those on the margins – know that queer liberation will require abolition.
The police have actively confounded this debate by attempting to engage directly with the queer community. This trend can be traced to the 1980s when, in response to Black uprisings in places like Tottenham and Handsworth, the police experimented with a new strategy of containing dissent: creating community liaison officers, improving diversity within forces, creating more channels for community accountability. As society's attitudes around sex and sexuality liberalised, the police also looked to Pride celebrations to soften their image. The UK's now-disbanded Gay Police Association pushed for a uniformed police presence at Pride on the basis that it would improve the force's public image, demonstrate its diversity and improve community relations. Now we have officers skanking at Notting Hill Carnival while their colleagues continue to mete out violence to the most marginalised, often racialised, queer folk.
The genius of the 'hearts and minds' approach to British policing is to normalise police violence and exceptionalise their victims. It's no surprise Cressida Dick went to such great lengths to protect the legitimacy of policing by having Pride keep police at their parade.
Might make my first appearance to Pride in London in years this September just to boo the police and leave

— Jason Okundaye (@jasebyjason) March 14, 2021
In the context of collapsing faith in the police and rising public consciousness of their oppressive role in society, Pride in London's decision feels anachronistic, like they went to sleep and woke up at a time where there was no McPherson report, no Black Lives Matter, no Kill the Bill. A time where the argument for police reform had some weight. In their statement, they describe wanting policing to be "equitable". Presumably deaths in custody are acceptable to them, then, so long as they are equitably distributed between white and Black people?
In assuming that a few influential liberal queers can create a more just policing system, the organisers of Pride in London fundamentally misunderstand the role of the police: to protect the elites from the collective power of the masses, the powerful from the powerless.
Really we should not be talking about whether there should be police at Pride, but whether there should be police at all. Expanding our call from "no police at Pride" to "no police anywhere" would move us beyond symbolism towards strategies for ensuring safety for queer people 365 days of the year; move us, that is, from a politic of representation to one of liberation, and a world where queer people can truly be safe.
Shanice McBean is an activist and writer.