With Labour Barely Holding Batley and Spen, Is It Time for Starmer to Quit?
The damage the Labour leader is doing to the party is undeniable.
2 July 2021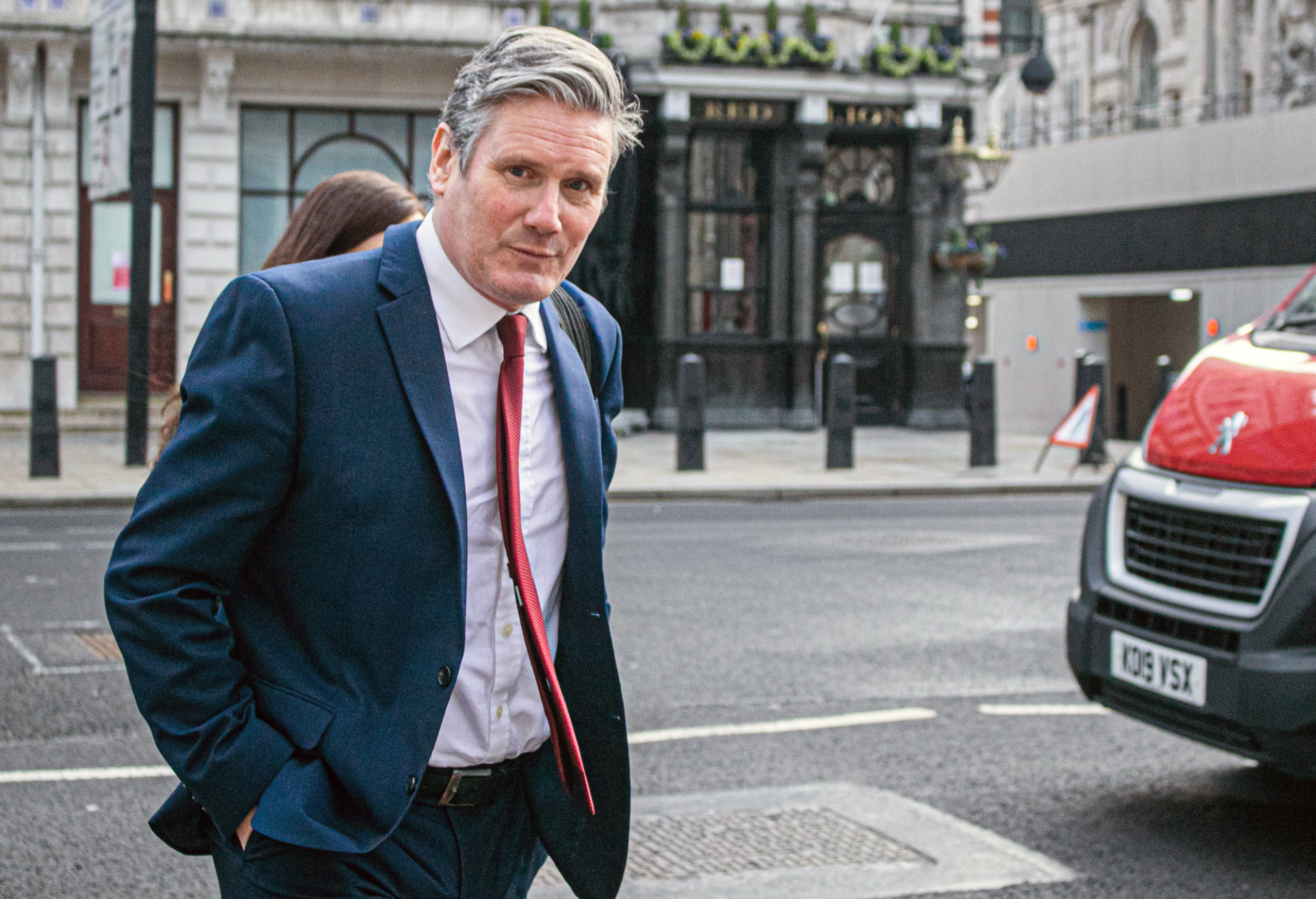 (Amer Ghazzal/Cover Images via Reuters Connect)
In June 2016, Keir Starmer, who was a shadow minister at the time, wrote a resignation letter to his party leader, Jeremy Corbyn. It was with regret, Starmer said, that he was resigning his position because he felt Labour would not be able to "offer an effective opposition" without a change in leader. He went on to support Owen Smith's leadership challenge. At the time, Labour was neck-and-neck with the Conservatives in the polls, had won the most votes in the local elections, and had won every parliamentary byelection up to that point by clear margins.
Five years later, Starmer is now head of the party, and the one facing questions around his leadership. But despite the fighting talk in his resignation letter, today Labour is in an even worse position than it was in June 2016. Under Starmer's leadership, the party is behind in the polls by double digits, has experienced a virtually unprecedented landslide defeat in the local elections, lost one Labour seat to the Conservative government in a byelection and barely held on to another.
All of this is deeply embarrassing for a man whose supporters pitched him as an electable, prime ministerial figure who would be 20pts ahead in the polls within mere weeks of his ascent to the leader's office. 
This 11pt Conservative lead is notably much, much larger than the Tories' lead in June 2016 (when Starmer backed a coup against Corbyn). At the time, the Tories were ahead by just 3pt and were on course to win just 311 seats in a general election, falling short of a majority. Today, polls suggest that they are set to win 357 seats – a landslide majority of 64 seats.
Labour's poor results are doubly embarrassing for Starmer given that, just eight months ago, the party was rising in the polls. By November 2020, Labour's poll average had risen to 39% (up 6pt compared to the 2019 election), putting it neck-and-neck with the Conservatives. Since January, however, the party has been declining in polls and is now averaging 34% – just one point higher than in 2019.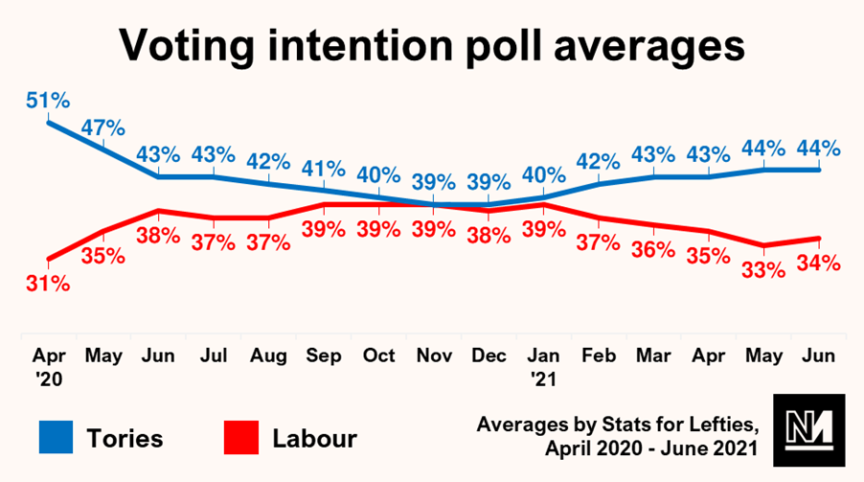 But it's not just Labour as a party that has collapsed in the polls: Starmer's personal ratings have declined as well. After rising to a notably high +19 in June 2020, his average net approval rating has fallen to -16.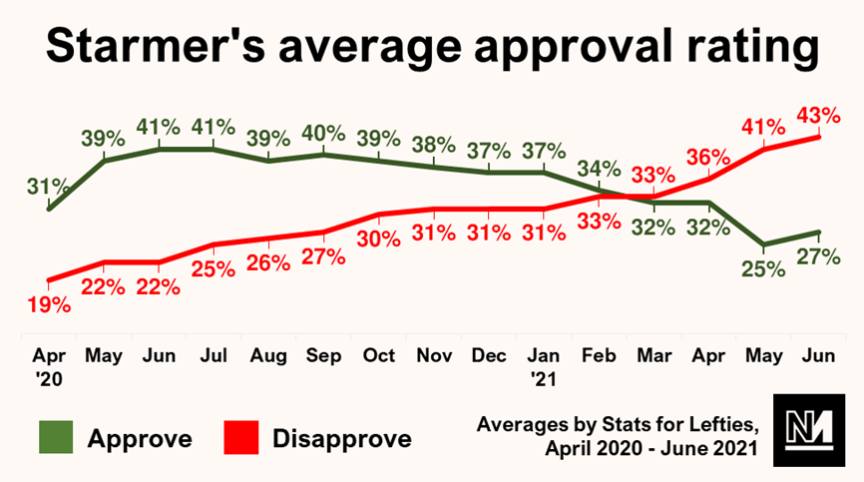 That said, the most important statistic is how his approval percentage compares to that of Boris Johnson. In late 2020, Starmer's approval rating was close to or surpassed that of Johnson. Now, however, he is behind by double digits, with 27% approving of the Labour leader and 42% approving of Johnson. This may go some way towards explaining why Labour has collapsed in the polls – Johnson is now much more popular than Starmer.
This is also reflected in 'best prime minister' polling, where Starmer has gone from being 1pt ahead in September to being 15pts behind in June. He is now further behind Johnson in best PM polling than Corbyn was in December 2019 (13pts).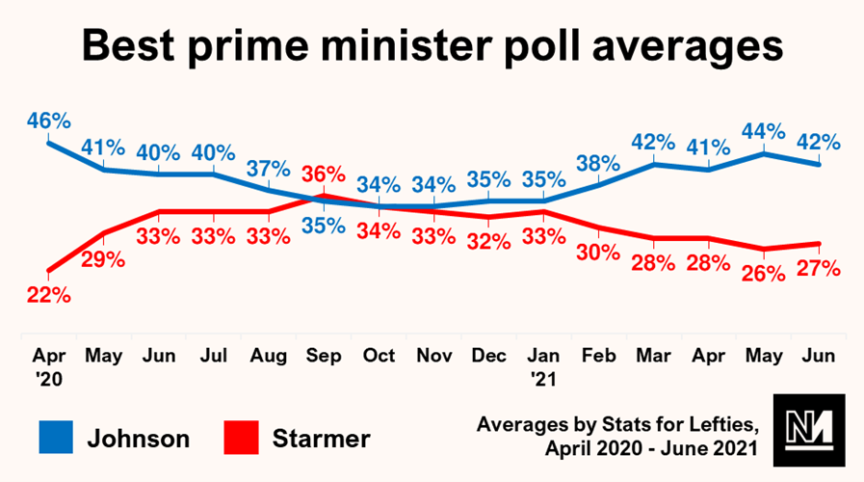 The huge collapse in Starmer's approval ratings has been driven by a catastrophic decline in his ratings amongst Labour voters. In June 2020, 66% of Labour voters approved of Starmer; in June 2021, less than half (45%) approved of him.
But Starmer's poll ratings and approval ratings, although disastrously low, are not unprecedented. Past leaders have been behind in the polls and had poor approval ratings, but still recovered (most notably Corbyn in 2017).
Starmer's election record thus far has not only been disastrous but also virtually without precedent. In the past two months, he has lost one long-time Labour seat to the Tory government in a byelection – Hartlepool – and nearly lost a second (Batley and Spen). Far from being on course for victory, he has instead narrowly avoided being the first opposition leader to lose two seats to the government since Arthur Balfour in the late 19th century.
Significantly, Starmer himself was a key factor in these results. Voters in both seats have a very poor opinion of the Labour Leader. In Hartlepool, Starmer's net favourability is -18, and he is 23pts behind Johnson in best PM polling. Meanwhile, in Batley and Spen, his net favourability is -32, and he is 37pts behind Johnson in best PM polling.
But byelection disappointments are not Starmer's only failure. The local elections, held in May, resulted in the worst defeat for a new opposition leader in at least 40 years. Starmer lost 327 seats in 2021 (7% of total seats), far worse than what Corbyn (-18) or Miliband (+857) achieved in their first local elections.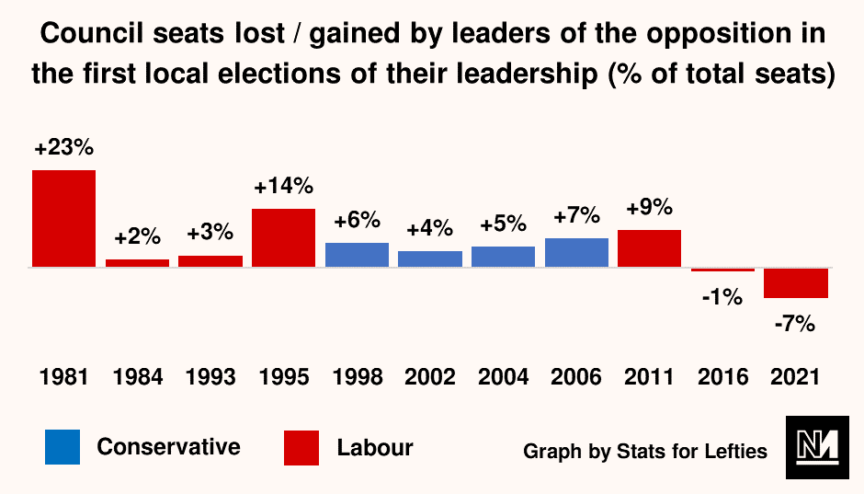 The scale of the defeat was stunning: Labour now has just 5,821 councillors across the UK, and a majority on just 85 councils – its lowest tally since 2011.
Long-time Labour strongholds were lost under Starmer's leadership, most prominently Durham council, which was led by Labour for over 100 years, until Starmer lost it in 2021. In Liverpool, Labour's vote share in the city mayoral election dropped by 14pts. In Harlow, where Labour has led the local council for 38 of the last 48 years, it was won by the Tories by a 23pt margin. Meanwhile, in the Police and Crime Commissioner (PCC) elections, Labour lost seven PCCs to the Conservatives, including Humberside, Cleveland and Lancashire.
Once again, Starmer was a key factor in this overwhelming defeat: a poll of local election voters showed he was the top reason for why people didn't vote Labour, whilst a poll of 'red wall' voters in March showed that 55% are unclear what he stands for.
Every metric, every result and every approval rating is telling us one thing: Keir Starmer is unelectable. As his leadership falters, his supporters are blaming everything and everyone other than the man they put in office. But the damage Starmer is doing to the party is undeniable. 
It is ultimately his poor decisions that have left Labour behind by double digits, it is his unpopularity that is dragging the party down in the polls, and it is his utterly uninspiring leadership that has left it in such a dismal state. It is now perfectly obvious that Starmer will never, ever be prime minister – and voters can see it. Not even Labour members think he will win the next election.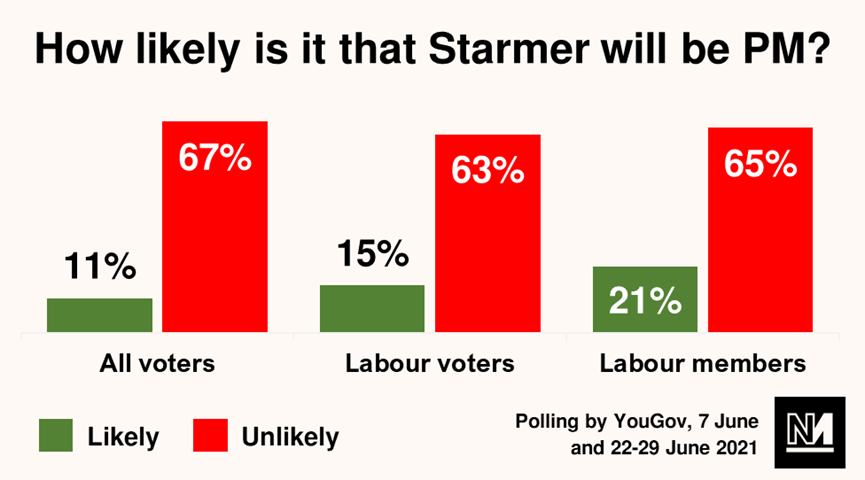 In the aftermath of a close byelection result that Labour should have easily won, and in the aftermath of the most disastrous local election results in at least 40 years, it is time for Starmer to let someone else take the lead. 
Ultimately, Keir Starmer must resign – because without a change in leader, Labour will not be able to offer an effective opposition.
Ell Folan is the founder of Stats for Lefties and a columnist for Novara Media.