Priti Patel Isn't Shipping Refugees to Rwanda Any Time Soon
But try telling that to the thousands of asylum seekers in immigration limbo.
by Nadia Hasan
6 July 2021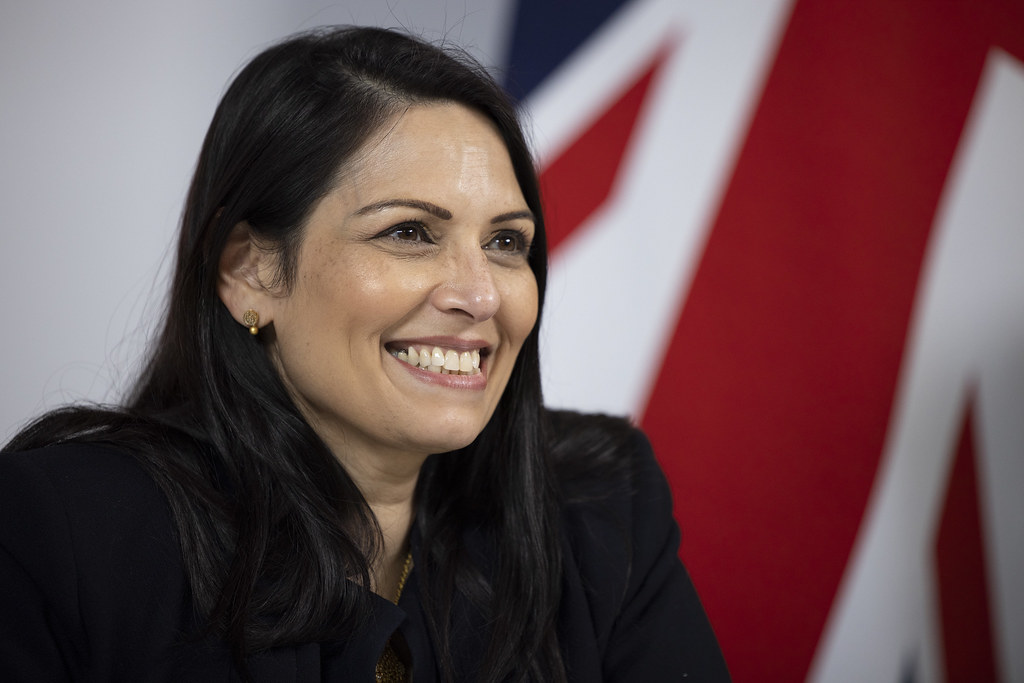 Simon Dawson / No 10 Downing Street
From wave machines on the Channel to asylum camps on abandoned oil rigs, Priti Patel has floated an increasingly absurd series of immigration proposals over the past year. Last week, the Home Secretary added another to the mix: offshore asylum processing in Rwanda.
Her plan – which takes inspiration from Australia, whose offshore asylum centres have been a human rights disaster, and a staggeringly expensive one at that – couldn't be implemented unilaterally, of course. Having just vetoed a similar deal with Denmark, the Rwandan government looks set to do the same to the UK. Yet the infeasibility of this particular proposal doesn't mean we can afford to ignore the grave effects of Priti Patel's post-Brexit border plans.
Simply no justification whatsoever based on the idea of "safe first country" to send people to Rwanda.

Makes a complete mockery of their own flawed logic.
That was well explained by a @UNHCRUK rep on #r4today just now – UN being unusually vocal in its criticism of Patel's plans.

— Zoe Gardner (@ZoeJardiniere) June 28, 2021
These plans are set out in the government's much-touted Nationality and Borders Bill, introduced in parliament yesterday. The bill, which the United Nations High Commissioner for Refugees (UNHCR) has warned "will undermine the 1951 [Refugee] Convention and international protection system, not just in the UK, but globally", centres on the premise that vulnerable people crossing the Channel are the reason our immigration system is failing. Following this false logic, the bill would drastically diminish refugees' and asylum seekers' rights, with the aim of deterring people from seeking safety in the UK in the first place.
If made law, the bill will create a two-tier system for refugees, based not on need but on means of arrival. In particular, the bill seeks to prevent people from entering the UK in "irregular" ways, such as via dinghy crossings and suggests that only refugees who arrive through extremely limited official resettlement schemes be granted full protection.
In so doing, the bill ignores the reality for refugees, many of whom have to flee without time to make applications. It also ignores the fact that most refugees will never have access to UK resettlement schemes: prior to 2020, when resettlement schemes temporarily closed due to the pandemic, around two-thirds of those granted asylum in the UK had not travelled here via resettlement schemes, which almost entirely exclude LGBT people, religious minorities and those fleeing political persecution.
Patel's plans will do nothing to prevent people from making dangerous journeys to the UK – quite the opposite. Recent history tells us this: over the past few years, as Channel security has tightened and refugee rights have been eviscerated, dinghy crossings have continued to increase.
Patel's plans will also lead to suffering and neglect on UK soil. Indeed, they already are: new rules introduced this January and set to be cemented in the bill mean that if you're a refugee who has passed through a "safe country", the government will now automatically seek to return you there. In May, the Independent reported that over 1,500 asylum seekers were being considered for removal under the new rules. Yet since no returns deals with third countries yet exist, and countries like France have already ruled out asylum deals with Britain, it's unlikely any of these people will end up being removed.
That fact, however, will do little to alleviate the terror of people like Sami, a 19-year-old who fled Syria after being targeted for conscription. His two sisters live in the UK, and the only way he could reach them was via the Channel. After a risky crossing, Sami has now been told the government plans to remove him to France, Austria or Belgium, countries he passed through on his journey here. While it's unlikely any of these countries will accept Sami, and he has a strong claim to asylum in the UK, his life is now on hold – he must wait at least six months for the Home Office to even begin assessing his case. The Refugee Council has estimated that the new rules could create 21,600 more people like Sami each year, who must wait in limbo for months, likely years for the Home Office to decide their fate.
Given the almighty mess Priti Patel and Home Office civil servants made of housing refugees in barracks in the UK, it seems likely it would be a far worse mess, and in gross breach of human rights law, if they try it in Rwanda.

— Colin Yeo (@ColinYeo1) June 28, 2021
In its making its border system ever more punitive, the UK is increasingly out of step with the rest of the world. In February, the Irish government announced plans to reform its asylum system, after years of criticism from civil society. Here in the UK, a similar consensus is developing. Last month, the High Court ruled that asylum seekers were being unlawfully detained at the site Napier Barracks, which the Chief Inspector of Prisons described as "filthy and unfit for habitation". Meanwhile, the hundreds of Glaswegians who occupied Kenmure Street in May were not only protecting their neighbours – they were sending a message to the Home Office that they do not want to live in communities run on fear and division. With her new bill, Priti Patel is steamrolling ahead with an immigration system that nobody wants, and from which nobody benefits.
Nadia Hasan works for the Joint Council for the Welfare of Immigrants.