The Government's New Disability Strategy Proves It Doesn't Give a Shit About Disabled People
More cuts. More misery.
6 August 2021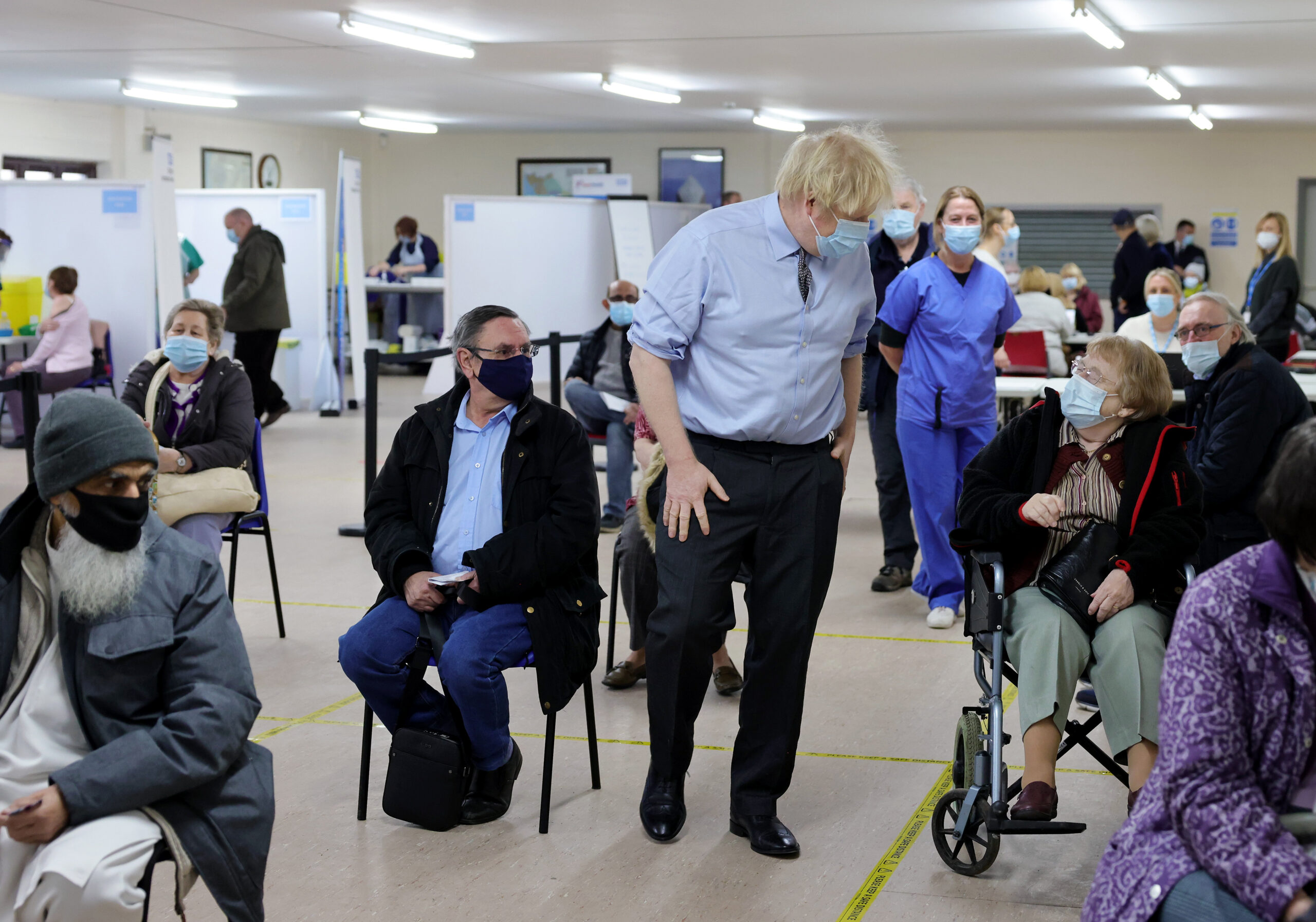 (Number 10/Flickr)
The government's newly published National Disability Strategy (NDS) is little more than a distraction from its more significant plans to cut social security and further immiserate disabled people. The Department for Work and Pensions' (DWP) Shaping Future Support: the health and disability green paper, released a week before the NDS, confirmed that it has no intention of easing up on its attempts to push disabled people off benefits. It is likely that the DWP planned to publish the NDS first but was prevented from doing so by an ongoing legal challenge brought by disability rights campaigners.
Four disabled claimants were granted permission to bring their judicial review challenge to the consultation on the NDS by the High Court on 22 July. They were granted this on the grounds that the strategy consultation was rushed, relying on a poorly designed survey that gave no opportunity for disabled people to describe the biggest barriers they face. One particular question directed at non-disabled respondents caused deep offence in asking whether they would "be happy to have a physical relationship with a non-disabled person".
"It is something about us, without us… where is the action?"

The government's £1.6bn national disability strategy has been criticised by campaigners like Paralympic wheelchair racer Anne Wafula Strike who is disappointed by the lack of consultation. pic.twitter.com/xcyG7cTAoe

— Channel 4 News (@Channel4News) July 29, 2021
Doug Paulley, one of the claimants, condemned the strategy, arguing that it failed to take disabled people's perspectives into account. "The secretary of state's approach to consulting disabled people, on a national strategy which aims to 'transform' the lives of disabled people, is immensely disrespectful," he said. "Disabled people are best placed to say what changes would improve their own lives. This survey has not given disabled people any meaningful opportunity to do so, and therefore any strategy developed from the survey will be imposed on disabled people without their voices being heard."
It is also difficult to see how the strategy recommendations will lead to any tangible improvements in disabled people's lives. Far from bringing about any meaningful change, recommendations such as appointing "more business leaders to promote accessibility in their sectors" will only see more mostly non-disabled people awarded empty job titles. 
Beyond this, the two issues most conspicuously absent from the strategy are the two that arguably mean most to disabled people in Britain: benefits and social care support. 
Disability inequality has only gotten worse over the past decade, with the Equality and Human Rights Commission (EHRC) warning in 2018 that disabled people are in danger of becoming "trapped in disadvantage". Indeed, the EHRC's cumulative assessment of tax and welfare changes from 2010 – 2021 found that greater levels of disability within a household directly led to greater financial losses – with disabled single parents with at least one disabled child losing, on average, almost £10,000 per year. 
These kinds of damaging outcomes, far from being accidental, are the result of deliberate Tory policy-making. Indeed, the current government's agenda is no different to those of its predecessors in seeking to reduce public spending while privatising public services. In this context, it is unrealistic to expect that the strategy would meaningfully address the key determinants of disability inequality. The coronavirus pandemic may have interrupted the tightening of eligibility for state benefits, but for the government, this is only a temporary setback – as evidenced by the ending of the £20 universal credit uplift at the end of September. 
Despite widespread recognition of the huge, negative impact of ten years of austerity on disabled people's lives, this is not mentioned in the 121-page strategy.https://t.co/OGURtnzKLb
Via @johnpringdns #NationalDisabilityStrategy

— BRIL (@BrilLiving) July 30, 2021
In this way, the NDS appears to be designed to distract from the legislative and policy changes that will significantly negatively impact disabled people's lives, including those outlined in the DWP's green paper, which ominously calls for "bigger changes to the benefit system" (read: more cuts) to make it "more affordable in the future", along with reductions in the number of disabled people found "unfit for work". 
What's more, the NDS also directs attention away from the widely condemned health and care bill that is currently making its way through parliament. Far from addressing the capacity issues in the health and social care sector that led to disabled people making up 60% of all Covid-related deaths, the new bill will make it even easier to privatise and cut services. 
People are fighting back against the Corporate Takeover Bill ✊✊✊ #ScrapNHSBill pic.twitter.com/hftDMLByJB

— We Own It (@We_OwnIt) July 22, 2021
And the picture is more worrying still if you consider the current proposals for 'reforming' judicial review, which will limit the extent to which government policy-making can be challenged in the High Court. Described by the human rights organisation Liberty as an attempt by the government to "put itself above the law", such changes would threaten to remove the only recourse to effective justice open to disabled people in fighting the government's barrage of attacks over the past decade – even as limited as the legal system is. 
Such a future is a world away from claims made this week by the minister for disabled people, Justin Tomlinson, who praised the NDS as a "down payment" on "building back better and fairer, for all our disabled people". 
Add to this the possibility of peer and former social worker Molly Meacher's private bill to legalise assisted suicide succeeding – disabled activists argue the change in law would be a threat to a threat to disabled people's lives, independence and peace of mind" – and it becomes clear that the government's full-blown war on disabled people is only just getting started.
Ellen Clifford is a disabled activist and author of The War on Disabled People: Capitalism, Welfare and the Making of a Human Catastrophe published by Zed Books.