We Can't Dismantle Capitalism Without Antiracist Solidarity
Cross-community organising is key.
9 August 2021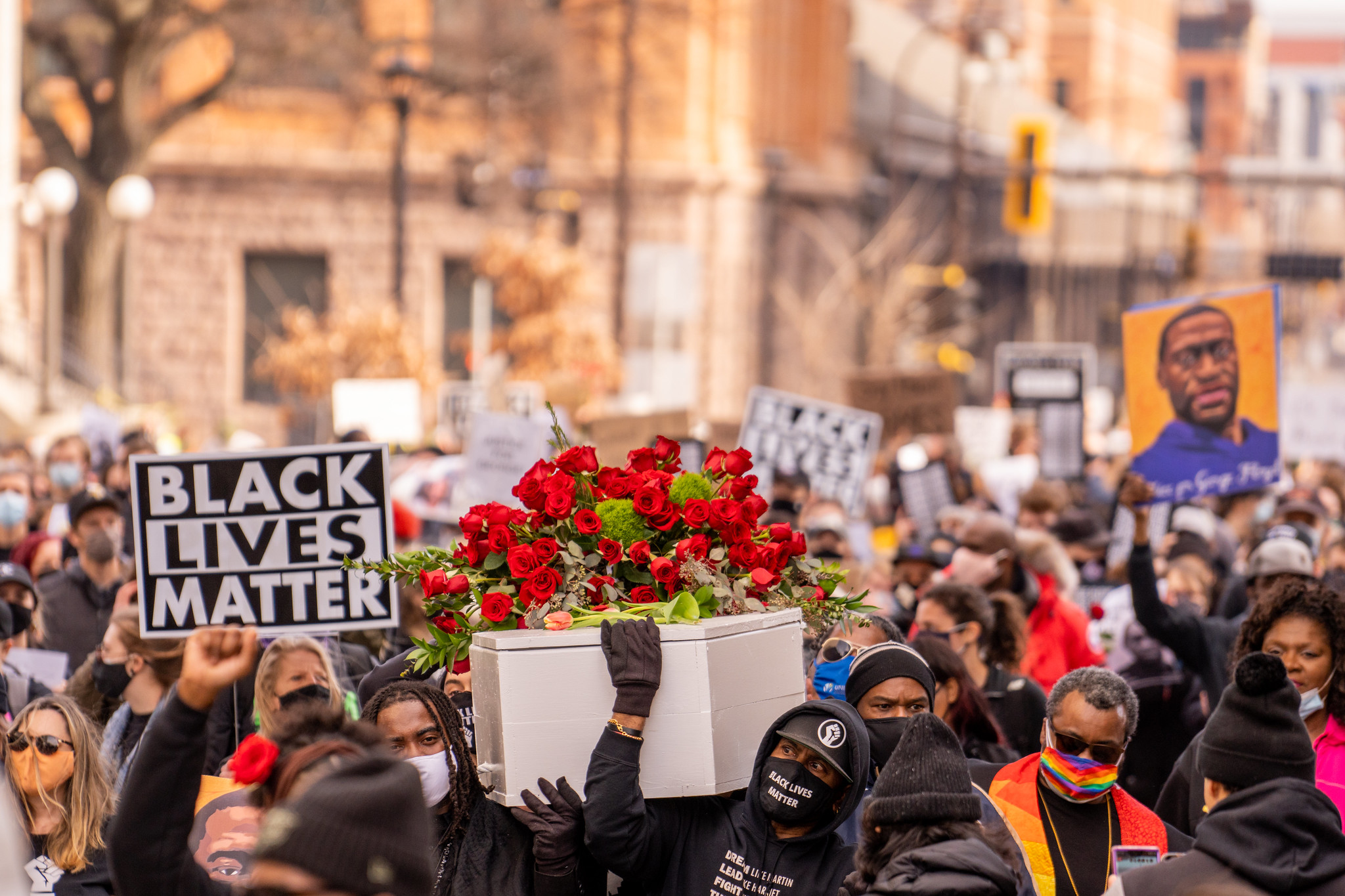 Chad Davis/Flickr
I grew up identifying as politically Black. My folks were born in India and Burma, in the dying days of empire, and felt a kinship with colonised and occupied people across the world, from Ireland to Palestine to South Africa, so this ethos shaped my worldview. They made the UK their home years before another Tory prime minister with a sizeable majority told a TV news reporter she feared "this country might be rather swamped by people with a different culture" and who pledged to make the UK "hostile to those coming in".  
My dad was a lecturer and a trade unionist, my mum a social worker, both from India via what is now Bangladesh. They saw no distinction between the racist abuse they experienced and that experienced by their colleagues who originated from Pakistan or the Caribbean. In their eyes, they were all being exploited under the same unjust system. 
If you look at photos of iconic acts of resistance from that era – protests against the violent racism that led to the murder of Altab Ali, the police brutality faced by visitors to the Mangrove, or the picket lines in support of the strikers at Grunwick – you'll see the working class in all its diversity. 
The British Black Power and Bangladeshi Youth Movements, along with the Black sections of the Labour party and trade unions were borne out of the power of grassroots organising, with activists from different racialised communities coming together to recognise and fight interlocking systems of oppression (race, class, gender, etc). 
Fragmented solidarity.
Fast forward to the present day and that spirit of solidarity has been eroded considerably. Racialised communities have become divided "horizontally by ethnicity, vertically by class", as Arun Kundnani from the Institute of Race Relations aptly puts it. 
This fragmentation has served to obscure the systemic nature of racism, making it harder to build vital networks of solidarity. In this way, the very real and existential threat that the antiracist movement poses to capitalism has been neutered, with the struggle reduced to debates about interpersonal dynamics and representation politics. 
The Tories have used this breakdown to their advantage. Look at how we focus on the irony of Priti Patel's ethnicity, as she gleefully oversees an immigration system of performative brutality, rather than spotlighting the systemic relationship between capitalism and state racism. 
Despite this, there is still, of course, some important activism being done. The legacy of the British Black Panthers and the Bangladeshi Youth Movements can be seen today in the impressive work of Black Lives Matter UK and the Kill the Bill coalition, who continue to uphold an ethos of cross-community organising – an ethos we must build on to create an effective movement against structural racism.
So far the left has failed to create a bridge between this growing grassroots movement and the establishment left.
Far from advancing the conversation around antiracism, the Labour party has dragged it backwards. Sure, Keir Starmer and Angela Rayner might take the knee for photoshoots, but it hardly means much when, under Starmer's leadership, the party has reneged on its position of self-determination for Kashmiri people, has abstained to vote on the Covert Human Intelligences Sources Bill, which will remove any chance for victims of British state violence and imperialism to seek justice, and, during the Forde Inquiry, was reluctant to examine institutional racism within the party bureaucracy itself.  
Thanks for doing that 20 minutes of unconscious bias training @Keir_Starmer, but perhaps the measure of your commitment to antiracism might be in opposing the deportation of Windrush descendants and people who have lived in the UK since childhood?

— Ash Sarkar (@AyoCaesar) December 1, 2020
An opportunity for change.
With the biggest socialist membership in Britain, Momentum is in a unique position to help change this, connecting our huge supporter base with the wider, ongoing, antiracist movement. In the face of an increasingly hard-right, authoritarian, racist government, along with a disappointing capitulation from the new Labour leadership, it is crucial we acknowledge that antiracism is at the heart of our work as socialists. 
The launch event for our new racial justice programme in July brought together a range of organisations doing incredible work on the frontlines in defence of migrant rights – the Joint Council for the Welfare of Immigrants, Black Activists Rising Against Cuts, Migrants Organise and Akwaaba to name a few. 
Launching: Momentum's Racial Justice Programme

Join us for a first event on migrants' rights and how we can organise to resist the hostile enviroment

Register: https://t.co/Ie7QzA2fNh

Ft. @FreeOsimeBrown/@libertyhq/@JCWI_UK/@BARACUK/@migrantsorg/@AkwaabaHackney ✊🏾 pic.twitter.com/HLHAkzNr85

— Momentum 🌹 (@PeoplesMomentum) July 12, 2021
Led by Black, Asian and ethnic minority activists, the programme will hold sessions on migrant rights, climate justice, workplace organising, criminal justice and surveillance, war, occupation, empire and its legacy. 
The first session provided a model for how the rest of the programme will be run, with organisations and campaign groups coming together to amplify their work and politically educate our membership. The programme will be rooted in grassroots activism, linking up our members with these groups, as well as encouraging people to reflect on the history of racial justice both in the UK and internationally, along with the theory that underpins this organising.
Embracing antiracism.
It is crucial the left acknowledges that anti-racism is an integral part of the anti-capitalist and anti-colonial struggle – not merely on an 'identity' level, but as a fundamental part of campaigning against climate collapse, poverty, workplace precarity, the border regime and against neoliberalism more broadly. Understanding how racism denigrates all working class communities, both here and abroad, is crucial to cohering and uniting our movement.
Divided, we face hostility and precarity. Together, we have the power to improve the material conditions of our own lives and tackle the enormous challenges we face on a societal level – from capitalism to climate collapse to Covid-19.
This starts with creating a space that allows us to reflect on our collective power and to plan how to resist these systems of oppression. It is imperative we return to an ethos of cross-community solidarity and organising. In our difference, but also in our shared struggle, we rise.
Sonali Bhattacharyya is a playwright, screenwriter and activist, and National Secretary and London Regional Rep on Momentum's National Coordinating Group.