I Have Mixed Feelings About South London's New Tube Stations
Behind the shiny development is a tale of corporate greed and the Conservative councillors who sated it.
21 September 2021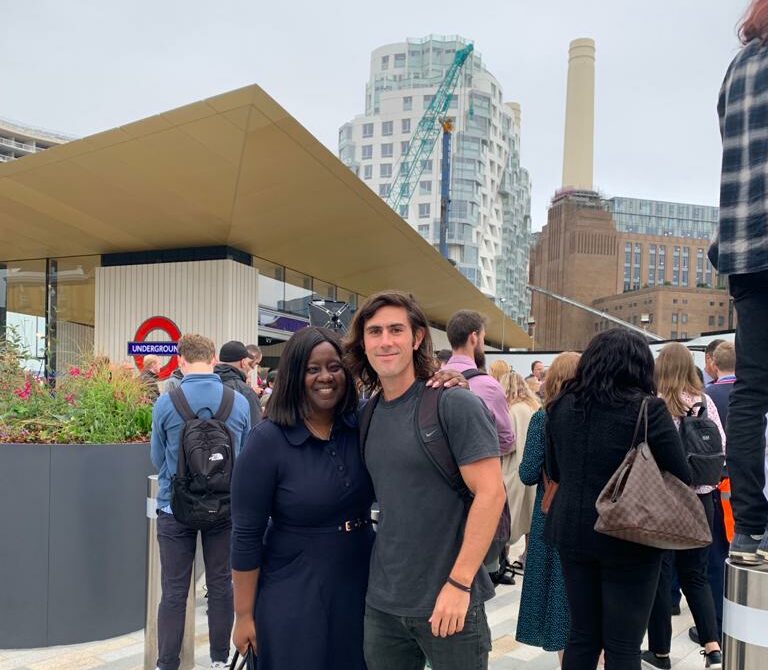 Aydin Dikerdem (right) and MP for Battersea Marsha de Cordova in front of the Nine Elms underground station, opened on Monday. (Aydin Dikerdem)
Yesterday, two new Northern Line stations were opened at Battersea Power Station and Nine Elms. Over half a decade in the making, it's the first extension to the Northern line since Clapham Common to Morden was unveiled in 1926. As someone born and raised in Battersea, there's something exciting about making it onto the Tube map; no more jokes about travelling to south London, for a start. But while I'm pleased with these two new Tube destinations, I can't uncritically celebrate how we arrived at them.
Today the Northern Line extension opens in Nine Elms. Increased public transport is always a good thing, and as someone born and raised in Battersea there is something exciting about finally making it onto the Tube map. But… (there's always a but isn't there) pic.twitter.com/gZ2kPVkPeM

— Aydin Dikerdem (@AydinDikerdem) September 20, 2021
Remarkably, press coverage of the Tube development has directed not even a cursory glance at the tensions involved in its inception – so allow me.
To understand what's happened in Nine Elms, you first have to understand the triumvirate of a Conservative Wandsworth Council, a Conservative-led coalition in government and a Conservative Mayor of London (a certain Boris Johnson). In the period following the 2008 financial crash, the newly-elected Johnson administration was keen to support the Wandsworth Conservatives in their plans to regenerate Battersea Power Station and surrounding Nine Elms area, which was then a mixture of industrial land and brownfield. The Battersea Power Station developers, an Irish property company called Treasury Holdings, had gone bust despite attempts by the local Conservative to keep the company afloat by valuing the land at pre-crash levels – distorting the site's viability for social housing in the years to come – and the fear that new developers would get cold feet was a major concern.
Investors in both the power station and Nine Elms developments were concerned about transport; the closest Tube station was Vauxhall, a 15-minute walk away. The developers argued that the lack of a Tube would make the area – Zone 2 riverside land – undesirable. It's hard to say whether the politicians believed them – but regardless, they were desperate to make it work. This was true nationally as it was locally. In the post-crash landscape, the Conservatives were slashing regulation on private developments and enshrining into law minimum profits developers could make, in part by redefining "affordable housing" – no longer 50% of market rate, but up to 80%. The Conservative-led Wandsworth Council would bend over backwards to ensure developers' needs were met – and in the end, they devised a deal.
The deal the council devised between 2010 and 2012 was that the Section 106 receipts from developers in Nine Elms – ostensibly a tax by local authorities on private developments to produce things like affordable housing – would instead be used to part-fund the new Tube extension. To do this, the normal requirement for affordable housing was reduced from 33-44% to 15%. In total £266.4m in Section 106 money would end up going towards the new Tube line. Conservatives celebrated this as the market taking the lead in public infrastructure. The developers were delighted too: they were spending millions that they would normally be forced to put towards affordable housing – great for the community, but of no benefit to them – on a piece of infrastructure that would exponentially increase their profits.
You can rationalise Wandsworth Counservatives' decision in one of two ways. At worst, they prioritised private luxury over public good. At best, they were simply duped into thinking developers would not want a slice of Nine Elms during an era in which London house prices expanded at historic rates. Neither paint the council in a flattering light. In effect, Wandsworth taxpayers have paid £226m for an asset over which, unlike council housing, they have no direct public ownership, and which will not generate revenue for the council. A site that would have produced thousands of social rent homes will produce record low affordable housing in the middle of a housing crisis. TfL will take home the Tube fares, and the thousands of homeless families in the borough will remain so.
All this was happening precisely at the time George Osborne was planning to cut his way out of the recession with austerity. A publicly-funded infrastructure scheme on the Tube, when interest rates were almost 0%, was exactly the kind of Keynesian stimulus that the post-crash era needed. The council also had used Section 106, not the Community Infrastructure Levy (CIL), another tax explicitly designed to support infrastructure, not housing, around a development. This has meant in the years following the Nine Elms deal, Wandsworth council has brought in millions in CIL receipts that it can't even spend on social housing. Even when it became clear the London housing market was raging and developers did not need incentives, the Wandsworth Conservatives had tied their own hands by capping affordable housing in the regeneration area at 15%. At the Battersea Power Station site, the flagship development whose PR team ran the opening ceremony for the eponymous Tube station, the local council permitted developers to reduce affordable housing from 15% to 9% – and even that will not actually be on the famous site, but half a mile away on an old industrial plot by the train tracks. In fact, almost all the social housing in the Nine Elms scheme is along the train lines, conveniently acting as a sound barrier for the market buildings behind.
On the whole, I'm glad we have the Tube, but I can't decouple it from the Conservative vision and now reality of what Nine Elms has become. Better governance could have produced a far greater social good; instead, greed has produced a scheme that will deepen the city's housing crisis.
Aydin Dikerdem is a Labour councillor for Queenstown ward, where Nine Elms is located. He is the Speaker for housing and regeneration for Wandsworth Labour group.