We Must Stop Comparing Sabina Nessa's Murder With Sarah Everard's
The politics of representation is getting us nowhere except into Twitter arguments.
23 September 2021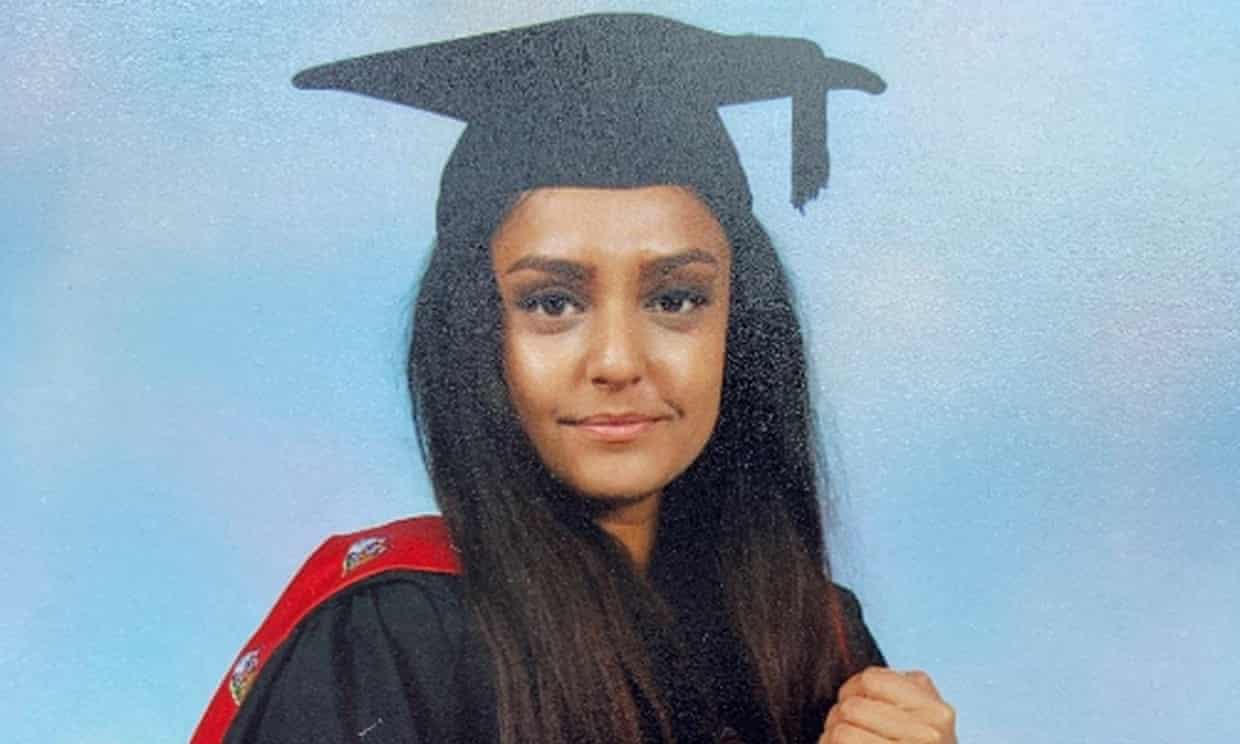 This week reports emerged that Sabina Nessa, a 28-year-old primary school teacher, is thought to have been murdered on her way home in south London on Saturday. The delayed and inadequate media attention has reignited conversations around why some murders receive more attention than others. The response to Sarah Everard's murder is being deployed as a case study in white privilege, with many questioning why there were no similarly high-profile vigils held for murdered sisters Nicole Smallman and Bibaa Henry or Blessing Olusegun.
What seems to be lost in all this is why the Sarah Everard vigil was held in the first place, and why it was subsequently plastered all over the newspapers. The answer to both is not Everard's white privilege, but police sexism and violence.
🧵People asking why a vigil was held for Sarah Everard and not Sabina Nessa. Incidentally a vigil has been called, but it's worth understanding why the Everard vigil was so prominent. @ReclaimTS called the vigil in defiance of police telling women to stay indoors at night.

— Aviah Sarah Day (@Aviah_Sarah_Day) September 22, 2021
Whilst race certainly accounted for a large part of the media attention given to Everard's case, the vigil was not called because of her whiteness. Women were angry that police had advised them to stay indoors at night while the person responsible for Everard's disappearance was still at large. Reclaim These Streets formed to call a nighttime vigil as a show of resistance against would-be attackers, including the police. The advice of Lambeth Police after Everard's murder echoed that of West Yorkshire Police during the Yorkshire Ripper years, when investigators displaced the responsibility for risk-management onto women who were advised to curfew themselves. Reclaim These Streets was founded in the tradition of the Reclaim the Night movement that sprung up in cities all over the UK in the 1970s in defiance of police recommendations. Now as then, woman are asserting their right to work and socialise at night – to full participation in public life.
Had the Everard vigil been called outside of lockdown, it may have gone ahead like most protests: unremarked. However, after the Black Lives Matter protests of summer 2020, Priti Patel ensured that protest was conveniently left off the list of reasonable excuses to gather during lockdown. Reclaim These Streets sought permission from the police to hold the vigil, which was denied, even after a hearing at the High Court.
With Reclaim These Streets abandoning the vigil, Black women from Sisters Uncut stepped up to lead the 1,000 women who descended on Clapham Common in defiance of the police. By this point, serving Metropolitan Police officer Wayne Couzens had been arrested for Everard's murder; he has since admitted responsibility for her death. The repeated attempts by police to prevent the vigil, alongside the news that it was one of their own who had been arrested, stirred the anger amongst those at the vigil. Dousing the flames further, the police violently cracked down on the vigil, beating and arresting a number of women. Media coverage of the police brutality created a political crisis for the Metropolitan Police, igniting the Kill the Bill movement against the police powers proposed in the Police, Crime, Sentencing and Courts Bill.
Some critics have argued that the vigil and subsequent media circus wasn't really about Sarah Everard. In a sense they are right – it was much bigger than Sarah. What played out was a power struggle between a group of women and a police force intent on shutting us up. Explanations that reduce this important political moment to whiteness fail to capture the systemic issues at play, ultimately letting the state off the hook and robbing the movement of its agency.
Others continue to maintain that the only real difference in Everard's case was her white privilege. Leaving aside the fact that Everard's grandmother was a Jamaican Windrusher, it's worth considering how we have come to view murder victims through the prism of privilege.
You know the discourse is totally fucked up when people are arguing about who was raped or murdered in the more privileged way.

— Shanice 😈 (@Shanice_OM) September 23, 2021
The notion that any person who has been murdered is privileged is in itself bizarre. Still, it's true that some murders matter less than others. Murdered women matter less than men, murdered Black people less than white, murdered queer and trans people less than straight and cis – which is why here in the UK a woman is murdered every 3 days, and why in the US, Black trans women have a life expectancy of 35.
What is revealing about the "privilege" discourse within liberation politics is how far we seem to have come from believing we can be liberated. Instead of fighting together for a world free from gendered violence, we are weighing victims' worthiness against one another. 40 years of the state and corporations enticing grassroots movements with funding and jobs have shifted our language from revolution to competition. The capitalists have swindled us into limiting our political imagination to begging for crumbs from their table while leaving mostly untouched the system that keeps them in profit. This culture encourages us to see column inches and vigils as "representation" and therefore power. Obviously, murder victims – white or of colour – have no way of exercising such a platform. But for BME domestic violence services, policy NGOs and social media influencers, these are column inches that could be spent on their cause, thereby keep them afloat. The politics of representation believes that justice is equal exposure for all murder victims. This is bogus.
What happened in the wake of Sarah Everard's murder was the convergence of a unique set of political circumstances sparking a political movement that could challenge the root causes of gendered violence. That is a vanishingly rare outcome in any tragic event, and we shouldn't dismiss such an important political moment in favour of visibility.
The women attending the vigil on Clapham Common disobeyed orders to mount a challenge to state powers that are at the root of our oppression under capitalism, white supremacy and heteropatriarchy. It's true that Sabina Nessa's murder hasn't had the same response as Sarah Everard's. But newspaper columns protesting this fact will do nothing to prevent another murder. Rather than let capitalism dictate the terms of our liberation, let's grab every opportunity to dislodge their power so that we never have to say goodbye to a sister again. Our goal, which we cannot lose sight of, is to end gendered and state violence, and the Kill the Bill movement – which, yes, sprang up in the wake of Sarah Everard's murder – is the best chance we have of doing that.
Aviah Day is a lecturer in criminology at the University of Birkbeck.