Vaccine Passports Are Still an Awful Idea
Say goodbye to the 1% of your life still free from surveillance.
15 November 2021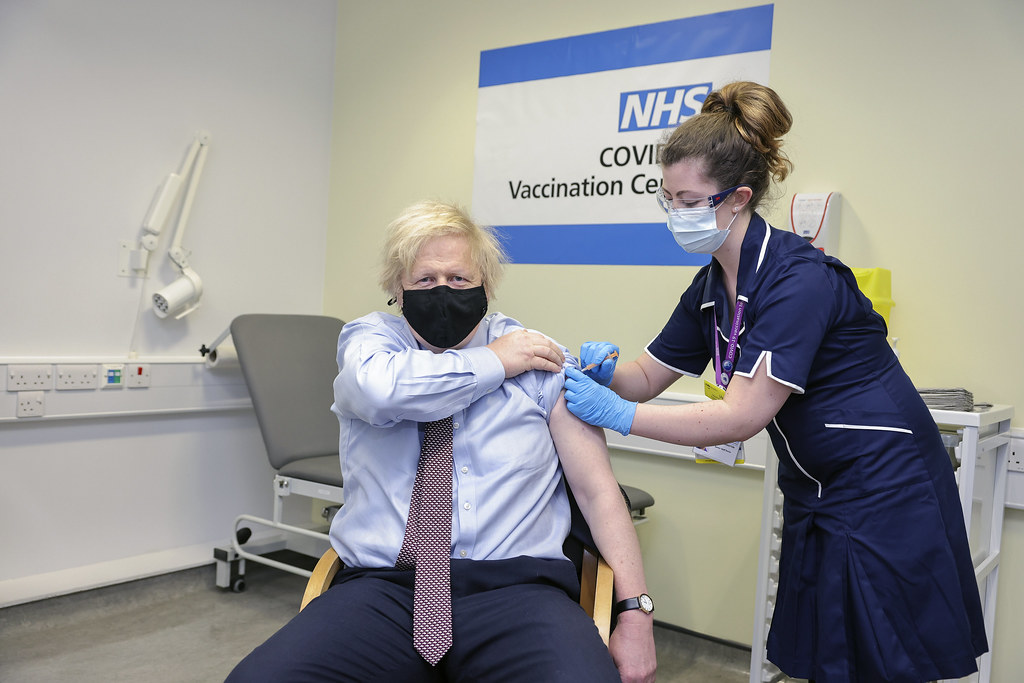 Number 10/Flickr
With Boris Johnson warning of "storm clouds" of coronavirus infections gathering over parts of Europe, putting the UK at risk of a spike in cases, the government introducing vaccine passports in England is still a very real possibility. Health secretary Sajid Javid could trigger the measure – which would see passports made a legal requirement for places like nightclubs, outdoor festivals and football matches – at just a week's notice –  a decision that would have major implications for our privacy and freedom.
"Storm clouds… are gathering over parts of the continent"

Boris Johnson says the U.K. is extending the rollout of Covid-19 booster shots as Europe faces a new wave of cases, with Britain also seeing a rise in infectionshttps://t.co/Br7gufhAe2 pic.twitter.com/FVogpp3gTu

— Bloomberg UK (@BloombergUK) November 15, 2021
In Scotland, which already implements vaccine certification for nightclubs and large events, the national government is considering extending the existing scheme to bars and pubs. 
Those pushing vaccine passports, like the Tony Blair Institute, claim it is a fast-track route back to pre-covid "normality". In reality, however, the schemes are likely to do little to suppress outbreaks, and will instead only encourage discrimination and the extension of mass surveillance. 
The government knows passports won't work.
Crucially, vaccine certification is not a guarantee that coronavirus has been banished from any place where it is being used. Vaccines themselves are an essential tool in pushing back against the virus, but no vaccine is completely effective – and their effectiveness wanes over time. This means that even if every person in a venue or at an event has been vaccinated, it is not possible to guarantee that it is safe. The Boardmasters Festival, which took place in Cornwall in August, is a perfect example of this. Despite the festival implementing vaccine passports – with additional testing – it still became a 'superspreader' event, with 4,700 people reporting an infection as a result of attending.
4,700 Covid cases linked to Boardmasters festival in Newquay https://t.co/MJzfcMSIFW

— BBC News (UK) (@BBCNews) August 23, 2021
This is no secret to the UK government, which knows that certification will be mostly ineffective. Leaked documents from the cabinet office's Covid-19 taskforce show that its own, internal forecasts find that rolling out a vaccine certification scheme in England would reduce community transmission by just one to five percent. This is because the scheme would reduce infections where certifications are used, but not eliminate them entirely since no vaccine is 100% effective. And with the scheme only operating across a limited number of venues, its overall impact on transmission would be small. 
To put this one to five percent reduction in perspective, research from the government's Scientific Advisory Group for Emergencies (SAGE) committee suggests that widespread mask-wearing reduces transmission by seven to 45%. Even at the lower end of the estimates, cheap, simple masks are a far more effective outcome than the supposedly more advanced digital fix claimed to be offered by vaccine passports. 
It's a discriminatory system.
If we also factor in waning vaccine effectiveness – not to mention potential future variants of coronavirus – at some point down the line, each person's vaccine certifications would need to be switched off to remind them to get a top-up, as Javid himself admits. This has significant implications for our civil liberties: you could, fairly arbitrarily, and despite thinking you were fully vaccinated, suddenly find yourself barred from access to locations demanding certification.
Fundamentally, any vaccine certification scheme will be discriminatory. Proving vaccination to the standard required by a scheme may not be easy for everyone – those vaccinated abroad, for instance, may have had a vaccine that isn't recognised by the domestic authorities.
But of far more concern is the potential for vaccine passports to reinforce existing discrimination. As Imogen Parker, a data expert from the Ada Lovelace warns, "normalising third party policing of individuals' status could contribute to additional barriers for minority ethnic people, who already face over-policing, or for people with insecure citizenship who may be concerned about being co-opted into an identity system."
Finally, if vaccine certification is to work at all, it has to be data-intensive. It's no good asking people to turn up with a paper certificate: you need validation that the certificate holder of the certificate is both who they say they are and that the vaccine they claim to have is current and approved. The technology needed to successfully carry out such monitoring processes would also require the training of door staff on how to use it – a problem given that the hospitality industry is having huge problems recruiting enough people for the job. 
This is why the GMB union, which represents bouncers, came out against vaccine certification – and one reason why the scheme's introduction in Scotland provoked such "chaos". In the first week that it was rolled out, venue staff refused entry to revellers without vaccine passports more than 550 times, and some staff were abused, according to the Scottish Hospitality Group. It also said some venues decided to close early and footfall was down by up to 40%.
But assuming certification can be implemented and administered, we would have introduced a huge new surveillance technology into society. For companies that profit from data-gathering, the data they collect is a goldmine. In Scotland, data gathered by the vaccine app is shared with a "host of private firms", including Amazon, Microsoft and an "AI facial recognition firm". This data-sharing was performed without the consent (or even knowledge) of vaccine certificate holders.
Vaccine passport=data-grabbing exercise. It shouldn't be a controversial point. This is what is happening now in Scotland. https://t.co/ZprR6XLw3H

— James Meadway (@meadwaj) October 27, 2021
'Once the road is built, good luck not using it.'
Everything we know about digital surveillance tells us that once such a system is implemented, it is extraordinarily hard to roll it back – even when it is obviously causing social harm. Just look at what has happened with Facebook over the last decade or so. Companies involved in digital tech are incentivised to try and grab as much of our data as possible – this is their fundamental business model. Meanwhile, increasingly authoritarian governments – including the UK's – are only too happy to facilitate data-grabbing exercises.
So if the government decides to implement vaccine passports in England, even if the pandemic somehow suddenly ends, we will find ourselves forced to deal with this new technology, which was introduced for one reason – supposedly to control coronavirus – but whose operators are incentivised to keep in place for various other reasons, that they (not certificate users) will have the power to determine. The presence of the technology creates incentives for it to be used by its operators  – or, in the words of another data expert, "Once the road is built, good luck not using it."
Vaccine passports are ineffective, discriminatory and intrusive. The likely slight gains for public health from implementing them are scarcely enough to justify their use. We on the left should therefore be loud and clear in our opposition to them. Mask wearing, regular testing, cash support for self-isolation and a properly funded NHS and social care services should all come far ahead of these supposedly quick fixes. Our basic, democratic freedoms are at stake.
 James Meadway is an economist and Novara Media columnist.