The Omicron Variant Shows Big Pharma Won't End the Pandemic
So much for corporations saving the world.
30 November 2021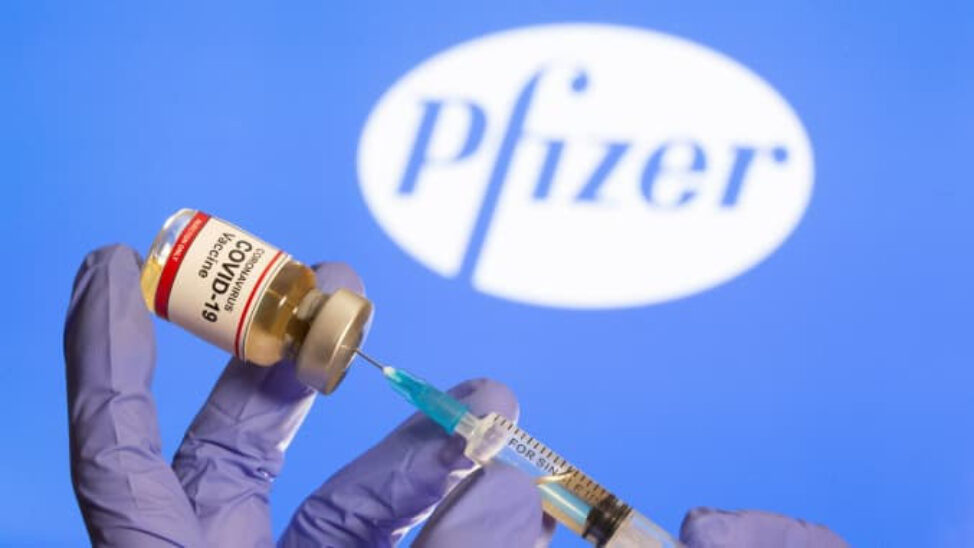 Felton Davis/Flickr
Pharmaceutical companies have long been associated with price-jacking, short-term financial returns and disproportionate focus on little blue pills over life-saving ones. But at first glance, the Covid-19 pandemic appears to have given this often-maligned industry an opportunity to rehabilitate itself.
The rapid turn-around of vaccines, with the first Pfizer doses administered within a year of the pandemic sweeping across the world, led some to think that this model – built on tight control of intellectual property and profit-motivated research – still had something to give. Boris Johnson hailed the development of vaccines as a victory for "capitalism" and "greed". There were even rumours that Pfizer was set to win a Nobel Prize for its vaccine work. For a time, whenever anyone ventured to question the wisdom of entrusting pharma companies with protecting us from the virus, they were told to shut up and be grateful. After all, these companies were "about to save the world".
But all this is only one side of the story – and one that draws most of its influence from pharma boardrooms and wilfully-blind market dogma. The emergence of the Omicron variant should make it clear to anyone not already convinced that a big pharma-led response to Covid-19 just won't work. 
As Ayoade Alakija of the African Union's Vaccine Delivery Alliance has explained, the new variant is the inevitable result of a deeply unequal global vaccine roll-out in which rich countries – and the pharma companies based in them – have shown zero interest in cooperation with the rest of the world. Scientists have warned for months that increased transmissions allowed by global vaccine inequity would create more opportunities for the virus to mutate. And this is exactly what the existing system has encouraged. 
With rich countries jumping to the front of the vaccine queue and then failing to deliver on promised donations, huge parts of the world have been unable to access vaccines. To date, only 5.7% of people in low-income countries have received a single vaccine dose. Only 7% of people in Africa are fully vaccinated. This system has been a disaster for people throughout the Global South – and now it could be coming back to bite us too.
At the start of the pandemic, vaccine manufacturing capacity stood at around 5.5 billion doses for all diseases, so the need to expand this capacity was clear. To this end, last October India and South Africa called for a waiver on World Trade Organisation intellectual property rights on Covid-19 health including vaccines – a move that would help factories across the world mobilise to join production efforts. Since then over 100 countries have backed the waiver, but a few rich countries – including the UK and the EU – continue to block the proposal. 
This means that huge amounts of vaccine manufacturing capacity has gone untapped, as laid out clearly by a recent New York Times investigation. And while Johnson has sat on his hands, pharma executives have reclined over ever-growing mounds of cash, nine of them becoming billionaires. Pfizer's vaccine is set to become the most lucrative drug of all time, with Moderna's following not far behind.
The refusal to sacrifice arcane trade laws also means that Global South countries have been denied greater autonomy over their response to Covid-19. In South Africa, a WHO-backed company trying to reverse-engineer Moderna's vaccine is being held back by Moderna's refusal to share the vaccine recipe with them, even as it courts favourable PR by saying it won't enforce its patents. Rich countries have insisted that donations will ensure vaccines reach all parts of the world. But by mid-October, only 14% of doses pledged by rich countries had been delivered through COVAX, the official mechanism for facilitating donations.
Pfizer and Moderna are skeptical, but we found 10 companies in Africa, Asia and South America well-positioned to produce the gold-standard mRNA shots.
https://t.co/XpMlAzOiXX

— NYT Health (@NYTHealth) October 22, 2021
While many of us are rightly grateful for the protection offered by vaccines, we have to direct our thanks and anger towards the right people. Our thanks must go to the scientists who worked on these vaccines and the public institutions that funded them. Our anger must be targeted at the companies and system that monopolises their work.
In response to criticism along these lines, pharma executives, the British government and supposedly sensible voices rely on old clichés citing the need to incentivise new inventions. But most of the pharma industry is set up to prioritise profits, not innovation. Studies have found that less than half of approved medicines in recent years offered any medical advance, and under-investment in rare diseases is chronic – especially for those that hit the poorest countries hardest. Meanwhile, pharma companies often spend more on sales and marketing than they do on research and development.
Just as importantly, the fact is that every Covid-19 vaccine available is the result of vast amounts of public funding. Even the mRNA technology, on which the Pfizer and Moderna vaccines are based, is the result of billions of dollars of US public funding. More broadly, before the pandemic, the public was paying for two-thirds of all upfront drug R&D costs globally. Yet pharma companies consistently walk away with the rewards.
Another way of doing things is possible. The South African vaccine hub described above is a beacon of hope, aiming to use the vaccine it develops not to make super-profits, but instead share its knowledge with other producers in the Global South. And we've seen political will to reform the pharma sector before, including by Bernie Sanders, whose 2017 proposal for a Medical Innovation Prize Fund showed an alternative to the rigid patent system. 
The Omicron variant is a symptom of a pharmaceutical industry that prioritises profit over public health and systematically disadvantages poorer countries. For now, we must press the UK government to support a waiver on intellectual property on Covid-19 vaccines, treatments and tests. And as discussions continue as to how to prepare for future pandemics, we need to build a growing movement to reform the sector in order to lay the groundwork for a more just approach to people's health the world over.
Tim Bierley is a pharma campaigner at Global Justice Now.