Molly-Mae Hague Just Exposed Influencer Culture for the Thatcherite Poison It Is
We don't all have 'the same 24 hours in a day.'
7 January 2022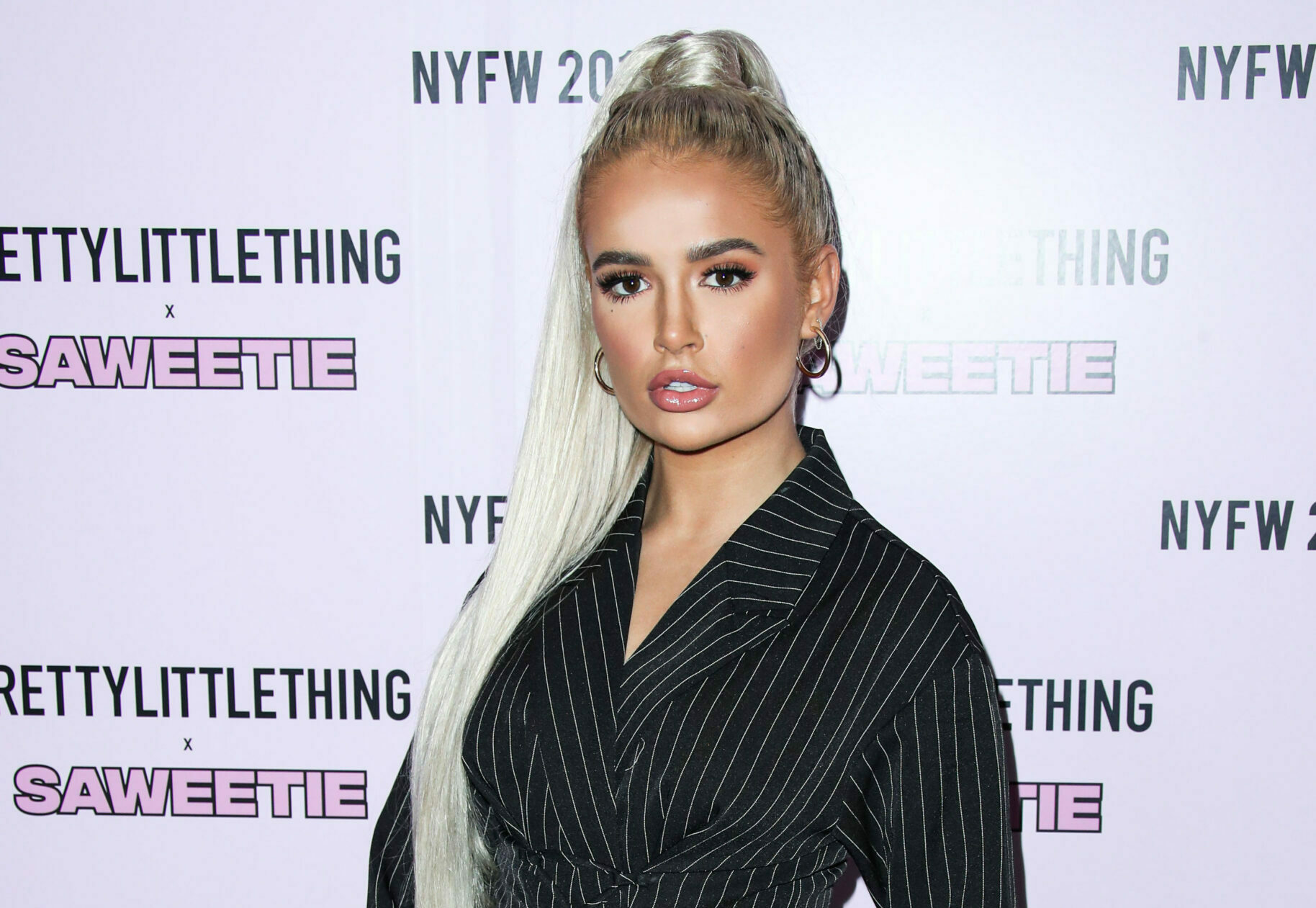 Molly-Mae Hague arrives at a PrettyLittleThing event at New York Fashion Week 2019 (Photo by Xavier Collin/Image Press Agency/NurPhoto)
On its surface, influencer culture presents itself as poreless, pacifying, and most pertinently, apolitical. There are no barriers to wealth or obstacles in the way of social mobility, there is no class ceiling, there is no politics that would affront any potential audience or brand partner. In the influencer vacuum, protest is a placard reposted to a temporary Instagram story, community organising is a very exciting brand partnership to be revealed across a series of vlogs, calls to action are platitudes about working smarter and not harder so you can live the influencer lifestyle too. 
We're told that celebrity has been democratised. The girlboss, the crypto-dude, the beauty guru, mommy vloggers, 'that girl' – most sell stories of a hard hustle (a relatable narrative alongside their brand deal promotions), stripping the explanations for their one-in-a-million kind of success of any gender, race, or class privilege. It's all ambition, self-belief and stars aligning.
These are the engineers of the entrepreneurial self that has become ubiquitous in modern society. They're the banal stock characters of TikTok and Instagram you see hustling, working on their brand (themselves) and cultivating a community that aspires to be just like them. And you should and can be just like them, if you buy into their pyramid scheme, like and subscribe, and live by their mantras – only that, for the many, this just means more debt and delusion. 
Molly-Mae Hague, the 22-year-old influencer, PrettyLittleThing creative director, YouTuber, and ex-Love Islander, trilled a classic influencer mantra on the Diary of a CEO podcast with Stephen Bartlett (a former CEO and current Dragon's Den panellist) in December. "I just think, you're given one life and it's down to you what you do with it," she says.
"I have been slammed a little bit with people saying you know like it's easy for you to say that… you know, you've not grown up in poverty, you've not grown up with major money struggles – so for you to sit there and say that we all have the same 24 hours in a day is not correct.
"And I'm like, technically what I'm saying is correct? We do."
If you're homeless just buy a house ❤️ pic.twitter.com/nRBVLBx8a9

— 🚩 (@tsrbys) January 5, 2022
The word 'influencer' was first added to the dictionary in 2019, but although it has expanded rapidly since then, the individualist narrative of influencing isn't so new. Influencer culture thrives tacitly on a rightwing ideology that flows directly downstream from the ideas of Margaret Thatcher. There is no need to unionise when you're your own boss girl! Influencing and its trappings of economic prosperity and social sway may seem like an American concept – a reinvention of the American Dream for TikTok teens. But the downward trend of upward mobility, coupled with ascendant storylines of rags-to-riches individuals, is a Thatcherite hangover. 
Who really was surprised that a young woman who signed a six-figure deal with PrettyLittleThing – a fast-fashion beast that a Sunday Times investigation found paid garment workers as little as £3.50 an hour -would hold rightwing views on social mobility? "The same 24 hours in a day" is a refrain that repackages itself every few years for the next generation. It's a platitude that props up neoliberal thinking, used to justify abhorrent working conditions, poor pay, and personal wealth.
'We all have the same 24 hours,' says Molly-Mae Hague, influencer and creative director of Pretty Little Thing, who makes £275ph.

According to a 2020 Sunday Times investigation, Leicester garment workers making clothes for Boohoo—PLT's parent company—earn as little as £3.50ph. pic.twitter.com/aik2xvIOXz

— Novara Media (@novaramedia) January 6, 2022
It's one that Hague herself, at 22-years-old, will have grown up hearing and experiencing. Gen Z  grew up in tandem with the rise of the gig economy, entering early adulthood as many of our civil liberties were snatched away last year. Perhaps it's no wonder this generation has relied upon "you've got as many hours in the day as Beyonce" quotes to get them through.

As James Meadway wrote for Novara Media last year, entrepreneurial politics are increasingly appealing to young people, with a poll finding that 16 to 24-year-olds are overwhelmingly in favour of spending cuts over tax increases. There's a greater appetite among Gen Z for starting their own businesses. Owning a home is an increasing priority. Many of their anxieties seem to be rooted in material experience. Instead of inspiring collective solidarity – demands for universal basic income, secure housing, a healthy welfare state – this anxiety is channelled into individual endeavours. 
For Meadway, this is symptomatic of "​​British people's profound lack of faith in government, following ten years of brutal Tory austerity". For Gen Z, it may feel like, to achieve agency, there is no alternative to individualism – perhaps it's too frightening to acknowledge that with a system stacked against you, you're not going to make it to the top by 'hustling' with three revolving gig economy jobs, or channelling a "perfect 'that girl' morning routine 🦋" TikTok.
Do Britons think the Government should rely on tax increases or spending cuts when trying to balance its finances?

Spending cuts: 40%
Tax increases: 36%
Don't know: 24%https://t.co/wmInqsj7DK pic.twitter.com/8wWEj2W1lc

— Redfield & Wilton Strategies (@RedfieldWilton) July 3, 2021
It's important, I think, to hear Hague articulate the influencer era's economic doctrine. These influencers capitalise on the things most people are interested in – cosmetics, fitness, fashion, a neutered idea of activism, youth, lifestyle – harvesting attention, to then sell young people back their biggest anxieties and aspirations. 
Recently, one of the more insidious trends in influencer culture has been the mass pivot to interiors and design content by fashion vloggers  – as the housing crisis deepens, young people agonise over the prospect of ever owning their own home, and turn to aspirational interior vlogs as solace. It's easy to understand why this lifestyle is so alluring, why so many young people attempt to make themselves social media star simulacrums, particularly in contemporary Tory Britain. Young people are building their lives on this myth of meritocracy – at the same time that they are hit hardest by unemployment and spending cuts – because they don't know what else to do. 
How do we help people to imagine possibilities of life and agency, stable income, housing, community, access to art and culture, that don't require shirking state responsibility to self-optimise into oblivion? Well, the backlash to Hague's comments should make us hopeful for the future. People have called out the toxic narrative she is peddling and the discourse she has generated is furthering our shared understanding of influencers and the framework they uphold. It is important though, not to individualise the problem or swap the influencer economy for the other insufferable: the outrage economy. Molly-Mae's narrative aligns with the rest of the self-made millionaires of generations, industries and centuries over. I'd also like to highlight how quick people online, purporting leftist politics, are to coat criticism of girlbossery with misogyny. 
And while the influencer champions the dream of rising, they also have to balance their own fear of decline and replacement – there is a legion of Molly-Maes waiting in the wings. Can a 22-year-old with six million followers truly have the space and time to self-critique? I have to cringe at what I was spouting at 22 – sans a million social media followers, that is – but it was a necessary rite of passage to parse personal politics – not that this negates the need for accountability from public figures. Are we going to inspire an influencer insurrection that helps us achieve class consciousness? Probably not. 
That said, Molly-Mae's generation has yet to see a government address the dire conditions affecting Britain's young people. The legacy of Thatcher and the ongoing Tory rule must be undone, and in terms they understand and can build upon together, whether that's through transparency around the fast fashion cycle or the zero-hour contract.
Ultimately, we're all victims of the logics of the hypercapitalist machine – even a rampant materialist like Molly-Mae. But, of course, the problem is that critiquing individuals like her for their ideologies sadly comes much easier to us than taking on the systems that uphold them – and that's where hyperindividualism rears most ugly.
Anna Cafolla is a journalist specialising in women's rights, Northern Ireland, youth culture and activism.