The Tories Are Abandoning Migrant Women to Domestic Abuse
You're not a real victim if you're an immigrant, apparently.
19 January 2022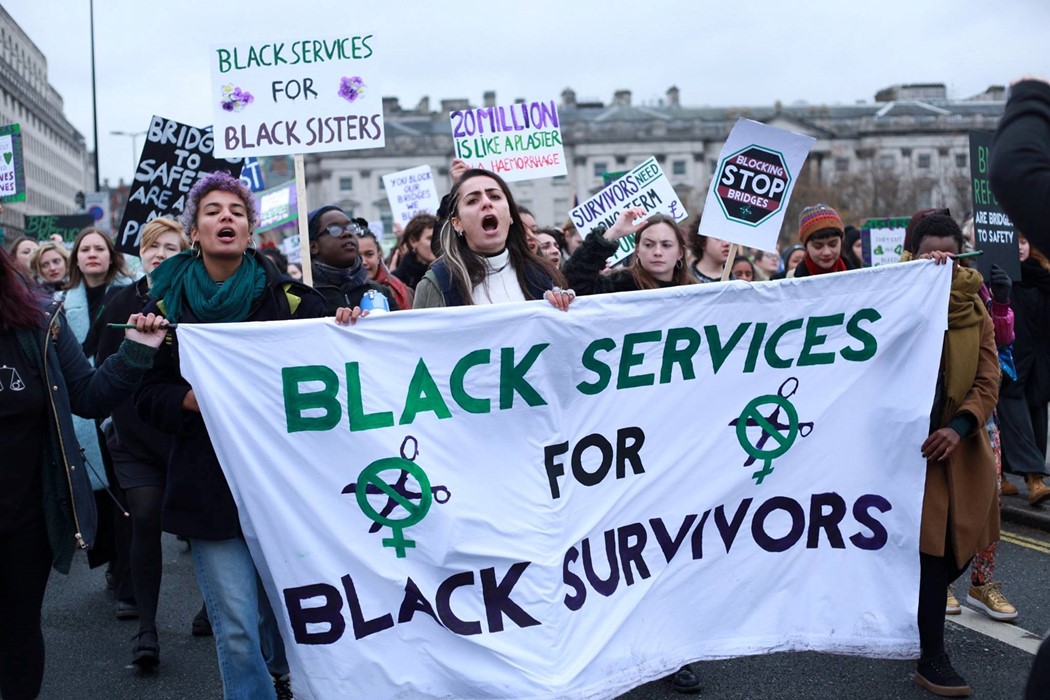 Sisters Uncut
For as long as she could remember, Zahrah* had never had money of her own to spend; her husband handled that side of things. When she moved to the UK as a teenager – overwhelmed by the demands of a new city, a new culture and language – she thought he was trying to help.
"Don't go to the shop," he'd say, "you'll hurt your back carrying the food home." "There's no need to bother yourself speaking to a GP," he'd assure her, "I'll take care of it."
For Zahrah, her limited English was a source of personal sadness. It prevented her from making friends, navigating public transport, or even signing a school trip consent form. She looked on with a mixture of pride and envy as her children mastered the language. But when her child's teacher invited her to a parent English course, her husband declined on her behalf: "It will be too much pressure."
Things took a sinister turn when Zarah gave birth to her fourth child and first daughter. Her husband berated her for "not producing a son", and threatened to kill her.
It was then the physical abuse began. Eventually a worker at her child's nursery noticed bruises and made a safeguarding referral.
Eventually, after 19 years of marriage, Zahrah was able to escape. This should have been the end of her suffering – but thanks to our hostile environment, it wasn't.
As a social worker, I was no stranger to austerity. I knew what it was to operate in a system where caseloads were high and resources were scarce. But with many families I supported, there was at least the safety net of (albeit insufficient) state benefits.
For Zahrah and her family, there was no such thing.
As I stood before the council panel to appeal for a small amount of money on her behalf, I felt a sense of quiet outrage.
Like 1.3 million people living in the UK, Zahrah had no recourse to public funds, a rule which excludes anyone "subject to immigration control" from the majority of state benefits. Introduced under the Immigration and Asylum Act 1999, it makes local authorities responsible for the accommodation and subsistence of people like Zahrah.
Zahrah was 36 and had just moved into emergency accommodation with her four small children after fleeing domestic abuse. Without the paltry subsistence, the council was able to offer her, she would have no way of feeding her family – and would have no option but to return to her abusive husband.
In the years since I worked with Zahrah, the Conservatives have introduced legislation supposedly aimed at tackling the kind of domestic abuse she faced. In fact, it helps her hardly at all.
The Domestic Abuse Act was passed into law on 29 April 2021. It was no doubt expedited by the murder the previous month of Sarah Everard – though not, most likely, by the lesser-reported killings of Bibaa Henry and Nicole Smallman the previous summer. Nominally, the act seeks to "Improve the effectiveness of the justice system in providing protection for victims of domestic abuse and [bring] perpetrators to justice".
The act does indeed introduce some important measures, including a statutory definition of domestic abuse which emphasises not just physical, but also emotional, controlling or coercive behaviour, as well as economic abuse; the prohibition of perpetrators cross-examining victims in person in civil and family courts; and an extension of the revenge porn offence to cover threats to disclose private sexual photographs or material.
The act has introduced tangible measures which will change the lives of countless survivors. Yet according to women's rights campaigners, it would have done virtually nothing to help women like Zahrah.
Isabelle Younane is head of policy, campaigns and public affairs at Women's Aid. She says stories like Zahrah's show how migrant women are particularly vulnerable to abusive partners. "Perpetrators of domestic abuse often use insecure immigration status to control their partners," making them reluctant to seek help for fear of detention and deportation.
This means it is often left to services run by and for Black and minoritised women to provide help. Yet many operate on "a shoestring budget and do not receive dedicated public funding".
One such organisation is Sistah Space, a community-based non-profit initiative in Hackney, which aims to bridge the gap in domestic abuse services for African heritage women and girls. After a lengthy dispute with Hackney Council, which the charity says failed to provide them with suitable premises, the charity has had to resort to crowdfunding for their new home.
Meanwhile, Galop, which provides support to LGBTQ+ victims of domestic abuse, have identified significant gaps in provision, including no funded LGBTQ+ "by and for" services across the whole of the southwest, northeast or Wales.
Dr Hannana Siddiqui is head of policy and research at Southall Black Sisters, a not-for-profit for Black and minority women facing domestic abuse. Speaking to Novara Media, Siddiqui says the new legislation fails to extend equal protection to British and migrant women.
"Women and their children cannot even enter a refuge for victims of domestic abuse as they cannot access housing benefits to pay their rent or have subsistence for their living costs," says Siddiqui. She adds that for many migrant women, state support is paradoxically contingent on their marriage to an often abusive spouse: "Although there are some rules which allow benefits for three months for victims of domestic abuse on a spousal visa while they obtain indefinite leave to remain, those on non-spousal visas have no rights."
Of course, such policies are the extension of a hostile environment infrastructure currently being reinforced through the Nationality and Borders bill, which over 40 charities have said would "create additional obstacles to women and girls seeking international protection in the UK".
Younane says more must be done to protect women, regardless of their immigration status. Women need "safe reporting mechanisms, the establishment of a firewall between police and immigration enforcement, and specialist training on domestic abuse within the police forces," she says.
Some of these measures – including pathways of support for victims with insecure status, the development of regional NRPF strategy forums to address provision gaps, and an additional £18.7m over three years to cover accommodation and subsistence for victims with NRPF – are advocated by domestic abuse commissioner Nicole Jacobs in her recent Safety Before Status report (the government's response was predictably lukewarm). In an ideal world, however, NRPF would be abolished, something Southall Black Sisters are currently campaigning for.
When I last saw Zahrah, I was keenly aware of the precarity of her existence: she and her children were getting by on time-limited food vouchers, unstable housing agreements and temporary visas. Last year, the Conservatives pledged to take a "once-in-a-generation opportunity" to give women facing domestic abuse safety and security. Yet women like Zahrah will enjoy none of this.
Whilst virtue signalling about their efforts to tackle domestic abuse, the Tories have excluded the women most vulnerable to it – and knowingly so.
*Names, ages and other identifying details have been changed.
Rebekah Pierre is a freelance journalist and former child protection social worker. She is also a survivor of childhood domestic abuse.