Is It Better If Boris Stays?
A change in leadership could allow Labour to take back power.
28 January 2022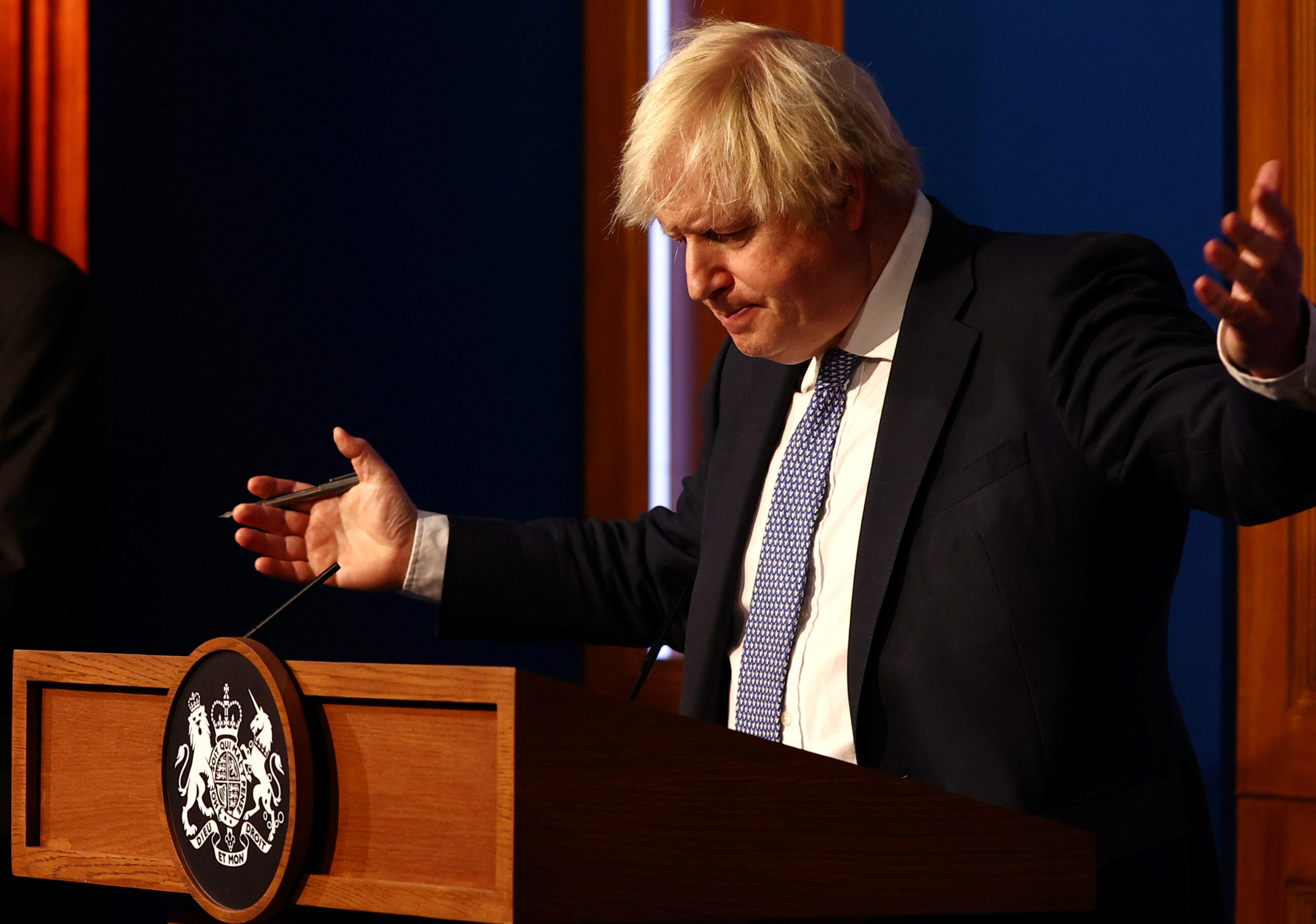 Adrian Dennis/Pool via REUTERS
Should Labour's frontbench be careful what they wish for? Keir Starmer has finally got around to calling for Boris Johnson to resign as prime minister — not for the coronavirus care homes scandal, the "unlawful" awarding of PPE contracts, or the UK's horrific pandemic death toll, but for having after-work drinks. 
But given the steady stream of revelations about lockdown parties in No 10 enraging a country that has endured relentless, miserable restrictions, is a wounded, but still-in-post, Johnson now Labour's biggest asset?
If politics was just a game, that might be the case. But politics is about real life, and for Labour members, that means the impact of vicious policies on our communities. Johnson resigning would not bring an immediate end to this government; he would, after all, be replaced by another Tory  – and potentially one with stellar personal popularity, like Rishi Sunak. That said, his departure would provide Labour and the wider left with a vital opportunity to interrupt the Conservative legislative programme, throw our opponents into confusion, and provide space to offer a radical alternative to the Tory status quo. 
Thanks to countless blunders, scandals and infighting, Johnson has come spectacularly unstuck – a fall from grace that is reflected in his dire personal ratings of -39 net favourability. But whether he stays or goes, for anyone challenging the Tory legislative machine, doubt and discontent within the Conservative party ranks is very welcome news. Indeed, there are rumoured to be a surprising number of Tory backbenchers who are uneasy about the authoritarian policies that have become a defining feature of Johnson's tenure – of course, they didn't actually oppose the government pushing through appalling legislation like the nationality and borders bill.  
Call me optimistic, but the dislocation created by a change of leadership could make it harder for the Tories to do quite so much damage to our communities. For campaigners, then, now is the time to increase the pressure and resistance.
Labour faces an uphill battle. 
But what next for Labour? The public mood is one of outrage and profound distrust, with people demanding that the government is held accountable for its actions. That should not be dismissed. While the party leadership's strategy of sitting back and allowing Johnson to tie himself in knots appears to be working for now, it ultimately can't afford to continue on with this complacency. If Labour demands Johnson's resignation, and the pressure for him to step down mounts, so does the urgency for the party to finally win over the public. 
Indeed, if Labour wants to prove that it is the party that will rise to meet the many urgent challenges of this decade, it will need to be unflinching in facing down the heinous policies and fundamental corruption of this Conservative government – which starts with seeing off Boris Johnson's leadership. 
The recent spike in Labour polling can hardly be attributed to a knock-out performance from Starmer; all indication is that the party's gains are down to Johnson's spectacular missteps and an increasingly frustrated rightwing media. With Johnson out of the picture, it will face an uphill battle to maintain this lead.
Polling conducted by the right-wing blog Conservative Home puts Liz Truss as the clear front runner to take over the top job, with Rishi Sunak close behind. Both Truss and Sunak have strong ideological commitments to austerity and the free market and could, if not resisted, herald another period of harsh austerity measures and the further destruction of workers' rights. 
What's more, a new Tory leader would likely rejuvenate a large section of the party's voter base, effectively quashing Labour's lead in the polls. A leadership election would also give the party the opportunity to rebrand and relaunch itself for the post-coronavirus, post-Brexit era, making it an even greater threat. 
But while it may be easier for Labour to face a Johnson-led government at the ballot box and deny the Conservatives a clean slate before an election, it is worth noting that many within the Tories' own ranks have not yet confidently identified a candidate they believe could replicate the gains Johnson delivered in the 2019 election. The emphasis on his personal brand could therefore be a make-or-break situation for the party. 
Labour could take back power. 
Despite these challenges, Labour is being presented with a unique opportunity to win back power. While the party had hugely popular policies when Jeremy Corbyn was leader, it has since struggled to cut through the Brexit-dominated headlines – and Starmer's tepid leadership definitely hasn't helped. 
It's undeniable that the Conservatives won overwhelming public backing to get Brexit done, but their mandate extends to very little else. Members of the public did not vote for more authoritarian policies or for dodgy deals and so the future direction of the Tory leadership looks uncertain. 
With that in mind, Labour needs to be prepared to offer a compelling alternative to the government's corrupt policies. While Truss is tweeting about "#uber-riding #airbnb'ing #Deliveroo-eating #freedomfighters", Labour needs to be making the case for well-paid, secure green jobs; if Sunak is determined to take an axe to the NHS, Labour must galvanise the huge public support for the key workers who saw us through the pandemic. If the party is going to win against a new Tory leader it must present the public with clear, transformative policies, or risk being sidelined. 
Ultimately, sitting quietly won't be enough to take on the Tory machine, and secretly hoping Boris hangs on will be looked on as weak leadership and playing politics. A divided Labour party at war with half its membership, or one that is too afraid to put forward a bold alternative to the government's offerings, seriously hinders its chance of taking power. 
If Starmer squanders this chance, it is young people especially that will pay the price. Labour has an immense opportunity; it has to step up and seize it. 
Jess Barnard is the chair of Young Labour.