10 Reasons Boris Johnson Should Have Resigned Already
Proroguing parliament, anyone?
1 February 2022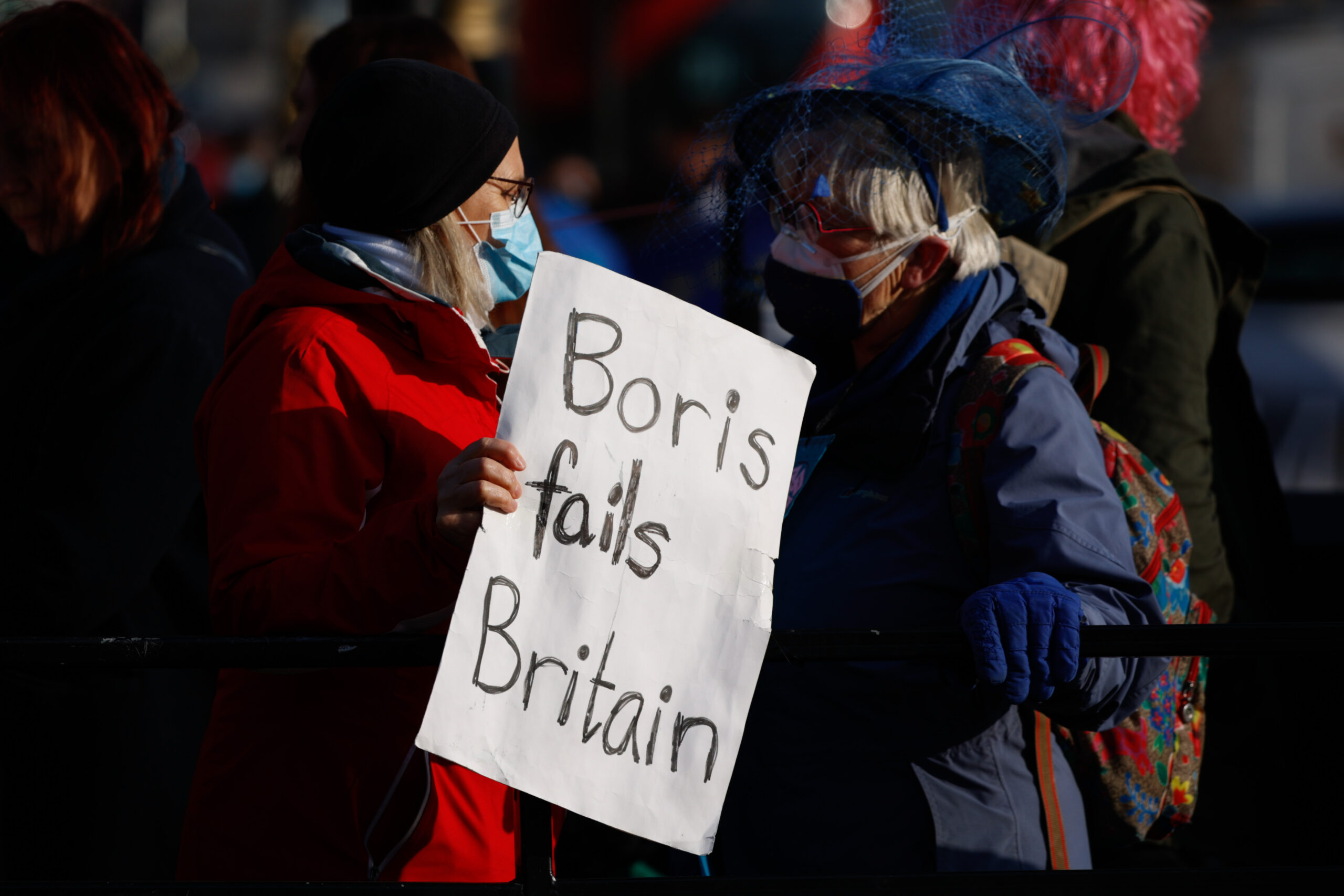 Anti-Boris Johnson protesters demonstrate outside the Houses of Parliament in London, January 2022. David Cliff/Reuters
After much delay, the initial findings from Sue Gray's inquiry into lockdown-breaking parties have finally been published. The 12-page "update" noted "failures of leadership and judgement", and concluded that "some events should not have happened".
While we won't know the full details of what went on in Downing Street and elsewhere until the Met completes its investigation, it's more than likely its conclusions will prompt renewed calls for Boris Johnson's resignation. 'Partygate' aside, here's a timeline of events over which the prime minister should have resigned already.
1. Proroguing parliament.
Cast your mind back to the summer of 2019, when the newly-elected Tory leader and prime minister suspended parliament – a decision later ruled unlawful by the supreme court. His plan to thwart parliamentary proceedings over Brexit was labelled a "coup" by protesters, and was an early indicator of his authoritarian approach to government.
2. Withdrawing the whip.
Prior to the 2019 election, Johnson suspended the whip from 21 Conservative MPs who defied him in an attempt to block a no-deal Brexit. This resulted in the loss of his working majority and, in a clear rebuke to his leadership, saw resignations from both Amber Rudd and his own brother Jo Johnson.
3. Brexit mismanagement.
On the 2019 election campaign trail, the prime minister pledged to 'get Brexit done'. This commitment was met in January 2020 – but it's been far from plain sailing since. From the ongoing row over the Northern Ireland Protocol to rising food prices and supply chain issues, post-Brexit Britain has been plagued with problems.
4. The Cummings scandal.
Since being booted out of Downing Street after being accused of briefing against the prime minister, Dominic Cummings has been a thorn in Johnson's side. Breaking lockdown rules by going on a cross-country jaunt to "test his eyesight", however, wasn't enough to see repercussions for either Cummings or the prime minister, who defended his most senior adviser in the face of public outcry.
5. Afghanistan.
The war in Afghanistan had huge human cost, and the UK's role in it will taint both Johnson's premiership – and that of his predecessors – for generations. The botched military withdrawal last summer saw the prime minister roundly accused of effectively abandoning the country to the Taliban, while also lying to the public over personally authorising the evacuation of animals from Afghanistan despite countless people being left stranded.
6. Channel crossings.
In November, 27 people died when a dinghy capsized off the coast of France in what's estimated by the ​​International Organisation of Migration to be the biggest loss of life in the Channel since it started collecting data in 2014. Meanwhile, Johnson's government put forward proposals to forcibly "push back" people attempting to cross the Channel – plans which experts say breach international law.
7. The Paterson affair.
Last year former MP for North Shropshire Owen Paterson was accused of breaking lobbying rules after failing to declare private consultancy meetings he attended in his parliamentary office. Johnson sought to defend his colleague by proposing to abolish the parliamentary standards committee and replace it with a Tory-majority alternative. This brazen interference did not go down well with the public, and at the last minute Johnson reversed his decision, leading to Paterson's resignation in November. 
8. The Downing Street refurbishment.
In December, the Electoral Commission declared that the Conservative party had broken the law by failing to declare property donations for Johnson's flat refurbishment. It was revealed that Johnson misled his ethics adviser, Lord Geidt, by failing to declare a donation of £50,000 from Tory peer David Brownlow, finding that Johnson was aware of the donation before Geidt cleared him of breaching the ministerial code back in May. 
9. Islamophobia.
Johnson is no stranger to accusations of Islamophobia. Back in 2018, he compared veiled Muslim women to "letterboxes" in a Telegraph column, after which Islamophobic incidents across Britain rose by 375%. More recently, Johnson has been accused of failing to investigate allegations of Islamophobia within his own government after Tory MP Nusrat Ghani claimed her "Muslimness" had been the reason she was sacked from her ministerial position in 2020.
10. Covid-19.
If all this wasn't enough, there's the backdrop of Covid-19. While the government has pointed to the success of mass testing and the vaccine rollout, experts have described Johnson's pandemic response as "one of the most important public health failures the UK has ever experienced". From delaying the first lockdown – a move which led to huge numbers of excess deaths – to saying he'd rather "let the bodies pile high" than call for a third lockdown, Johnson's approach to Covid-19 has been much like his approach to leadership in general: one of undisguised self-interest, riddled with scandal and hypocrisy.
Liam Barrett is a freelance politics and culture writer.