The Tories Have Lied About Labour Leaders for Years. Why Does the Media Care Now?
Nobody was fussed when the target was Jeremy Corbyn.
3 February 2022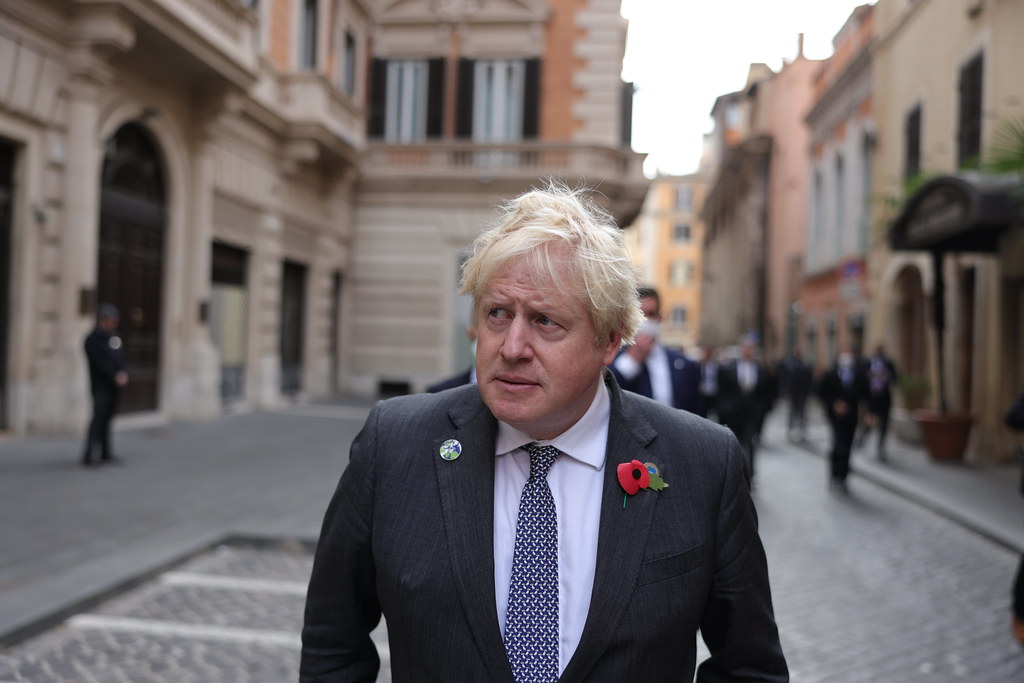 Boris Johnson (Number 10/ Flickr)
After a strong start, by 2009 the shine was coming off Gordon Brown's premiership. The "iron chancellor" was struggling with his long-awaited ascent, and questions were being asked about whether he could withstand the pressures of the country's highest office. 
Yet despite growing acknowledgement of his vulnerability, a question posed by the BBC's Andrew Marr – when Brown appeared on his Sunday show that September – was extraordinary. After initially probing Brown on the issue of his eyesight – he lost the use of one eye aged 16 – Marr asked whether he used antidepressants – a claim originally made by John Ward, a blogger who ran a conspiracy website from his home in the south of France. This was fake news before it had a name, only the transmission mechanism wasn't social media, but the BBC's leading politics show. 
Four years later, the Daily Mail attacked the family of Brown's successor, Ed Miliband, labelling his deceased father, Ralph, "the man who hated Britain". Because Miliband was viewed as slightly to the left of establishment orthodoxy, few came to his (or more accurately his father's) defence. One exception was Jeremy Corbyn. 
While the treatment of Brown and Miliband was often nasty, personal and never applied to their Tory counterparts, such hounding was nothing compared to what Corbyn would himself endure as leader after 2015. Despite the often deranged nature of claims made against Corbyn, few members of the press – or even his own colleagues – pushed back. Now, by contrast, they have demanded in unison that Keir Starmer receive an apology from Boris Johnson after the prime minister (rightly) observed he was director of public prosecutions when the Crown Prosecution Service failed to charge Jimmy Saville in 2009. To insinuate Starmer had anything to do with that decision – and there is no evidence he did – is apparently some terrifying novelty in British politics, so severe that even Johnson's own policy chief has resigned in protest. Yet similar claims were not only a regular occurrence for Corbyn, but often repeated by the very same people who now cry foul. 
Who can forget when Labour MP Chris Bryant insinuated Corbyn had secretly voted for Brexit, something repeated by the New Statesman's George Eaton, who later claimed he was "near-certain" Corbyn voted to leave. The evidence? A "Martin Waplington" alleged Corbyn told him as much the moment they met in a Tapas bar the Friday before the vote (Corbyn had in fact appeared on Channel 4's The Last Leg that evening). Did journalists bravely seek to determine the truth, as they have done with Starmer this week? Did they demand an apology? Was there an explainer from the BBC designed to go viral? No. Instead, it was taken seriously and widely repeated.
More outlandish, and libellous, were claims Corbyn had worked with Soviet-era spy agencies from Czechoslovakia and East Germany. The source for such stories was Guido Fawkes – now labelled 'far right' by much of the punditocracy – but then viewed as a credible outlet. (It also generated the story that Corbyn's attendance at a Passover dinner was evidence of his antisemitism, the BBC would follow its lead.) When the Sun repeated the spy smear not only did multiple Tory MPs weigh in but Sir Richard Dearlove, former head of MI6, concluded that Corbyn was 'complicit'. What does it say about the British establishment, and its intelligence agencies, that Dearlove could so breezily insert himself in a story so free of fact? Again there was remarkably little push back from the sensibles of public life. Dearlove's successors, in both MI5 and MI6, claim that fake news is a tool of hostile states, yet here the propagandist was one of their own. 
Elsewhere David Aaronovitch, who hosts the Briefing Room on Radio 4, claimed there was a "big possibility" that a group named Red Action was behind the Warrington bombing, and that they had connections to a certain "Labour figure" (the provisional IRA took responsibility for the attack). There was the claim Corbyn lied about reading Ulysses, had faked sitting on the floor of a train and that he had paid his respects to the Black September terror group in Tunis in 2014. That font of prudence and truth, LBC presenter James O'Brien, tweeted: "Putin's got Farage & Seamus Milne doing his bidding & a Lord on the payroll". This was untrue and as defamatory as anything Johnson has said regarding Starmer. O'Brien may now lament how the Tories are debasing British democracy through lies but, until quite recently, so was he.
So what has changed? One is that the lobby, and journalists generally, are more closely aligned with the politics of Starmer than Corbyn (and Ed Miliband, when you consider the alternative was Cameron). Even Brown was something of an outsider compared to the Eton-educated southerner whose base was Notting Hill. Alongside that is how Johnson's style of deceit – more shameless than subtle – is too excessive to defend.
But alongside distaste for Johnson's lack of finesse is something else: establishment solidarity. When I saw Channel 4's Krishnan Guru-Murthy stand up to Nadine Dorries I wondered why he had never so forcefully countered slander aimed at Corbyn. Then I recalled that his brother-in-law is Philip Collins, an occasional speech-writer for Starmer. This captures how incestuous British politics and media are, and why fairness is rarely applied to anyone outside their watertight circles. That the target is a knight of the realm, and former head of the CPS, is another factor: if elite institutions can openly attack one another where might things end? It's just not the done thing old chap – go back to concocting nonsense about socialists who want to end child poverty, that's more than acceptable.
Aaron Bastani is a Novara Media contributing editor and co-founder.